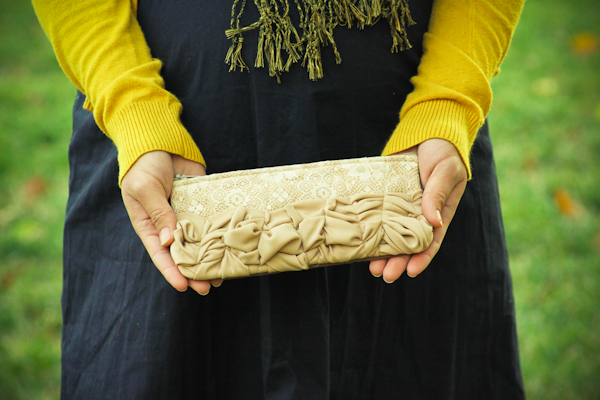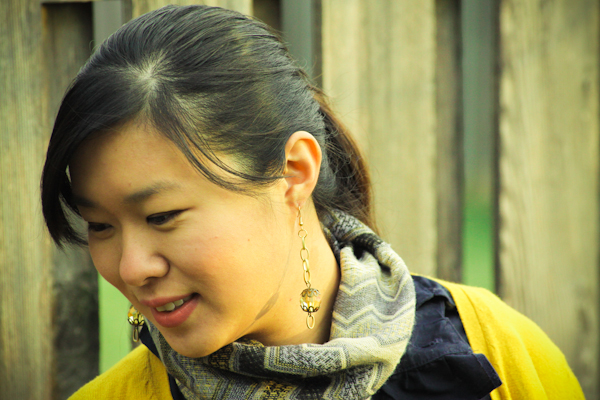 Dress: Shabby Apple | Scarf: Shop Kempt | Cardigan: JCPenney | Tights: Forever 21 | Boots: Famous Footwear | Earrings c/o Jac & Elsie | Clutch: Made by Hank gift from Much Love, Illy
It's kind of sad how short college football season is. It's always fun to sleep in a little on Saturday mornings and wake up just in time for kickoff. I have to say, I'm pretty dang proud of my Michigan Wolverines this year, with a 10-2 season and all. We're going to play against Virginia Tech in the Sugar Bowl this year. It would be a fun game to go to but with a little one on the way, travel is out of the question. However if I were to go to the game, I'd probably wear this outfit. Yellow (maize) + blue has always been one of my fave color combos, and not just because it's my school colors. And I kind of like it paired with creams and browns too!
Bump update: 38.5 weeks
– Still dilated 1.5 cm
– 27 pounds gained
– Craving caprese salad(and I had it too)
– Have tried walking stairs, pineapple, raspberry tea, spicy food, massage and bouncing on exercise ball to induce labor (obviously none of those worked)
– Still lots of Braxton Hicks contractions but not any real ones
– Hospital bag packed in a carry-on roller bag (don't laugh!)
– Have caught myself snoring
P.S. Have you entered the Luce accessory

giveaway

yet?
P.P.S. And how about the group

giveaway

for shop credit to knit, accessory, vintage shops and a camera bag insert?
What are your school colors? Are they a good color combo, fashion-wise?