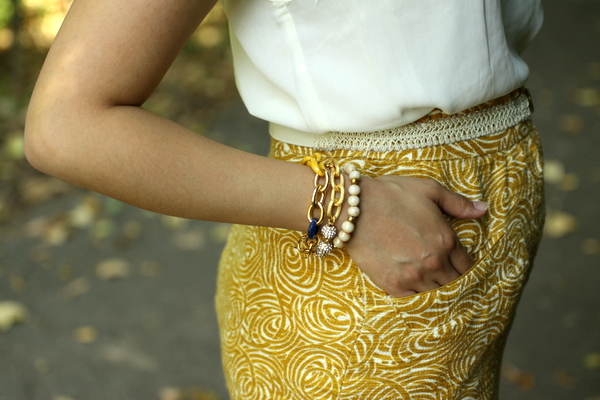 Top c/o Sugar Lips | Cardigan: Forever 21 | Skirt: Anthropologie | Sandals: Dorothy Perkins | Necklaces: Petitor | Bracelets: eNVe Designs, Oia Jules, Forever 21
Is it just me or do braids remind you of being a kid again? I'm so happy that they are back in right now because it's really the perfect hairstyle for a hot summer day. I got this braid made for me at the Madewell Blogger event and I just couldn't let it go to waste. Plus, everyone and their mother tells me that washing your hair every other day is best (although I am usually an every day hair washer, I know, it's bad).
Anyhow, the end of summer is nearing and school is about to start up again. But the best part about it is football season. For those of you who don't know, I was born and raised in Ann Arbor, MI and still love that place dearly. I went to elementary, middle, high school and college there so I have a deep love for "maize and blue". I was so ecstatic when eNVe Designs had created a bracelet that was just those exact colors that I had to have it, and then I had to create an outfit around it. I really love those colors paired with ivory and am so happy to have my new favorite staple lace detail blouse from Sugar Lips. Wardrobe complete… yea right (my husband wishes)!
P.S. The winner of the Asian iCandy giveaway is Naomi of Super Dumb Super Villian! The winner of the Thirty-One Gifts giveaway is Sharon of The Tiny Heart!
Congrats ladies! Send me an email at sandyalamode(at)gmail(d0t)com to claim your credit!
What are your school colors? Are you a fan of the color combo?