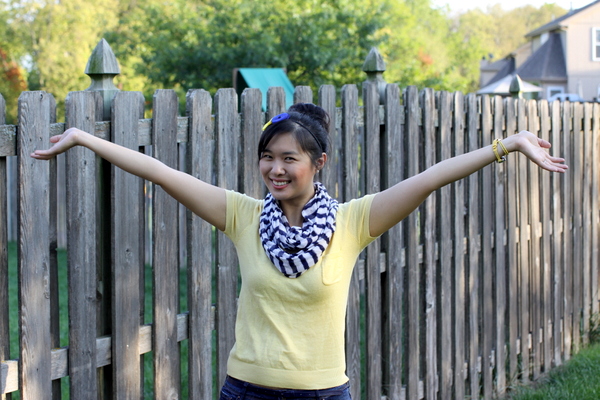 Shirt c/o Conversation Pieces | Jeans: Charlotte Russe | Shoes c/o Chromatic Gallerie | Headband c/o Much Love, Illy
Perhaps it's the fact that I haven't been showing enough school spirit lately that the Michigan Wolverines are not on their game this year in football.  Or maybe it's because I'm not watching the game enough or maybe it's because I haven't been cheering loud enough.  Whatever it is, we need to get back in it and start WINNING GAMES.  Go blue!
So in an effort to cheer on my team, I'm wearing my school colors loud and proud and all over.  And if you're looking for a new accessory or another way to cheer your team on, a Much Love, Illy team colors headband is the PERFECT way to do it.  These poppies headbands are stylish, cute and oh so comfy!  And they are made with LOVE by my blog bestie, Much Love, Illy.  Even better is that she is offering 15% discount off your enter order from her shop with the code FOOTBALLFEVER!  So go, get your headband so you can sport it for the rest of football season!!
How do you show school spirit?