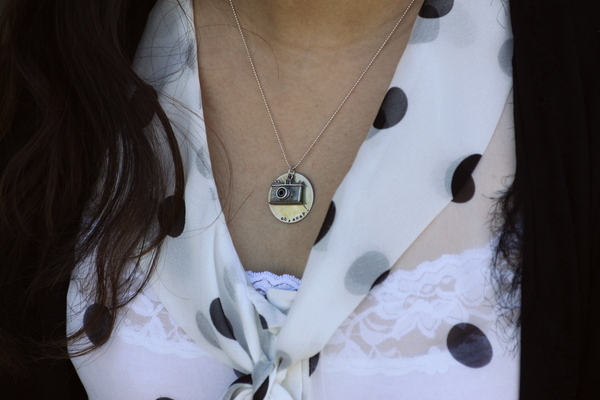 Blouse c/o Karen Kane | Tank Top: Maurice's | Cardigan: Kohl's | Pants: TJ Maxx | Shoes: Target | Necklace: Angel Face Designs
I'm running out of blog titles, can you tell?  No, but really, I think I'm stepping a bit out of my comfort zone on this one, especially when my husband goes "leopard and polka dots? interesting…" and "blue pants… are you an avatar?"  Typically when I put an outfit together to be photographed, I'll get the thumbs up from Marvin before actually having him photograph it, but this time it was a thumbs sideways.  You see, ever since Austin was born, we don't get out much, hence, he isn't out there noticing that pattern mixing and colored denim are what the cool kids are wearing.  And me?  I pretty much can only stay on top of fashion by my daily blog reading.  By the way, necktie blouses are also one of my faves.
So I'd like you all to help me out and leave a comment letting me know:
1) What are you favorite patterns to mix (polka dots + leopard, stripes + florals, etc.)?
2) What are your favorite colors in colored denim (errr which colors should I buy next)?
P.S. If you name is Jessica and you blog over at Fifteen Evergreen… CONGRATS!  You won the Vintage Wanna Bee giveaway!  Send me an email at sandyalamode(at)gmail(dot)com and I'll get you in touch with Nichelle!
P.P.S. Please keep voting for my blog on the Circle of Moms Top 25 Fashion and Beauty Moms – 2012 daily!  Click HERE!