When I get obsessed with a certain trend, I go all out. For the longest time, the only leopard pieces I had owned were a pair of shoes and a belt. I started small and slowly got warmed up to wearing it… and now I can't get enough of it! 😉 The sweet Emily from El Vintage was so kind to send me a vintage leopard dress. The fit of the dress was a little big on me, but that just made styling it that much more exciting. So I decided to put together a Day and Night look for St. Patrick's Day.
Dress c/o El Vintage | Leather Jacket: NY & Co. | Shirt: Gap | Belt & Necklace: Forever 21 | Shoes: Thrifted
For this Day look, I'm wearing the dress as a maxi skirt. I took a grey tee, folded it under and hid the seam with my green belt. Threw on a statement necklace, a leather jacket, and some green shoes to go with the belt and I'm all ready to go! It's pretty much a neutral look with a pop of bright green.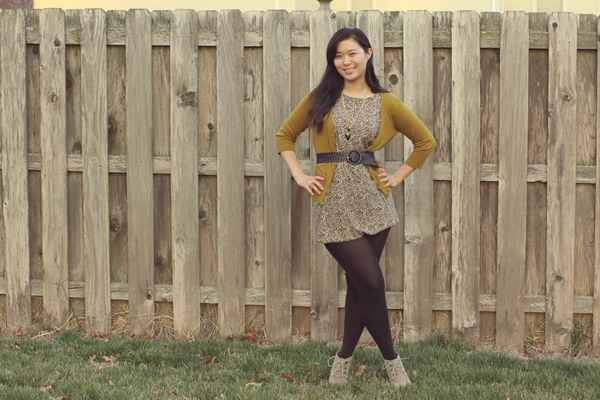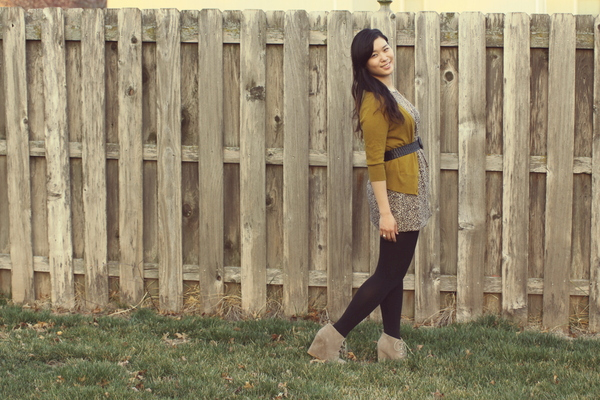 Dress c/o El Vintage | Cardigan and Tights: Target | Necklace: Charlotte Russe | Belt: Forever 21 | Shoes: TJ Maxx
And for this Night look, I actually took the bottom of the dress and tucked it into my tights to make it a mini-dress! I love the belted cardigan look for giving the outfit a more flattering shape. And I'm kind of in love with my new geometric necklace… this won't be the first time you see me wearing triangles, trust in me.
Now will someone please pass me an Irish car bomb or a McDonald's Shamrock Shake? 😀
How did you celebrate St. Patrick's Day?