It's no secret that I'm obsessed with mint green. With St. Patty's Day coming up, I thought it would be the perfect opportunity to do a roundup of some of my favorite mint picks. After all, mint is a shade of green so it's fair game to wear to avoid those pinches! Isn't it such a pretty color for Spring?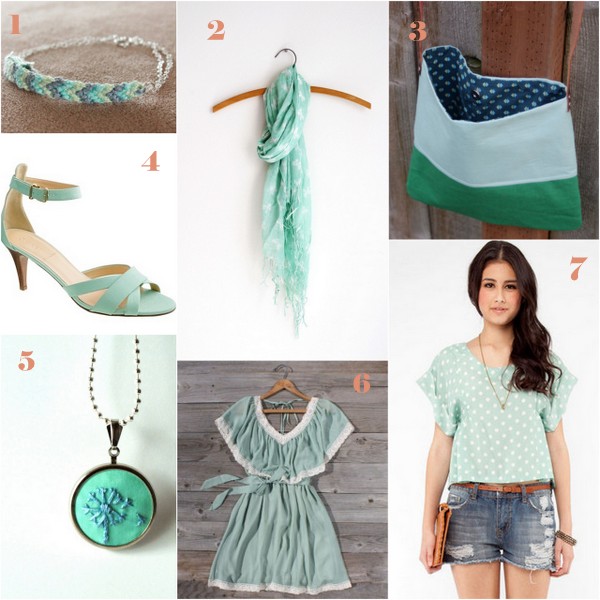 1 I wish I had kept my friendship bracelets from my younger years, because they are BACK IN now! Loving the colors of this one from Emergin Store.
2 It's got bows and it's mint. Enough said, from Reverie!
3 Loving these new sweet colorblock totes from Rouge and Whimsy.
4 I so badly wish I cold afford these J.Crew heels, can I just win a J.Crew gift card giveaway please? Someone have one and pick me as the winner! 😉
5 This cute little necklace from Little Bird Creations is just the perfect accessory to brighten up an outfit.
6 This Spool 72 has got me wanting to go on a picnic.
7 Shop Tobi has made me swoon again with this little polka dot number!
What mint color items do you own? What color(s) do you think it pairs nicely with?
P.S. The winner of the B.A.I.T. Footwear giveaway is Kirstin of Kirstin Marie! Congrats girl! Please send me an email at sandyalamode(at)gmail(dot)com with your mailing address, shoe size, and color choice (coral, teal, yellow or black)!
P.P.S. Have you entered the giveaway to win $40 credit towards Goodmarvin's bag and accessory shop yet?