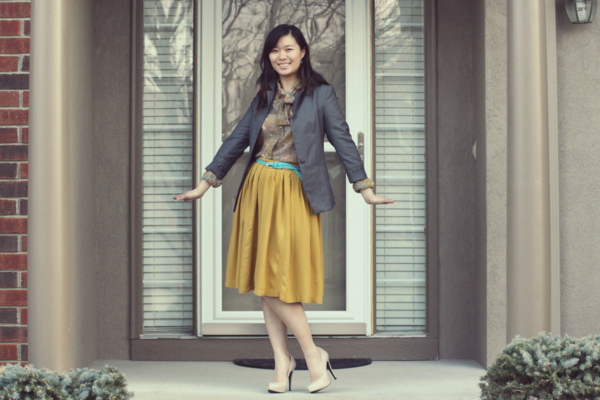 Blouse: Modcloth | Skirt: Forever 21 | Belt: Target | Blazer: Amelia's Boutique | Earrings: This Enchanted Pixie | Shoes: Off Broadway
12 weeks have gone by WAY too fast.
Today is the day I go back to work… for those of you who don't know, I work as a Consultant/Team Lead at a Healthcare IT company.  I travel the world going from hospital to hospital trying to help the Lab go paperless and manage a few associates as well.  😀  However, with my new duties of being a Mom, hopefully my travels won't be as crazy as they used to be.  It'll be quite the change being away from my little munchkin for 9+ hours, let alone Monday – Thursday.
In the first few weeks of maternity leave, I obviously needed the time to recover from just having given birth.  But I have to be honest, by 6 weeks or so, I was ready to go back to work.  Caring for a baby is not all sunshine, puppies and rainbows, I tell ya.  It requires a lot of attention and is HARD WORK.  Days are filled with feedings, changing diapers, crying, and lack of sleep.  It's especially tough when you are trying to figure out the little guy's cries and when he has growth spurts.  But most recently, things have turned for the better and I mean A LOT better, and I don't know how many people have said to me but it's true, THINGS DO GET BETTER!  The cries are easier to decipher, we've created a pretty great routine, he sleeps 5-7 hours at night, and we know how to make him smile/laugh (and no, it's not gas anymore)!  But really, it's the smiles and laughs that make it all worth it… to see him every minute, every hour.  🙂  Oh how I'm going to miss him so.
P.S. The winner of the Goodmarvin giveaway is Tara Huff of The Happy Clipper!!  Congrats!  Will send you an email shortly!  🙂  Remember, you can still use the code ALAMODE10 for 10% off your purchase through the end of March!
Have any tips for making it easier to go back?