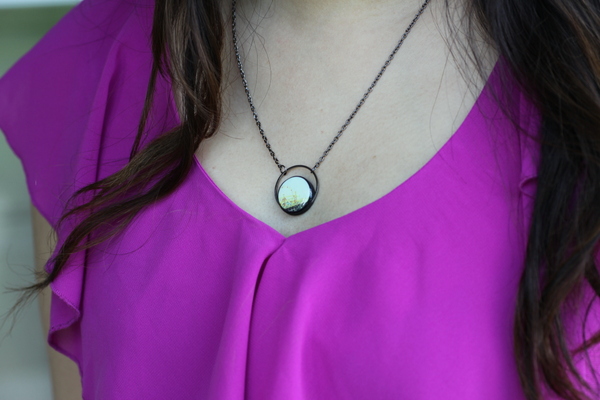 Top: Forever 21 | Skirt: Urban Outfitters (similar) | Shoes: Michael Kors (similar) | Necklace worn as Bracelet c/o Twillypop | Necklace c/o Anna Delores
Never did I ever think that I'd write a blog post with the word "Mullet" in the title. That just cracks me up. And no, I'm not referring to the hairstyle (wouldn't that be kind of awesome if I surprised you all with a mullet haircut) but I'm referring to this new trend for skirts/dress/tops! It's where the front is short and the back is long, also known as "hi lo" or "high low" or "hi low". I'd been on the hunt for the perfect mullet skirt to add to my wardrobe and last month I was at Urban Outfitters and found this perfect floral skirt just hanging on a rack all by itself with some other dresses (it was in the wrong section). I quickly picked it up, realized it was my size and headed down to the dressing room. I put it on and was SO SO happy that it fit. And then I was determined to buy a nice top that would pull out one of the colors from the skirt. Of course Forever 21 did not fail me in finding the perfect peplum ruffle tank. My nude Michael Kors heeled sandals I got from Nordstrom Rack, beautiful aqua bracelet from Twillypop and fun Santa Monica ferris wheel necklace from Anna Delores were just what I needed to top this look off.
On a complete different subject, some of you may have seen on Twitter, this past Saturday I got into a car accident while I was driving my car with my Mom and little baby Austin in the car. It was a fender bender where me and the other car were both turning left out of parking lots across the street from each other. My car got hit on the front right headlight area and thank goodness NO ONE WAS HURT. Baby A slept through the whole thing and none of us got whiplash or anything since the speed was pretty slow. Just wanted to say thank you for all those that prayed for us and we are all OK. I was just shaken up a bit and am nervous about driving, but life goes on. So this is just a friendly reminder to all to please drive safe and pay attention to the roads at all times, life is precious.
P.S. The winner of the Fresh Tangerine layering bracelets giveaway is Pamela W of Heartbreak Boutique!
Do you own any mullet skirts, dresses, tops?