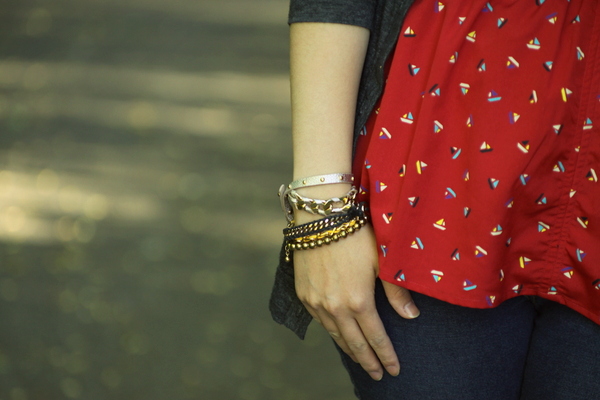 Tank: Forever 21 | Cardigan: Urban Outfitters | Jeans: Target | Shoes c/o B.A.I.T. Footwear | Necklace c/o Anna Delores | Champagne Wrap Bracelet c/o Ladyee Boutique | Other Bracelets: Forever 21
Yesterday, one of my best friends got married in Maui and oh how I wish I were there right now.  Some of my other friends that went to the wedding sent me pictures from the beach and boy was I jealous.  It's seriously been over 7 months since I've even been on a plane (so crazy to think that I used to travel almost every other week).  And it's been even longer since the last time I went to a beach or rode a cruise.  Needless to say, I've kind of got the travel bug right now.  I know that some people say traveling with a newborn is easy since their needs are minimal (sleep, eat, poop), while others claim to wait until your baby is older to travel.  For me, it's the pumping (and all that goes along with it) that is holding me back.  And what's preventing me from sleeping longer than 7 hours at a time.  At the end of this month, we'll be taking a family roadtrip to Branson, MO, woohoo!  My dad's got a timeshare that needs to be used up, so we said why not?
We haven't quite decided when or where we'll be taking our first plane trip with Austin, but I am looking forward to it when that day comes!  Hopefully we're not the crazy parents that everyone stares at because we can't control if our baby cries.  Sometimes a baby's got to do what a baby's got to do and there's no way around it – now I finally understand why parents sometimes can't control their crying babies on planes.  But for now, I'll just wear necklaces with beaches pictured on them and tops with sailboats to get me through.
P.S. The winner of the Blissful Bites $40 giveaway is Mimi from What Mimi Writes!  Congrats girl!  Send me an email and we'll get you hooked up w/ cake pops!  🙂
P.S.S. Don't forget to enter the May Group Sponsor giveaway and the Avon giveaway!
Do you have any trips planned?