Dear Austin,
Time is just flying by and you are getting to be more fun every day.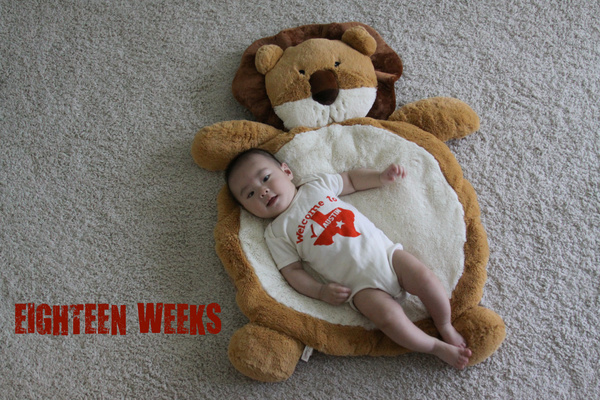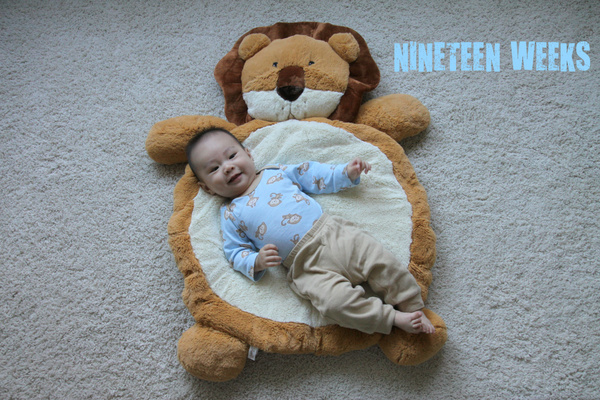 So, you have this bump that kind of sticks out on the right back side of your head and this week we went to see a plastic surgeon to see what he had to say about it. Well, he says your case is a 1.5 / 4 which is not too bad but that he wanted to see you again in another 5 weeks. You may be one of those babies that has to wear a helmet to correct your head shape, but we'll see what the doctor recommends. Either way, I hope you know that what we decide to do is the best for you. The doctor said that during these 5 weeks were not to put you on your back at all except for bedtime (or for your weekly lion picture too) to see if anything improves because you are still on the young side. The jumperoo we got for you at the garage sale was the best $15 we have spent in a REALLY long time. You just love jumping in that thing while giggling up a storm.
And now the latest milestone you've hit is rolling over. At night, we always put you down on your back, but by the morning, you always seem to be on your (right) side or stomach! I guess the apple doesn't fall too far from the tree since Mommy loves sleeping on her right side too. Rolling over is great and all, but it tends to be a little but more difficult when changing your diaper now hehe. Also, you know how to take the pacifier out of your mouth and put it back in with your own little hands – your coordination is getting better and better by the day.
Oh and by the way, you've really mastered a great schedule now with 5 feedings and 10 hours of sleep straight at night. WOOHOO! Keep up the great work, buddy!
Love,
Mommy