Dear Austin,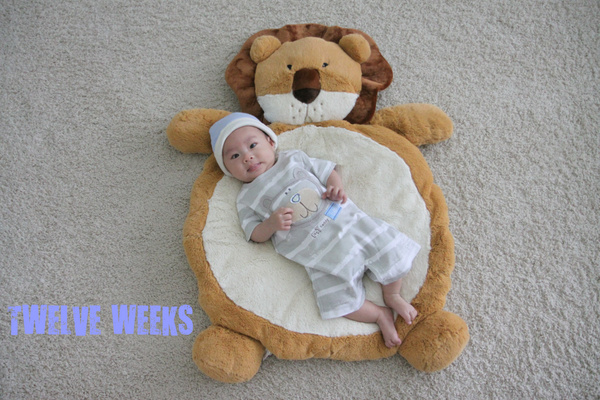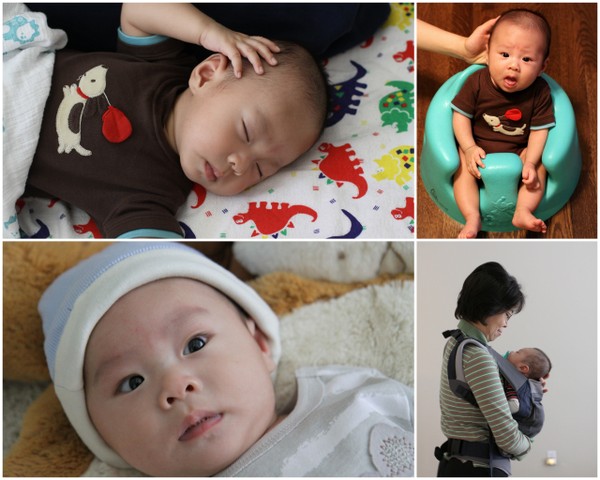 Twelve weeks was kind of a huge milestone for all of us. It was the last week of Mommy's Maternity Leave and your Grandma (Lao Lao) came back to stay with us. The first few days going back to work were really tough for Mommy. I thought about you all the time and people would ask about you about every 30 minutes. I thought about if you were being good for Lao Lao, I thought about your smiles, I thought about if you were pooping, I thought about if you had enough to eat, I thought about if you had enough things to entertain you at home… I just thought about you a lot at work. The best part about coming home from work is that you'd flash me your handsome smile as soon as you saw me and you still do that to this day. Weeknights go by faster than ever since once I get home I need to pump, eat dinner, bathe you, feed you, put you to bed, pump again, and then sleep myself.
At 13 weeks / 3 months, your Grandpa (Lao Ye) flew back in as well and helped us finish hanging all the pictures in your nursery (which I will be sharing soon)! You eat 5 times a day (5am, 9am, 1pm, 5pm, 8pm) with a 5 oz feeding the first 4 times ad a 6 oz feeding before bed. You now love to grab at things… fingers, hair, necklaces, toys. You can semi flip over from front to back, if we position your arms in a certain way. You look at your hands to entertain yourself and suck on your thumb to soothe yourself. Sleeping 6-8 hours at night is pretty consistent for you now and you are better at putting yourself to sleep. You are just growing up so fast right in front of our eyes and are starting to look more and more like a little Marvin Jr. instead of a baby. Now let's just work on you sleeping 12 hours straight at night. 🙂
Love,
Mommy
The winner of Seychelles Shoes Reader Appreciation Giveaway is Holly of HollyDolly! Congrats lucky girl! Please send me an email at sandyalamode(at)gmail(dot)com with your shoe choice, size, and mailing address!! 😀
Don't forget to enter the THREE other giveaways I have going on… here, here, and here!
AND I am giving away ad space and $20 to spend on any one of my sponsors' shops on Ma Nouvelle Mode!