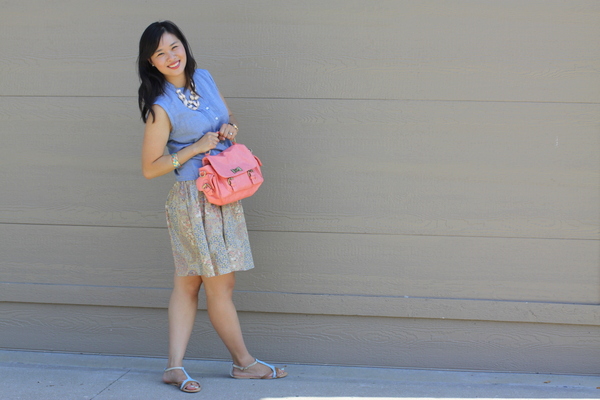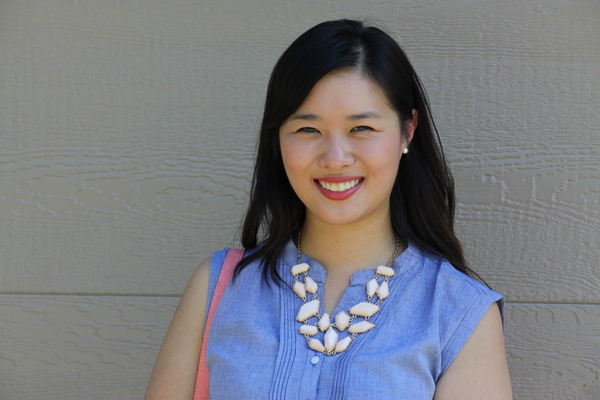 top: old navy | skirt: h&m | sandals: asos | purse: c/o asianicandy | necklace: c/o jeweliq (don't forget to enter the giveaway) | bracelet: t+j designs
1. chambray – they go with almost anything and i can't stop buying them.
2. jewelry – i never used to be as crazy of an accessory girl as i am now, i can't stop buying necklaces and bracelets especially.
3. watermelon – tastes SO good, but it makes my bladder think i'm pregnant again, and no, i am not. the color is pretty great too, like the one of this purse.
4. modcloth – ever since i won a gift certificate to this shop, i constantly keep adding and removing things from my cart but need to just click purchase.
5. austin videos – especially playing this video of him rolling over and making farting noises or this one that captures his funny reactions to eating banana, on repeat.
6. instagram – so here's the scoop. i had ig on my android phone but it froze it every time I used it. so i removed it from my phone. however, my husband buys an iphone 4 that he thinks he can resell and make $50 off of. but before he sells it, he lets me use it and the first thing i download is ig. now i am obsessed and am unsure if he'll be getting the iphone back to resell. plus, i may have scratched it up a bit, oops.
7. new restaurants – in the past week, my husband and i tried two new restaurants in our town. it's love trying new foods and being a tourist in my own city.
8. creating fashionspace looks – here's one i made with lace, florals, and stripes!
9. packages – i get a total thrill of seeing a package at my front door or in the mailbox (even if i already know what's going to be inside).
10. lowercase letters – it's so freeing not having to use the shift key.
what are your current obsessions?