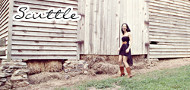 Today, I am super excited to introduce you to Holly, the writer for the super cute blog, Scuttle! This girl puts together some SUPER cute outfits and has a knack for finding fashionable items for a steal of a price. So I've asked her to do a little guest post for me so you could all get to know her a little bit better. And hope this gets you excited for the upcoming Fall season!!
Hello Everyone! My name is Holly Sweetman & I am the fashion blogger for Scuttle.
Scuttle is my creative outlet in which I share a daily take of style & inspiration. I live & blog from Atlanta & wherever else my travels take me. I love my hubby, my two chihuahua pups & cookie dough.
Sandy is oh so sweet to let me do a guest post here today, so I want to take this time to share with you some
trends to shop for in the coming months. It is back to school shopping season, which means it is time to start looking into the coming fall fashions & deciding what pieces to invest in.
Here are 6 of my favorite fall trends (some examples shown above):
PINK! in any shade. A big trend this fall will be to mix multiple shades of pink in one garment.

Bordeaux is the official color of fall. It is better known as crimson or ox blood. So think of a darker red.

Leather! It was big this summer in shorts & mini-skirts & the trend will continue into the fall with pants & jackets.

Polka Dots, Polka Dots, Polka Dots!

White. Whoever stills believes in the "no white after labor day" rule is going to have a hard time come this September. White is a huge color for the fall, you will see heaps of white jackets, heavier white denim & alot of white suits.

Loafers. This is the most popular take on men's wear for women. You will find loafers in all colors & heights this season so the sky is limit when finding a pair that fits your personality.
Here is my take on two of the fall trends: Pink & Polka Dots!
I hope you found some fall trends that you can't wait to try! Happy back-to-school & fall shopping.
For more fall fashion tips & trends come visit me at Scuttle!
For More Scuttle Cuteness:
Go on, go follow her and leave her some COMMENT love! 🙂