A couple of my friends from childhood visited me a few weekends ago, and really got me into bags. I mean this girl always loved bags, I used to have a stand with 3 shelves that I lined with purses in my dorm room. I was a huge fan of buying cheapo knockoffs (Fucci, Fouis Vuitton, Furberry) from Asia/NYC night markets. Bargaining was my superpower, I wish it still were but it's been awhile. Anyhow, while I'll probably never own a real Chanel (unless I win the lottery), here are a few totally affordable bags on my wishlist.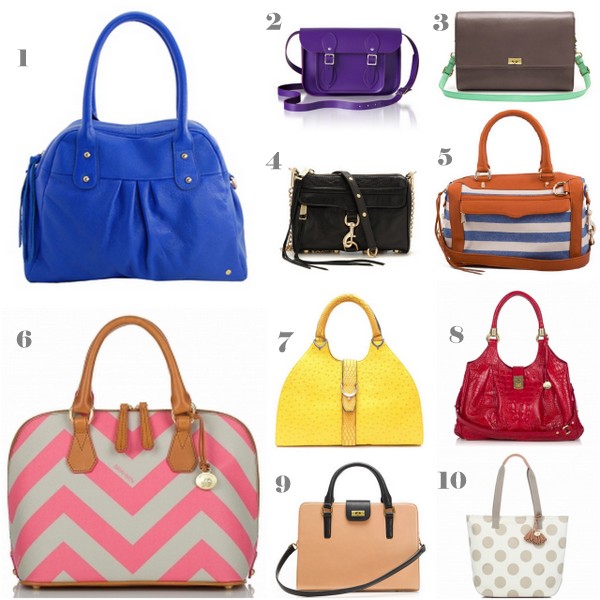 1 Love the simplicity, size and color of this Stephanie Johnson!
2 These Cambridge satchels with it cross body style are SO in right now.
3 I literally keep spending half of my paychecks on J.Crew, and my wallet is totally wanting this purse right now.
4 It's my dream to have a Rebecca Minkoff. One of these days!
5 Stripes on a purse. Rebecca Minkoff is s genius.
6 I'd also love to own a Brahmin, particularly this chevron one. You guys, it's chevron!!
7 So a fun yellow purse from The Style Manor! What a great pop of color this would be on my arm.
8 Love this red color for a Brahmin bag.
9 Again, J.Crew, you are seriously twisting my arm here.
10 I am convinced Brahmin has the cutest print bags. First chevron, now polka dots! Which one do I pick?
What bags are you lusting over right now?