Remember when I told you guys that I was all about adding neutral ivory pieces to my wardrobe. Well, that statement still holds true. Just like everyone needs a LBD (Little Black Dress) in their wardrobe, I'm going to be so bold to state that you need a LID (Little Ivory Dress) in your wardrobe as well. This one I found was from Kintage, and I've styled it up in two ways.
Dress c/o Kintage | Shoes: Seychelles from Modcloth | Necklace: Petitor | Earrings c/o Jac & Elsie | Bracelet: From Arm Party swap partner, Underscore Bethany
For the above outfit, I decided to go with more of a Summer look for the outfit. I used browns throughout the outfit to tie everything together and added pops of color in my bracelets and shoes. You'll see more close ups of the gorgeous colorful bracelets I am wearing in tomorrow's post, but for now, can we stop for a second to talk about my shoes? They are Seychelles and I am in love and I used my Modcloth gift certificate that I won from Fashion Space to purchase them. So free teal shoes that are THIS gorgeous, how lucky am I?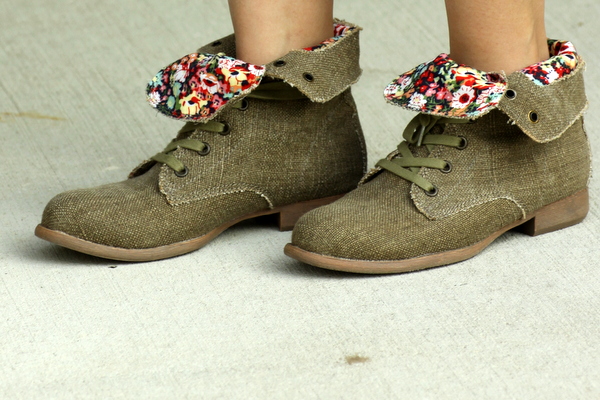 Dress c/o Kintage | Cardigan: Maurice's | Shoes: Blowfish | Necklace: Red Velvet | Bracelet: From Arm Party swap partner, Underscore Bethany
For the second look, I tried to give it more of a Fall twist to it. I added in a cardigan and boots to give this a more grungy and not as feminine look. I still stayed in the earth tone family and used the flaps of my boots to give the outfit a bit of pattern and color.
P.S. The winner of the $50 credit to Mikarose giveaway is Abbey H. of The Makings of a Mess! Congrats girl! Send me an email at sandyalamode(at)gmail(dot)com to claim your prize! 🙂
How would you style a Little Ivory Dress?