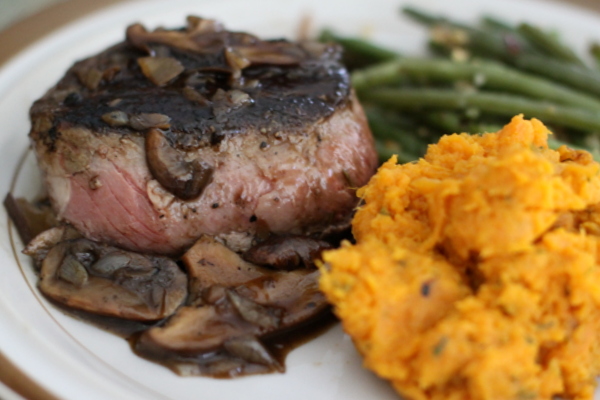 Filet Mignon with Herb-Butter Sauce and Mushrooms
Ingredients
– 4 beef tenderloin steaks (filet mignon), cut 1 inch thick (about 6 ounces each)
– 1 tablespoon butter
– 1 -1/2 cups assorted mushrooms (shiitake, enoki, straw, cremini, button or chanterelle), whole or cut in half if large
– 1/4 cup minced shallots
– 1-1/2 cups beef broth
– 1/2 teaspoon chopped fresh thyme or 1/4 teaspoon dried thyme
– 1 tablespoon cornstarch
– 1 tablespoon water
Instructions
1. Heat large nonstick skillet over medium heat until hot. Place beef steaks in skillet; cook 10 to 13 minutes for medium rare (145°F) to medium (160°F) doneness, turning occasionally. Remove to platter, season with salt and pepper, as desired. Keep warm.
2. Heat butter in same skillet over medium heat until melted. Add mushrooms and shallots; cook and stir 3 to 5 minutes or until mushrooms are tender and browned. Add beef broth and thyme to skillet, stirring until browned bits attached to bottom of pan are dissolved; bring to a boil. Combine cornstarch and water in small bowl; stir into mushroom mixture. Cook 2 minutes or until sauce thickens, stirring occasionally. Season with salt and pepper, as desired.
3. Serve steaks with sauce.
It's no joke that I am a meat lover. The more red and bloody and tender it is, the better. Well, medium rare to be exact. The other day, Kansas Beef Council contacted me to take the My Plate, My Way eating personality test so I said why not. It's an interactive tool that asks you a set of 8 simple questions and spits out your eating personality and a few recipes they think you'd enjoy. I was given the title of "Flavor Saveur" and it couldn't be more right. Flavor is key when it comes to food and I just love experimenting with new foods and recipes. This Filet Mignon (best meat ever) recipe was pretty simple to make and it sure did have a lot of flavor. I didn't even have to dip it in A-1 sauce, which I usually do for most steaks. I know, I'm bad, but that stuff is SO good. If you are a beef lover looking for a few new recipes, then take this quiz and get a recipe or two to add to your collection of recipes to try.
What's your eating personality? What is your favorite cut of beef?
***This post was sponsored by Kansas Beef Council, who sent me a $50 gift card that went straight to buying high quality filet mignon for me and my family.***