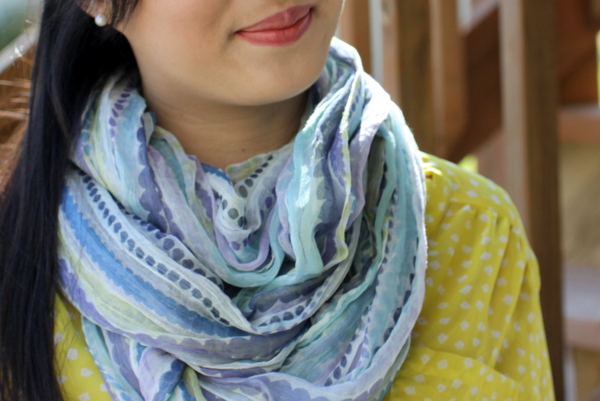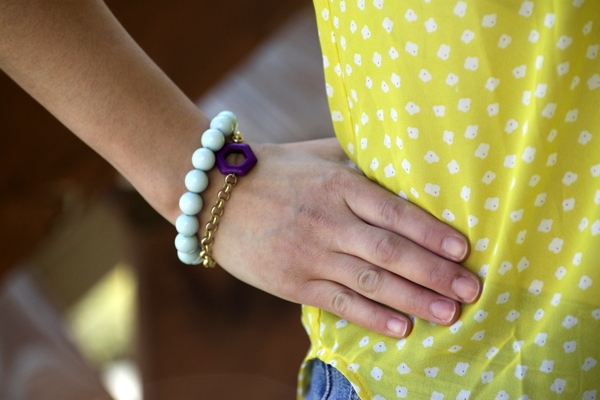 Blouse c/o Kiki La Rue | Jeans: Charlotte Russe | Shoes: Chromatic Gallerie | Scarf: Target | Bracelets: Francesca's, The Shine Project
First of all, thank you so much for all the sweet and heartfelt comments and advice on my last post. It really means a lot to me that so many shared your own experiences and are cheering our little family on!
Maybe if I dress in Spring colors, it will come faster. We did get a small taste of it with the 58 degree weather, that was seriously nice. I'm ready for the flowers to bloom, warm weather, wearing pastels and brights all the time, taking my little guy on picnics and living in my Hunter boots for the rainy days. I love the subtle dots on dots pattern mixing in this outfit and all of the fun colors in the scarf that tie this whole outfit together! Please excuse my messy hair (dang wind!) and close up on my unpolished nails (a fashion blogger no-no).
Speaking of warmer weather, I'll be heading to Los Angeles, CA for work in a few weeks and would love to meet up with some of you fellow LA bloggers, let me know if you live in the area and would like to meet up! 🙂
P.S. One more day to enter the Blowfish Shoes giveaway! You can win a pair of shoes… who wouldn't want that?!