Today, we have a special guest post brought to you by Radiant Cosmetics! They will be sharing with us some ways to wear the color of the year!
In case you haven't heard, Pantone named 'Emerald' as the color of the year. It came as no surprise that its been trending ever since and is popping up everywhere from clothes to accessories and much to my delight, it has made its way into the beauty world.
Now I know you're thinking there's no way I can pull off green makeup without looking like the Jolly Green Giant. Surprisingly, green is a universally flattering color and you CAN look great in it.
Here are some ways to wear it:
Full on Green Machine:
One of my favorite ways to wear green is all over the lid with a dark brown liner and several coats of mascara. It really makes a statement and makes your eyes pop. To wear a heavy dose, I use our Gel Eyeliner as a cream shadow (a great multi tasking product) and prime eyes with Gel Liner in 'Yucatan' and press our 'Frolick' Eye Shadow on top of the lid. The double layers of green really helps keep color true and gives a deep wash. If you want to go for a lighter wash of green, skip the Gel Liner and just use the shadow. I like to add a bit of light brown 'Kilimanjaro' Eye Shadowin the crease, some Gel Liner and Volume Mascara and you're set. Keep the rest of your face simple with a small amount of blush and gloss or lipstick.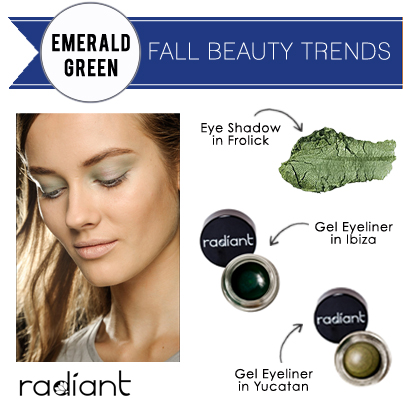 Subtle Green:
Not ready to commit to an all over green? The best way to still rock this trend without taking it to the extreme is a simple eyeliner swap. Do your makeup as usual but trade your normal shade of liner for a green one. You can wear the green liner on top and bottom, one or the other, or even mix it up and pair it with your normal everyday liner. In the picture below, Amy is wearing 'Yucatan' Gel Eyeliner (a light wash of green) on top and a bronze liner ('Marrakech' Gel Eyeliner) on bottom. If you want a darker green liner, our Gel Eyeliner in 'Ibiza' will offer even more punch.
We'd love to see you rocking the Emerald trend, tweet or Instagram us your pictures @radiantcosmetic.
This post was written and sponsored my Radiant Cosmetics. Visit Radiant Cosmetics to shop for some new eye, lip, face makeup to add to your beauty collection. You can visit their Facebook or Twitter page for their latest updates or see their Pinterest board for how others wear Radiant Cosmetics!