A few weeks ago, I was sent some products by City Cosmetics to try out! I hadn't heard of the brand before so was excited to see what the line had to offer and what it could do for my face! 🙂 Although most of these products need to be used daily and for many weeks to see good results, I tried these products over 2 weeks and these are my thoughts…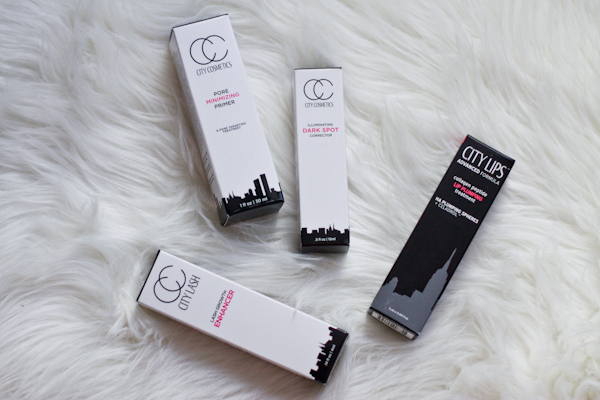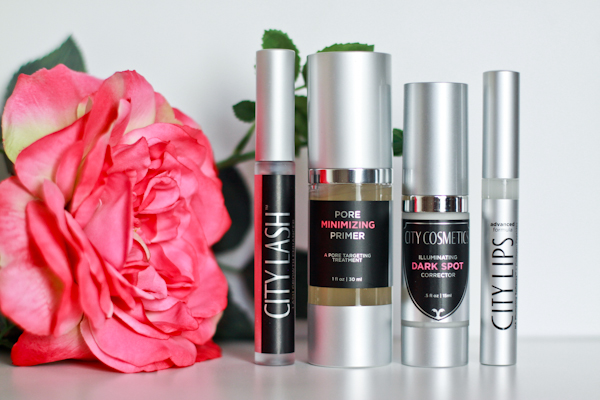 City Lash – Since I currently have eyelash extensions, I didn't get a chance to try this out yet., but the reviews on their website are great and I can't wait to try it out! My eyelashes are teeny tiny short little thangs and anything to make them grow longer and fuller, I will give it a shot!
Pore Minimizing Primer – I just started using this and am already starting to notice a difference. I apply it before makeup and it helps to shrink the appearance of pores and fine lines.
Illuminating Dark Spot Corrector – Underneath the makeup, I have lots of dark spots, sun spots, etc. that have developed over the years. I tried this daily for two weeks on one specific spot on my face and I swear it's fading!!
City Lips – This is City Cosmetic's most popular product and has been ranked as the top lip plumping treatment on the market by Good Housekeeping magazine, ABC-7 news, and has been featured in Elle, Glamour, Vogue, and many more beauty, fashion and lifestyle publications. It provides instant fullness, definition, hydration AND long-lasting plumping benefits by stimulating new collagen development. It increases lip volume up to 3mm and will extend the longevity of your lipstick! That's because it acts as a sealant underneath your lipstick it will help lock in the shade, and if you use it on top, it creates a barrier that protects your color. The average "instant" lip plump will last four to six hours, but with frequent use CITY Lips provides long term and continuous results.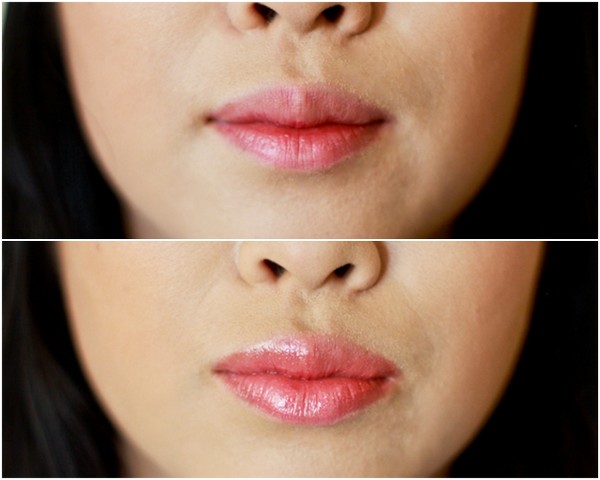 Here's my before/after picture with City Lips clear gloss, the after was taken about 5 minutes later and it's subtle, but I can already see fuller lips (and the gloss is pretty too)! I'm continuing to use this product and excited to see how much more full my lips can be after daily use!
Are you interested in getting some City Cosmetics products? Take 40% off sitewide with code "SANDY"!!
**This post was sponsored by City Cosmetics but all pictures and opinions expressed are my own.