Being a Mother is one of the most amazing experiences I've ever faced. On May 12, it will be my second Mother's Day as a Mother and I couldn't be more grateful. Grateful to have such an amazing little boy to call my own. Grateful for his sweet kisses and cuddles. Grateful for all that he is learning and all that he has taught me about life. Grateful that I get to shape his life and future — even through the worst tantrums and screaming fits. Grateful that he is healthy, happy, cooperative, and busy (and sometimes chatty).
I never knew the sacrifice, the hardships, the worrying that a Mother faces until becoming one myself. Being a Mother is one of the toughest jobs around and it's only fair that Mother's get their own celebration and day. 🙂 In honor of Mother's Day, I will be doing a series of Mother's Day Gift Guide posts leading up to the Mother's Day. These would be great guides for buying presents for your Mother (and Mother-In-Law) or for husband's of blogger Mom's too. 😉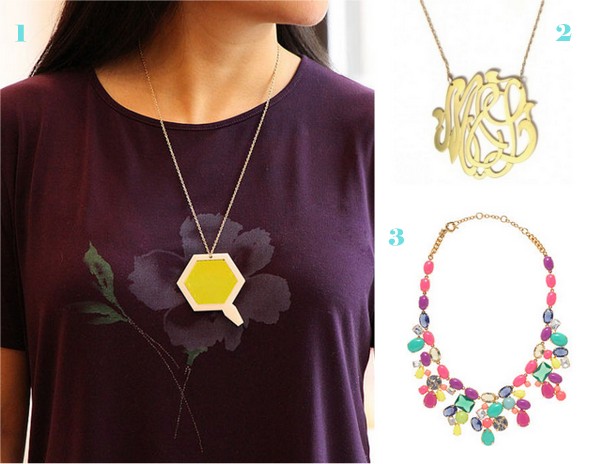 1 The Wondrist just opened up shop with these whimsical monocle necklaces. A modern interpretation of the monocle – rather than correcting eyesight, the monocle helps you see the world around you with wonder when you hold it up to your eye. Adjust the angle of the monocle and see the world change before your very eyes from pink to blue to yellow and orange. I love them because they come in a variety of different colors and sizes and have great meaning behind them! Perfect for a Mom with a great imagination!
2 Monogram necklaces are a great gift for your mom, sister, friend, wife, daughter or any woman! These beautiful Swell Caroline lovelies would make a great statement piece and would match with a lot since they are a solid gold (or silver) color.
3 Been seeing this necklace around blog world a lot lately and I just think it's the perfect major statement necklace that would match with a lot of outfits (since it has so many colors in itself). Again, J.Crew is pulling at this Mother's wallet. 😉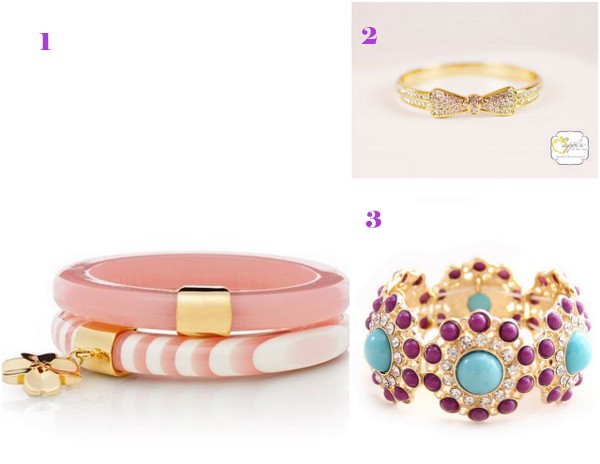 1 This perfectly pink Tory Burch bracelet set is both sweet, cute, and the little flower charm really seals the deal!
2 You can never go wrong with sending your Mother something with a bow on it. It's darling, charming, and perfect for layering all at the same time. Apple Of My Eye Jewelry makes this lovely!
3 For the Mother that loves a lot of color and sparkle, this Olive and Piper bracelet really speaks volumes. It's elegant, bright, and so much fun!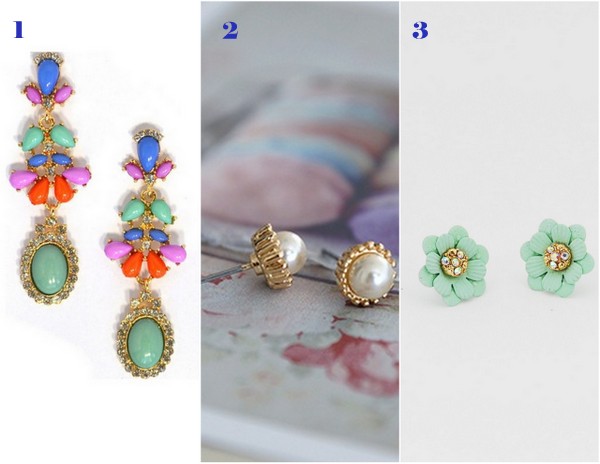 1 This pair of dangle earrings will make any Mother the talk of the town. JEWELIQ has a huge selection of jewelry that would make any Mother happy!
2 Pearl earrings are a staple in every Mother's jewelry collection. These casual, yet elegant beauties from Conversation Pieces will instantly glam up any outfit.
3 For the Mother with a green thumb, these blooming beauties from Nine Blossom would be the great for wearing while planting flowers.
The TWO winners of the Muse Apparel giveaway are Gift P. and Kimbercrafts! Congrats ladies! Please send me an email at sandyalamode(at)gmail(dot)com to claim your credit! 🙂
Don't forget to enter My Momma's Kitchen yummy $35 credit giveaway!
Do you have a special jewelry piece that you've received as a Mother's Day gift or given to your Mother for a Mother's Day gift? Would love to hear about it!