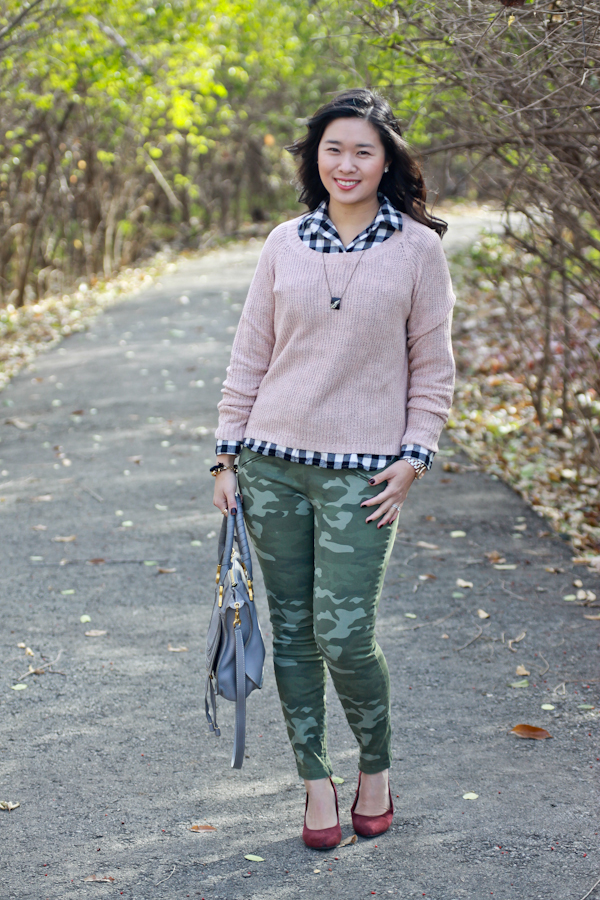 These past few Thanksgiving day holidays were super low key for us. We didn't have any family in town and really just spent it the 3 of us. We went to a Thanksgiving buffet and cooked some staple Thanksgiving foods of our own, we did A LOT of Black Friday shopping, we watched the Michigan – Ohio State game (me and the husband went to the respective schools, it was a darn good fight by Michigan even though we lost), we put up our Christmas tree and sang and dance to Christmas songs. Oh and I finally got my first caramel brulee latte from Starbucks and it was amazing.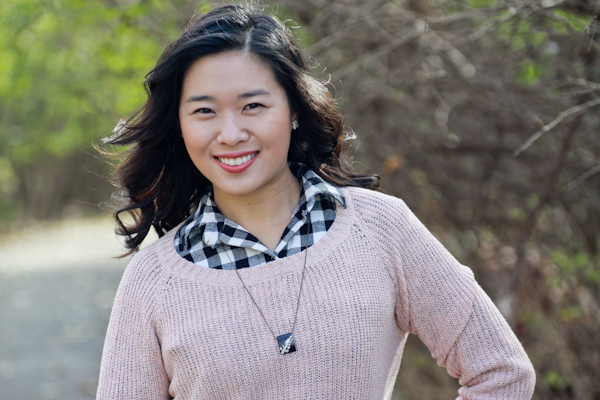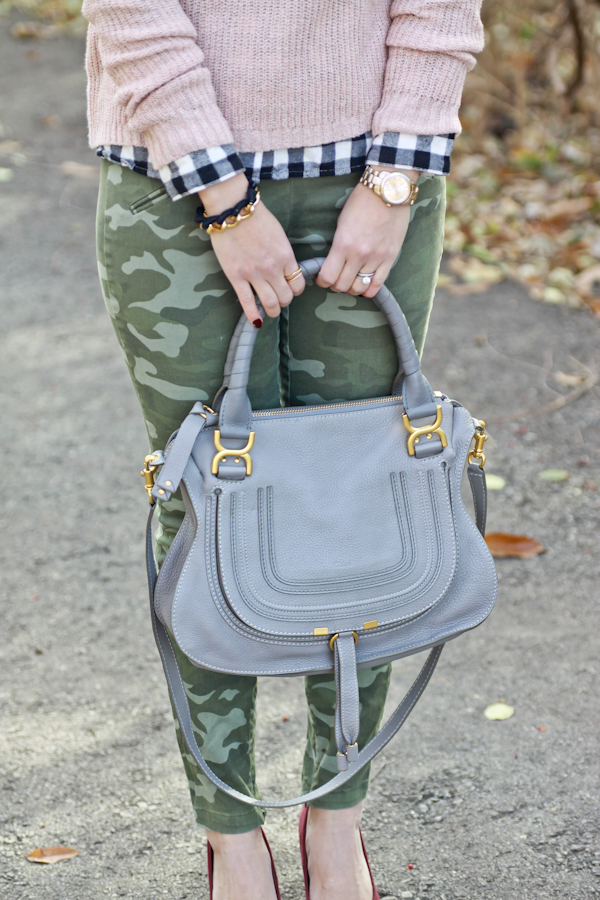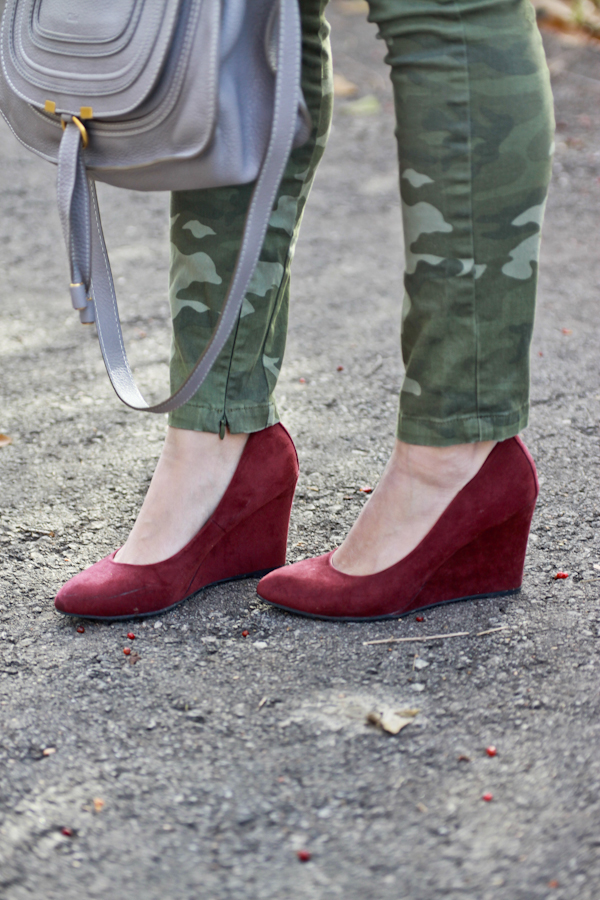 But before I get carried away with Christmas, I'm loving the mini heat wave (of 50 degrees) we got this past weekend.  This outfit was just perfect for wearing without a coat. I love the look of buffalo check and camo mixed together… and I also quite like pink and burgundy colors together as well, so decided to mix it all up in to one outfit!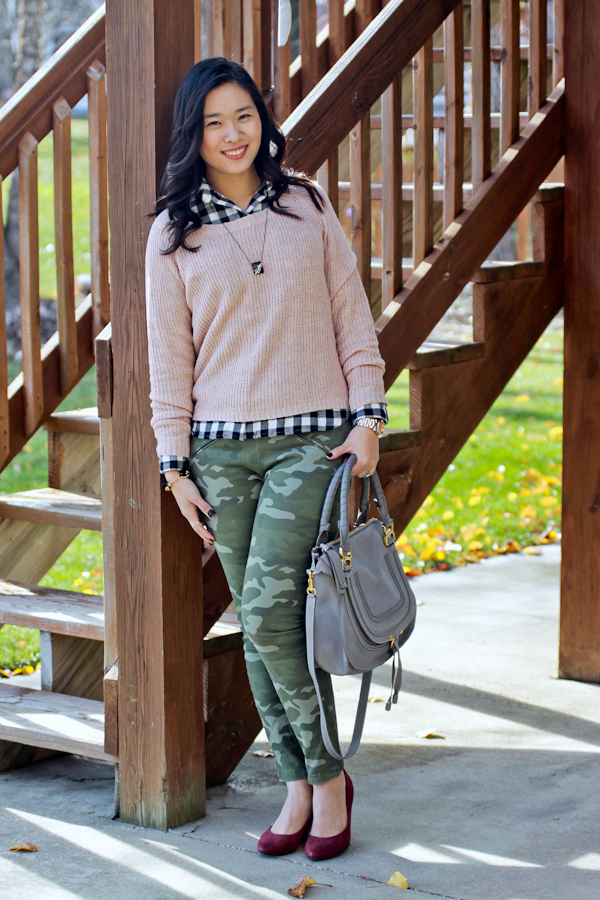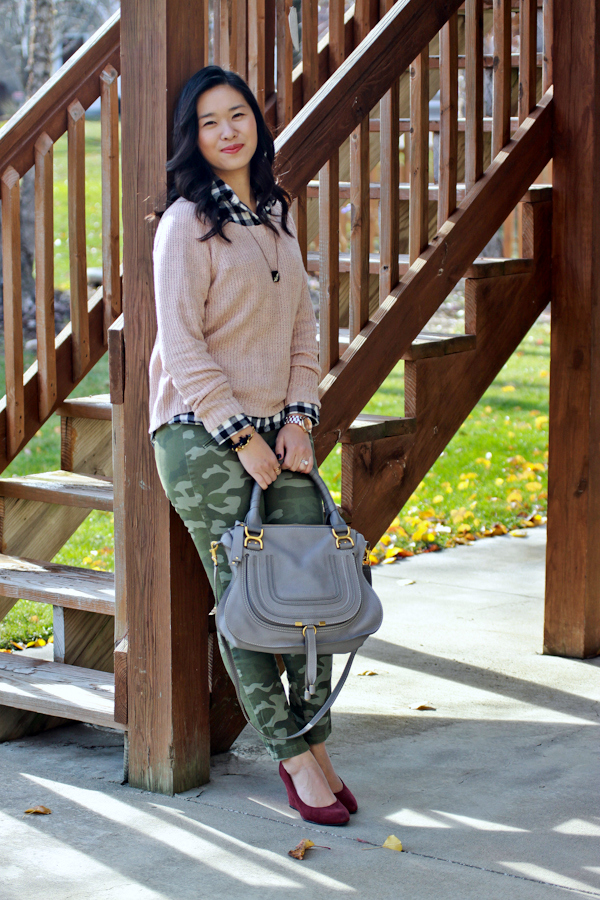 Outfit Details:
Sweater c/o Conversation Pieces (15% off entire store on Cyber Monday – discount reflected at checkout!)
Button Down: Madewell
Pants: GAP
Shoes: Forever 21
Necklace c/o Daily Dose
Bag: Chloe
And for you shoe lovers out there, hold on tight, the biggest wave in shoe giveaways is about to hit the blog world.  The DSW Shoe Hookup consists of 50 fashion bloggers who are EACH giving away 5 pairs of shoes (gift card of $50) to 5 lucky winners.  And the "Do you speak shoe lover" book to 5 more people.  If you do the math, that's 250 pairs of shoes and 250 books and it's all happening before Christmas!  So get your fingers ready for entering, from December 2 – 21, you'll have chances to enter giveaway after giveaway and hopefully win a pair of shoes from DSW!  My contest will begin on December 9, 2013, but here's the whole group of contests that gives you all the details on what blogs are hosting giveaways on which days!  Good luck to you all!