Hi all! Just checking in from Ohio here. It's been a whirlwind of a week here with family time, a lot of home time, lots of eating, and a little bit of struggling with getting Austin to sleep (I feel like this is a constant struggle his whole life), but all in all, it's been good to be away from work and spend some quality time with family! It's the perfect time to get all those things that were on your wishlist… hopefully on sale! Here's a look at our family's wishlist, stuff for me, my husband, our little almost 2 year old (his birthday is in 2 days, oh my)! and stuff for our home.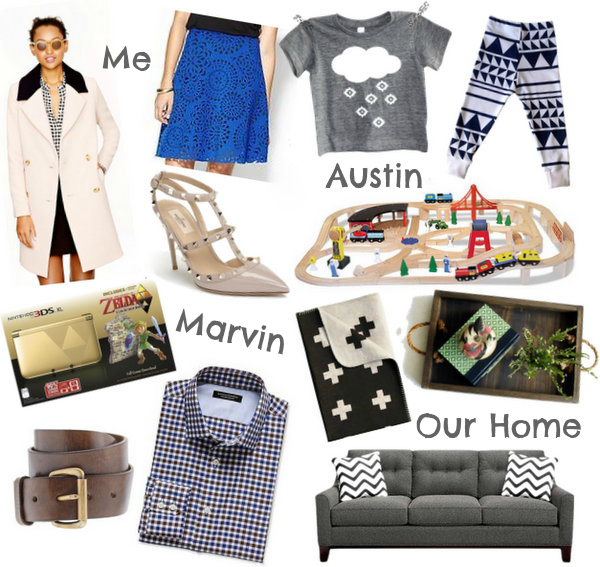 Me: Coat | Skirt | Shoes Austin: Tee | Leggings | Train Set Marvin: Nintendo 3DS Zelda | Belt | Button-Down Shirt Our Home: Blanket | Tray | Couch
One of my favorite places to look for after Christmas sales is Coupons.com. They've got a comprehensive list of sales from a ton of major stores that I (and probably you) shop at. And even better, Coupons.com along with some awesome fashion bloggers are bringing a $250 gift card giveaway to Amazon or Sephora, all you need to do it enter below!
— PARTICIPANTS —
Moiology | The Sweetest Thing | Lilly's Style | Plane Pretty | Putting Me Together | Jadore-Fashion | Suburban Faux-Pas | Southern Curls & Pearls | Melanee Shale | Fancy Things Blog | A Spoonful of Style | StilettoBeats | Cleverly, yours | Sandy a la Mode | Let It Be Beautiful | Love, Olia | High Fashion 4 Less | Walking in Memphis in High Heels | Fashionable Hostess
This giveaway closes on December 31, 2013 at 11:59PM. Good luck!