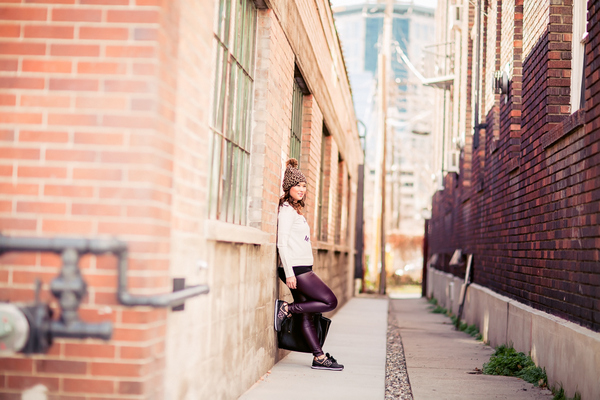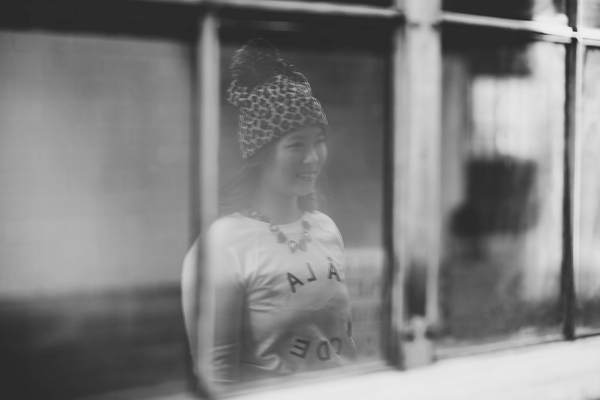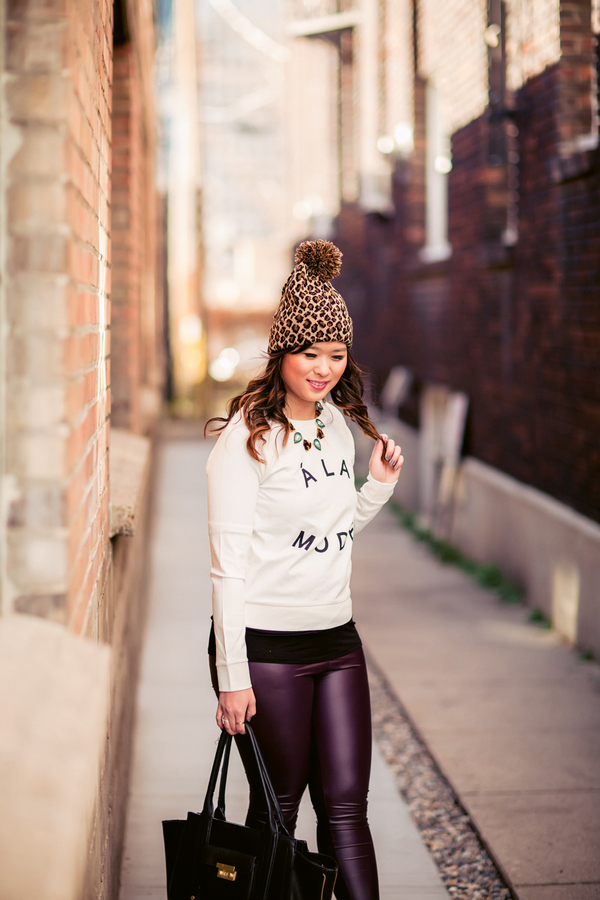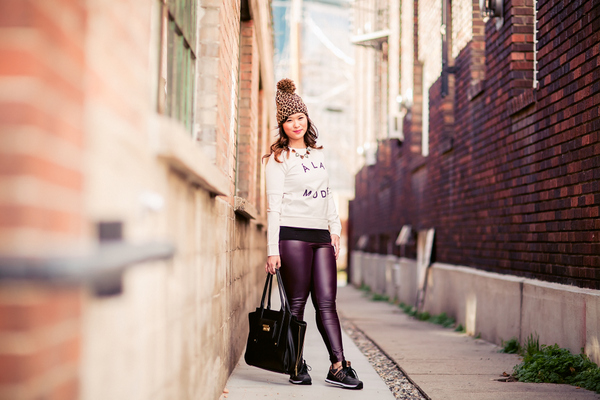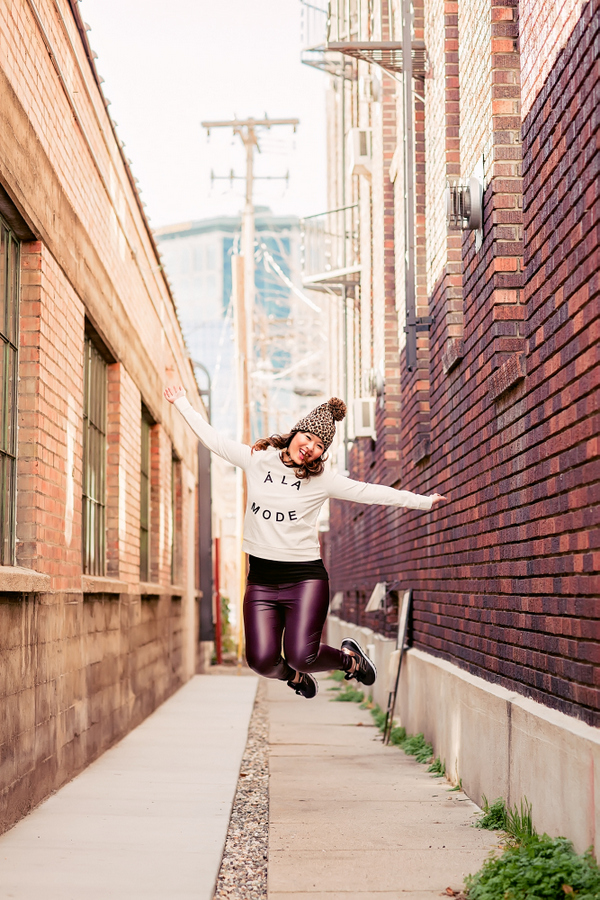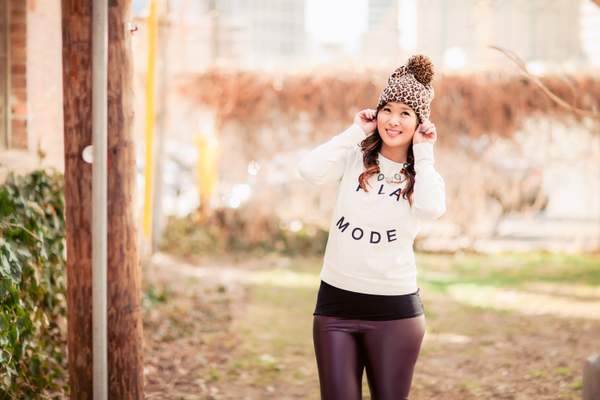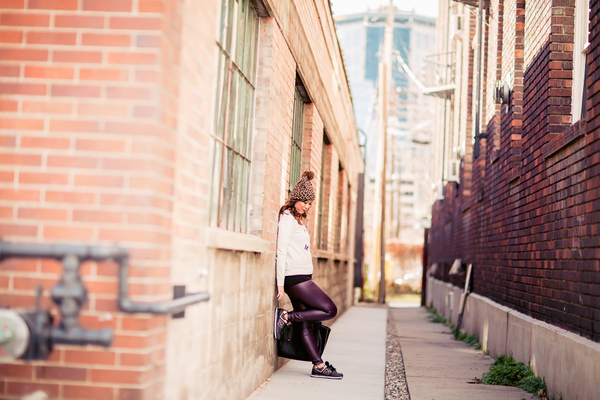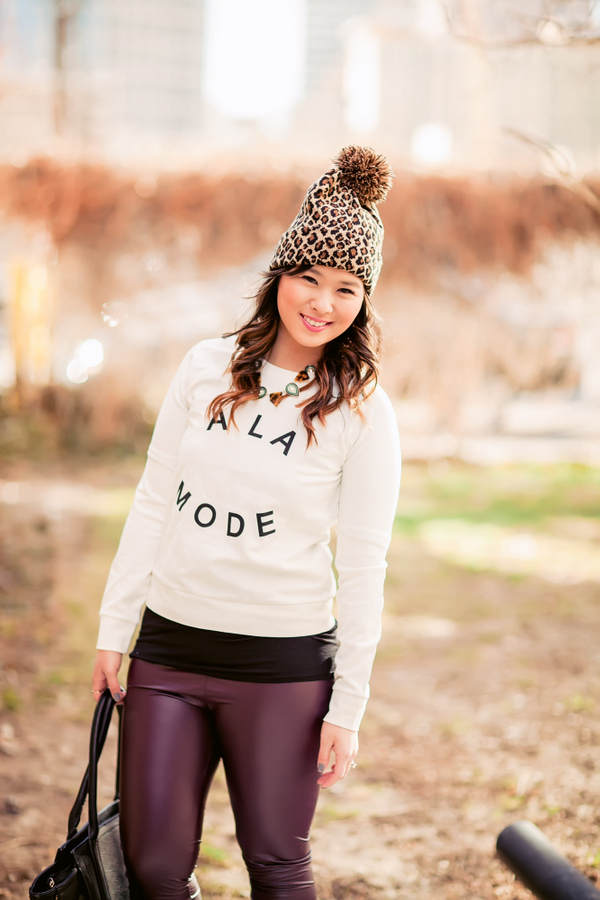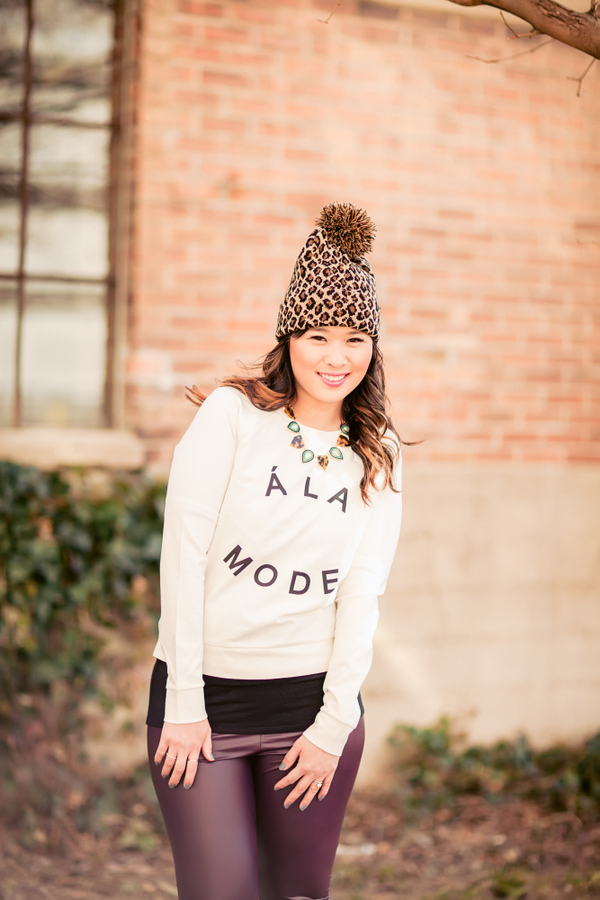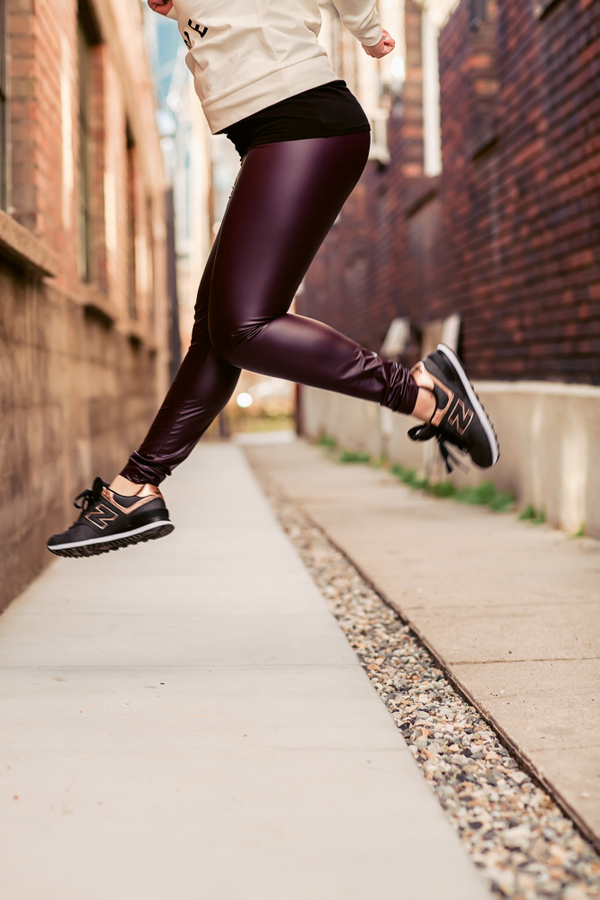 Outfit Details:
Sweater: Banana Republic
Leggings: Agnes & Dora
Beanie: Cents of Style
Necklace: Cents of Style (take 50% off Cents of Style tortoise collection with code TORTOISE)
Sneakers: New Balance
Bag: Target
Photos by Anastasia Strate Photography (based in SLC, UT)
Because this sweatshirt is pretty much calling my blog name… I wanted to take some time to write a little bit more than usual and talk about how I started blogging, why I started blogging, tips for bloggers, etc.! I started blogging over 5 years ago. It was after I got married to my husband and before Pinterest started, I received my first DSLR camera as a gift and I wanted to continue the creativity that had sparked from wedding planning. We only had 6 months between the time we got engaged to the time we got married (I guess I wanted to just get married already) so once the planning all ended (it was stressful, but FUN) I wanted to do more. So got weeks, I bounced a ton of blog names off my husband, family and friends. I wasn't quite sure what exactly I wanted to blog about but I thought I would start with my photography journey, blog about recipes and some sewing projects. One day around Christmas in 2010, I was out with my husband's family eating dessert and we got some cake with ice cream a la mode. And that's when it hit… a la mode… like ice cream on the side… which could translate into things I like to do on the side… besides my day job. So… Sandy a la Mode was thus created! Fast forward 5 years and now I am predominantly a fashion blogger… but the other meaning of "a la mode" means being fashionable and stylish. So thus, this blog name was a perfect name for me from the start. 🙂
Now through the past 5 years, I never really considered myself a "big sized blog" or even a "medium sized blog"… I really think I am just a "small blogger". My intention was always to keep this space as a journal and not turn it into a job. As my blog has changed and evolved, I started monetizing the blog for some on the side fun money which really just goes back into buying more clothes and shoes… for myself and for my kids. I'm sure my husband would wish that I invest the money more wisely though, I am working on that. Anyways, this past weekend, my friend Looks For Lovelies hosted The Lovely Lunch for business owners/bloggers/powerful women in the Salt Lake City area. Cents of Style helped to host the event and the CEO Courtney had such an inspiring and amazing story about her journey to success! AND the kicker is, Jacque asked me to be a speaker to present some things that I had learned from my recent experience at my first ALT Summit blogging conference. So I just wanted to share a few of the tips here that I shared at that conference.
My talk was about how to pitch to brands and ways to monetize your blog…. and because I work better when I write things out in lists, that's just what I am going to do.
1) If you are a new blogger, create quality content for 6 months – 1 year before starting to think about monetizing, etc. Make sure you are consistent with your posts and write at least 2-3 times a week so you give readers incentive to come back!
2) Follow the brand's social media, curate inspiration posts with the brand, tag the brand, make sure you are talking about the brand that you are wanting to work with in a positive way. Make sure your blog content fits with the brands vision.
3) Some ways to monetize are sidebar ads, sponsored posts, giveaways, blogger networks, affiliates. Feel free to try them all, but in the end, pick the 2-3 that generate the best revenue streams for your blog/business. Stick to those.
4) For sponsored posts specifically, be creative with your pitches. I feel like lately, these are the way to go over sidebar ads (which used to be more popular years ago). But now, companies want to see their products used in as organically as possible in blog posts or social media outlets. But instead of just doing one post for one company, try to make a 3 part series. Maybe on how to style 1 item in 3 ways which is 3 blog posts. And if brands like what you are doing, then they'll want to come back and work with you (bonus)!
Do you have any tips? What are your best ways for monetizing your blog or unique pitches for brands?