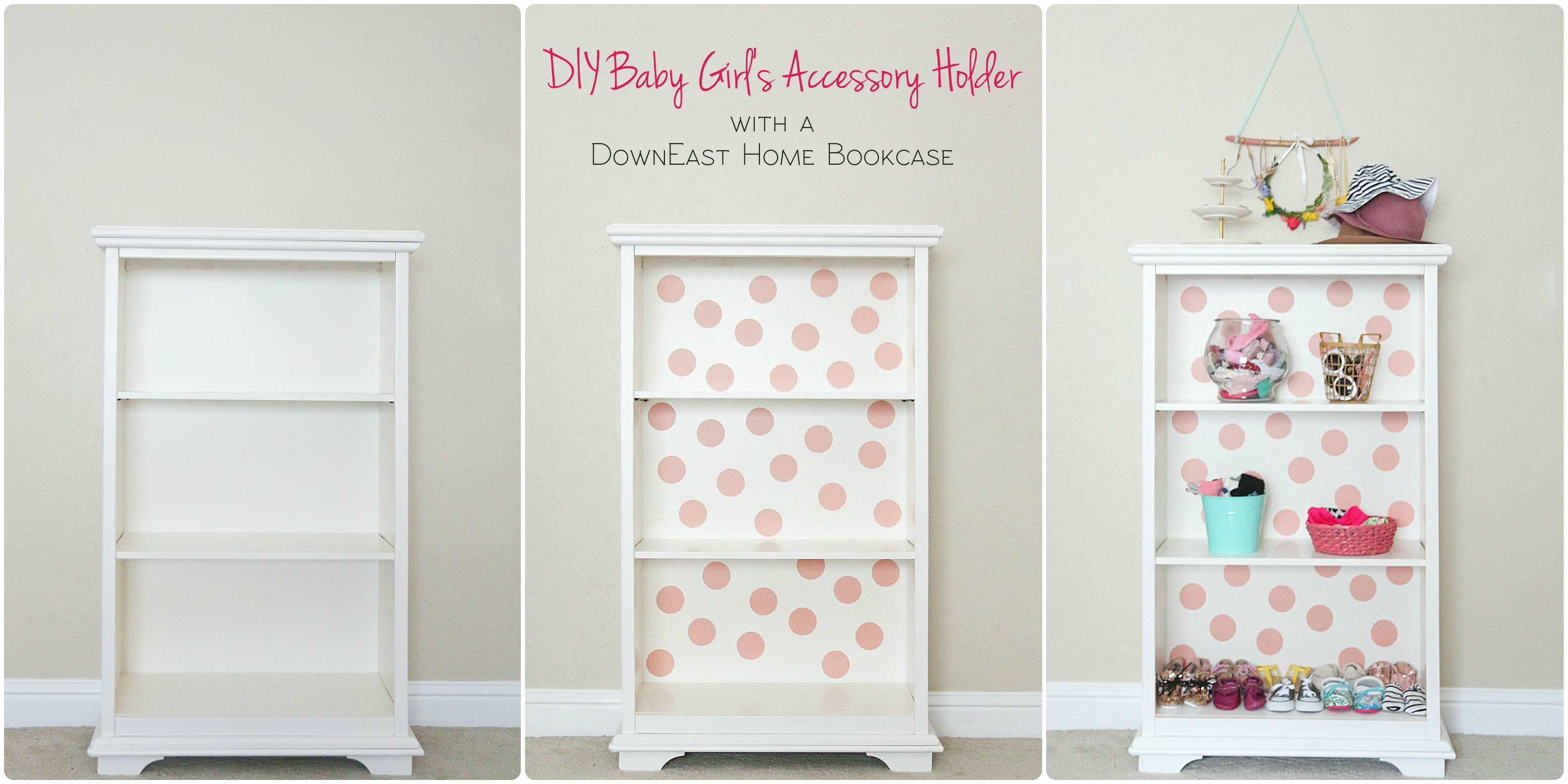 I'm so excited to finally share with you a project I have been working on for a couple of weeks! With having a baby girl, our clothes and accessories and shoes in the house seriously tripled what it was before… and that's not even really an exaggeration. Yes, I've gotten a lot from sweet shops that wanted to send her items to feature and I've probably purchased just as many as well. My husband wasn't too happy about her headbands and socks and shoes being scattered all over the house, so I knew I needed to get some organization system down.
One store that I've shopped at a ton before since moving to Utah is DownEast. I've gotten a ton of clothes from them but hadn't really shopped the home decor part of the shop before. They have specific DownEast Home & Clothing stores around Utah where they get a lot of extra inventory from other stores and they are sold at a discount. They've got furniture and accessories from some high end stores and they have their own line as well. When I saw this Carolina Tall Bookcase in white, my wheels were spinning. I know that traditionally it is a bookcase, but Vivian doesn't have too many books right now (well they are all on Austin's bookcase) so I figured I could turn this into an accessory holder instead.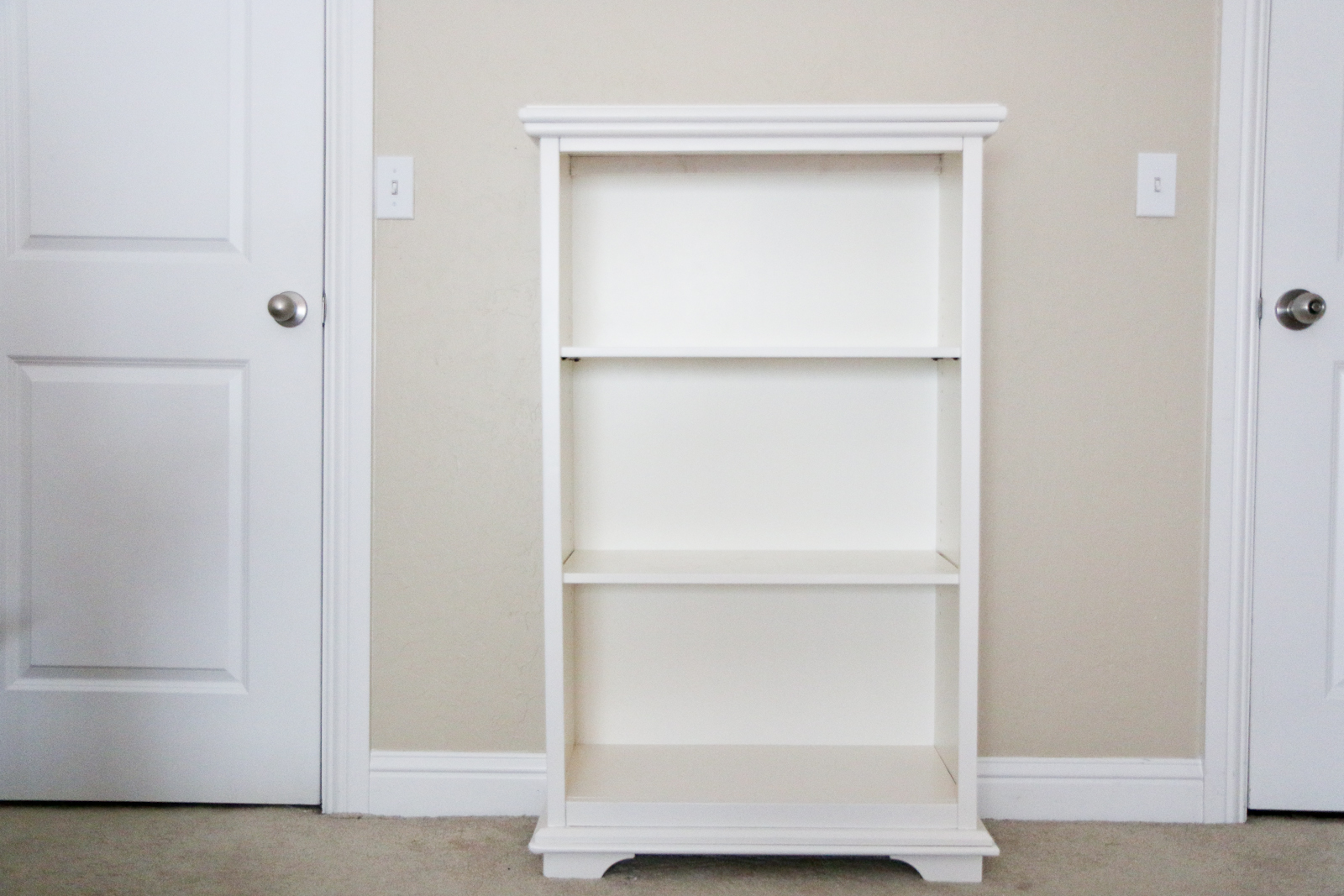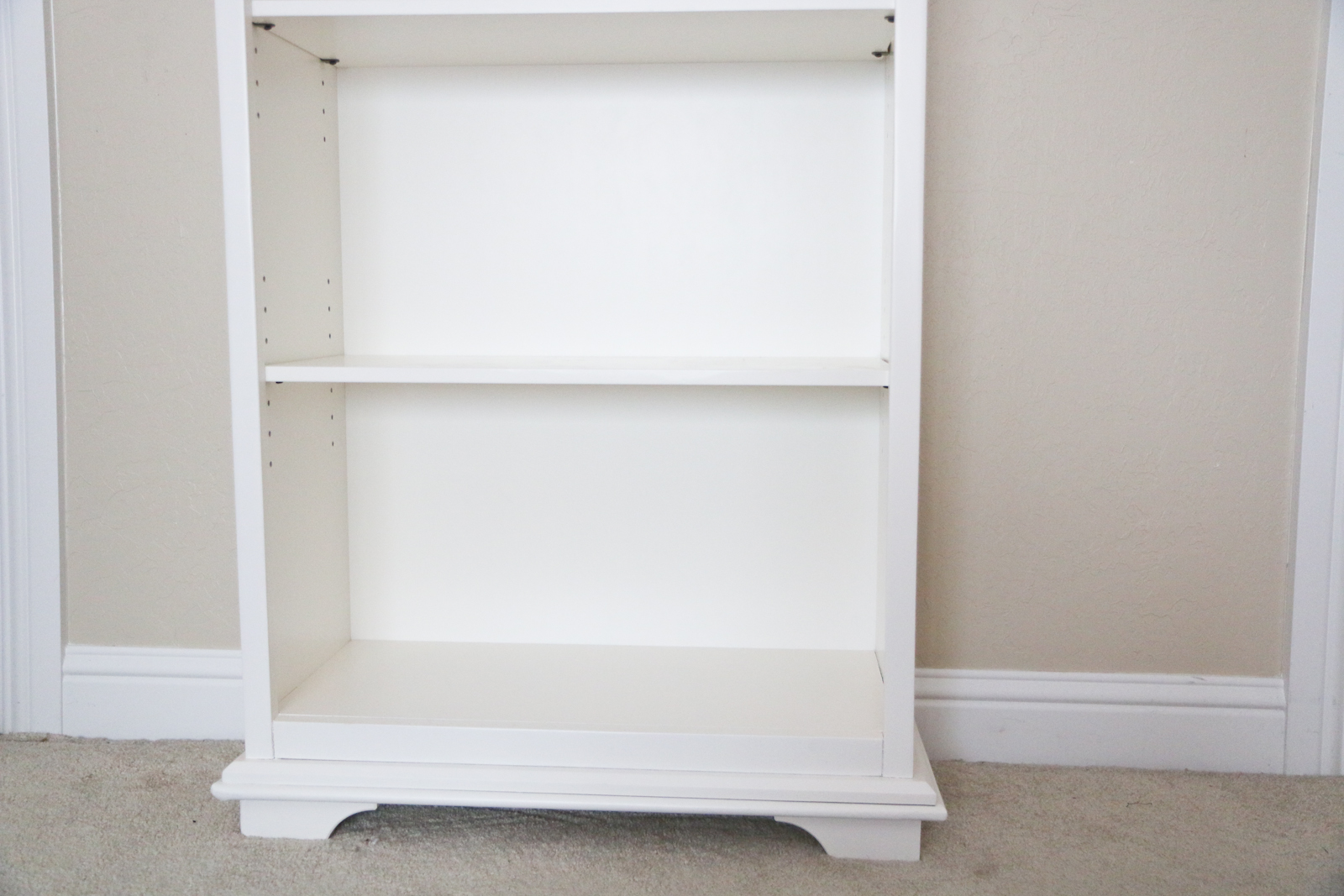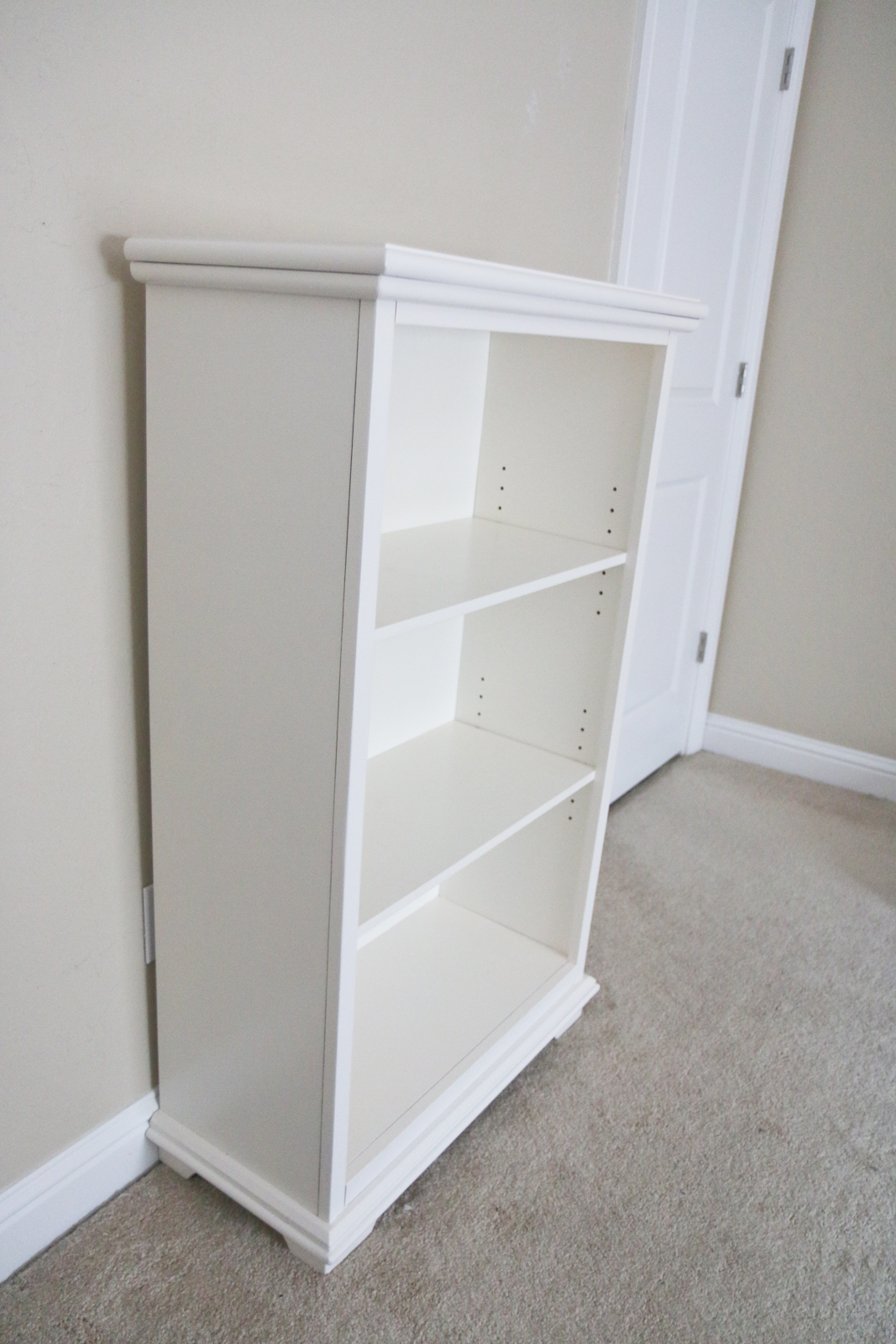 I've always seen those bookcases with wallpaper in the back and have thought those were super neat. I knew that a project like that was probably beyond my capability in terms of effort and time but I knew I wanted to do something fun. And since Vivian already has some mini triangle wall decals on one of her nursery walls from MUR, I figured, why not do some blush pink mini dots? The vinyl is SUPER easy to apply and if I just do the dots randomly, it will be a quick and easy process. And quick and easy it was!! Even when I messed up a little bit and the dots weren't placed right where I wanted them, I was able to lift them up and reapply. I love how it turned out!
And then lastly, I needed to fill the wall, top of bookcase and inside of bookcase. I recently got a gorgeous driftwood accessory holder from Anzanas Treasures, it has a ribbon for hanging and gold hooks for hanging those headbands. I knew it was the perfect piece to go over the "bookcase". I put her jewelry on a Target jewelry tray on top and some of her hats on there too. I gathered some baskets that I had laying around from Oh, Hello Friend to put sunglasses in, a bowl from Fiesta Til Siesta to put her swimsuits in, a mint bucket I got from a Jane event to put her knee high socks in, and a glass bowl for filling all those headbands but still being able to see all of them easily so I could know which one I wanted each morning! And of course a shelf had to be dedicated to her shoes… although this isn't even half of them!!! 🙁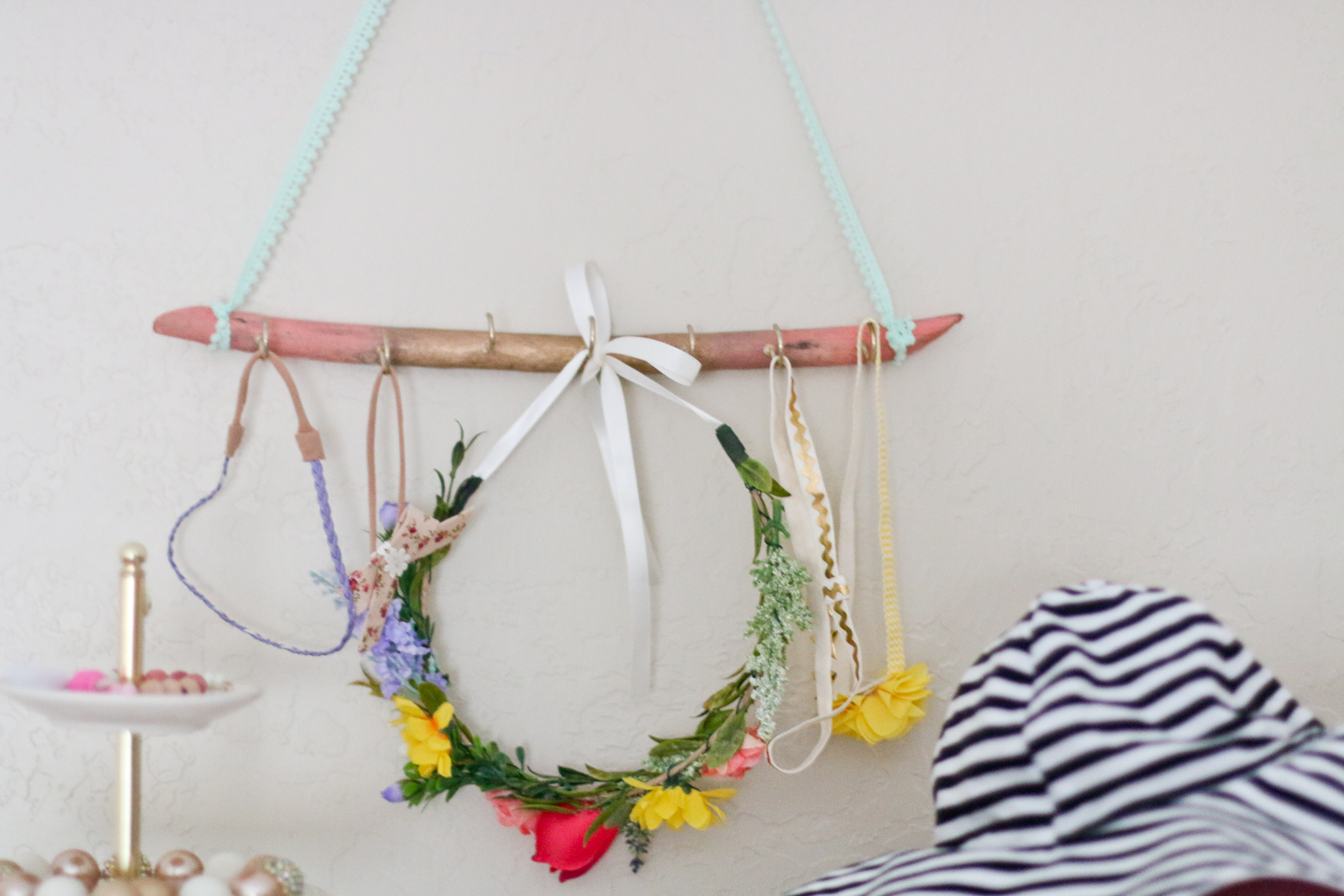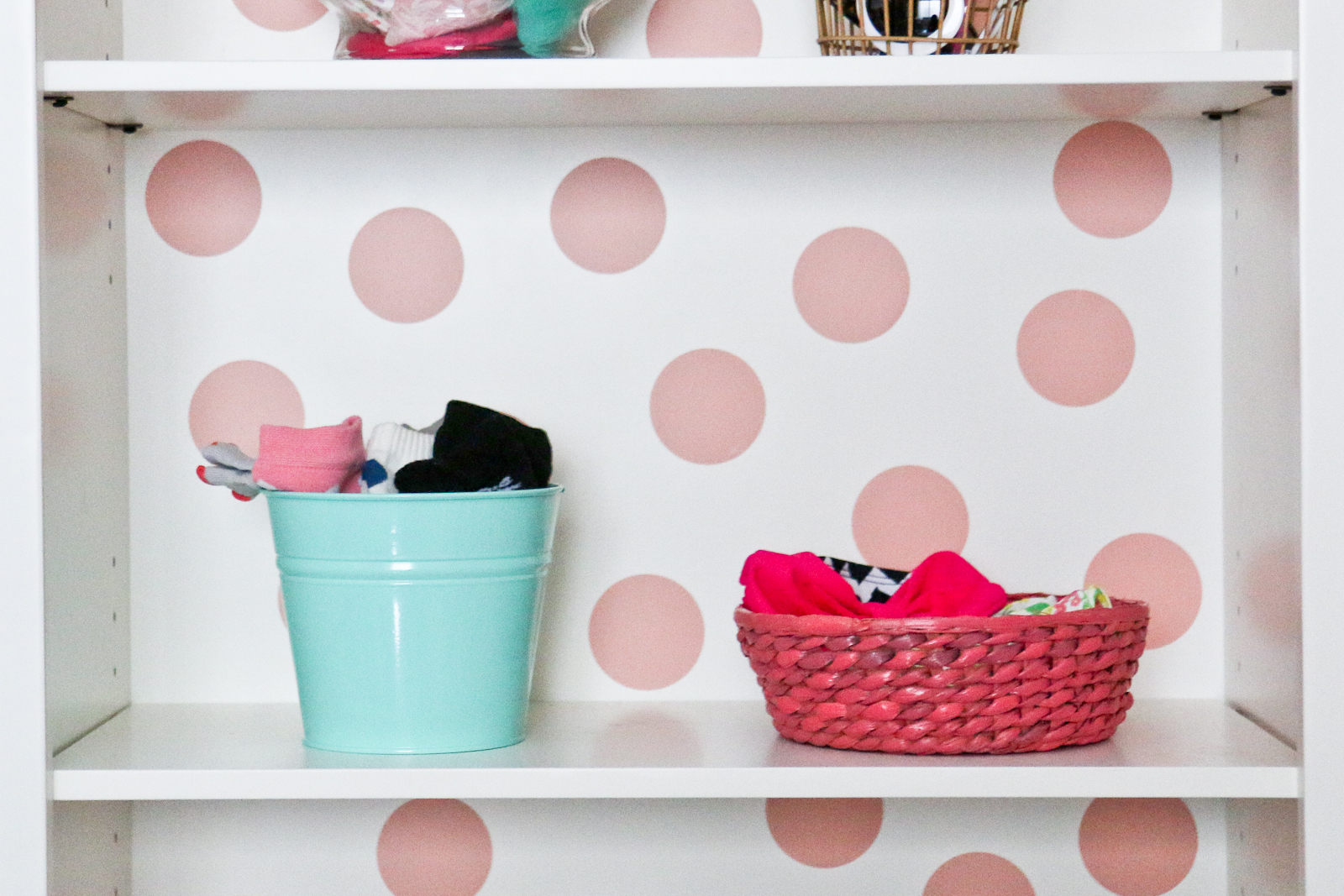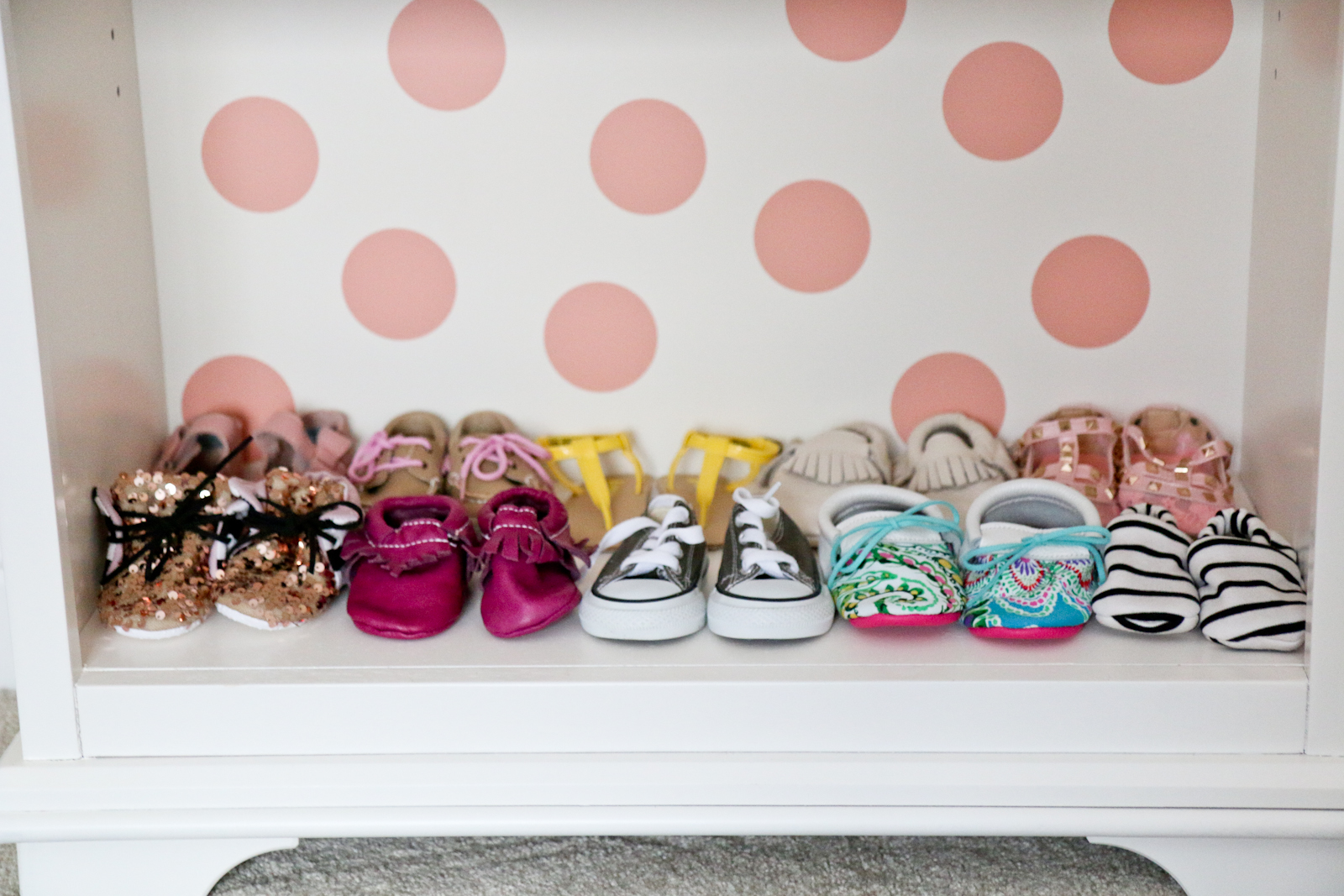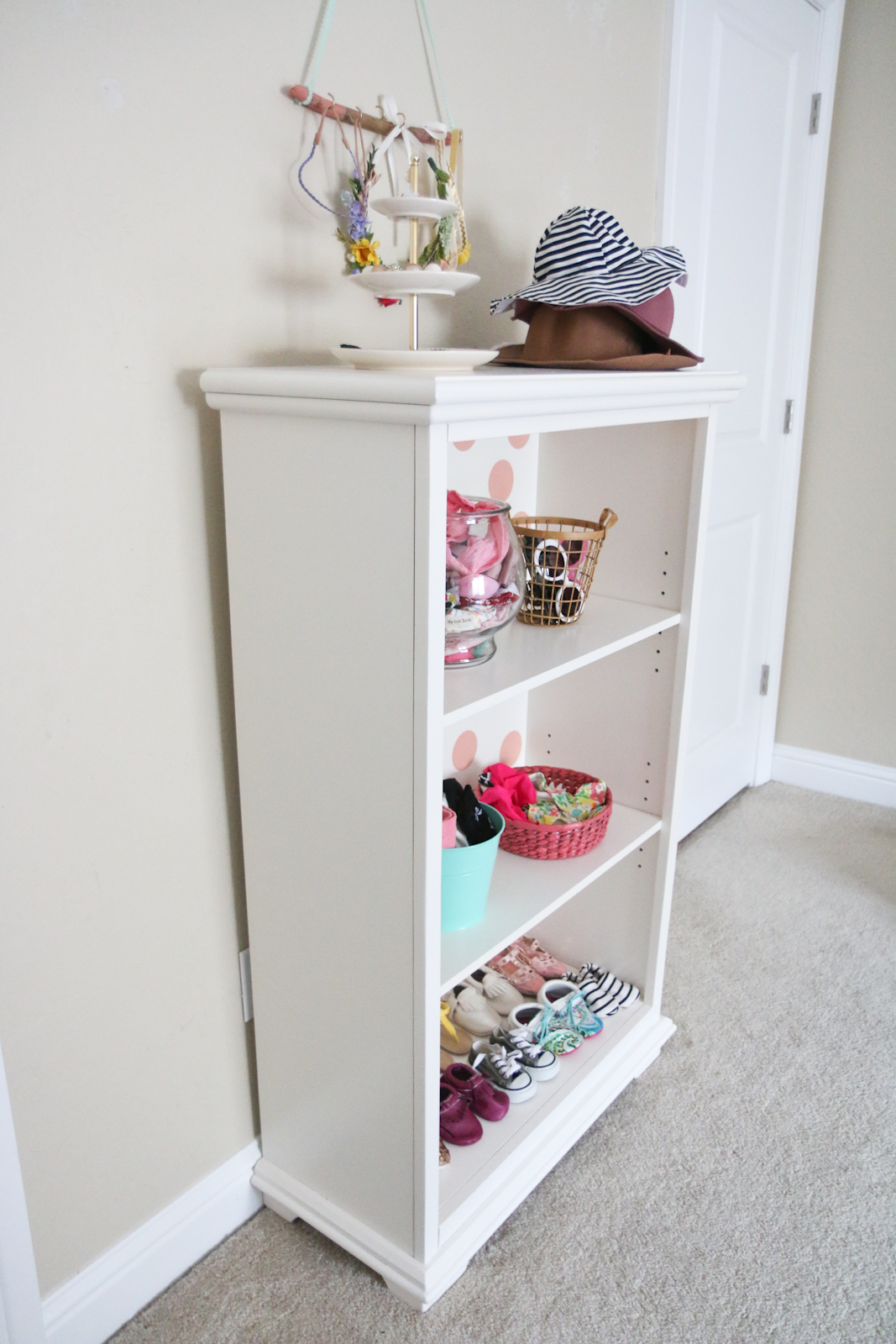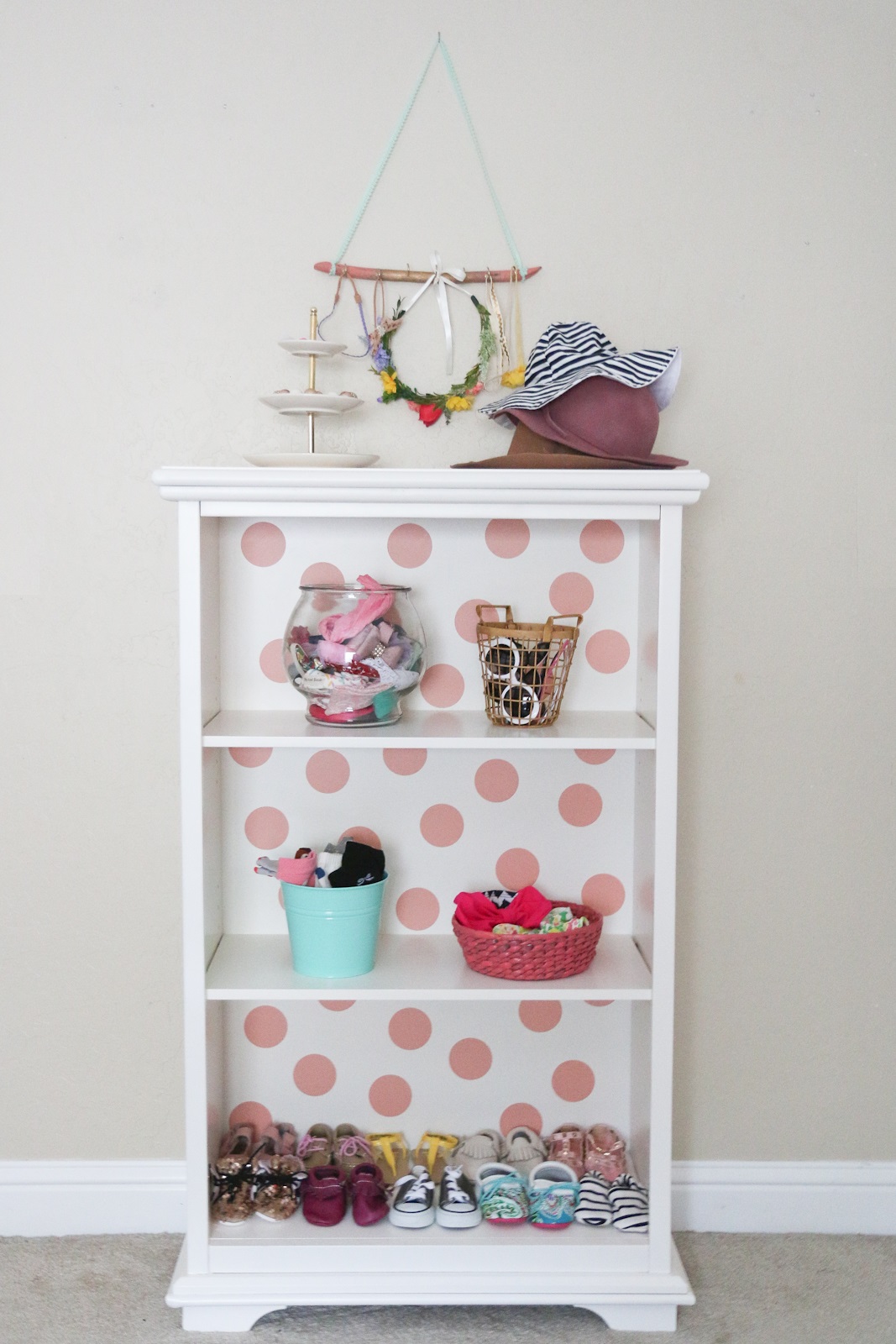 I actually have this "bookcase" set up downstairs in my "blogging office" right now, but eventually it will go up to her nursery. She is still not sleeping in there yet, and actually my husband sleeps in her room on a bed we put in there but I'll spare you the details on that situation — basically our son wants him in there and you don't argue with a 3 year old with separation anxiety issues. But anyhow, I've been on a DIY kick lately and I am really NOT a DIYer so hopefully my simple home projects can inspire some of you… because you know if I post a DIY, it will be an EASY and totally doable one!
And lastly, I have partnered with DownEast Home to giveaway ONE of these home decor items to one lucky winner (winner's choice)!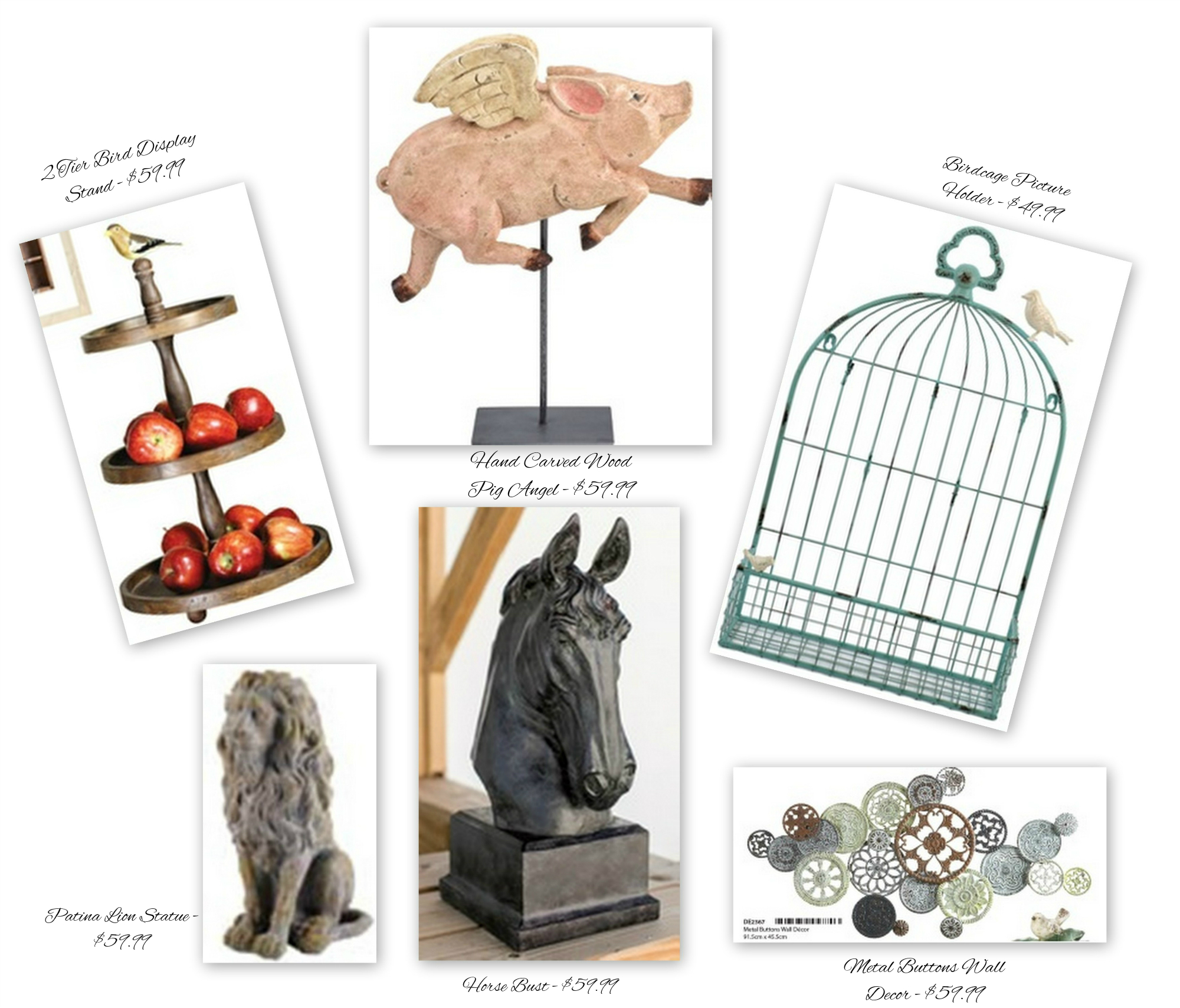 Here's a look at the prizes – but the giveaway will be posted on my Instagram on 6/16 – so make sure to go check over there!!