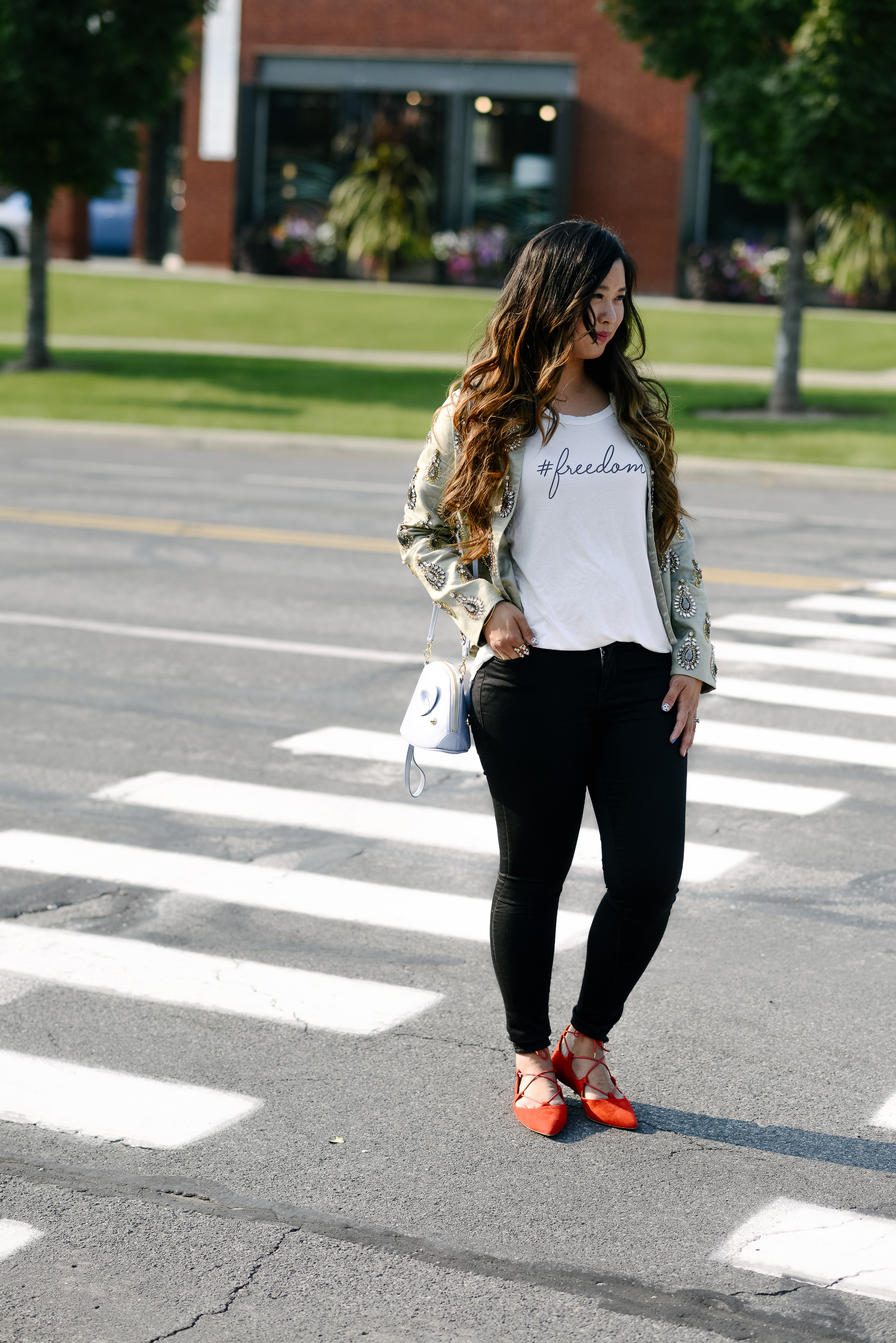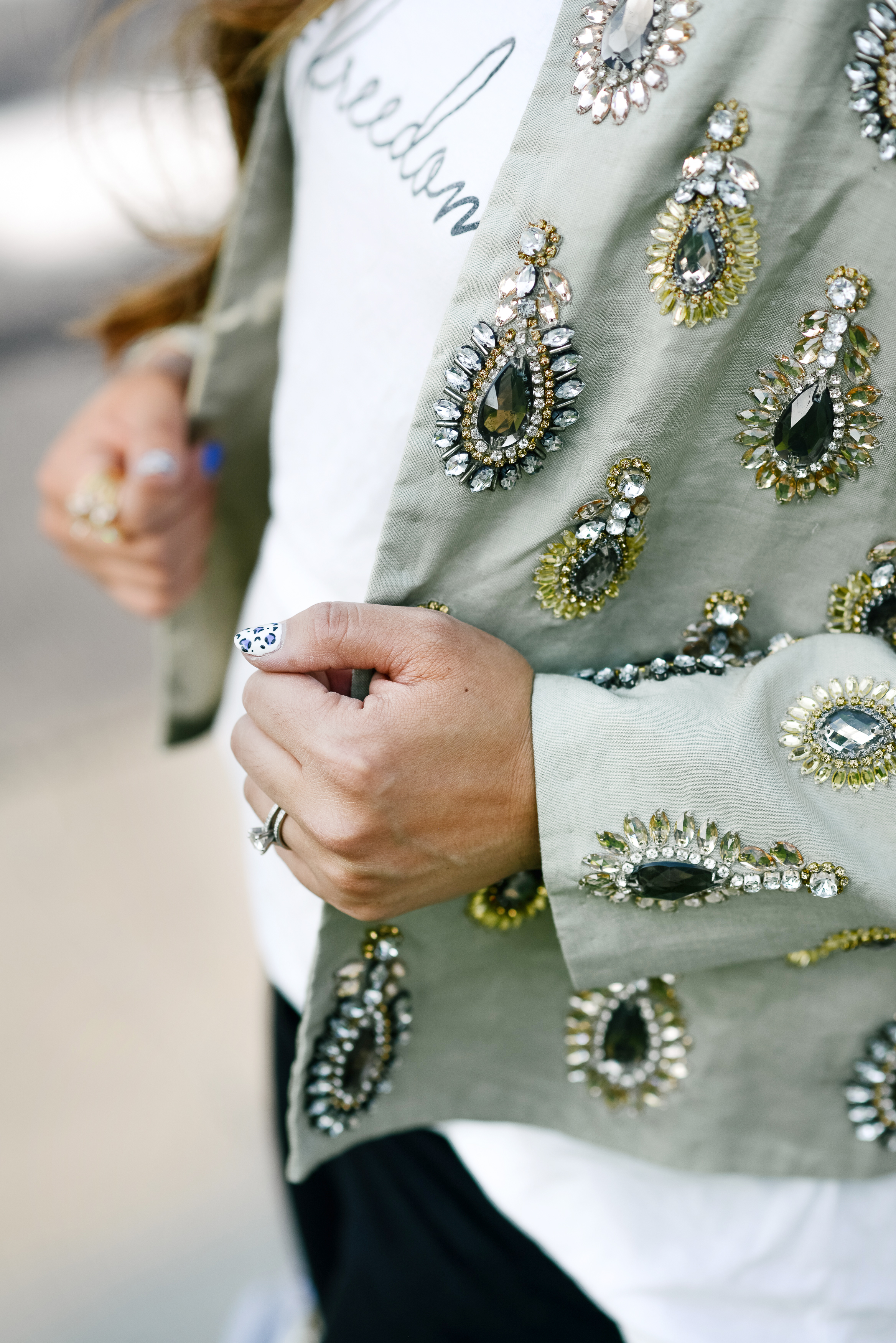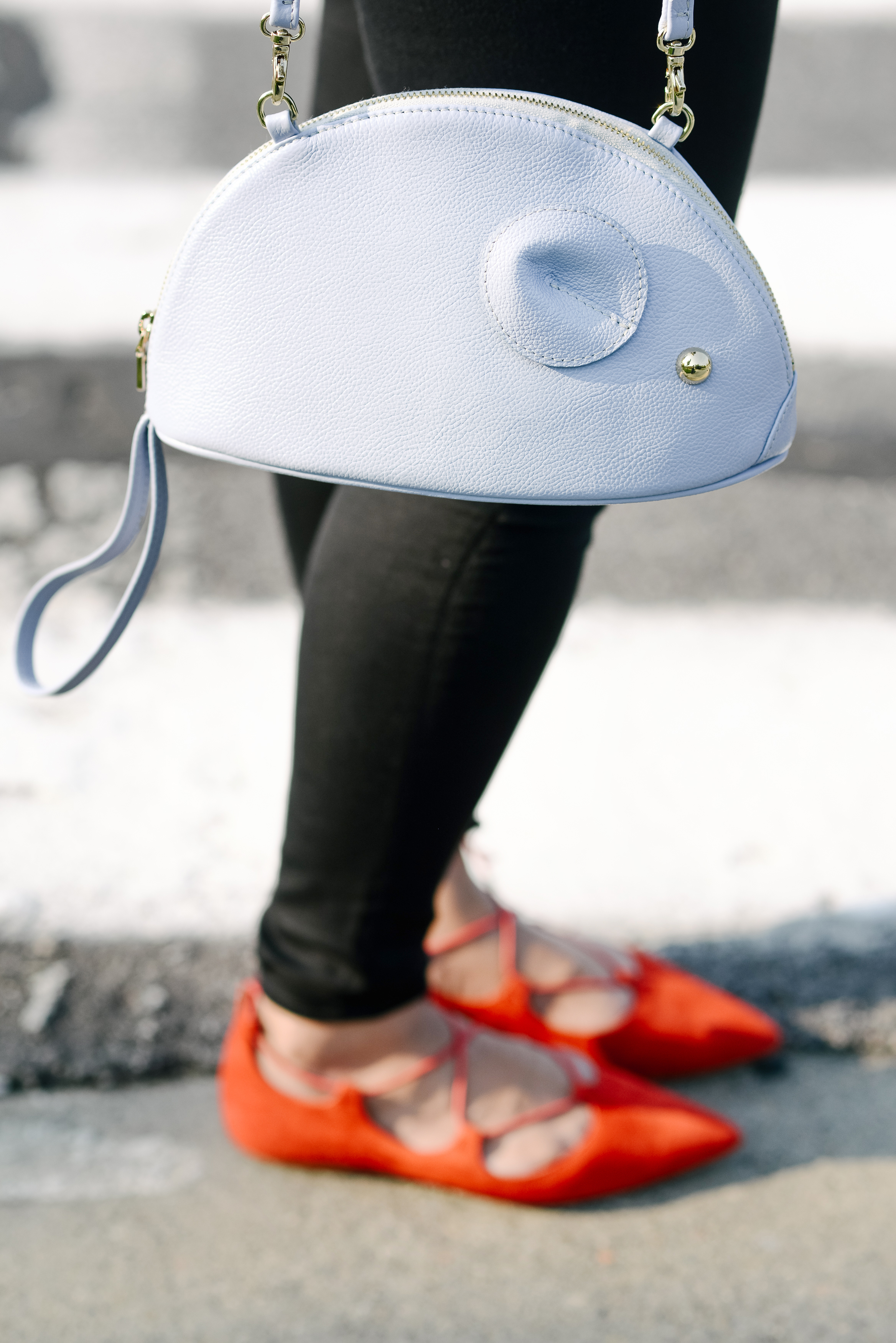 Red, white, light blue and crystals, I am showing you how to wear a glammed up Labor Day outfit, because people like to be laid back and casual, but add touches of crystals and sequins and what not, right? Please say yes. I have to admit, that I've had this amazing crystal jacket for a few months now and have only worn it one other time! But it's like the most amazing jacket I've ever owned in my whole entire life… and on one hand I don't want to get it ruined, but on the other hand, I wish I could wear it every day. Since the jacket is obviously the statement piece here, I kept it casual with black pants and a graphic tee. I wore some fun red heels and my new light blue Patricia Chang mouse bag that is my other obsession. I had been looking for a light blue bag for THE longest time, and when I saw this mouse bag and it's perfect color (and it's not that expensive price tag), I knew I had to have it!
Outfit Details:
Top c/o DownEast Basics
Jacket: T+J Designs (take 20% off w code SANDY20)
Pants: Topshop
Shoes: Topshop
Bag: Patricia Chang
Hair extensions: Laced Hair
Photography by Haley Nord Photography
Shop the post: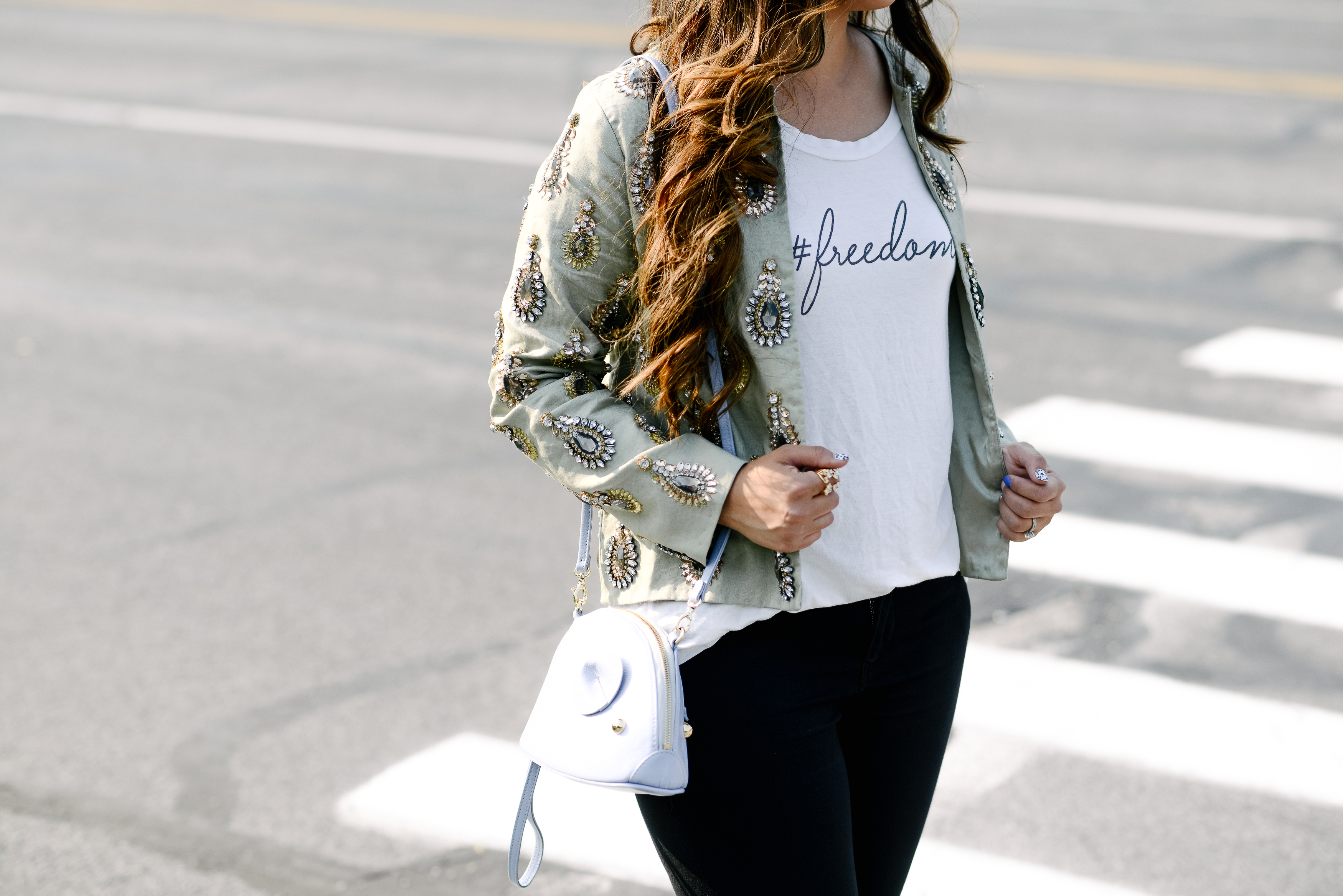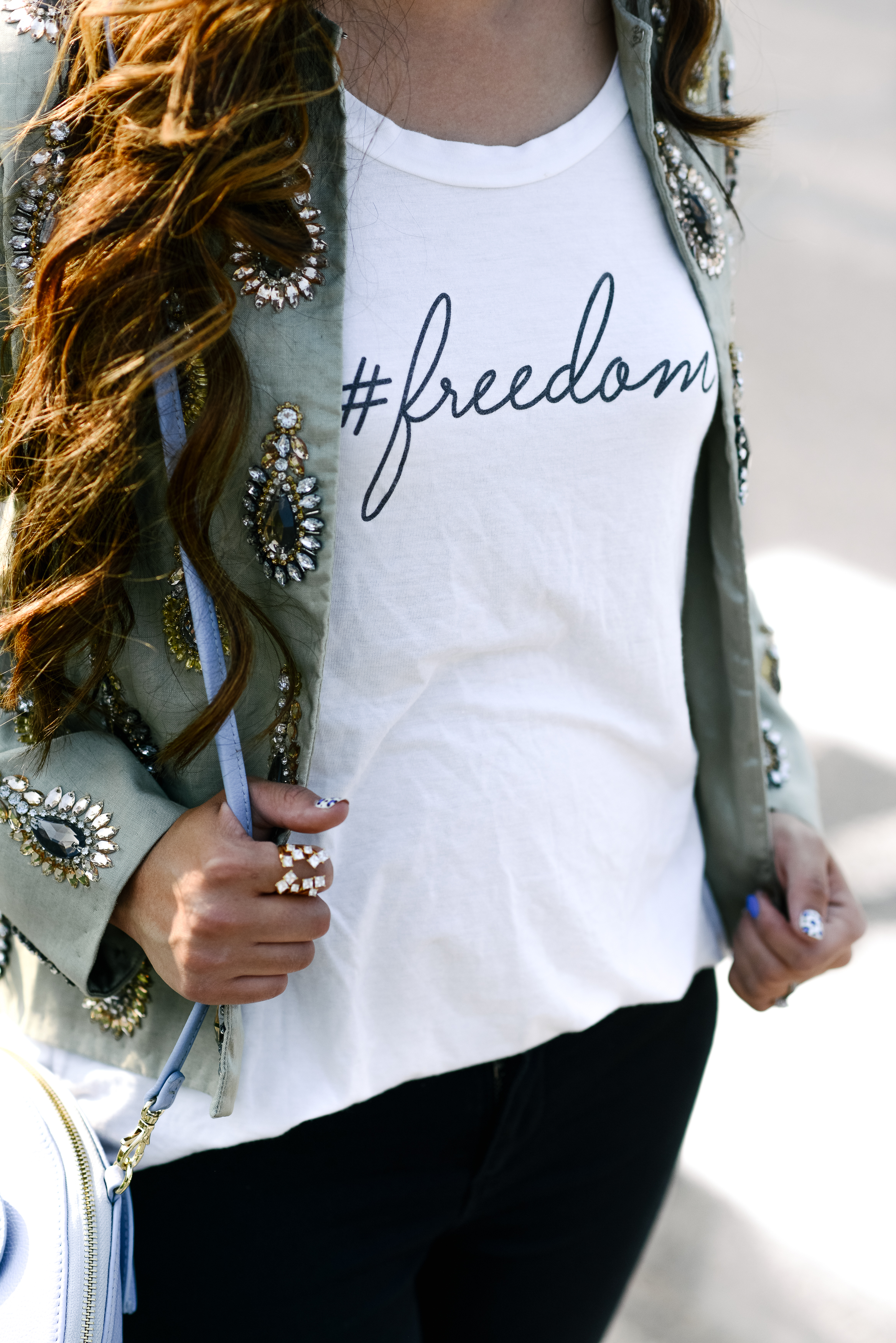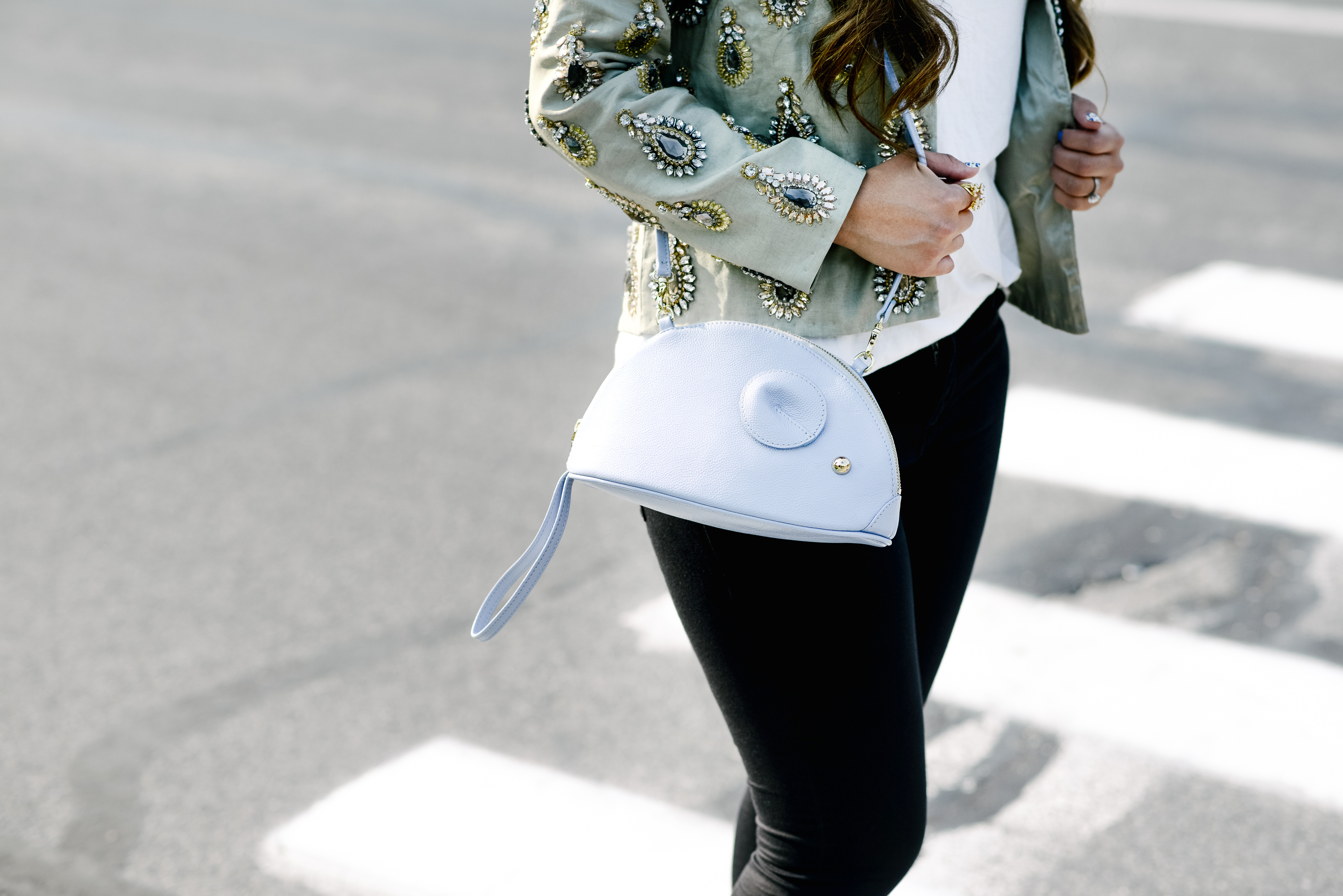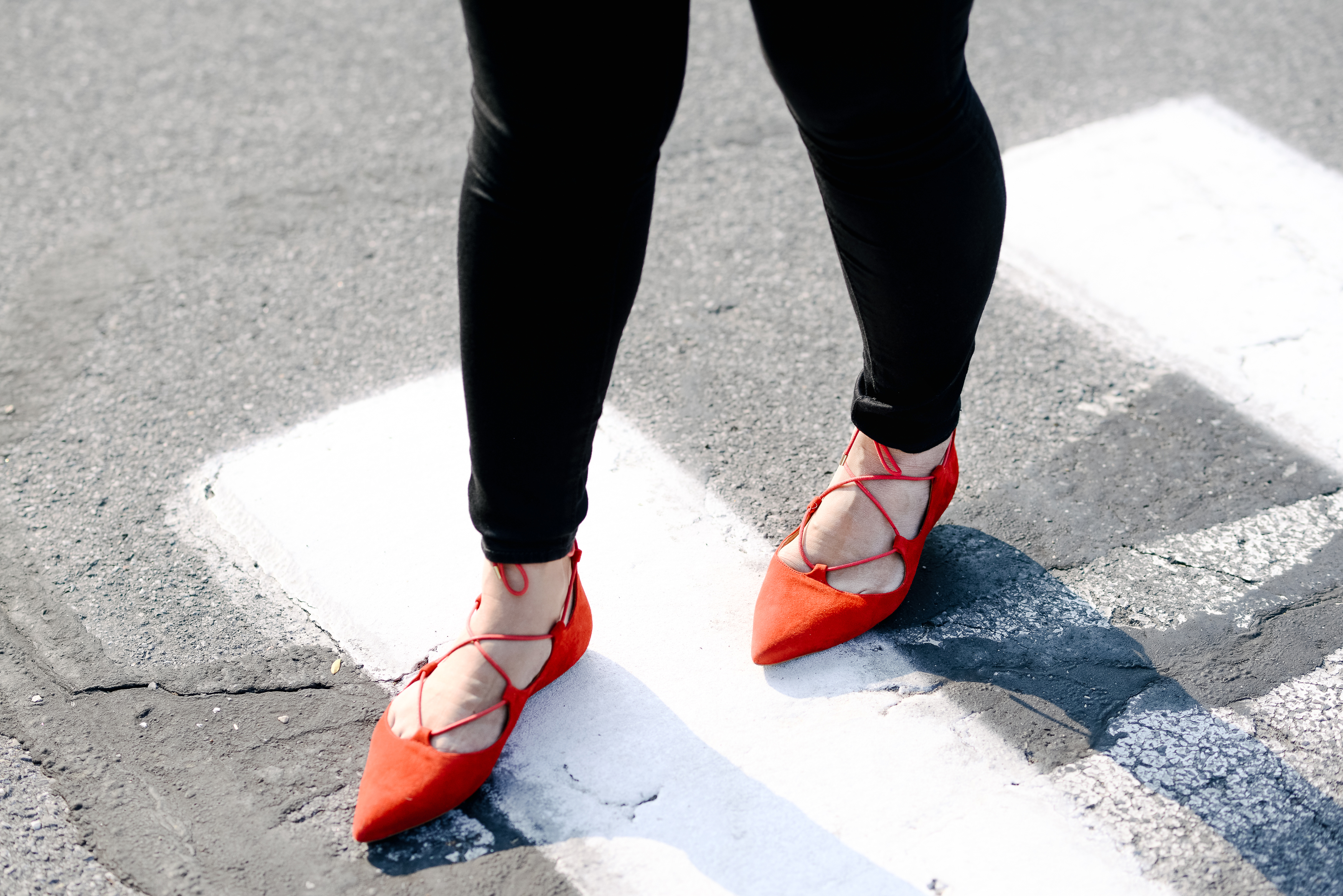 And because it's Labor Day weekend and there are a TON of sales out there, I am definitely going to be sharing some great deals here, but first, I wanted to talk about something that's been weighing on me heavily and that is my shopping habits! :/ As you can tell, I definitely shop a lot. I work a full-time job, and I make some "fun" money with this blog, but instead of actually MAKING money for savings, I oftentimes spend it back onto clothes for myself or Vivian to feature back on this blog! So to offset that, I have been doing some sponsored posts and selling my clothes. My new goal though, is that with each sponsored opportunity that I get, part of it will go to my kid's college education fund, and I will truly only shop with the money I make from this blog, vs. my job. I am thinking about doing a blog post on the different ways I make money from my blog, I'm honestly like an open book and I want to help others and be fully transparent about things! Is this something you guys would be interested in? Anyways, I so do appreciate all of you readers and supporters and I do want you to know that I do use affiliate links and sometimes I am paid to write a post, but I will only support products I truly believe in, even if it's basic household products that help me get the job done around the house.
OK, enough of that talk, on to the SALES! I've decided to round up a couple of Labor Day sales and items from my personal favorite shops… so here you go!
Madewell: 30% off Fall essentials and 30% off sales with code YESANDYES
Anthropologie: extra 30% off sale with code EXTRA30
J.Crew: 30% off your order of $125 or more with code GETSHOPPING
LOFT: 30% off Fall new arrivals and 50% off summer styles
Happy shopping!