I recently got to participate in a photoshoot with one of my favorite Utah local companies, Cents of Style. I am pretty sure I first discovered them at a blog conference or a local event, but the fact that Courtney, the owner of the company, has been at and spoken at so many events and has it a goal to actually get to know her customers, I fell even more in love. Plus, that girl is just so fun to be around! Cents of Style has some of the cutest clothing, boots, jewelry, accessories for women AND kids and their prices are totally budget friendly! You can get gorgeous midi skirts like this one and this one with a bow for under $40, that might be one of my favorite items on their site right now. Also, their graphic tees have some of the best sayings (by the way, if you have a saying you want on a t-shirt, you can enter your design over at Design the Good by Sat. Nov 14 and have the chance to have your shirt come to life and be sold and you can win $10,000, umm yes!). But the one tee that I wanted to share about is their #thankful tee. Ummm, it's kind of perfect for Thanksgiving which is coming up in only a few weeks! And just for Friday, Nov 13, you can get a FREE #Thankful T-Shirt with $25+ Purchase! You literally only need to buy like 1 shirt or 1 skirt or a few pieces of jewelry and you will be sent a free shirt, how awesome is that? For reference, I wear a Medium and I love the fit!
My outfit details:
Tee | Cardigan | Skirt (love this too) | Necklace | Bracelets | Rings | Shoes
Hair: Tanglez Hair and Makeup
Makeup: Classy Cosmetics
I wanted to give a shout out to the other girls that were part of this shoot! I've already talked about Courtney, the amazing owner of this company, a super savvy businesswoman, mother, and wife. I've gotten pretty close to their company's employees and let me just say that they are great to work with! Next is Alix from A Ruffled Life who owns a photobooth company, decorated this whole entire tablescape, has kids in age similar to mine, and runs such a pretty blog. Then there's Jenica of A Slice of Style, she posts about amazing deals for fashion, home decor and more and she shared all about her journeys with IVF. Then there's Sam who makes up one half of The Pretty Life Girls. I actually just met her on this day, but we became instant friends, I'm excited to keep following along on her and her sister's blog! Much of the decor was provided by one of my favorites Taipan Trading and the delicious food by The Blonde Who Bakes!
I also wanted to talk a little bit about what I am thankful for this year. I am thankful for a healthy family and kids. I am thankful for extended family that take time out of their days to visit us in Utah. I am thankful for all my blogger friends near and far who I have really come to build a community with. I am thankful for bubble tea and Starbucks. I am thankful for Instagram who I can spend hours of my day with (not really). I am thankful for online shopping. 🙂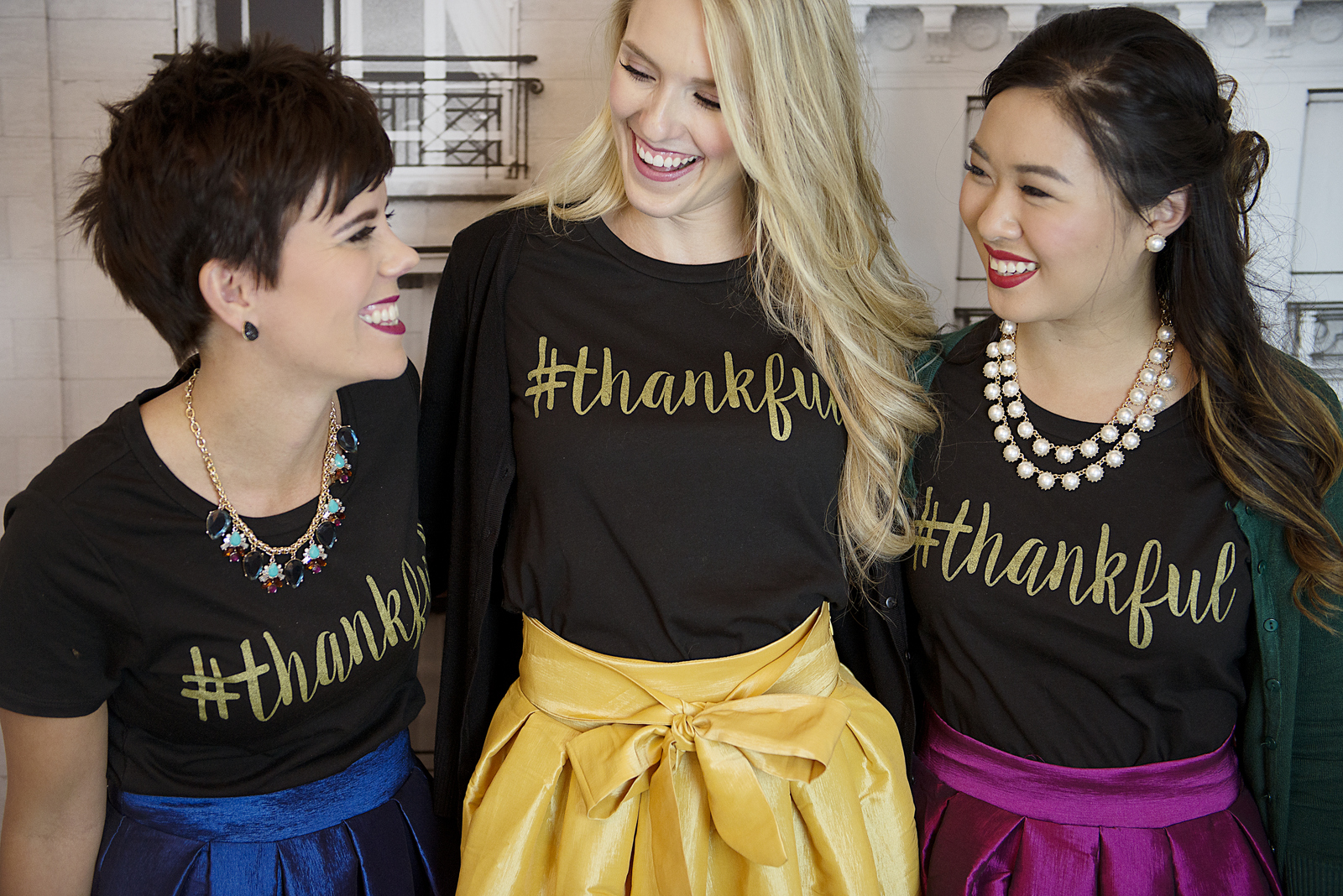 Once again, don't forget to get your FREE #Thankful T-Shirt with $25+ Purchase! Deal is good on 11/13/15 only!
1- Allow the items that are going to be added to your cart on the product page to fully load, then add to cart to trigger the pop-up. If you hit "add to cart" before the page is fully loaded, it may not trigger the free t-shirt.
2- The pop-up will NOT be triggered if you use the "quick shop" feature. It has to be triggered through the full product page.
3- They will make sure on their end that each person who orders $25+ will receive a free #thankful t-shirt. They have their customer care team standing by to add them and make sure each customer is taken care of.
4- This is limit 1 FREE t-shirt per customer per transaction.
What are you thankful for this year?