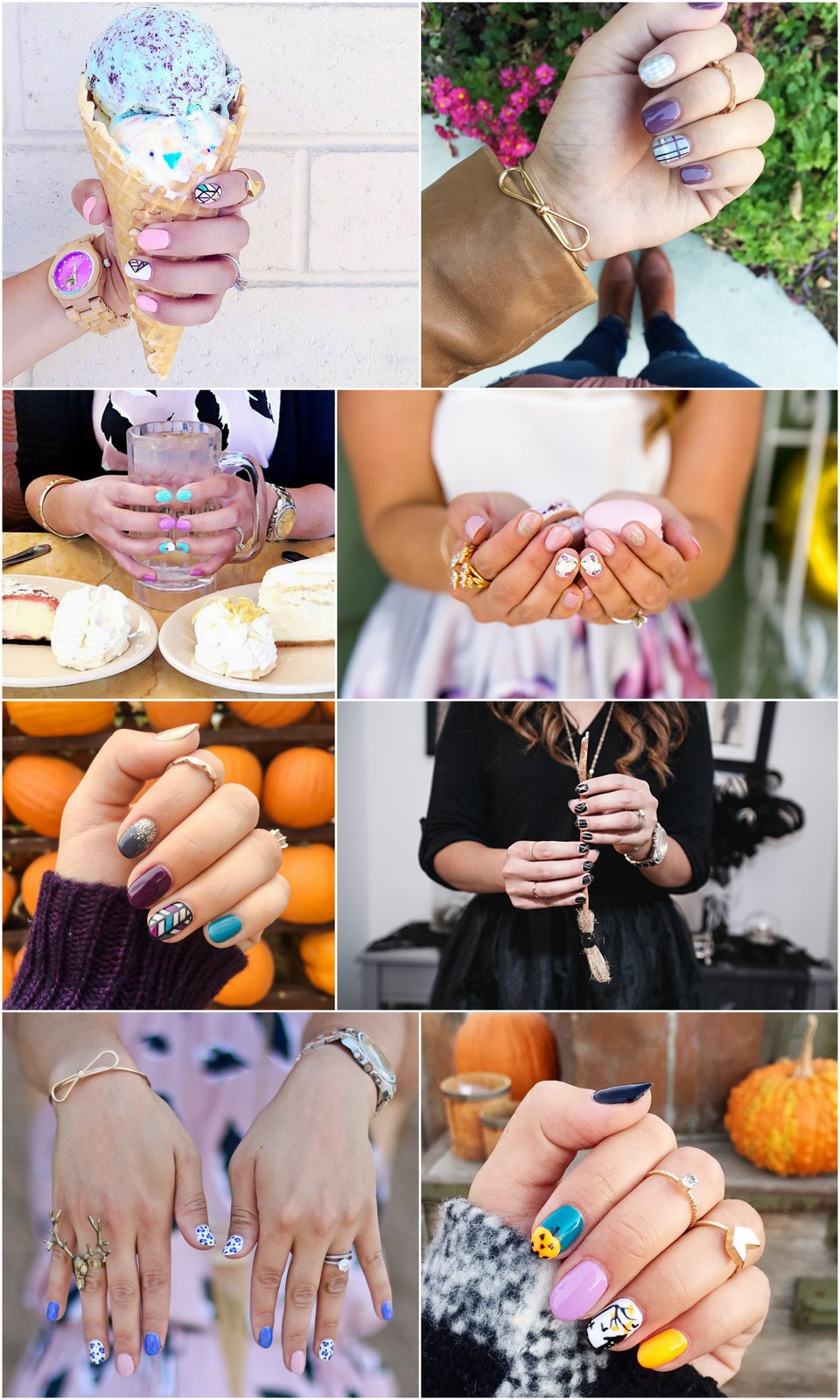 I just wanted to do a little gel nail art inspiration roundup of my last 8 gel nail designs for the blog! I first discovered @chelsgels over the summer and I immediately fell in love with her work! Chelsea is based in Salt Lake City and St. George, Utah and is so down to earth and awesome. Her prices are great, she really is an artist and so so talented with her work. She specializes in gel nail art for manicures. Every time before my appointment, I think about the season, the current trends, holidays, any crazy national holidays coming up and tailor my nail designs towards that. I send Chelsea a few inspirational nails found on Pinterest or Instagram and she run with it! When I arrive at her house, she removes my old gel nail polish, files them down, works on cleaning up my nails and then we have a "consultation" on colors and design. That "consultation" is my favorite because I get to play designer in deciding the colors and designs that I want. I'm pretty much blown away by her talent every time! You can see a little in action video that we made here. I schedule my appointments every 2-2.5 weeks and I think that's the perfect amount of time or else if I got any longer, then my nails are pretty grown out.
Let me tell you though that growing up I NEVER did my nails, ever. My parents were actually against it. They were against nail painting, shaving (YES!), eyebrow plucking/waxing, pierced ears everything. I basically didn't do any of these things until I was off on my own in college! I got my ears pierced when I was in college (and I pierced my belly button too, shhh, but that hole has probably closed up by now…). But now that I do make my own money and can afford a little pampering from time to time, I love it. I love having freshly painted gel nails that stay on for weeks! I also love being able to leave her house after she is done and not have to worry about bumping my nails into things in fear that it will smear the design. Whoever invited gel nails, genius.
Oh yea, if you are interested in trying Chelsea (Salt Lake City, St. George, Utah based) out, feel free to reach her via her email found in her Instagram profile. If you mention this post, you can get $5 off your first service (good through the rest of 2015)!! 🙂
Shop some of Chelsea's favorite brands for getting the perfect gel polish here:

I want to hear from you. What are your favorite nail designs from above? What nail designs do you like doing to your own nails? What designs do you think I should try for the holidays?