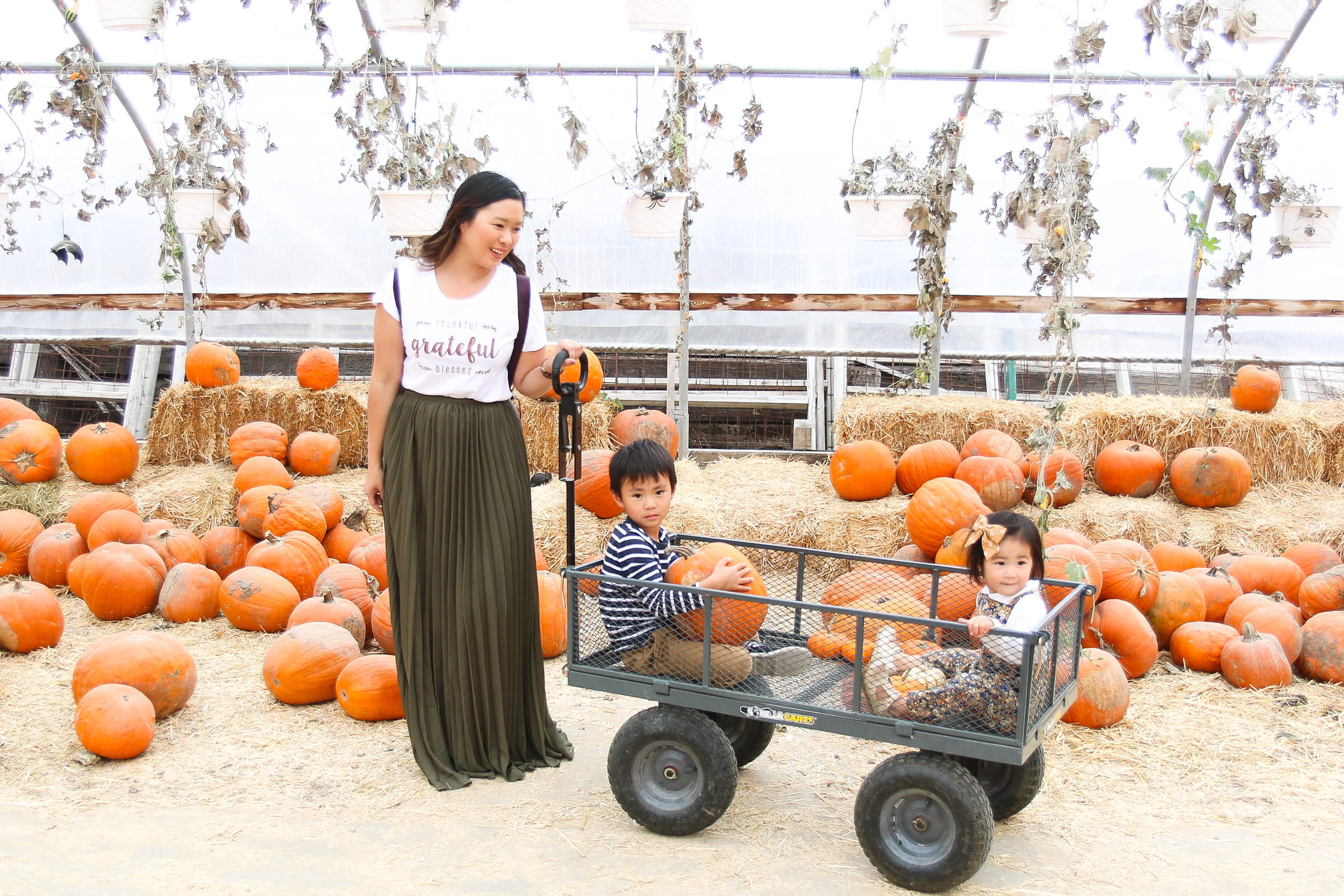 OK I promise, this is the last set of photos at this pumpkin patch hahaha. We just had SO much fun at it this year, and the kids didn't want to get out of the wagon. But who can blame them? I am happy to share this post today, as a nod to the upcoming holiday season. It's so crazy to me that Halloween and my birthday are already over and it is time to plan for Thanksgiving and Christmas. We aren't huge on decor, mainly because I don't really know what I am doing, but I think I might be one to skip over Thanksgiving this year and go straight to Christmas decorating. How about you?? We just finalized our plans for the Thanksgiving holiday and I am so excited that we will get to spend it with my brother's family and kids. It's been WAY too long since our kids have gotten together and Vivian is WAY more fun to play with now!
Today, I wanted to do a fun little post about some things that truly made be happy, thankful, grateful, blessed for this year! I'm wearing this perfect T-shirt from Cents of Style to go along with it and read on to see how you can get it for FREE! Also, how perfect does it go with this maxi skirt? I have been going towards a lot of olive and hunter greens lately!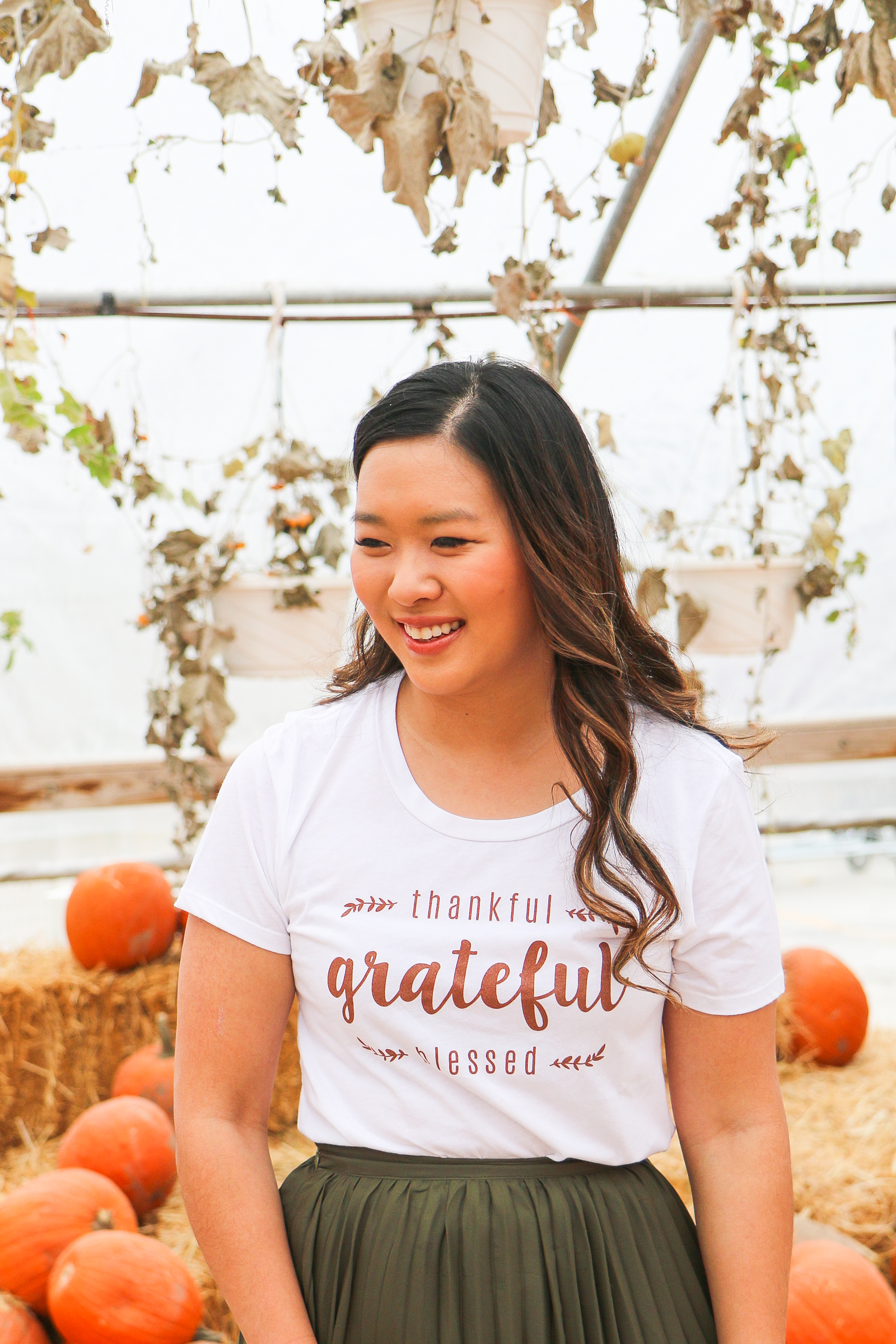 10 things I am thankful, grateful and blessed for this year
My family (duh!)
Coke, raspberry and vanilla cream
My minivan
Home organizers
Long lasting lipstick
Instagram algorithm (just kidding, no really, I am kidding).
Viral Facebook posts that I can get lost in every night
My online friends (you!)
DoTerra essential oils
Friends who don't complain about my late night texting. 😉
I recently discovered The Root Collective who my friend Molly at Still Being Molly raves about. They partner with artisans in several countries around the world to produce shoes, apparel and accessories that are made with kindness. Every purchase changes lives by creating jobs with fair pay, kind labor practices, and quality that can't be beat. They are about creating a culture of kindness through purchases. They are about providing opportunities for other women out there and I just love that. It's crazy if you just stop and think about all the daily purchases you make, someone or many people helped to make that item. Even if it was handmade or put through a machine, there was thought, there was a process, and if you just think about all the THINGS that you own, it's just mind boggling. But seriously, for Fall the Espe boot is a definite must have and I just love the back detail on them to make them a little more unique!
My outfit:
Top c/o Cents of Style
Skirt: Make Me Chic
Boots c/o The Root Collective
Vivian's outfit:
Top: Zara
Romper: James Vincent Design Co.
Shoes: Footmates
I want to know, what are you thankful, grateful and blessed for this year?
Also, don't forget that this weekend only (11/4-11/6) if you purchase $25+ at Cents of Style, you will get this T-Shirt free with code THANKFUL1! There's a few color options!
And because I am in the giving mood, I have teamed up with some other bloggers to give away a $500 Nordstrom gift card to one lucky winner! All you have to do is enter below in the Rafflecopter widget, good luck!