Hello! I am so excited to be a part of a Christmas blog hop today where you can see myself and 14 other bloggers blog about a Christmas topic, from what to wear, gift guides, kid's crafts , decor and more, we have got you covered! And of course, I decided to take on the What To Wear for Christmas prompt, because this is a women and kid's fashion blog after all! 🙂 For my look with Vivian, I went with traditional red and green outfits, because nothing screams more Christmas than those colors! For my outfit, I paired a plaid top (one of my favorite ones ever) with a gorgeous green bow skirt. I kept the rest of the look simple and let these two be the standout pieces. For Vivian's outfit (she is 15 months for reference), I decided to have her wear a little Christmas romper, a cardigan and tights to keep warm, and of course a coordinating headband and shoes. I just love dressing me and my mini up so much! And if you are new here and like to see more outfit inspirations like this, I'd love to see you stick around! 🙂
My outfit:
Top: J.Crew | Skirt: Cents of Style | Necklace: Cents of Style | Shoes: Sam & Libby | Tights: GAP | Hair styled by Tanglez Hair and Makeup
Shop the look:
Vivian's outfit:
Romper: Viva Boho Kids (take 10% off with code VIVABOHO10) | Cardigan: H&M | Tights: GAP | Headband: Fancy Free Finery | Shoes: Ivory Kate
Shop the look:
Photography by Lizzyography
Because our outfits are to give you inspiration on women and girl's fashion, there's a few items I've picked out for the men and boys in your life too (because it's actually like pulling teeth to get my husband and son into photos for me). 😉
Shop men's items:
Shop boy's items:
Now like I said before, we have 14 other bloggers sharing a little piece of Christmas inspiration for you, so make sure to hop around and get some last minute inspiration! We also decided to join together for a giveaway for one lucky winner, to help with last minute Christmas shopping or to recoup some of that money spent during the holidays. 🙂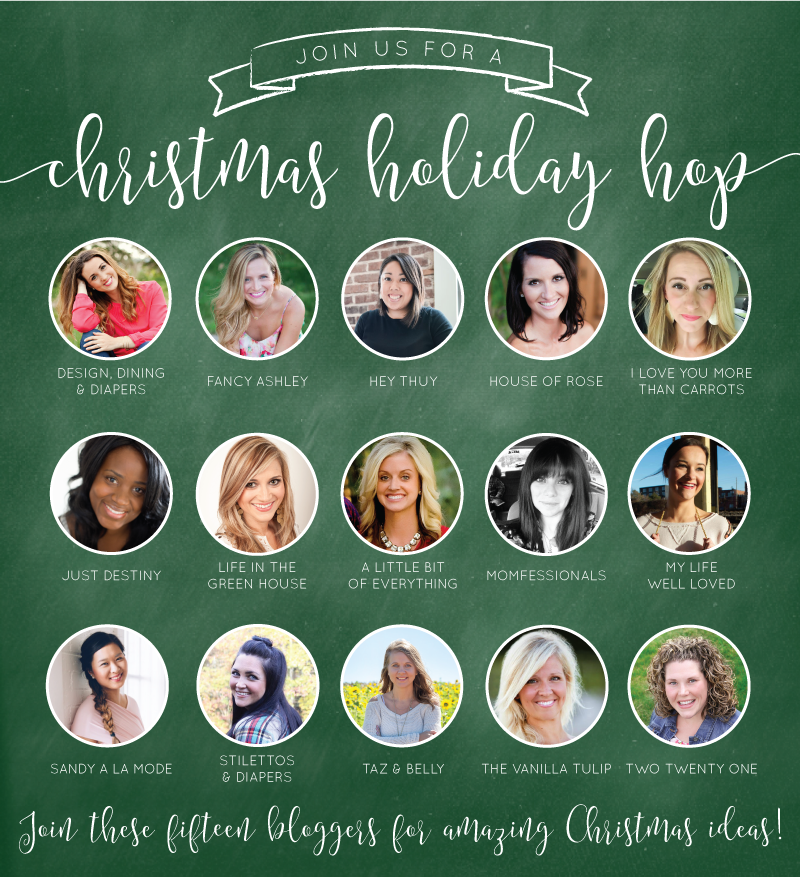 Gift Wrapping Idea | Thuy at Hey Thuy
Gift Wrapping Idea | Ashley at Fancy Ashley
What To Wear | Sandy at Sandy a la Mode
Gift Guide – Women | Chelsea at Two Twenty One
DIY Gift Idea – Teacher | Destiny at Just Destiny Mag
DIY Gift Idea – Bestie | Taryn at Design Dining and Diapers
Gift Guide – Men | Heather at My Life Well Loved
Gift Guide – Kids | Erika at The Slaughters
Stocking Stuffer – Kids | Jennifer at Life in the Green House
Christmas Pajamas | Ashley at The Vanilla Tulip
Kids Craft | Andrea at Momfessionals
Kids Craft | Ashley at I Love You More Than Carrots
Free Printable | Kristin at Taz + Belly
Cookies for Santa | Molly at Stilettos and Diapers
Holiday Decor Tips | Mandy at House of Rose
Enter our $300 cash giveaway!