This post is sponsored by Target, but all opinions expressed are my own.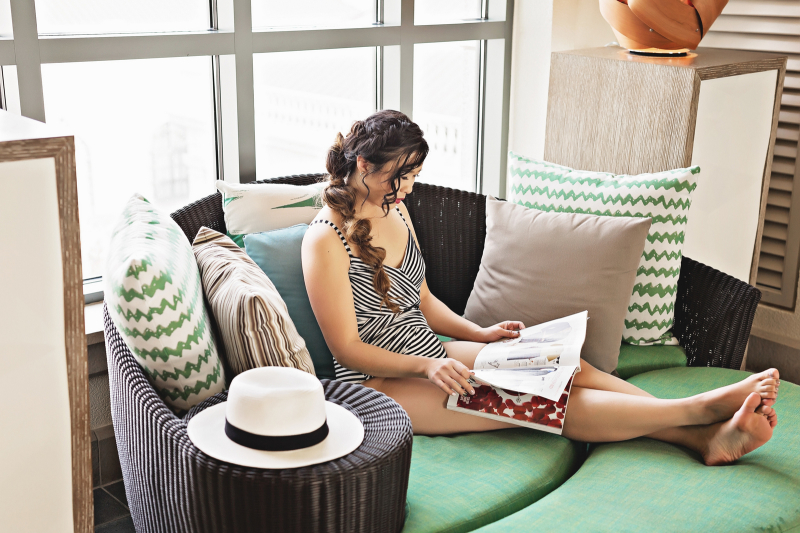 We live in a society where there are pressures to be "perfect". To have the perfect family, perfect life, perfect body, everything. A lot of times when you look at Instagram (or even my feed for example), you may think that others have this wonderful life and it makes you wonder "how do they do it all?" or "how do they have it all"? But let me remind you that we all have struggles, we may just not share them with the public. So next time you see a picture perfect feed, just remember that. But even though we all have things we struggle with, it's really about the choices you make and your own mindset about things that makes the difference.
Moms, let's have some real talk here. When it comes to water activities with your kids, you have two choices. You can put on a swimsuit and play with your kids, or you can sit under a canopy with your cover up. I get it, I have had insecurities with my body all my life. Thunder thighs, too wide hips (and even wider post baby), belly pooch, etc., But guess what? I'm not perfect. Nobody is. Those exact same thighs and hips carried an extra 30 pounds for 9 months. And that belly has stretched to GROW A LIFE, or two in my case. And to me, that is AMAZING. I wouldn't trade any of that for the "perfect body". I would be lying if I didn't say that these body barriers have definitely held me back a time or two in my life, especially when it comes to putting on a swimsuit.
Did you know that 1/3 of women would sacrifice a vacation to avoid being seen in a suit?
Did you know that if Justin Timberlake invited them to a beach party, 36% of women would turn him down because they don't feel like they're in good enough shape?
How sad is that? These insecurities and worries that women and moms have lead to missing out on good times with family and friends (and celebrities). 😉 Personally, my kids haven't had swim lessons from a young age because I didn't want to get into the pool with them. But I know that needs to change. I really do want to take my 4 year old son for swim lessons soon and I think my 1 year old would actually really love it too considering how much she loves splashing around during bath time.
Moms, you are beautiful, you are unique, you are so loved. Let's all come together this upcoming swim season with no reservations, just confidence.
If you are looking for a swimsuit to fit the bill, look no further than Target. You know you shop there almost every week (or at least I do), so why not make a stop into the Target Swim section and try some on. Or if you are an avid online shopper, you can purchase online since Target has free shipping + free returns so you can try as many swimsuits as you want and return what doesn't work! Target's swim campaign this year is all about #NOFOMO – or No Fear of Missing Out, for those who aren't down with cool lingo.
Target has got plenty of styles ranging from one-pieces, tankinis, bottoms, bottoms with skirts, bikinis. You are sure to find a swimsuit that fits your unique shape and personality. If you would rather not show those glorious tummy stretch marks, then find a tankini style to cover it up. If you are pear shaped, then look for a plunging neckline or something that draws attention to the upper part of your body and away from the bottom to balance proportions. If you have an athletic build, go for swimsuits with bold patterns or ruffles to create a curvier appearance. And if you have a curvy frame, go for some asymmetrical pieces or high-waist bottoms.
I have a pear-shaped body and prefer to cover my belly, and I found three suits that I love. The first one is one-piece style with a pattern across the front. I think the pattern actually creates a slimming illusion and that one comes in other great colors too. The second suit is a halter tankini with a bikini bottom. I like halter tops because you don't have to worry about the straps falling down and the tankini style does cover my belly stretch marks. The third suit is a strapless tankini that comes with optional straps paired with a simple bikini bottom. I love that the bottom part of the tankini is flowy, this one is probably the most comfortable since it's not body hugging.
Hair styled by Tanglez Hair and Makeup
Photography by Nina Tekwani Photo
Shop the post:
By no means will I say that my mom bod looks "perfect" in these suits, I'm sure I'd be happier with the way I looked if I lost 10 more pounds or my thighs were skinnier. But this is my body after two kids, so I am going to embrace it and love it. We're all way too critical of ourselves and I'm taking the #NOFOMO pledge and I'm going to enjoy water activities with my family. This Summer we plan to take a few trips to cities that have beaches, and I'm totally going to run into the waves with my kids. I want to be standing in the pool when my kids jump into my arms. I want to be the mom that runs around in the sprinkler with my kids. I want my kids to remember me for the memories we create together.
So moms, go ahead, rock your mom bod in that swimsuit. What will you do this swimsuit season with #NOFOMO?

Find your style @targetstyle