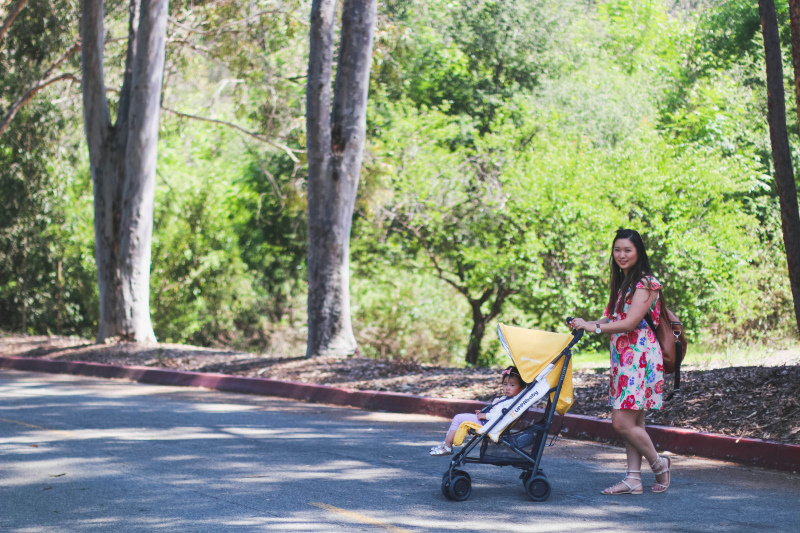 When Vivian was a smaller baby, we always traveled with her in a carrier, but as she is growing older and loves to be Miss Independent (20 months now), we have made the switch to stroller for when we do travel (we usually travel by airplane). On our recent trip to California, we brought along our UPPABaby G-Luxe Stroller with us and I just wanted to share the 5 times we found it most useful on our trip! This umbrella is one of the lightest full size reclining strollers out there, it has a one-wheel lock brake, adjustable footrest, large canopy that acts as a sunshade and a washable fabric. Did you read that? It's a removable washable fabric, because we all know how messy little ones can get sometimes. This stroller is good for 3 months – 55 lbs, Vivian still has many more years of use from it and Austin can even use it too! I think the only thing I kind of wish it had is a peek-a-boo window in the canopy, but that's totally not a deal breaker.
5 Times A Stroller Is Most Useful When Traveling
1. Getting to the airport. This is how it goes, when we get out of our car, we put Vivian immediately in our stroller. She is sitting in the stroller on the shuttle bus to the airport, as we walk up to the check in counter, and all the way to security. What makes a stroller extra handy is that you can put extra smaller bags in the basket underneath too.
2. Getting to your gate. Once the stroller makes it through the security and I carry Vivian through and get my hand swabbed, I put Vivian back in the stroller to go towards the gate. Once we get to the gate, I go up to the desk and ask for a stroller gate check tag and they provide us with one. Then usually Vivian likes to run around and wave "hi" to others until w need to board.
3. Getting to the plane. We put Vivian back in the stroller to go down the tarmac, and then once we get to the gate check location, we close up the stroller, put it in it's bag and leave it at the gate check area before entering the plane. One thing that UPPABaby has is the TravelSafe Program. It comes with the TravelBag and it protects any potential damage to your stroller during air travel. All you need to do is register your TravelBag and you're covered. It's a nice way to protect your investment so it lasts for years. Not all gate-checkers are gentle with gear 😉
4. Getting off the plane. Once we land, we get off the plane and wait for our stroller at gate check, we put Vivian in it all the way from the gate to baggage claim to the person's car that is picking us up. Seriously, having her in the carseat, and having both hands available to keep track of my son or hold his bags is a game changer.
5. Nightly walks. And once we were on our trip, we used our stroller for nightly walks. Our family is built on walks. We LOVE taking family walks after dinner, to help with digestion, work off a little energy before bed and get some exercise in. Well, we generally can only do this when it is warm out, but I like to consider it great family time too. Bringing Vivian out in her stroller during our walk is a must, sometimes she will want to walk herself, but more likely than not, she won't be able to keep up the whole time walking with us.
And then essentially repeat 1-4 for the way home. 🙂

Shop UPPABaby G-Luxe stroller and accessories