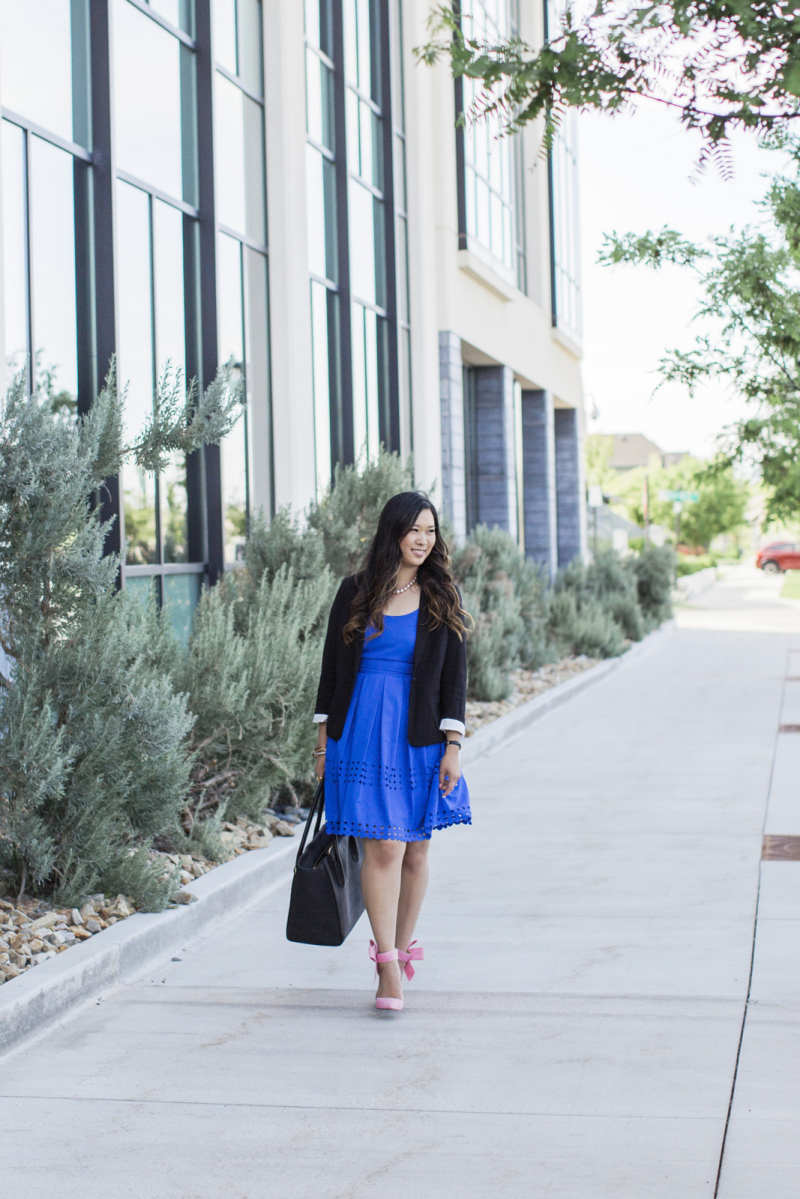 In my latest Stitch Fix box, I actually asked for some more business casual pieces that would be good for me to wear for work, but could also translate into night time. For those that don't know, I work in an office setting from 8AM – 5PM, 5 days a week and we have to dress business casual. Honestly, I LOVE dressing up for work and making business outfits look cute, and not boring. So in my Stitch Fix box, I actually got this cobalt blue dress and black blazer with polka dot detail on the cuff. I thought both of these pieces, being rather plain, would actually make great pieces for mixing and matching with other things I already have. And to really make this outfit fun, I paired it with my SheInside bow pumps that I am pretty obsessed with. It gives the outfit a little color pop and fun twist!
This 15 inch Dagne Dover bag is officially one of my favorite laptop bags ever. It's got a TON of compartments for every little thing you can imagine, a key holder so your keys don't get lost in the black hole of your bag, a bottle holder compartment and it's just super high quality. Their bags come in a variety of different sizes and colors for all sorts of functions in your life, but really, their compartments are a game changer (you can get 20% off with code SANDY20 good through the end of June)!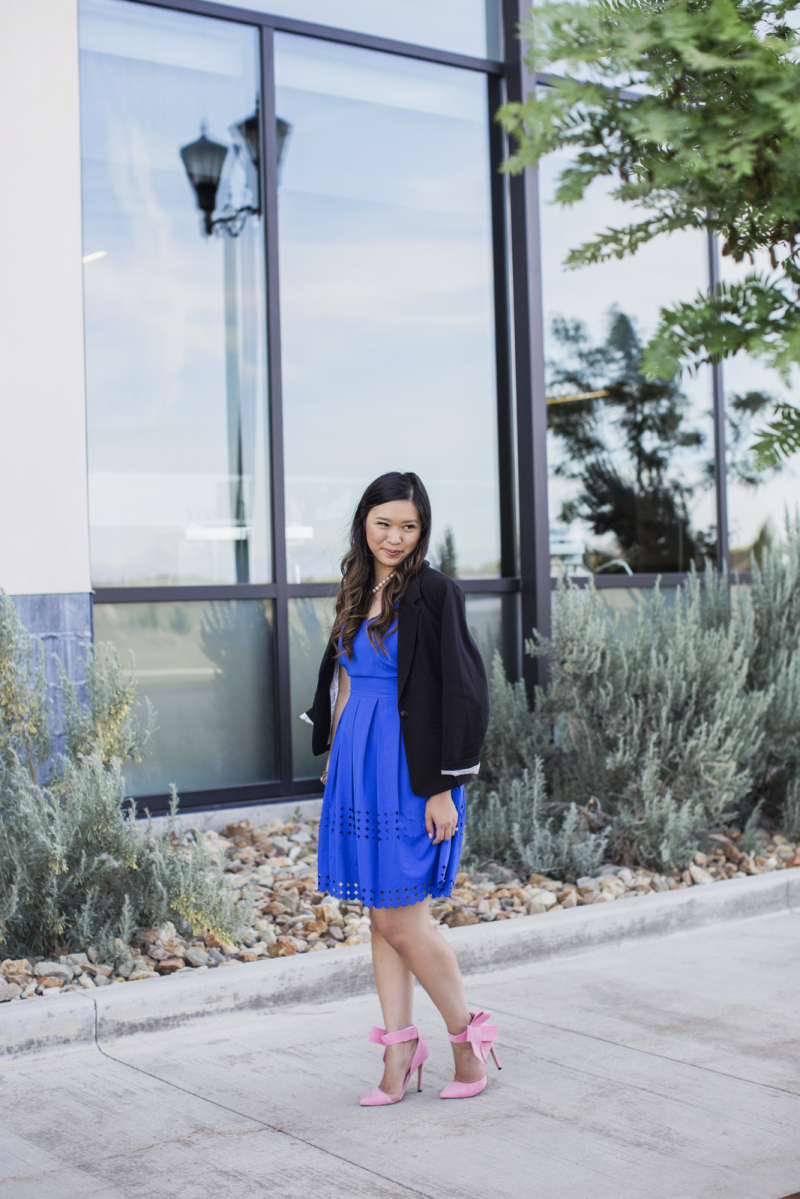 My outfit:
Dress: Stitch Fix
Blazer: Stitch Fix
Necklace c/o JTV
Bracelets: Alex and Ani
Bag c/o Dagne Dover (take 20% off with code SANDY20)
Shoes: SheInside
Photography by Diana Putnam Photography
Also, lately, I have been super obsessed with buying things off of SheInside. They currently have a 40% site wide sale (and they have these often), but the amazing thing is that all of their items are super affordable to begin with! I've rounded up a bunch of things that I am currently eyeing and seriously with the discount, everything here is like $10-20. AMAZING!!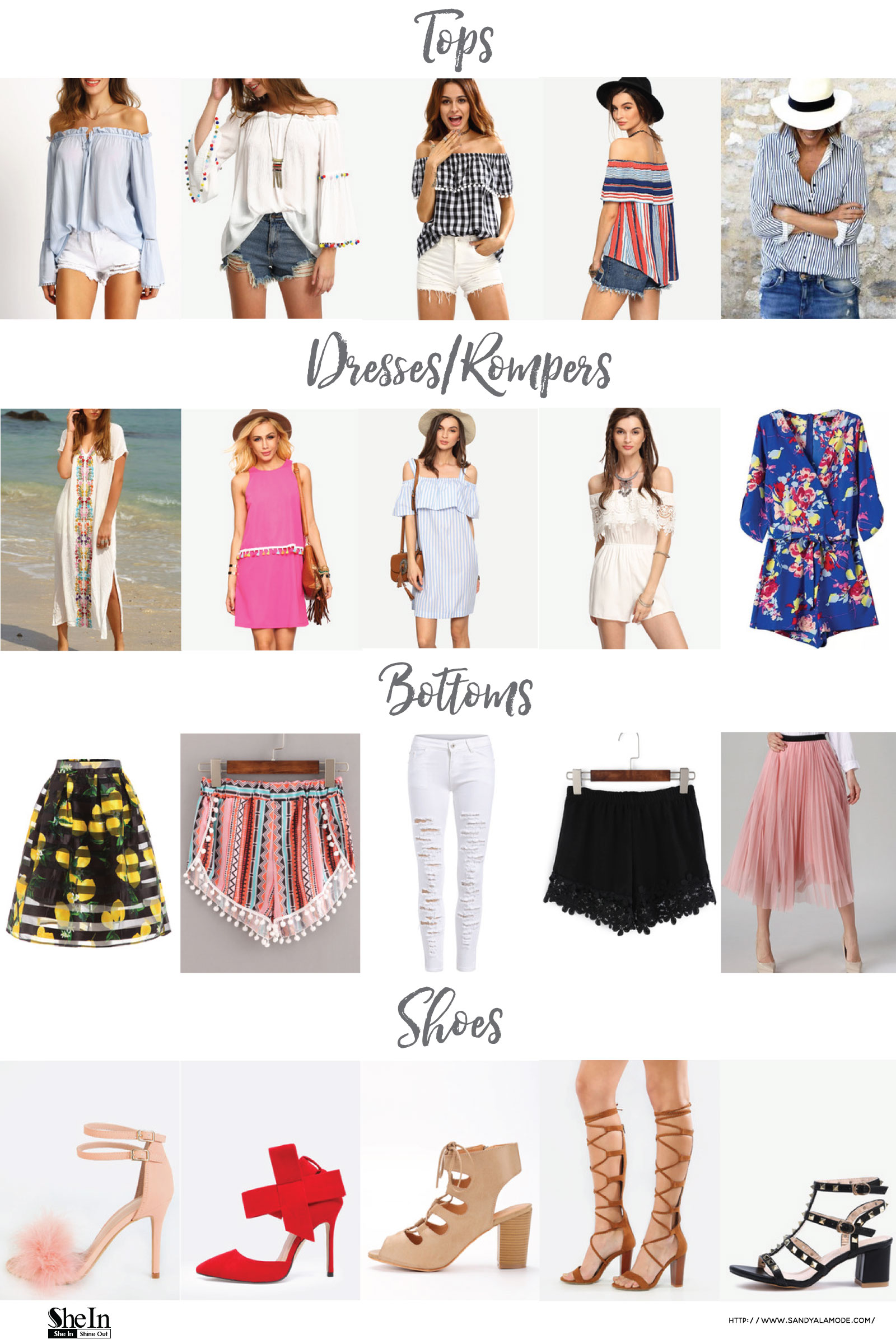 Tops: Light Blue Off The Shoulder| White Off The Shoulder Pom Pom Trim | Off The Shoulder Checkerboard | Off The Shoulder Striped | Striped Blouse
Dresses/Rompers: White Maxi Dress | Pink Tassel Dress | Striped Shift Dress | White Lace Romper | Floral Romper
Bottoms: Lemon Skirt | Multicolor Pom Pom Shorts | White Skinny Ripped Denim | Black Crochet Shorts | Pleated Skirt
Shoes: Pink Feather Heels | Bow Slingbacks | Lace Up Block Heel | Lace Up Gladiator | Black Metal Strap Heel
The winner of this week's most clicked link is my dear friend Jacque of Looks for Lovelies!! She was one of my first friends when I moved to Utah, and even though she has moved away to California, we still keep in touch often! Her fashion sense is always on point!!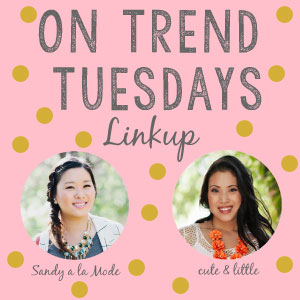 Now it's your turn to linkup! Please make sure to add the button or link back to myself and
Cute & Little
in your post and go and comment on at least 5 other blogs, please please!!!

We want this to be a community of fashionistas to keep you inspired and supporting each other is what we are all about!