This post is sponsored by Liverpool Jeans, but all opinions expressed are 100% my own.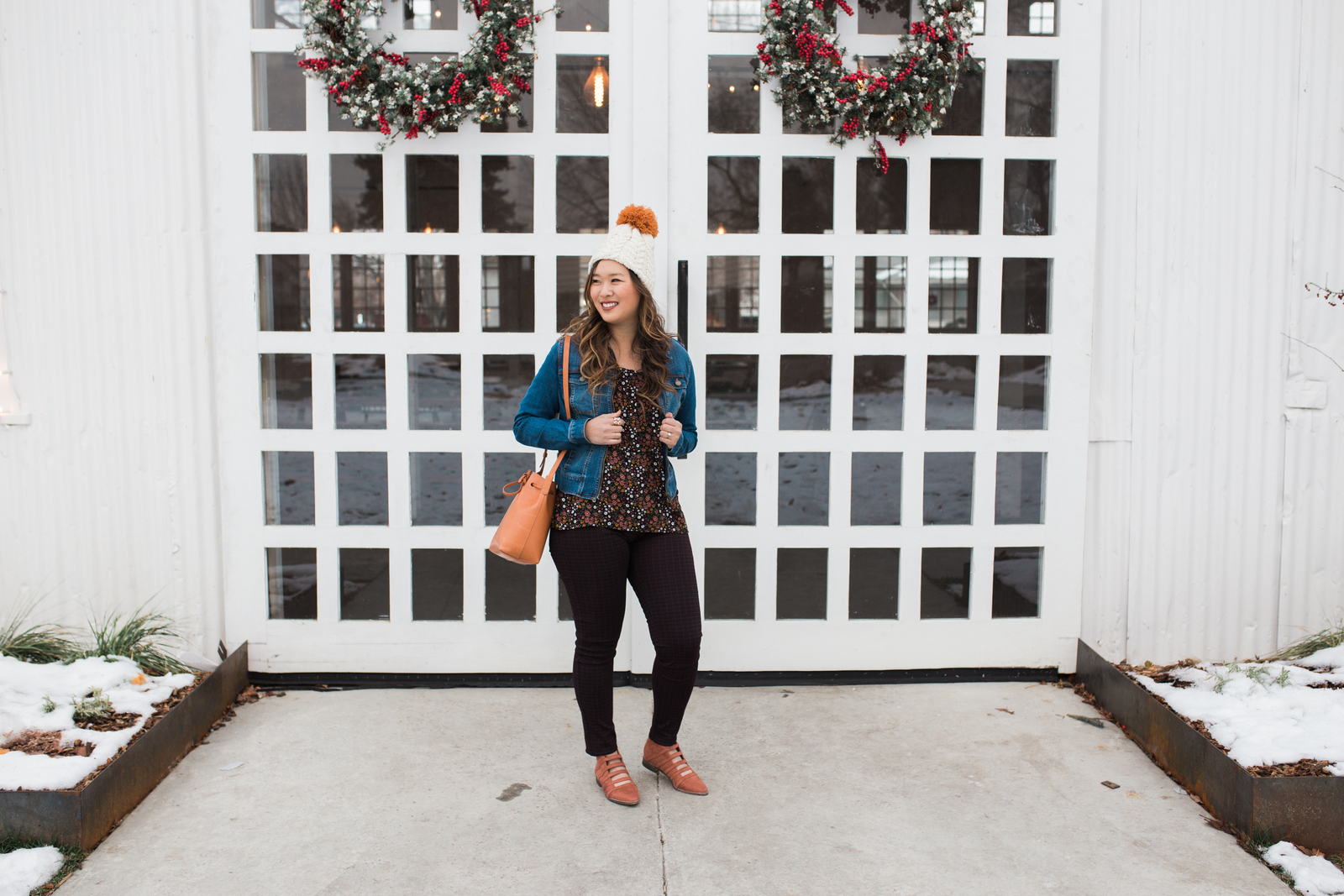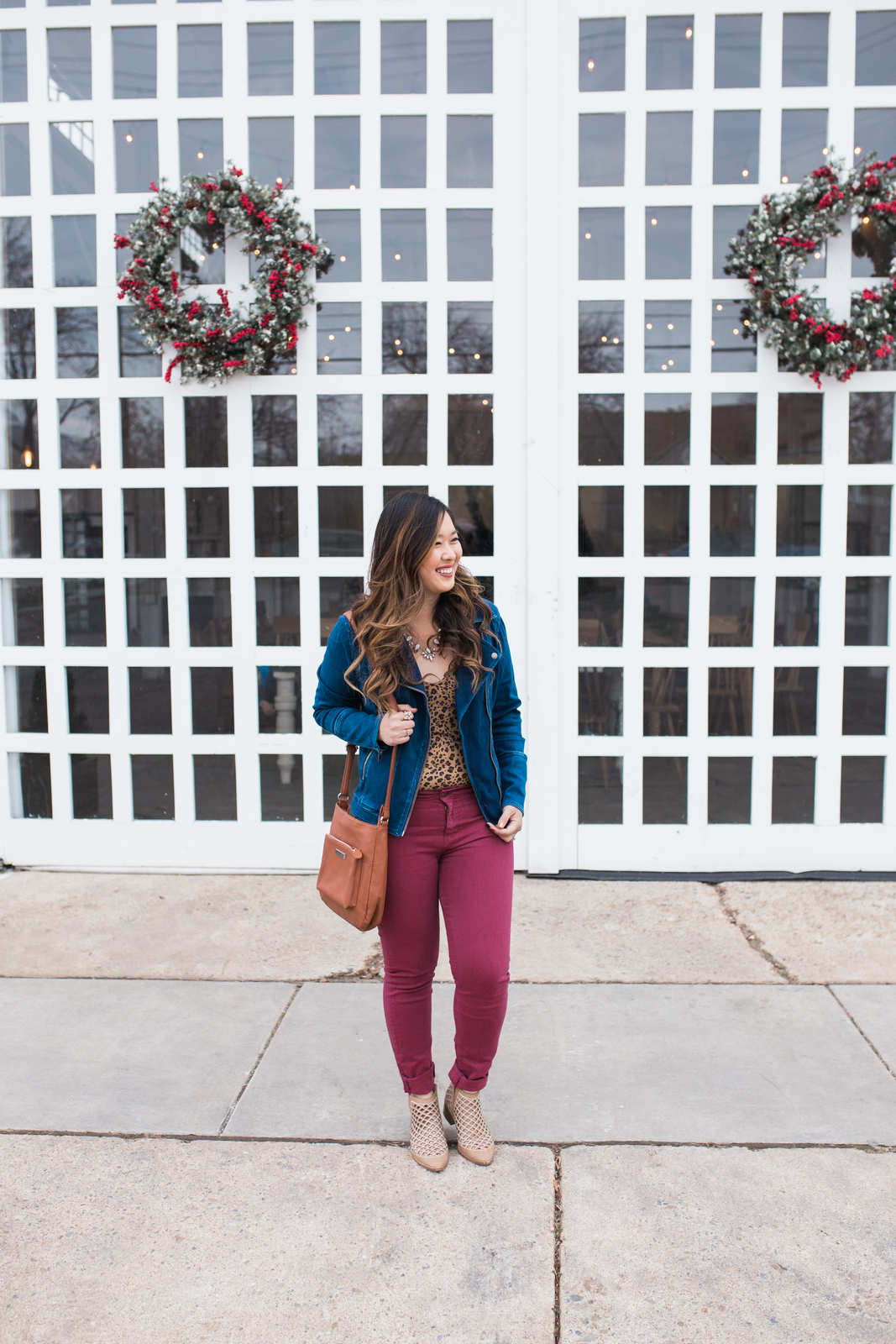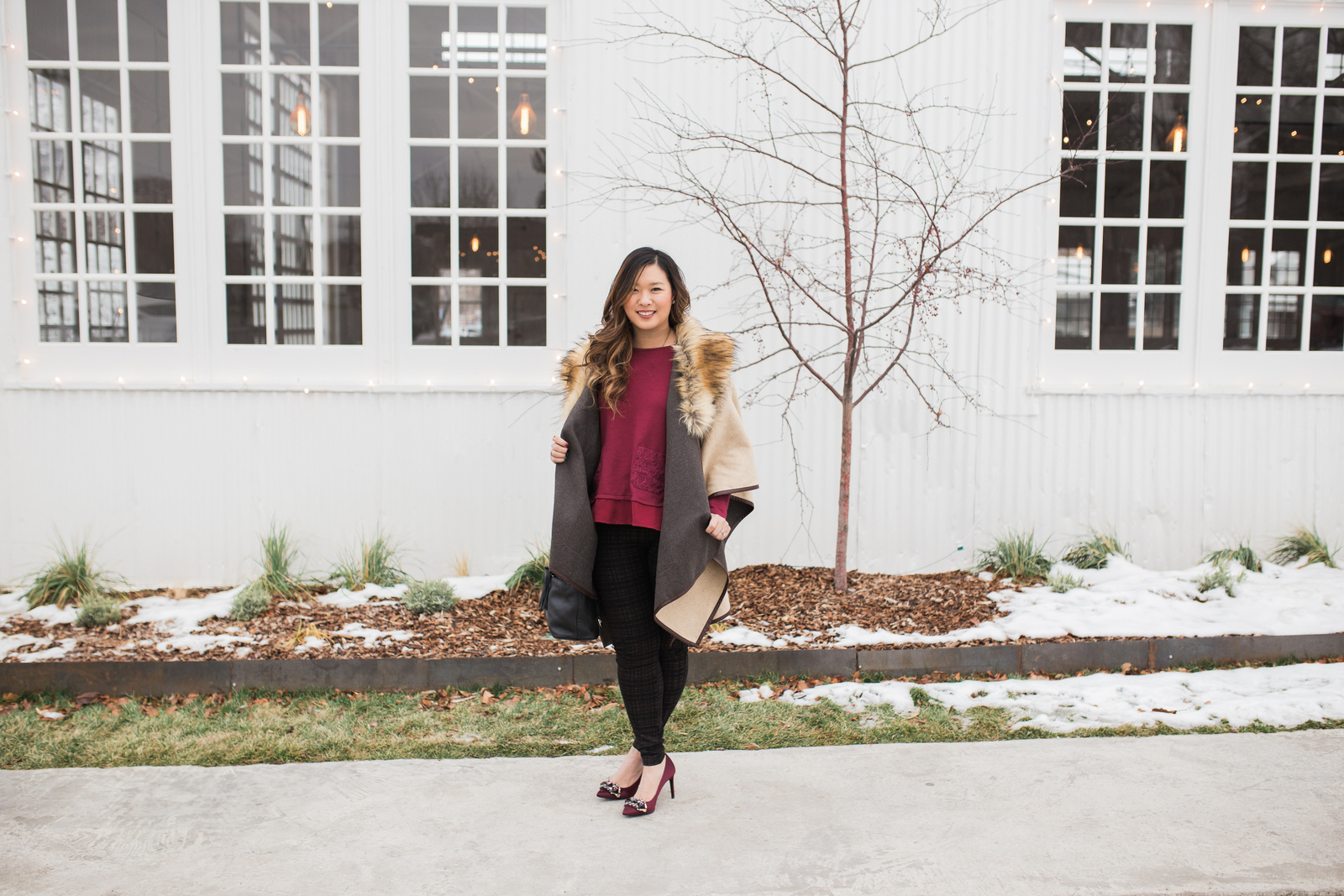 I have to say, that my body (especially the lower half) has not always been something that I was proud of or happy about. Growing up, my parents put me through gymnastics, figure skating, ballet and my mom claims that's why my legs are not that skinny and my butt is… well big. Of course, I don't always have a consistent exercise routine and tend to eat junk, so as I get older, that really doesn't help my body get into shape, so I don't think my upbringing can be the whole cause. I've always had body image issues, and my weight has fluctuated a ton, but as I grow older, I am starting to learn to be more confident with my body and only find clothes that can flatter it.So from my experience of having a curvy bottom, I wanted to share a few tips that I have found that have worked for me in finding pants that fit.
I have recently discovered Liverpool Jeans and have fallen in love with their pants and jackets. Their ponte knit leggings are great for work and casual, their jeans are super high quality and their jackets are on trend. Also, everything is under $100!!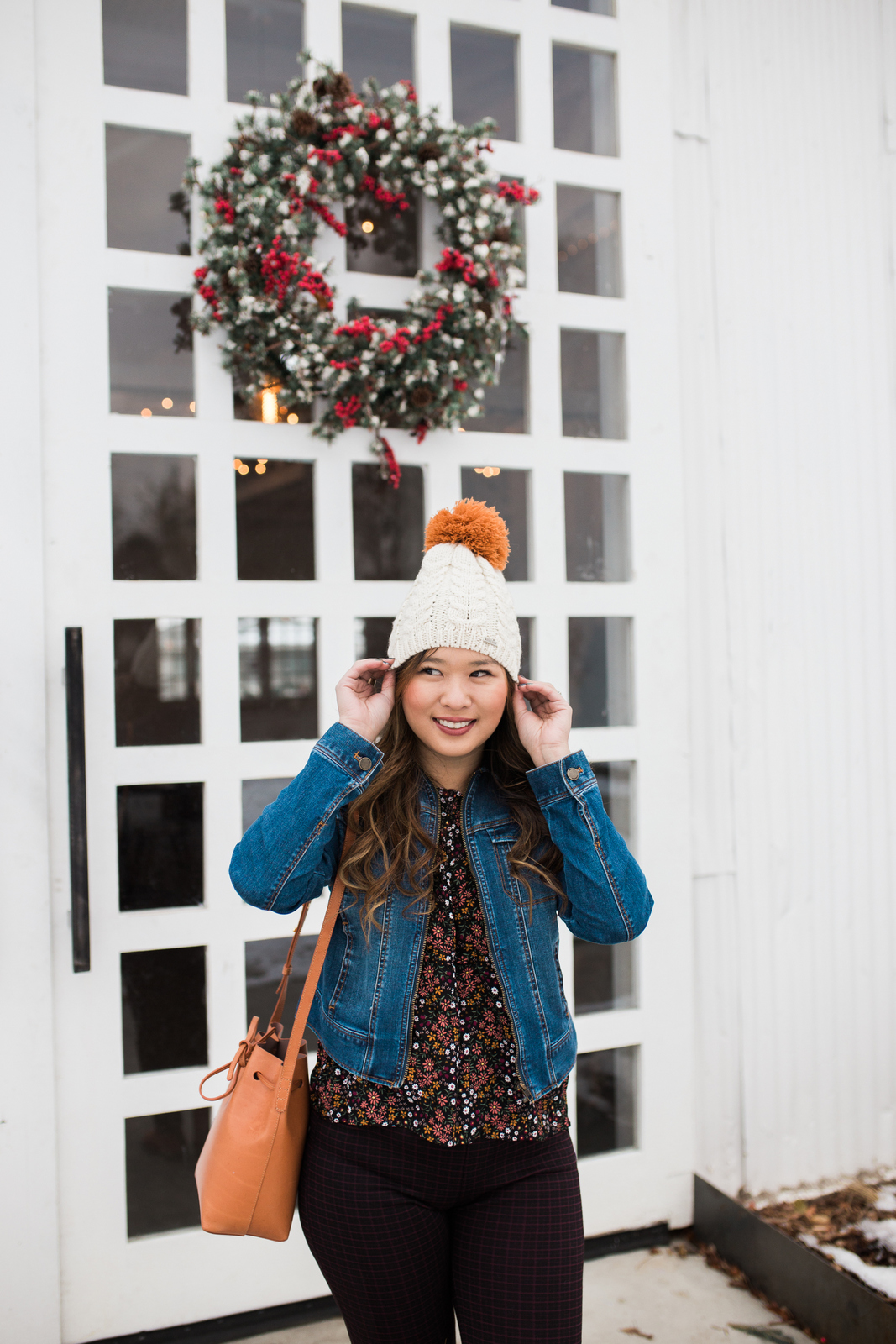 For my first outfit, I went with the Quinn Tatersol Plaid Legging. These are black with red plaid and they are so fun for the holidays. They are pull on style with elastic waistband and faux pockets. These pants are such great as leggings so that boots can fit over them and for casual outfits, but you can totally dress them up with a nice pair of heels and a blouse. I paired it with a floral top, a denim zip jacket for warmth, and a great pair of booties. These are a mid-rise, which I have chosen as a rise that will work for me.
Outfit #1
Top: Forever 21
Jacket c/o Liverpool Jeans
Pants c/o Liverpool Jeans
Shoes: Recks & Relles
Hat: GIGI PIP
Bag: Mansur Gavriel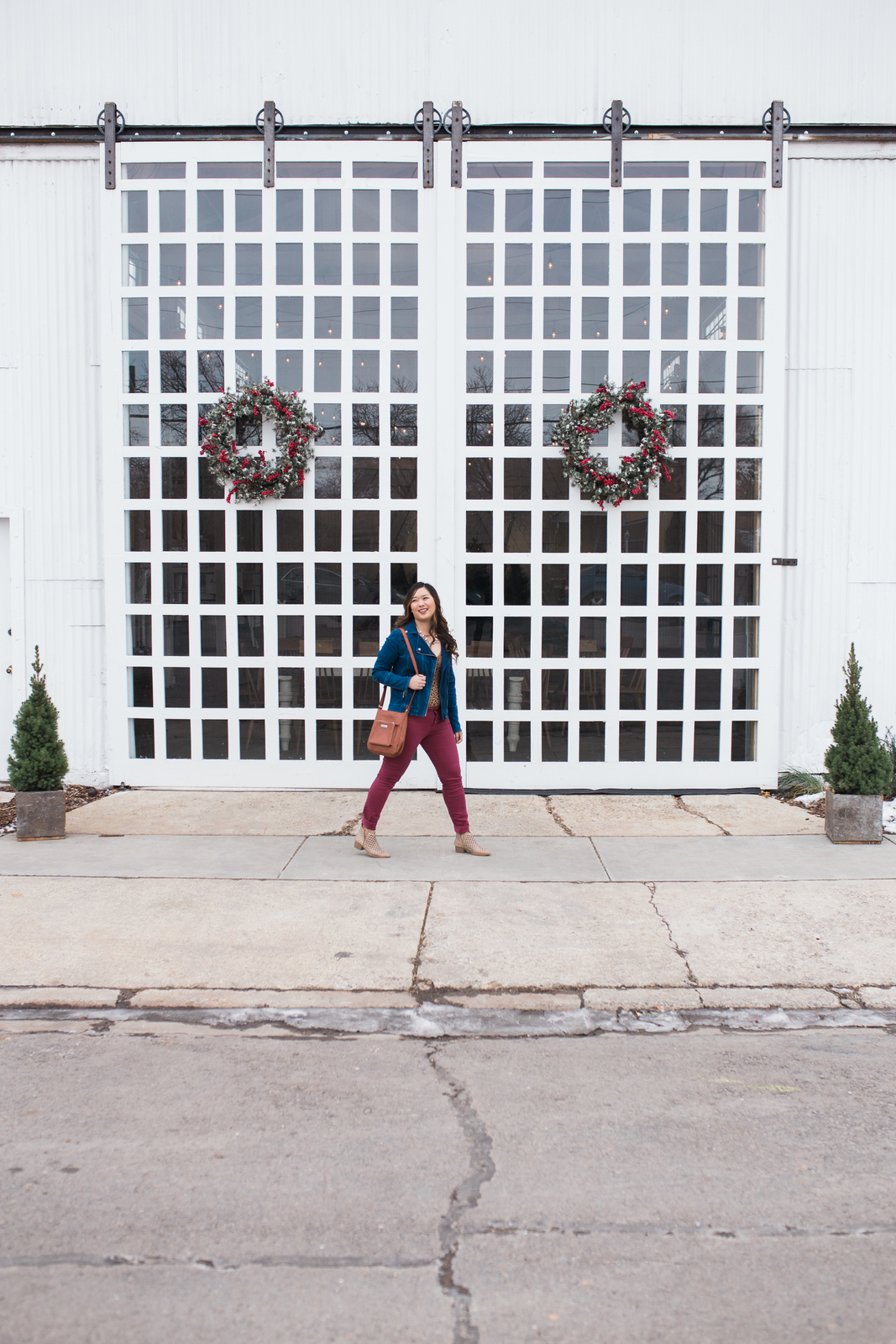 For look #2, I am wearing the Aiden "Hugger" Skinny pant in Wine color. These are just a great pair of jeans and I am so happy to add a pop of color in pants to my wardrobe. I also tend to go towards skinny styles as I think they work best with booties and knee highs for the winter and my leg shape. I was getting stuck in a rut with denim / blue colored jeans lately so happy to add this to my wardrobe. These ran a bit long, so I just rolled them up!
Outfit #2
Leotard: The Red Closet Shop
Jacket c/o Liverpool Jeans
Jeans c/o Liverpool Jeans
Shoes: BB Styled Boutique
Bag: Lily Jade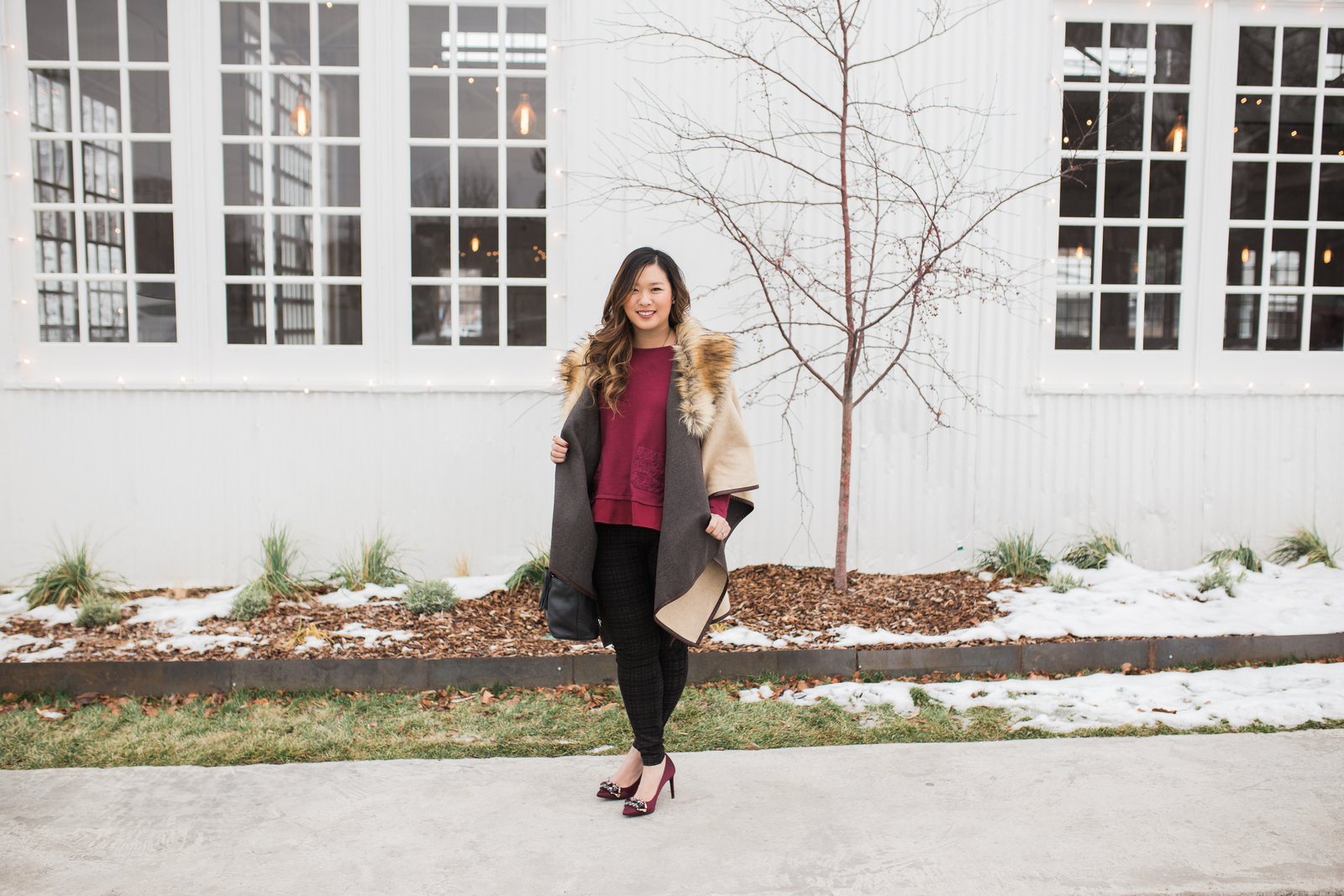 And lastly, I decided to dress up the Quinn Metallic Plaid Pull-On Legging (which is a similar pant to the first style). I wore it with a nice top, a fabulous fur cape and jeweled pumps! This look might be one of my faves and I just love the way the pants look and feel! These are also mid-rise which like I said before, is a rise that I go towards.
Outfit #3
Top: Evy's Tree
Cape: Evy's Tree
Pants: Liverpool Jeans
Shoes: Kate Spade
Bag: Lily Jade
Photography by Kiely Ro
A Guide To Finding Pants That Fit
Know Your Body Shape – Whether you are curvy, all around skinny, hourglass, athletic, knowing your body shape will certainly help you find the perfect pant. There's so many different cuts out there like skinny, bootcut, flare and knowing your body can help find your cut.
Find Your Rise – Post 2 babies, my muffin top is NOT going away. So high rise and mid-rise leggings and jeans are my BEST friends. I absolutely can't wear low rise anymore, but definitely when I had a flatter belly I could ha!
Fabric Matters – Some materials have stretch, some don't. Some pants shrink with wash, some don't. It all depends on the material!
Don't Be Afraid To Size Up or Size Down – And honestly, with all the different brands out there, you don't need to stick to ONE number. Usually if pants have a lot of stretch or I know they will get looser with wear, I tend to size down or buy true to size.If pants or jeans don't have much stretch, I size up!
Find A Tailor (For Back Up) – I rarely have to use a tailor for my pants, but it's not out of the question. I usually just use them for taking in some length, like if the pants are dragging on the ground even with heels.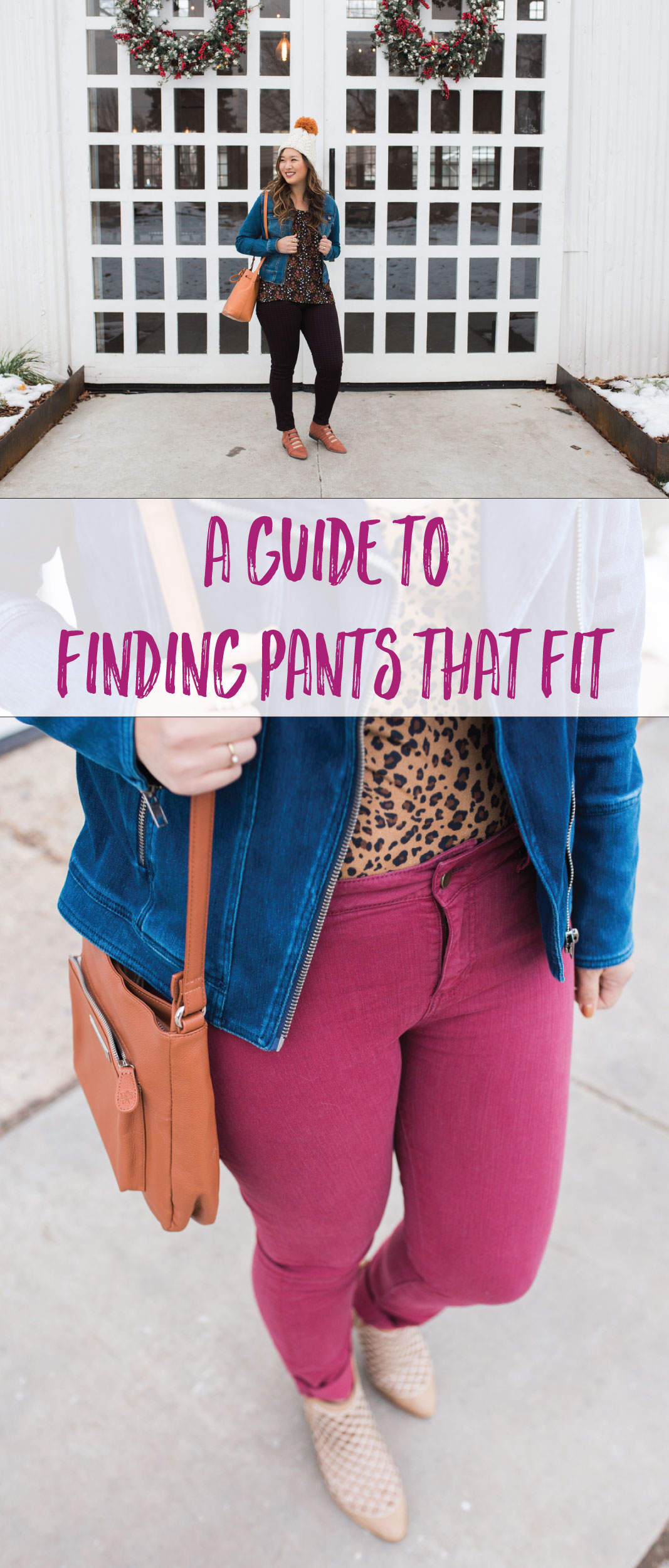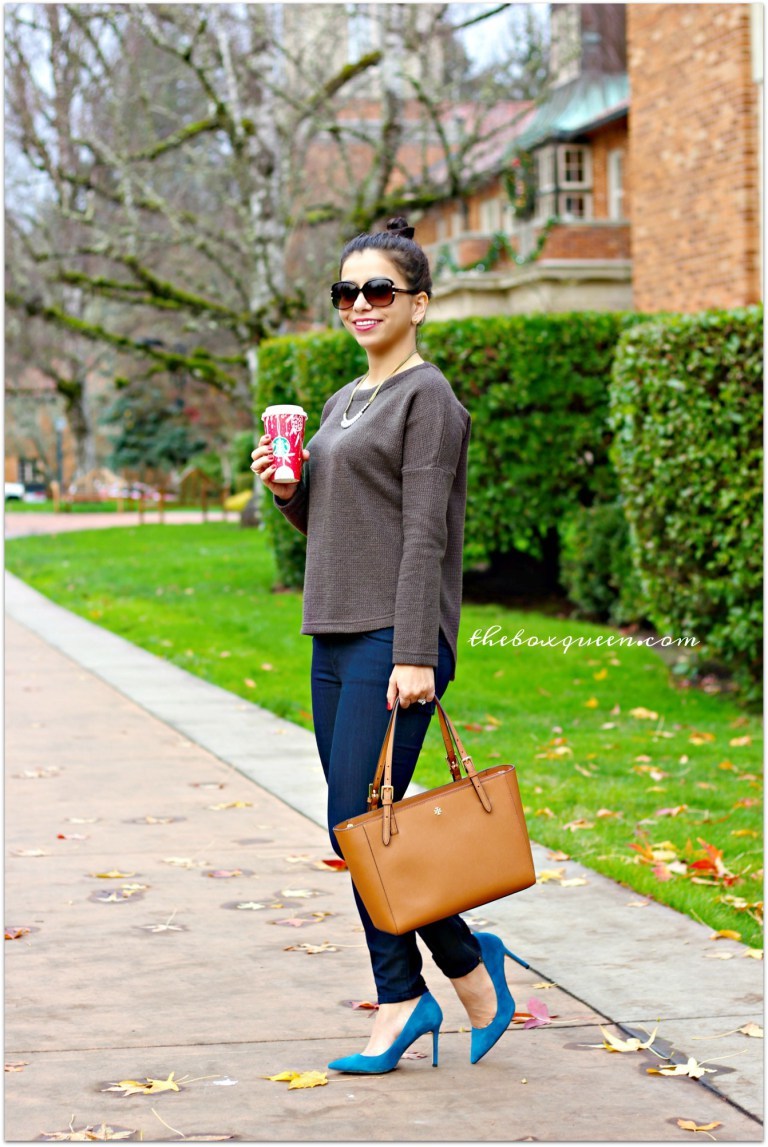 The winner of last week's most clicked link is Elif of The Box Queen!! Congrats girl! You are a babe!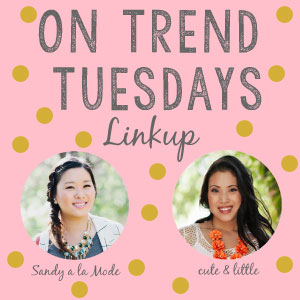 Thank you all for joining along in On Trend Tuesdays Linkup! If you decide to link up, please include this badge or link to our blogs (me and
Cute & Little
) in your post somewhere as well as visit a few others in the linkup! We would love for everyone to show each other some love!