I've been working on and planning something for a few months now and I am SO EXCITED to be able to finally share it with you all! This week, I was selected as Brickyard Buffalo's Guest Editor! What does that mean? Basically, I've curated a very special list of shops and items to be sold to you at a special deal! Here's a little peek at what you can find, and I'll be posting more on Instagram throughout the week as well! Hope you enjoy these items as much as I do!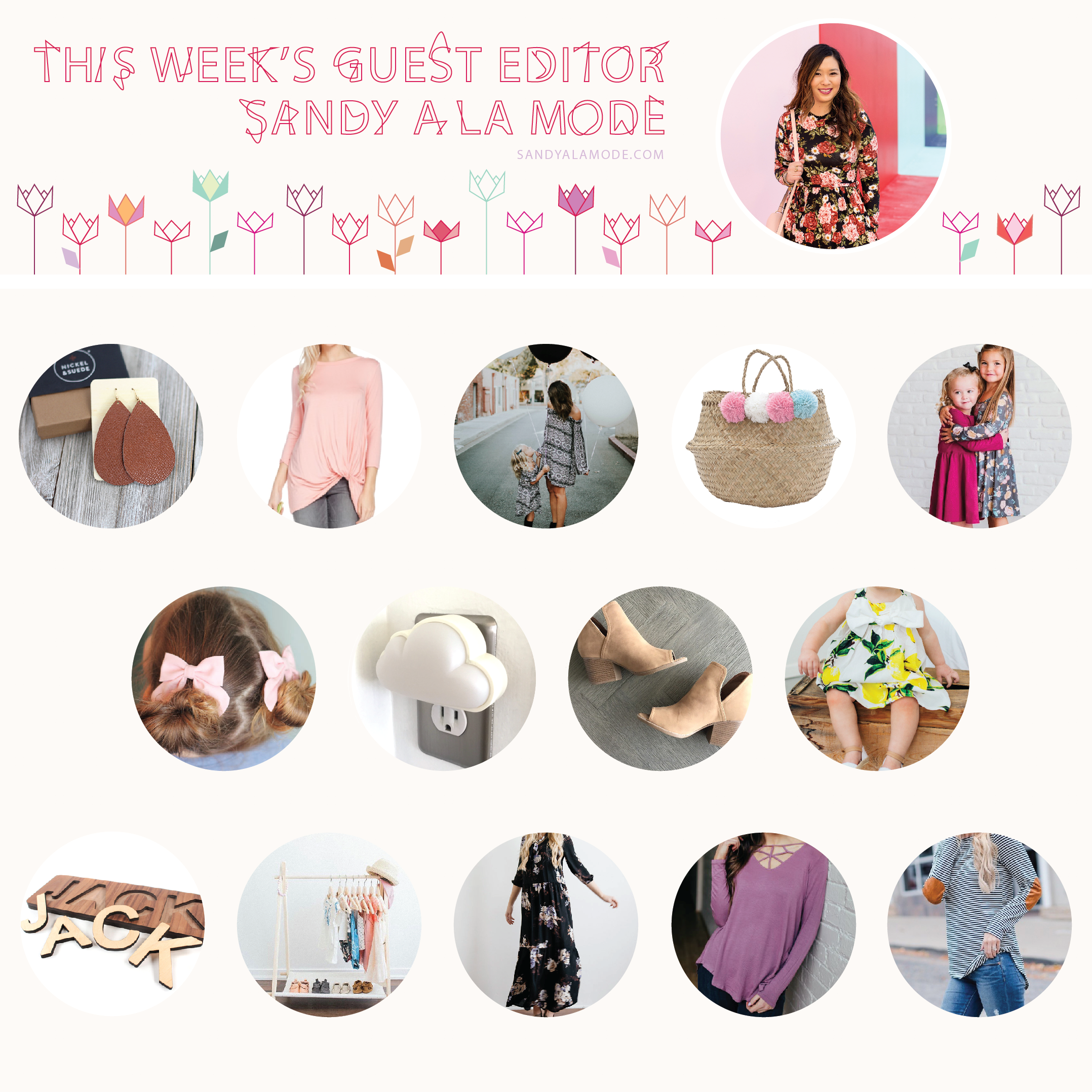 First of all, if you are a long time follower, you know that Mommy and me outfits are kind of my jam. There is nothing more fun than dressing up and matching with my 2 year old, Vivian. Her face lights up when she gets to "match with mommy". Little Baberham is like all of your boho and vintage dreams come true and these little dress set is just so fun. I think it can be worn alone or with leggings, and with some fun booties or flats.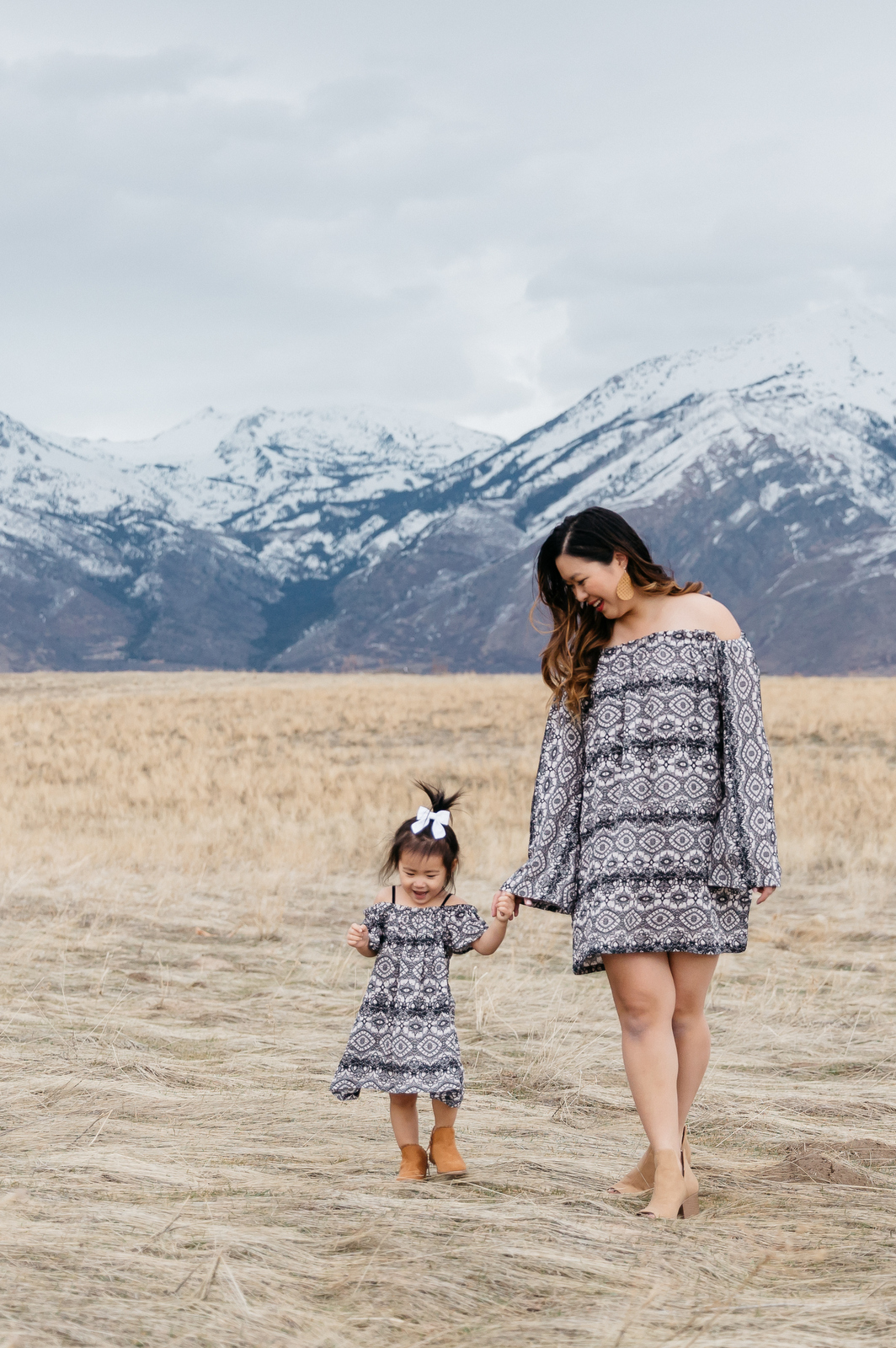 Little Baberham also sells the CUTEST baby/girls bell bottoms and I swear every time she wears them, she gets a ton of people complimenting her outfit! If all her pants could be bell bottoms, I wouldn't complain, neither would she. 😉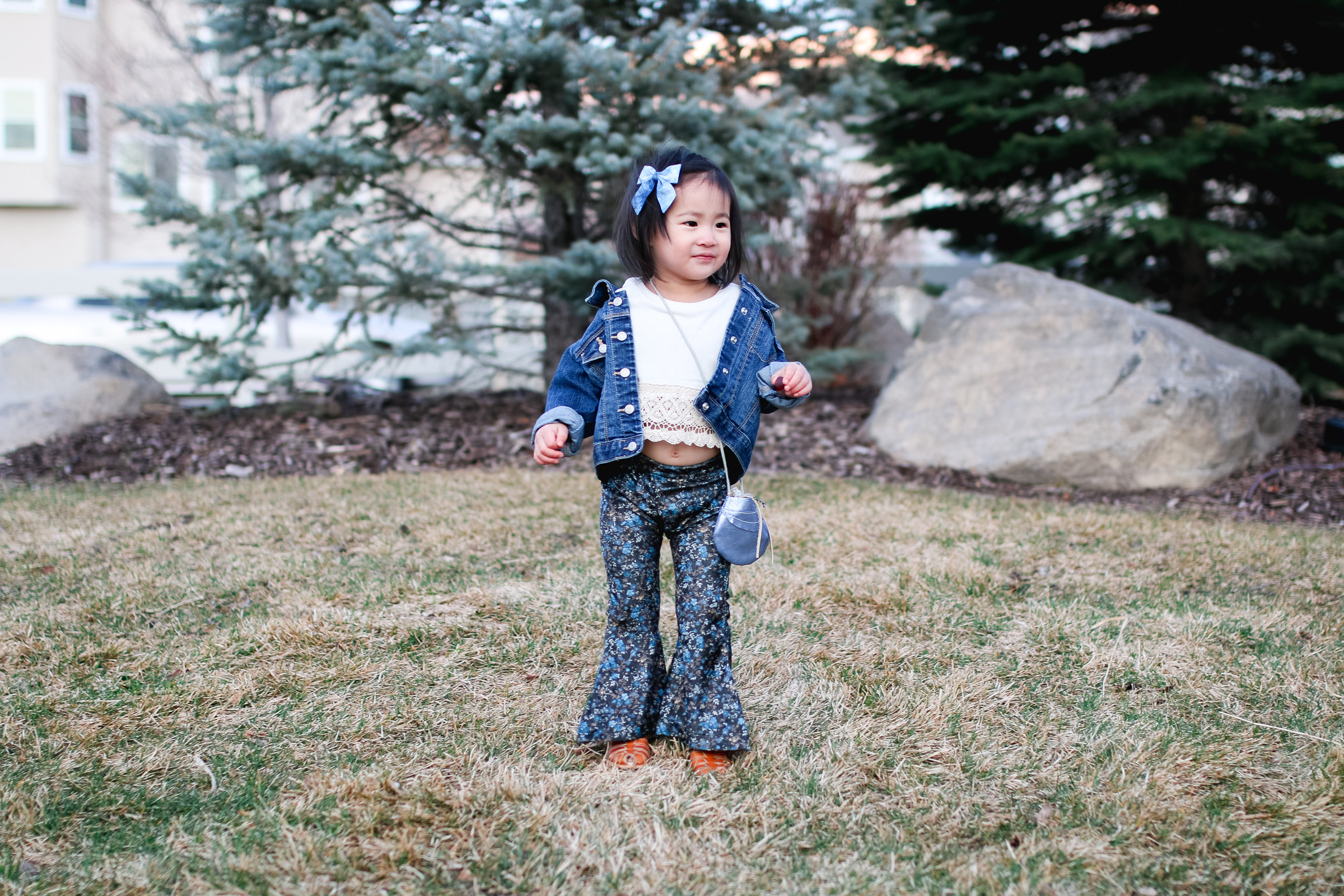 Continuing with little girl's fashion, because I love it so much, is this Little Girls Swing Dress! I love it because it's easy to dress up or down and it's absolutely perfect for twirling!!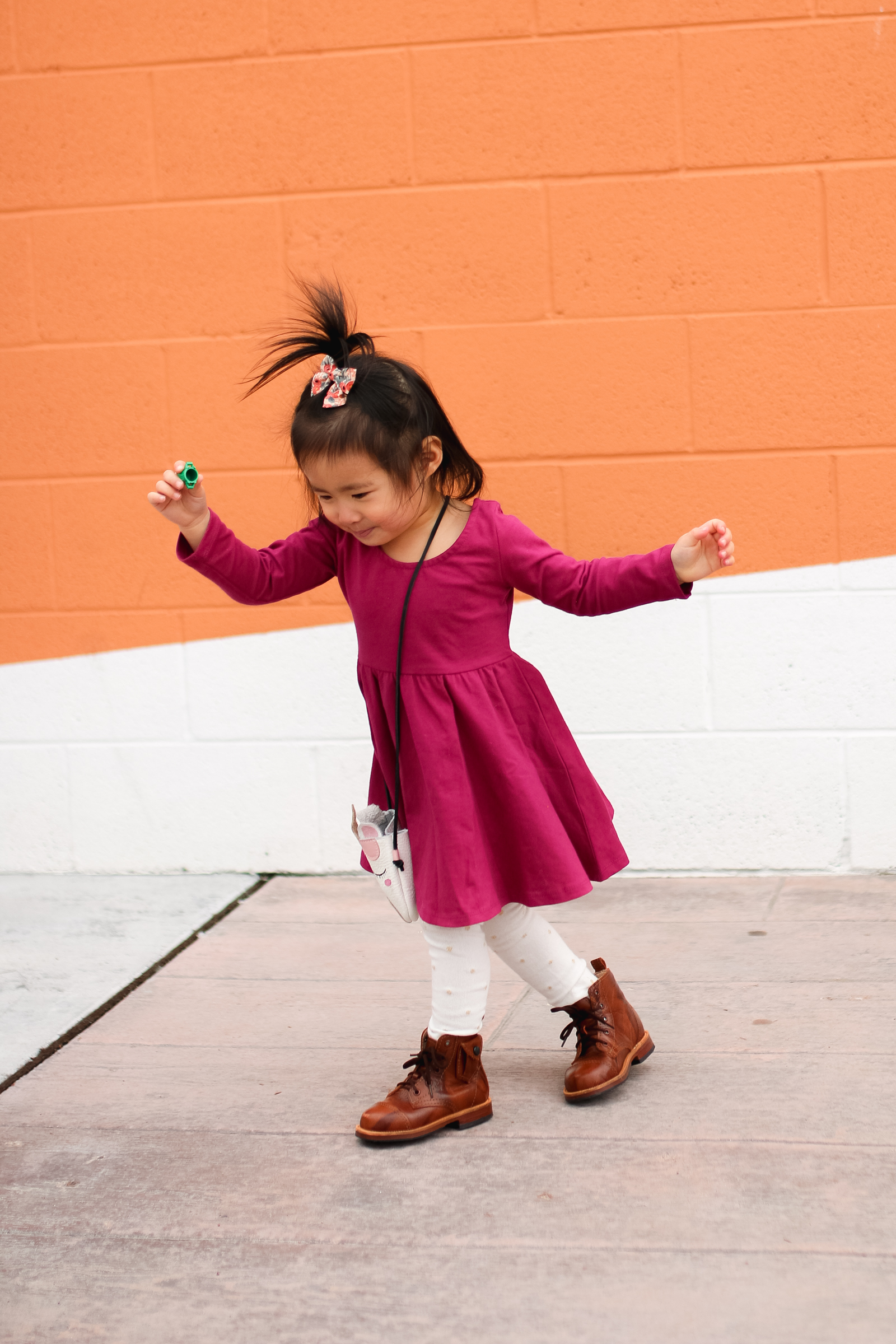 Next is a store that is near and dear to my heart, mainly because the owner lives in the same town that we used to live in in Missouri, she is a fashion blogger and well her products are amazing. If you haven't heard of them before, Nickel & Suede is known for their lightweight leather earrings. Like I swear, you won't even notice you are wearing anything because they are that soft and light. Their signature style is a tear drop style that comes in a variety of different colors and sizes. I am wearing the Medium here.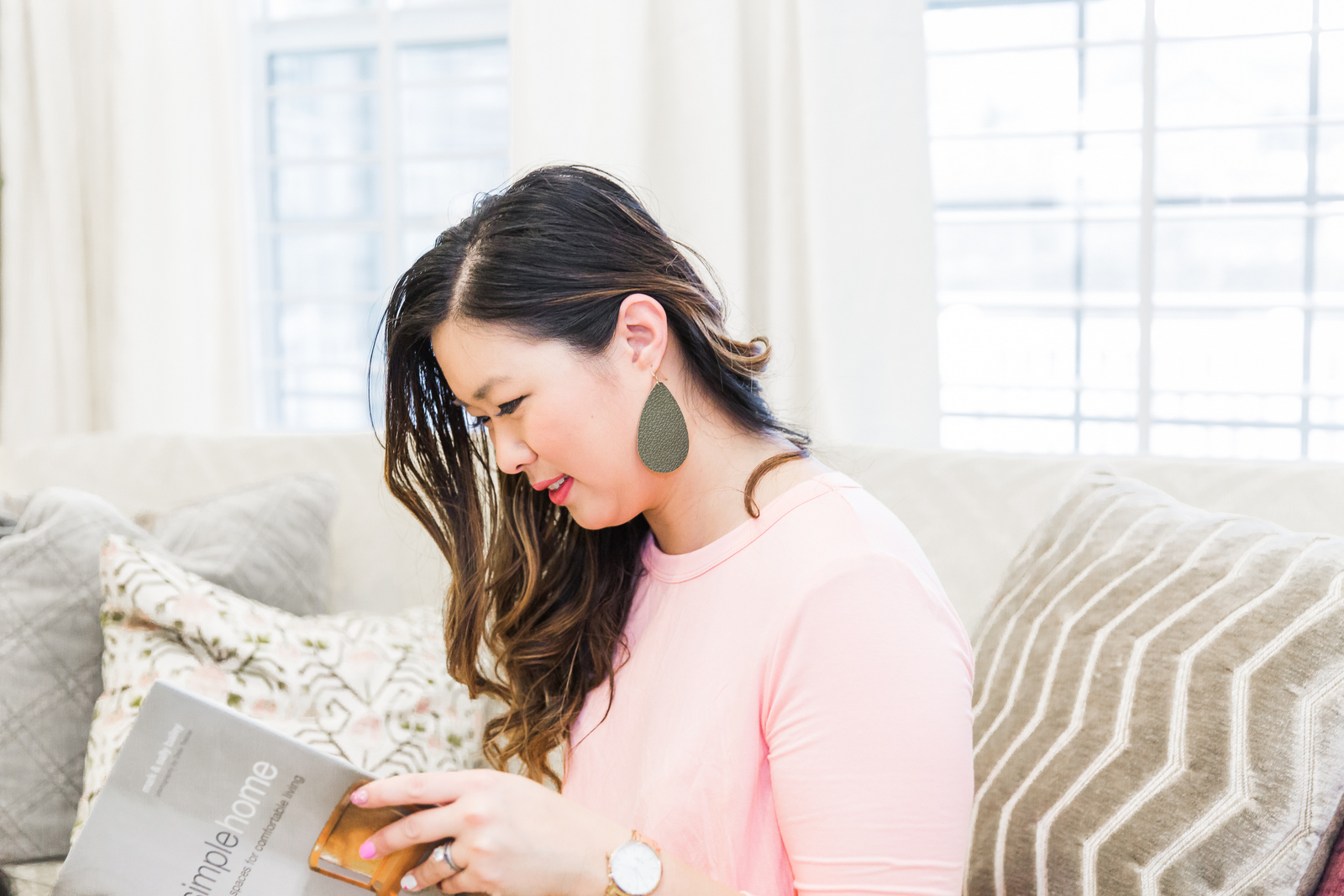 And if you didn't already know this, pink is absolutely my favorite color ever. This Harmony Knot Tunic is the perfect shirt to wear for a lazy day, running errands, or can even be dressed up. I just love that the tie detail gives it a little something extra to it.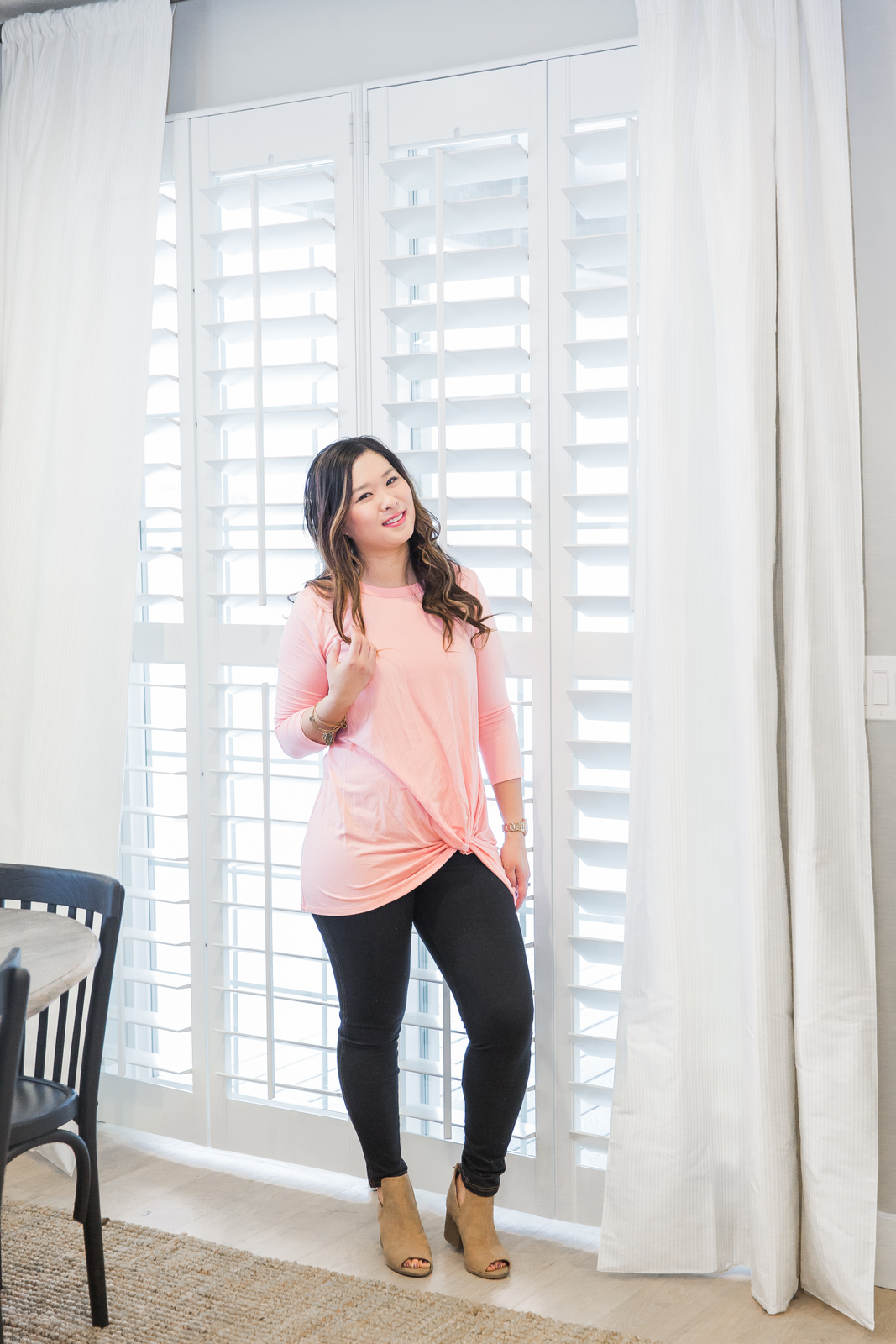 These cutout Leisa Faux Suede booties, wow they are GOOD and so perfect for Spring. From the neutral color, to the side cutout (which makes them easy to slip into), and the peep toe front detail, you need these in your shoe closet right away.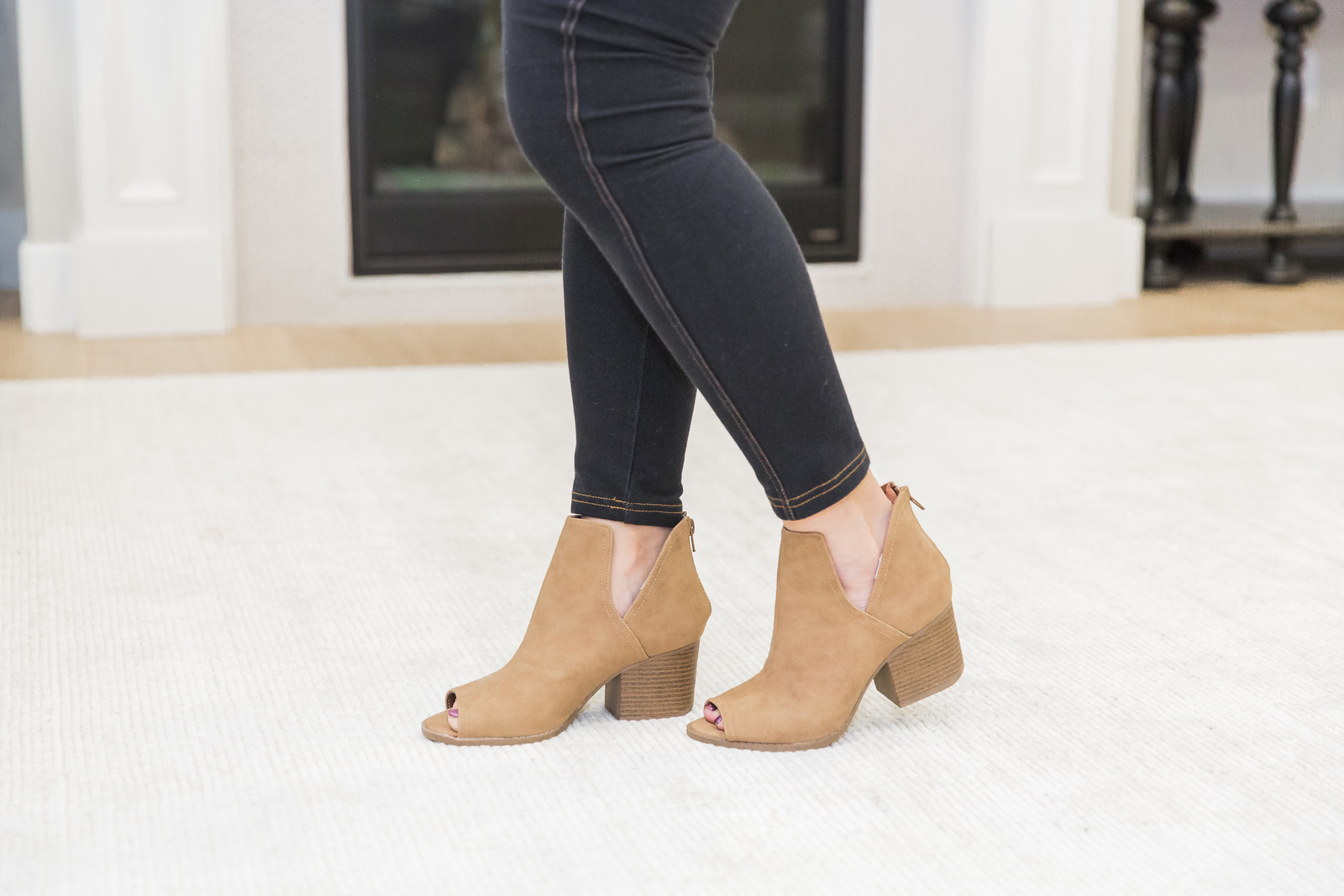 On Vivian, she is wearing the cutest little Lemon Drop Dress that is so perfect for Spring and Summer (because we are all over Winter, aren't we?). I love how lightweight it is, the cute print and how you can just throw it on and have it be a complete outfit (with shoes and accessories of course).
And featured in all these photos, are little girl bows by A Dash of Sass! Her bows are the perfect little sailor bows, and come in headband or clip varieties. We love them so much and they are really well made and sturdy!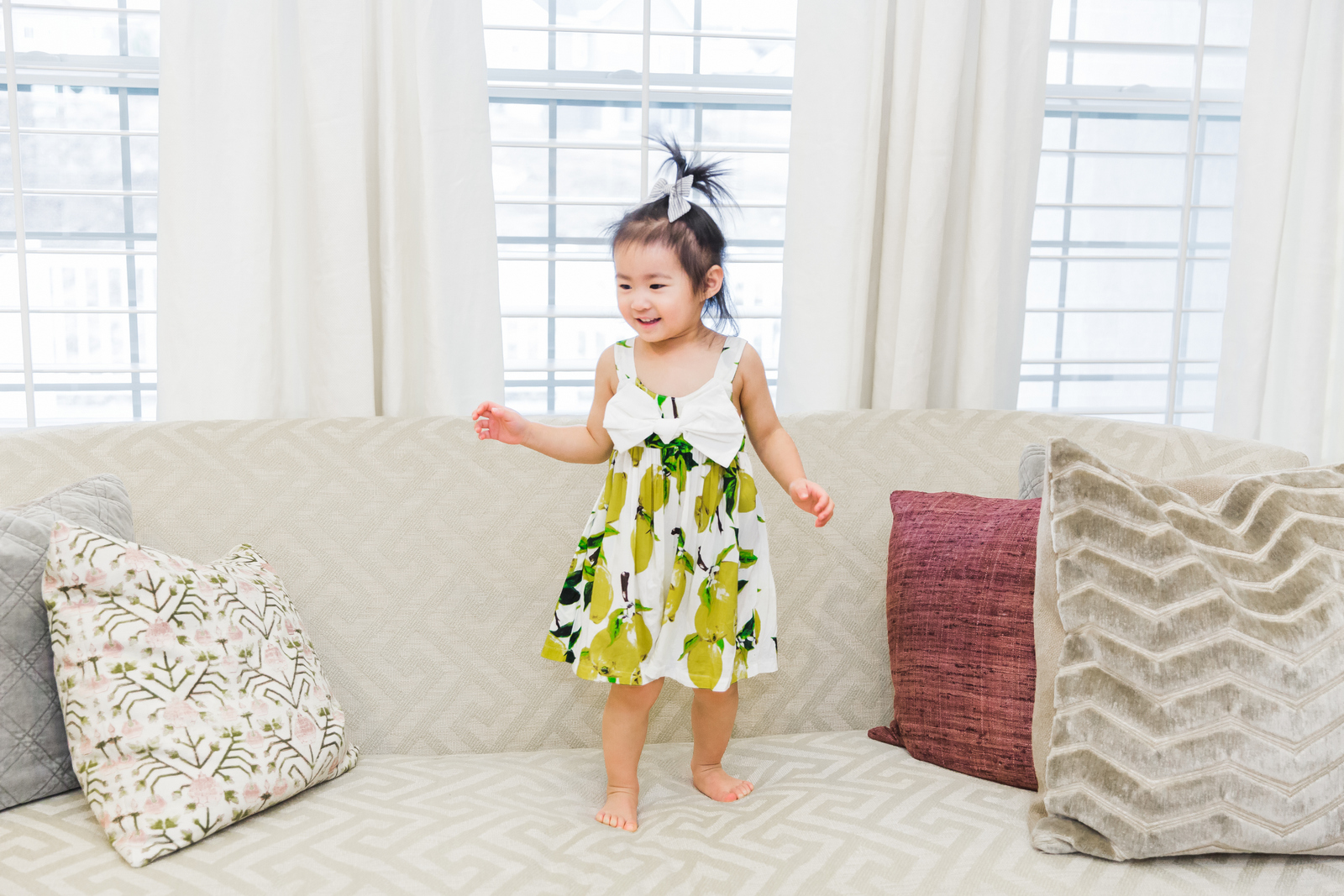 The fun doesn't stop here, next up we have some fun things for your home, such as this Olli Ella Seagrass Pom Pom Basket that comes in 2 colors! It's such a great thing for housing toys or stuffed animals and the pom poms are just so fun. And then we also have this cloud nightlight, which also comes in a lightning bolt too.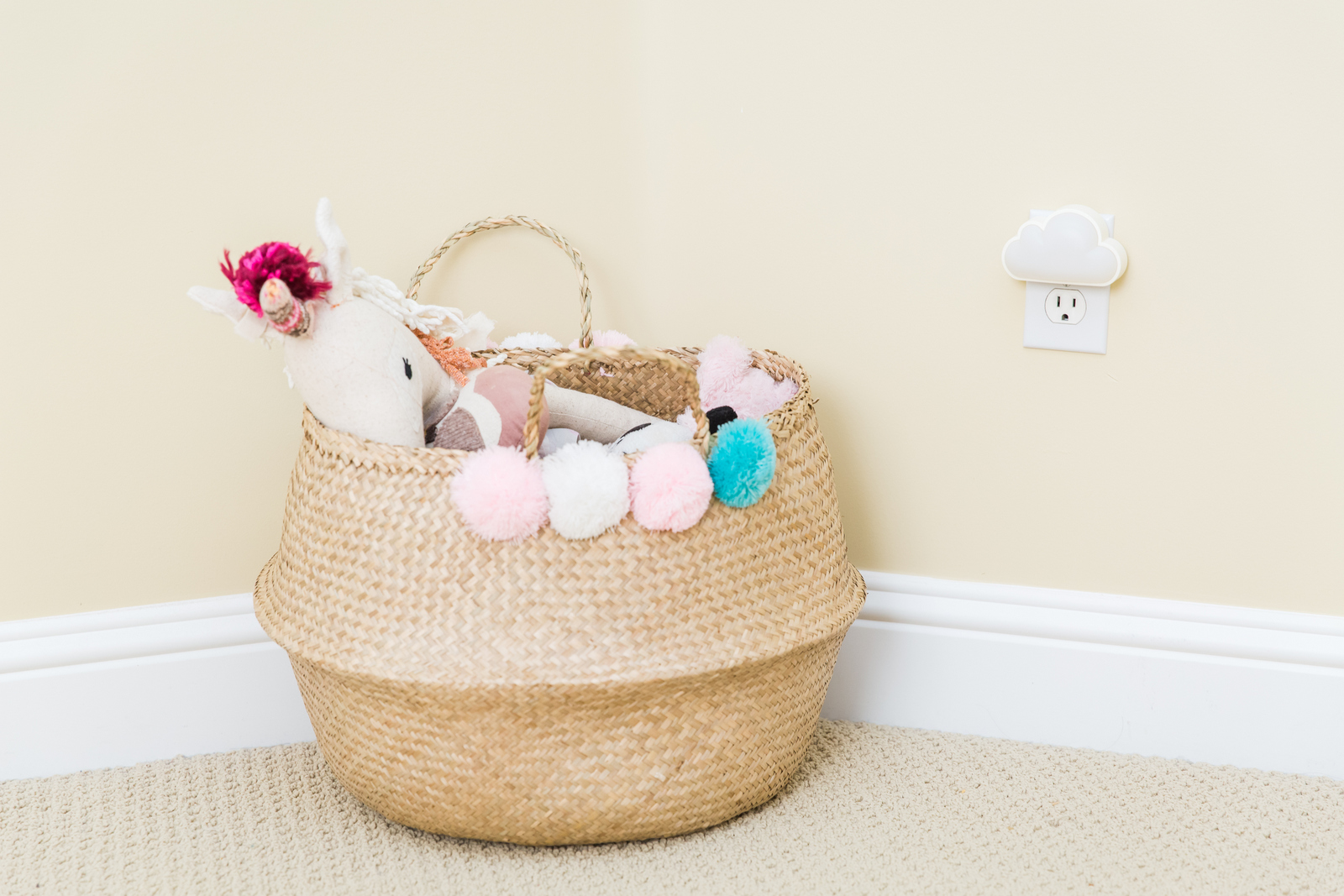 This kid's clothing rack by Alluring Co – it may be more of a splurge, but it's totally worth it. It's a great little rack for toddlers and Vivian loves playing dress up the items on it! It's the perfect addition to any girl's room, I promise!!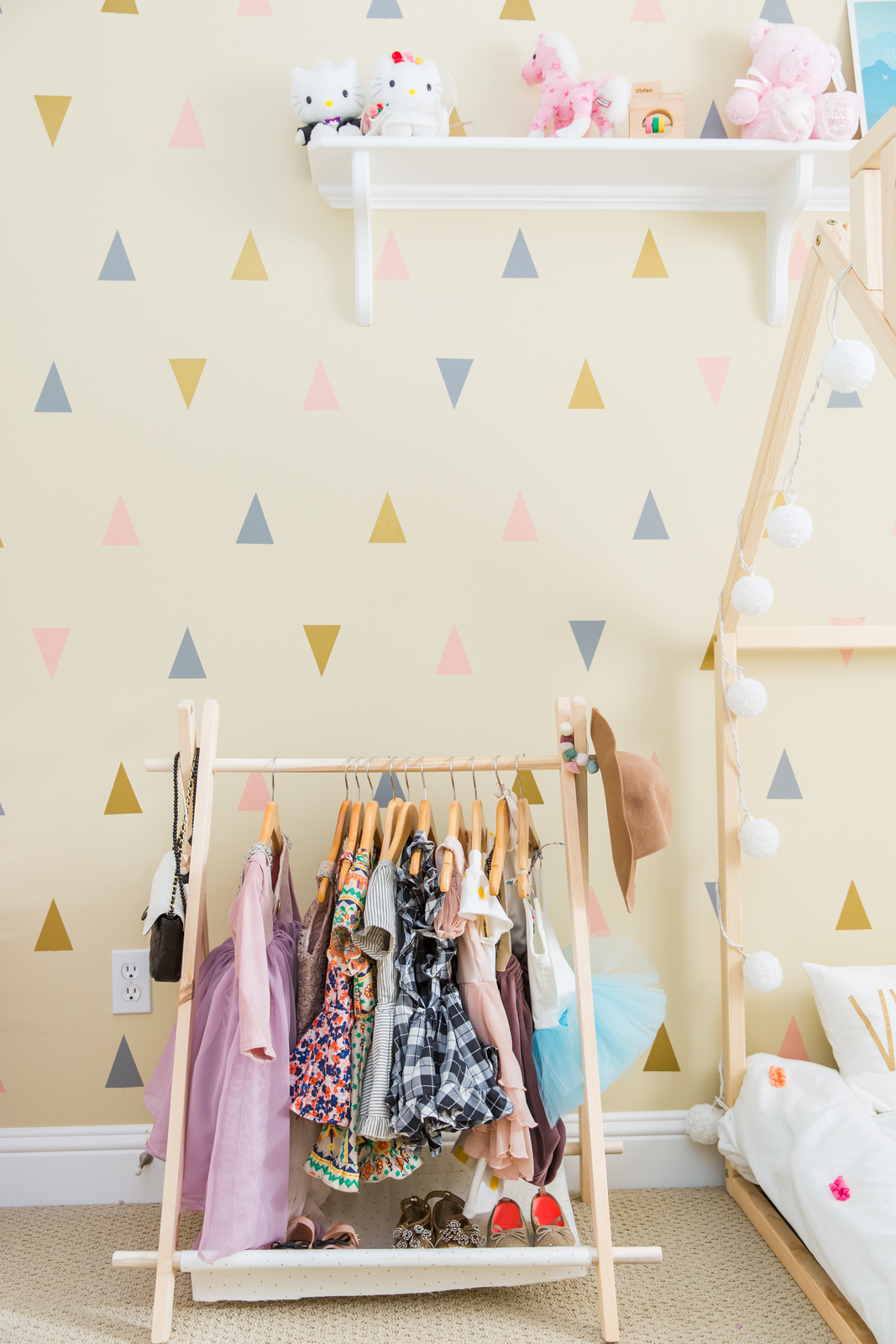 And these wooden name blocks by Smiling Tree Toys are absolutely the perfect gift for a new mom or just any kids who are learning their alphabet. They are also offering free customization or a quote on the back of these boards which is amazing. For Austin's, we got "Analytical. Passionate. Loyal." and for Vivian we got "Vivacious. Joyful. Caring." engraved on the back – perfect words to describe each of them. I am looking forward to having these as keepsake items for them.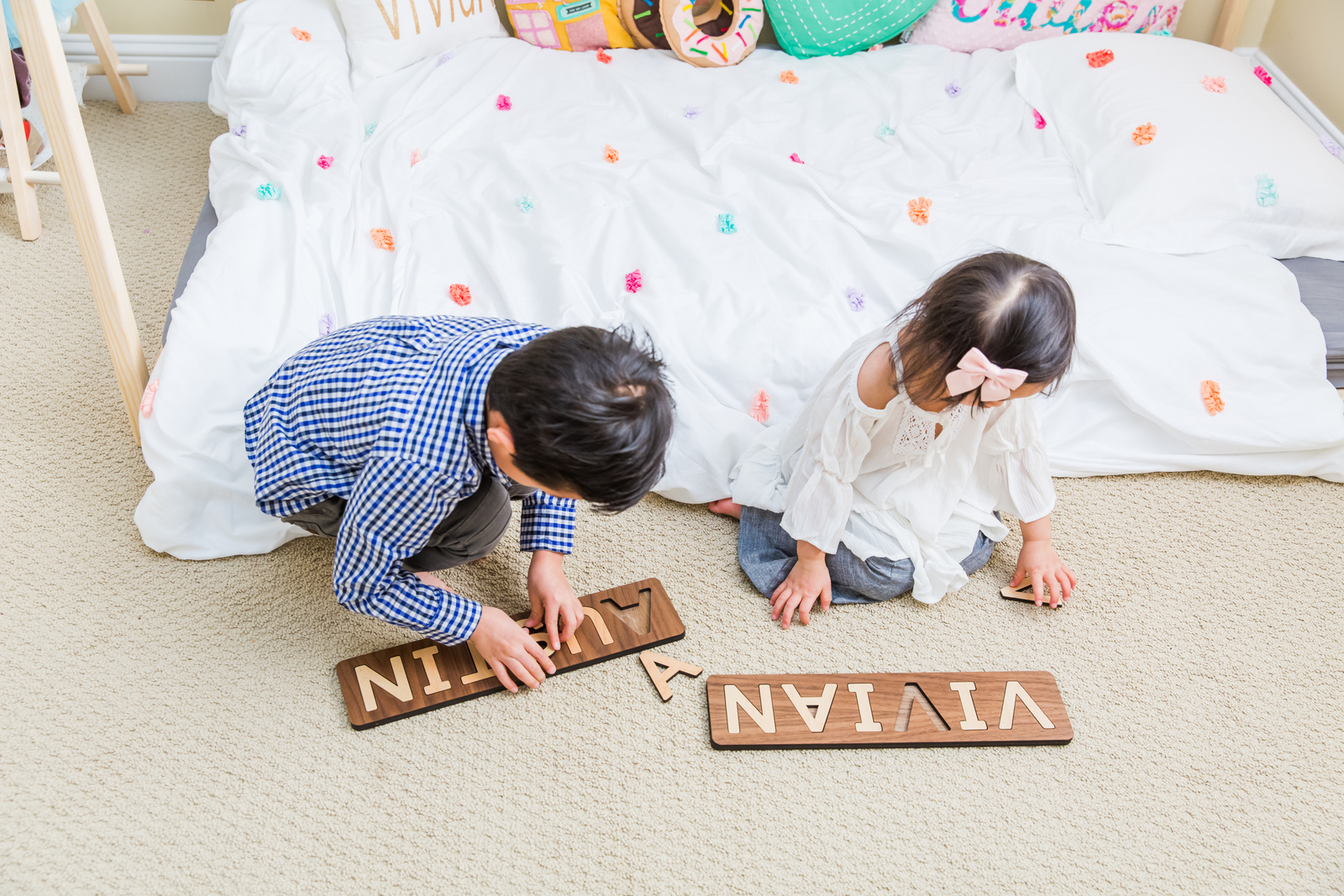 Photography by Diana Putnam Photography
Also, don't miss out on this floral maxi dress from The Stockplace, this fun Arella Criss Cross Top and this Carlie Navy Striped Top for women!
There is so much more over on Brickyard Buffalo! I want to know which ones are your favorites and if you end up getting anything. It would mean the world to me (and them!) to have you support these shops that are near and dear to my heart!