I have my guest contributor Jennifer of Sugar, Spice & Glitter back here again with a fun popsicle recipe perfect for your 4th of July BBQs!! If you missed her Grown Up Unicorn Frappuccino from a few weeks ago, make sure to check it out too!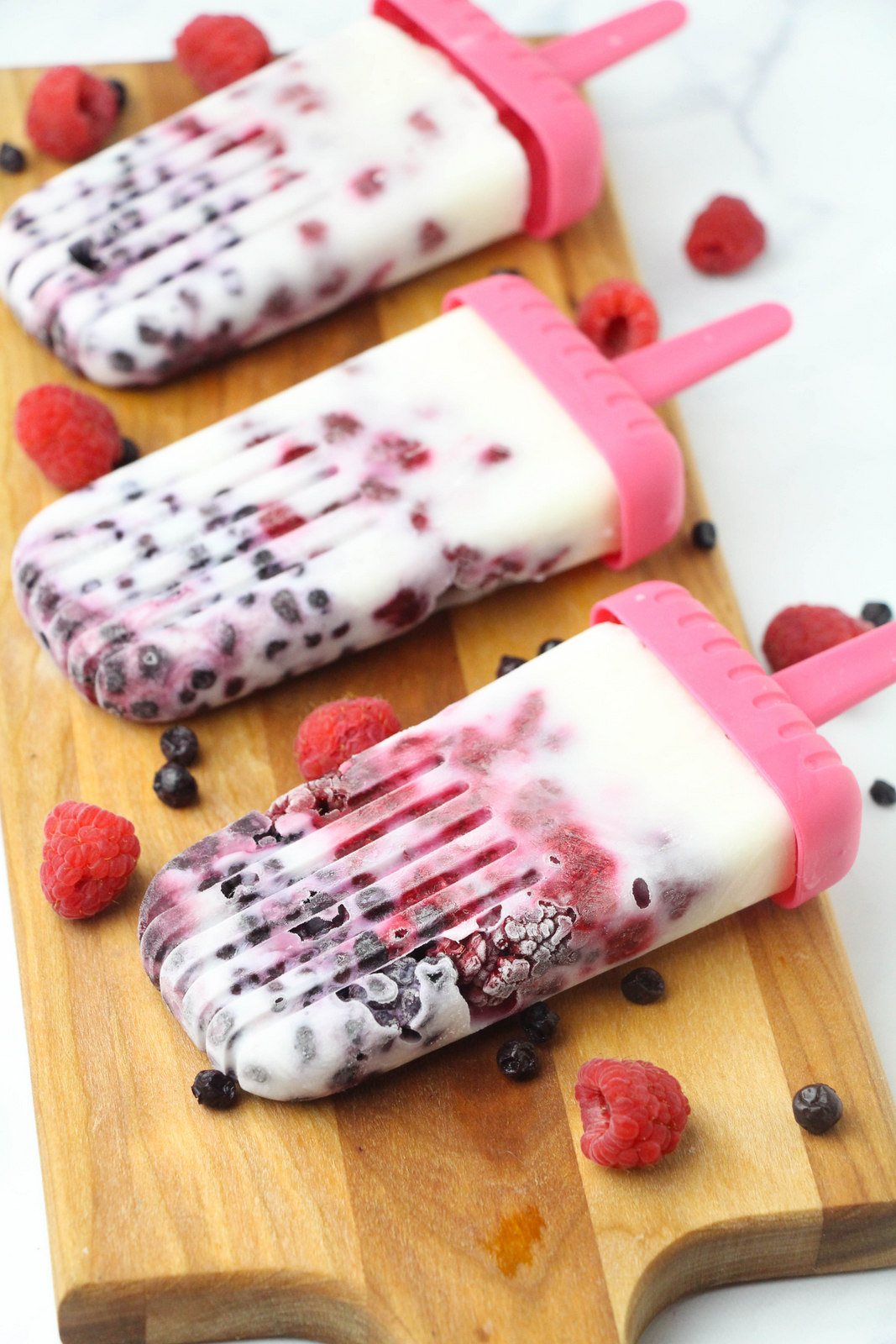 Homemade fruit popsicles are one of our favorite summer treats – we can make them sugar-free and customize the flavors and colors to our personal preference. These refined sugar-free Patriotic Fruit Popsicles are a delicious treat that the kids can help make and will definitely enjoy helping eat!
While I'm far from anti-sugar, it's nice to skip it when possible and give the kids that "treat fix" using naturally sweet foods like berries, especially in the summer months when the heat can lead to it's own meltdowns, let alone throwing sugar crashes into the mix!
We made these fruit popsicles two different ways – with a bit of honey to sweeten and with no added sweeteners – and the kids loved them both ways. I think kids are just excited to have a cool treat on a hot day so feel free to skip the optional addition of honey in the recipe.
One of our favorite tools for quick & easy fruit popsicles in the summer is our
Zoku maker
. We keep it in the freezer all summer long and then pull it out to make popsicles in less than 5 minutes! The product guide says that yogurt-based popsicles might not work, but we've personally never had any problems. (We've used it to make our
Mango Raspberry Popsicles
and
Healthy Cherry Fudgsicles
.)
Ingredients:
1 cup yogurt
2-3 Tablespoons honey, optional, to taste
2 cups mixed berries (we used wild blueberries and raspberries)
1/2 cup milk or coconut milk
1 teaspoon vanilla extract
*makes 6
Directions For Your Patriotic Fruit Popsicles:
Mix together the yogurt, honey and milk and set aside.
Arrange the berries as desired in the popsicle molds – filling at least 2/3 of the way. We added wild blueberries to the bottom and then raspberries on top but you could mix them up or create alternating stripes.
Pour the yogurt mixture over the berries and use the popsicle stick to help push the yogurt mixture into any open pockets.
Secure the popsicle sticks/lids and place in the freezer for at least 4 hours or overnight.
For an indulgent twist, you can dip the finished and frozen fruit popsicles in some chocolate magic shell coating, or roll it in a bit of sprinkles!

Jennifer Tammy is a trained psychologist & Montessori teacher turned work at home single mom who loves sharing inspiring ideas to help you live your best life – with a bit of Sugar, Spice & Glitter thrown in.
Save