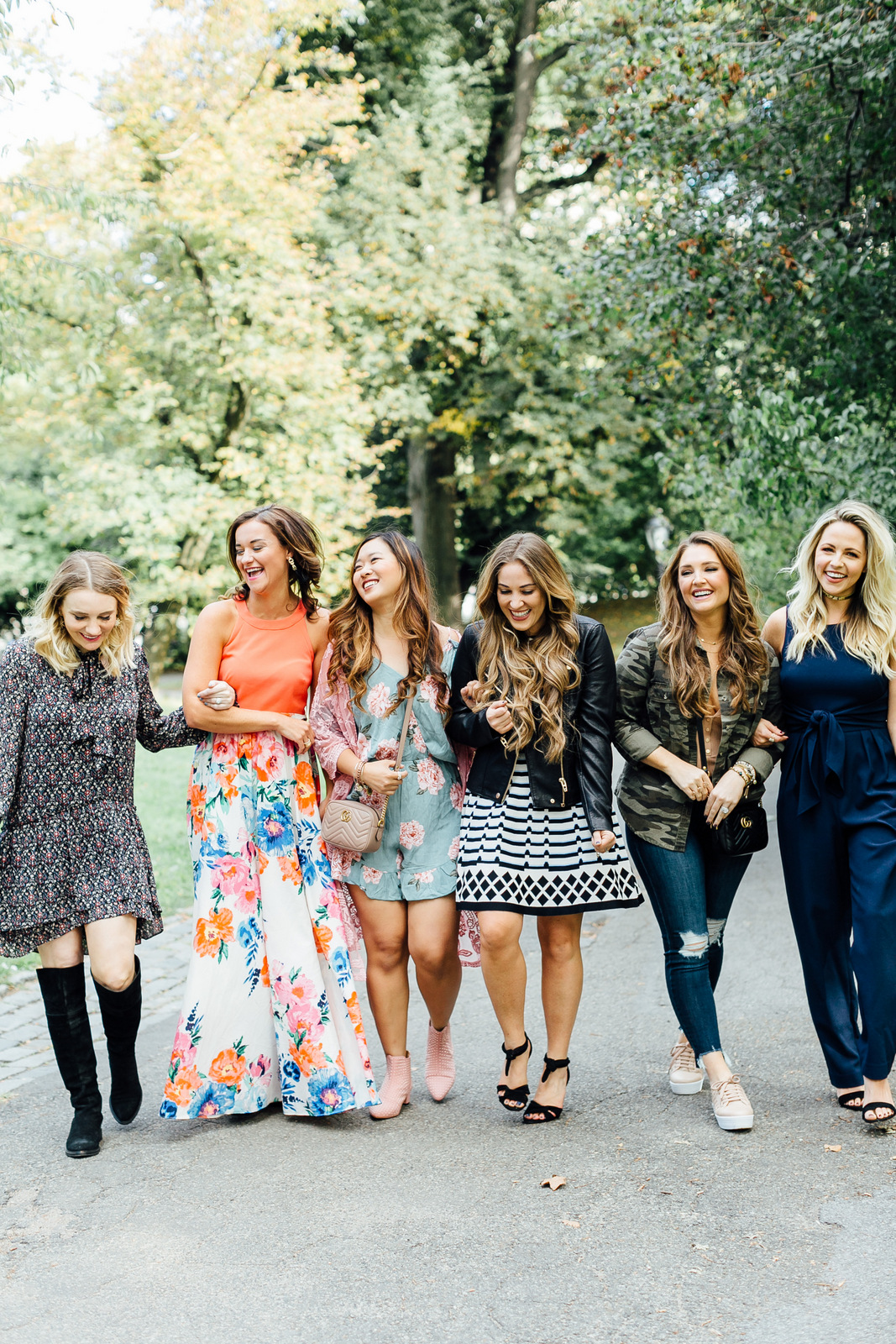 I can't believe that New York Fashion Week has come and gone! It truly was a once in a lifetime whirlwind of a trip that was so much fun! My favorite part was truly the time spent with other boss babes and being inspired by their passions!
For this post, I wanted to recap some of the top trends I spotted during New York Fashion Week, amongst the runway, presentations and other bloggers. And I wanted to give you a few great options to shop those items so you can bring street style fashion into your every day wardrobe as well!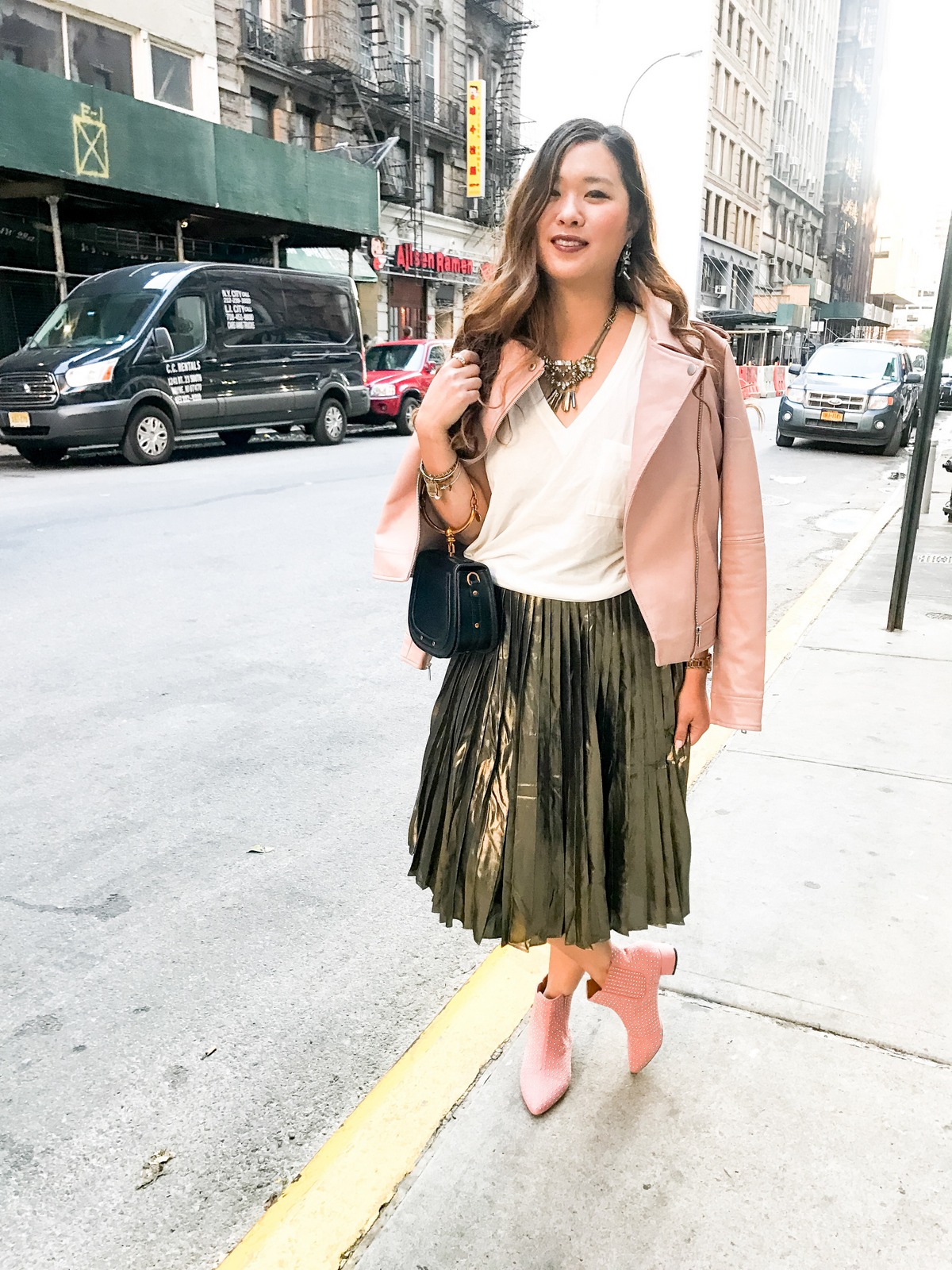 1. Moto jackets (worn over shoulders) – I'll let you in one a little secret, the first day that I wore one of the 3 jackets I wore during New York Fashion Week, I put my hands in the sleeves. But literally every other person wore the jacket OVER their shoulders, so I learned. And this my friends is tip number 1. Just take that leather jacket, suede jacket, denim jacket, what have you, and wear it OVER your shoulders (like shown above). It will immediately put you into a higher fashion category, I swear!!

2. Metallics – I saw less of sequins, and more of metallics at this year's New York Fashion Week! Gold and silver metallics are safe, but there are lots of colored metallic options for those who want to go bold! Wear it in your tops or bottoms, and pair it with a knit sweater, or something more basic!

3. Pearls – Last year, I felt like embroidery was HUGE. Well it still is now, don't get me wrong, but what I saw more of is pearl embellishments. They were on tops, denim, jackets, and even shoes!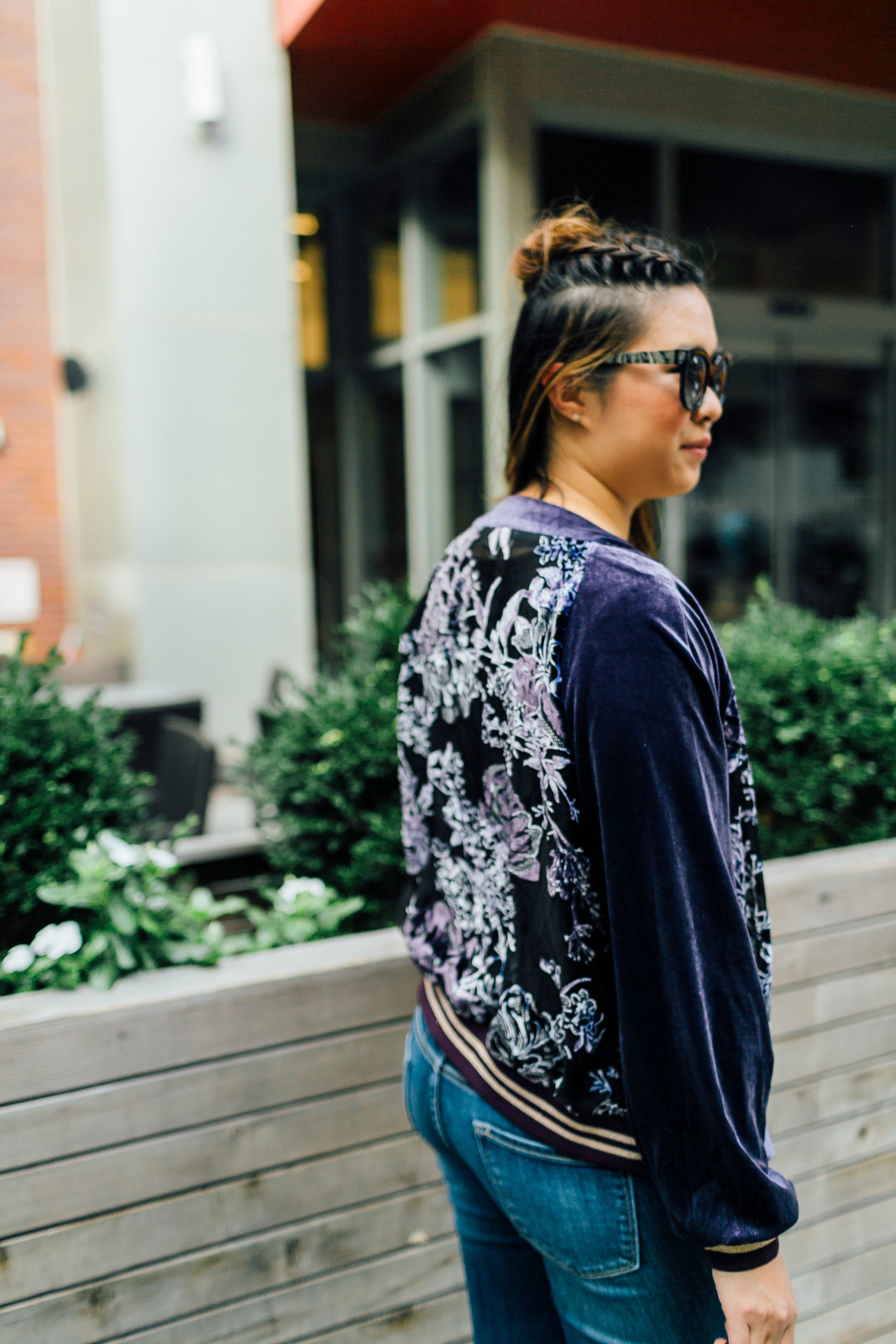 4. Velvet – As we go into Fall and cooler weather, I feel like velvet always comes back in! It's just so soft and pretty and even crushed velvet is gorgeous too. I particularly love velvet in jewel tone colors for Fall!

5. Denim Jackets – Distressed, light, dark, with embroidery or embellishments, if you don't have a denim jacket in your wardrobe, you are probably missing out!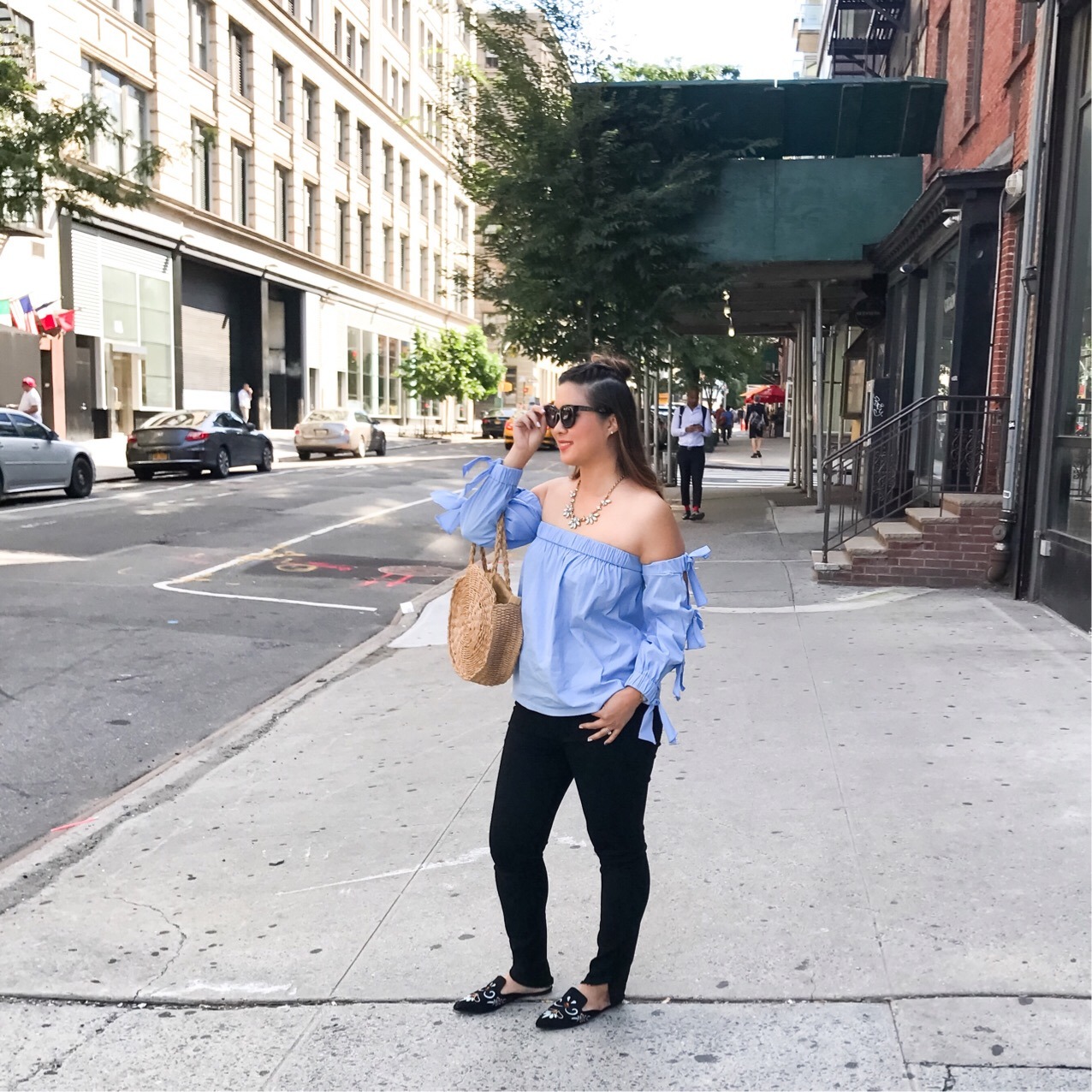 6. Mules – Mules, slip ons, slides, I am SO happy these shoes are in. They are hands down the most comfortable shoes for roaming the streets of New York and also just running out the door to do daycare drop off! There's SO many cute options out there!!

7. Red (pants, boots, everything) – Probably because the holidays are way too quickly approaching, a bright pop of RED is a great way to stand out!

8. Over The Knee Boots – These types of boots are SO cute worn with a shorter dress. It might be my favorite way to wear them! But they are also great over leggings or jeans with a chunky knit sweater!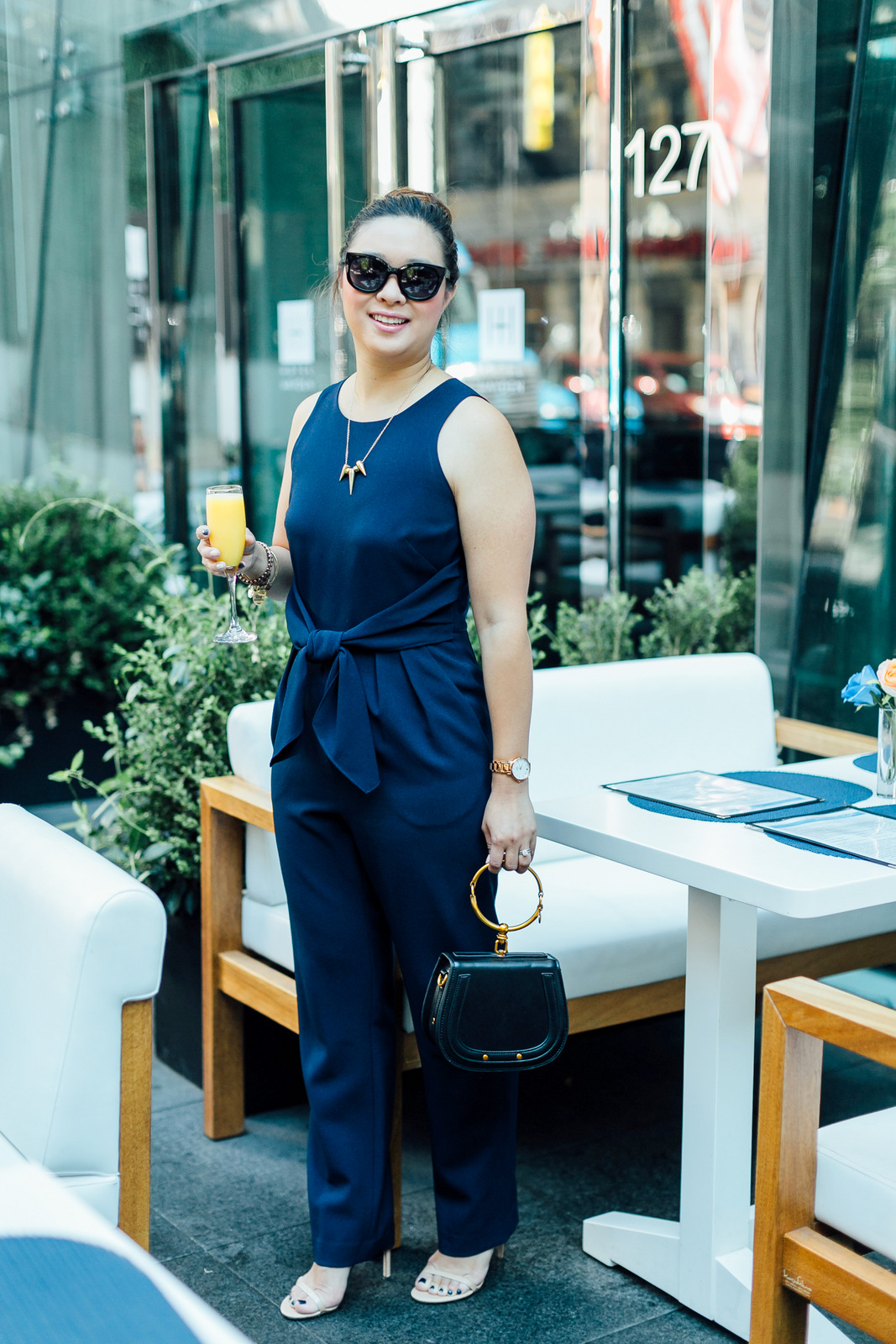 9. Small/Medium Crossbody or Hand Carry Handbags – And lastly crossbody bags of all sorts were definitely the easiest to carry around for the whole time at New York Fashion Week. It isn't big, you can be hands free, and as a mom, I love it when I am home too (especially since Vivian is almost potty trained)! The metal ring bags are super popular right now and they come in a variety of colors!