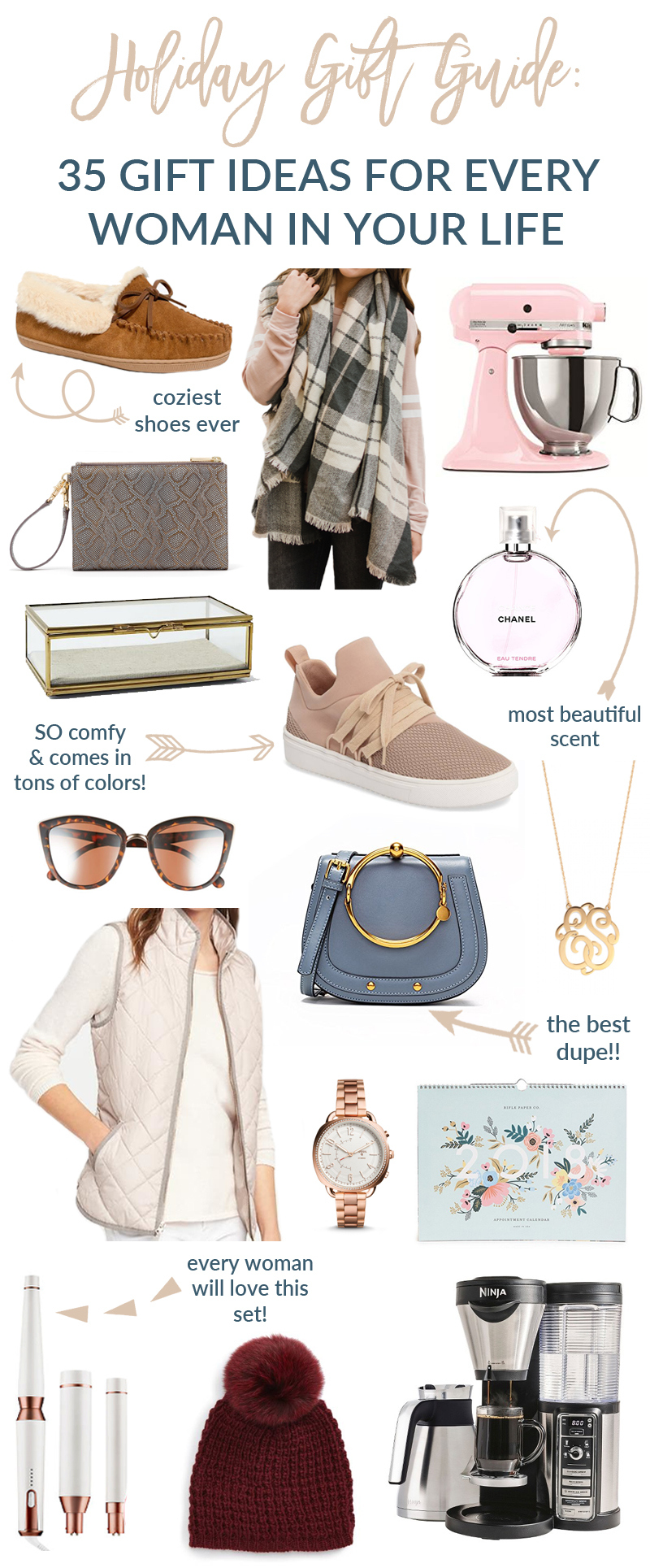 This is the post you have all been waiting for, my Holiday Gift Guide For Every Woman In Your Life (well hopefully most) is finally here! Whether it's your mom, sister, or best friend, you are bound to find a gift in this holiday gift guide that will please them! And from fashion lovers to cooks to fitness junkies to home decor loving woman, I've got it all covered!

Holiday Gift Guide For Her – Clothing/Shoes
1.Slippers – With the weather getting chillier, I love wearing slippers inside the house, especially fuzzy and cozy ones. If you know the person's shoe size, these are a fun gift. I mean who doesn't love shoes?
2. Bathrobe – This Barefoot Dreams bathrobe is like wearing clouds, it's SO soft and cozy.
3. Quilted Vest – Literally cannot stop wearing vests right now. They are the PERFECT layering piece for Fall and Winter!
4. Pink Sneakers – I don't know about you, but I seriously own 4 pairs of pink sneakers and whenever I see another cute option, I want it. Sneakers are great for working out… but also casual athleisure or running errands too.
Holiday Gift Guide For Her – Accessories
5. Scarf – A girl can never have enough scarves, trust me. This pink and grey one is one of my very favorites this season!
6. Beanie – On 11/21, there is a 2 beanies for $20 + free shipping beanie sale going on! You just have to use 2FORCOZY at checkout! I have this leopard one and this grey chenille one.
7. Clutch/Wallet – My favorite wallet right now is this metallic python one which is SO SO gorgeous in person, pictures don't do it justice! Ladies can always have new wallets or clutches!
8. Tote Bag – Tote bags are great for the throw everything in it bags. They can carry just a few things to your entire life, well almost! I am OBSESSED with this one in leopard print!
9. Crossbody Bags – This is the year that my crossbody bag collection grew tremendously. This metal ring Chloe dupe has been one of my reader favorites (as well as mine too)!
10. Jewelry – Gosh, there are SO many options for jewelry, but I am loving these earring sets (30% with code YAY30) a lot! I am also obsessed with rose gold watches!
11. Monogrammed Jewelry – Getting a personalized monogram or an initial necklace shows that you put some thought into the gift!
12. Sunglasses – I can't ever have enough of them. I love all black pairs, mirrored ones, and fun colored lenses too!
Holiday Gift Guide For Her – Beauty
13. Base Makeup – Emma Cosmetic's Pore Refiner and BB Cream have been great primers before I put on my makeup! I love them so much and I know that any woman would! This Missha BB Cream I have used for awhile too and is great if you want more coverage!
14. Perfume – This is a great gift idea, there's just so many to choose from! This Chanel one is pretty and smells good!
15. T3 Hair products – Love love these products and use them daily to curl my hair! Their trio convertible wand is my favorite – I definitely think these would make a GREAT gift set!
16. Makeup lasting spray – I recently discovered these products and they are a game changer! They make your skin makeup last longer and throughout the day. This one is great for travel too!
Holiday Gift Guide For Her – Home
17. Cozy Blanket – Have you seen the blankets with the huge yarn?? These are SO in right now and they feel like a dream. I ordered a few already…
18. Fake Plants – Fake plants like this one are so cute as photo props and around the house. This large fiddle leaf tree is my favorite fake plant purchase of the year though!
19. Indoor garden – This AeroGarden is an indoor herb garden we have been growing. If you know anyone who wants to dabble into green thumb-ery, this would make a fun gift.
20. Mantra Mugs – I feel like one can never have enough mugs too. The cooler the saying on it, the cooler the person. Sorta, OK not really.
21. Custom Frames – We decorated our entryway with these frames and I love looking at them every day! These would make a great gift if you already have digital pictures, which I am sure you do! I am ordering some for my mom and SIL!
22. Calendar – It's almost 2018, can you believe it!? A pretty calendar for a woman to hang up in her office is always a fun idea!
23. Clear and Gold Boxes – I have these clear and gold boxes everywhere in my house, my bathroom, closet, office and living room. They are just fun for holding like trinkets!
24. Jewelry holder – A place to organize all of her jewelry – but something that looks pretty too? Can't go wrong with this gift!
25. Wine Soap – Say what? Wine lovers rejoice! I haven't tried them yet, but I think I need to…
Holiday Gift Guide For Her – Food
26. Chocolate – Dark chocolate (peanut butter cups!) are my best friend. What is yours?
27. Pink Kitchen Appliance – I've been obsessed with this mixer from the first time I laid eyes on it. It might actually make me bake more if I had it, I assume it would do the same for others too. 😉
28. Instant Pot – Instant pots are a game changer when it comes to cooking. Check with the person you are gifting… they may already have one. But if not, this will change their life.
29. Ninja Coffee – This happens to be on sale right now, but for coffee lovers this is awesome.
30. Books – My picks would be a cook book, home decor book or an inspirational one (OK, I deviated from food a little)!
31. Food Subscription box – Hello Fresh, Freshly, Blue Apron, there's a ton out there that either send pre-packaged frozen meals or ingredients to cook your own meal. For the woman who doesn't love to meal plan, buy them a 3 month subscription!!
Holiday Gift Guide For Her – Electronics
32. Tablet – These are so great for when you don't want to be sitting at your computer, want to be online, but also don't want to work on a small phone screen. Kindles are a great option!
33. Smartbands- For the fitness junkie or one that wants to get back into working out, Fitbits would be a great gift! Or a pink Apple watch (this is what I have) will keep any woman even more on top of their to do list.
34. Headphones / Air pods – For music lovers, a chic set of headphones (I vote rose gold) is something they would love!
Holiday Gift Guide For Her – Gift Cards
35. Gift Card – Starbucks / Amazon / Nordstrom / Target – And lastly, if you are all out of ideas, hey, a gift card always works as a gift!! And I've listed my favorite places. 🙂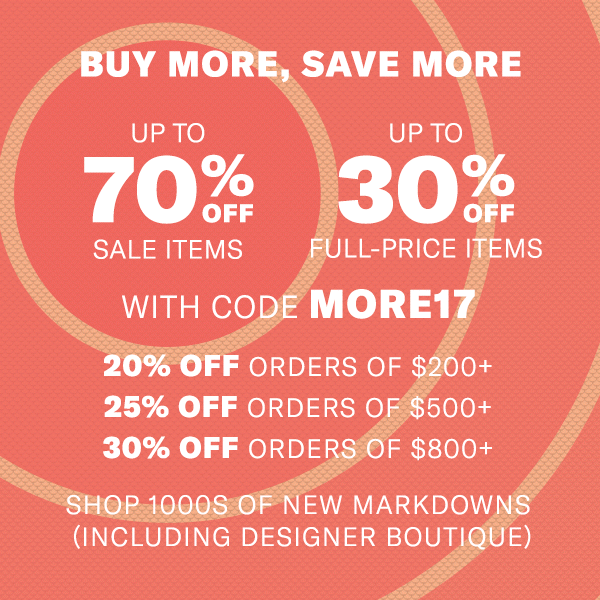 Also, one more thing! One of my favorite shops to get designer clothing, bags and shoes is having a MAJOR SALE! At the Shopbop sale, you can get up to 30% off with code MORE17!!
Comment below if you end up purchasing anything from this guide! I would love to know! 🙂 Happy gifting!!