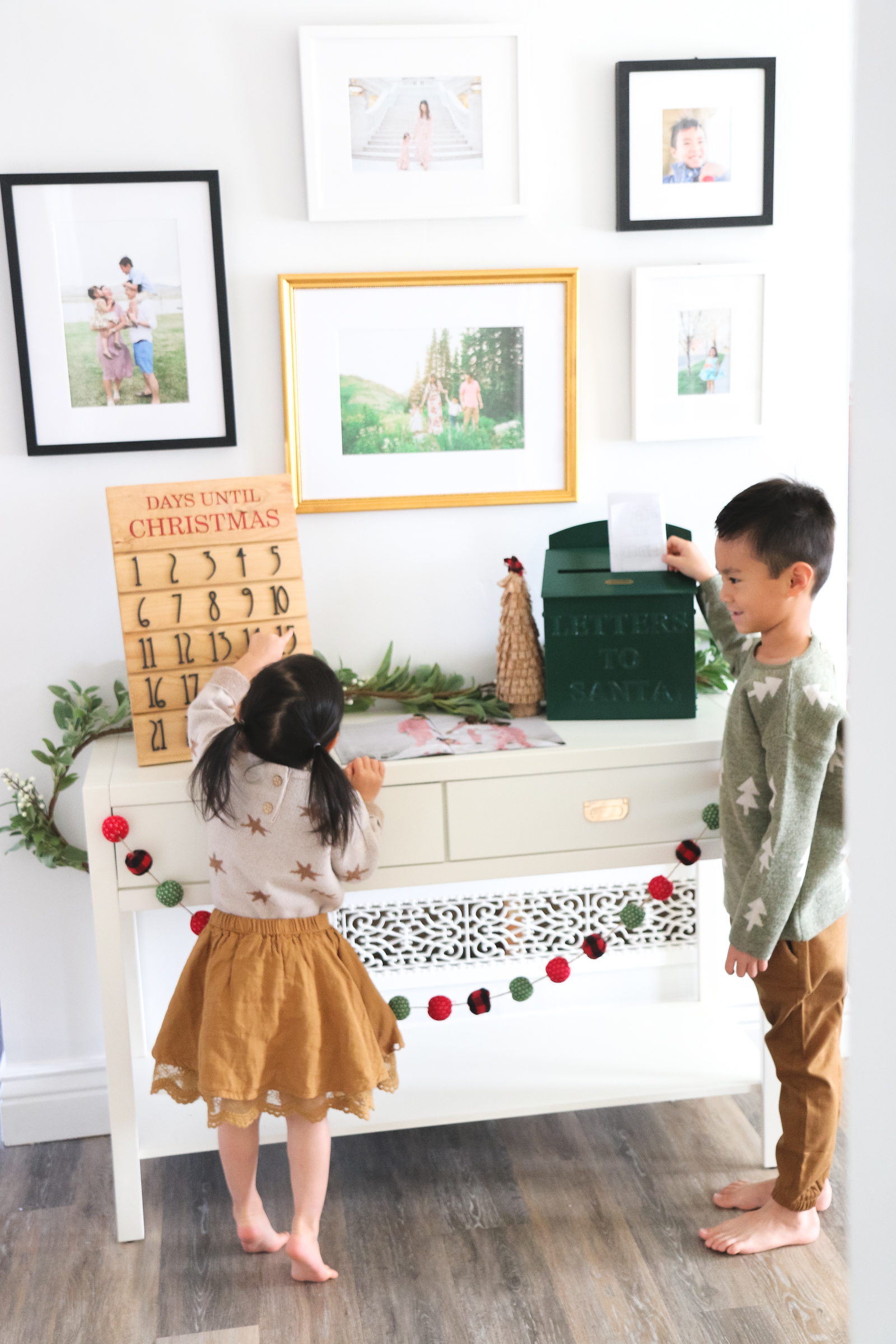 This is the first year that I am getting advent calendars for the kids so in my search and research for advent calendars, I just wanted to do a roundup of the best advent calendars for you! Personally, I love the ones that fit with my home decor like this cute wooden Countdown Advent Calendar. I love the idea of pockets or compartments for each day, the only issue is that they require some work in coming up with activities or candy to put inside. So I've also included some of the best advent calendars that have chocolate or toys in them for those that don't have as much time to do the activities with the kids, but still want the kids to look forward to something each day! Shown above is this Countdown Calendar

Best Advent Calendars – Countdown
1. Wooden Countdown To Christmas – This is one I have for my kids! You slide the little wreath as you count down the days. Goes well with our decor!
2. Wooden Countdown Magnetic Tree – This one is on sale and it is a bestseller! You take down the magnets, which are ornaments, as you countdown the days!
Best Advent Calendars – Candy
3. Hershey Kisses Advent Calendar – Who doesn't love Hershey kisses? This beautiful gold and silver calendar is pretty to look at and tasty too!
4. Godiva Chocolates Calendar – Milk, white, dark chocolate, what's your favorite? Well this calendar has it all and some in fun shapes too, like Santa!
5. Haribo Advent Calendar – My kids love gummies, I love gummies, they may have gotten their sweet tooth from me. But when I eat gummies, Haribo brand ones are some of my very favorites!
Best Advent Calendars – Pocket
6. Merry Mod Advent Calendar – Modern and colorful, this would be a great addition on the wall to a kid's room!
7. Holiday Helpers Advent Calendar – This one is very colorful and fun, and it comes with the toys in it already! Or here is just the calendar with no toys.
8. Ferm Living Grey Calendar – This one is perfect for all of you neutral folks! A light grey calendar with pockets, simple but still gorgeous.
9. Ferm Living Black and White Calendar – And for those into black and white monochrome, this one is for you! Would go with our home decor, that's for sure!
10. Design Letters Advent Calendar – And if you want more of a solid black with white lettering, again this one is modern and sleek!
11. White Faux Fur Advent Calendar – If you prefer the color white in your home, this one is so soft and has faux fur on it!
12. Star Wars R2-D2 – Any Star Wars fans out there? I am sure some of you are!!
13. Hearth and Hand Galvanized Envelopes – Obsessed with this one, because of course, it's from the Joanna and Chip Gaines Magnolia x Target collection!
14. Woodland Creatures Calendar – This one is also a black and white theme and has cute animals printed on the pockets!
Compartment Advent Calendars
15. Wood Calendar with LED Lights – If you really want to make a statement, but don't want to spend too much, this wood one with compartments is lovely!
16 House Advent Calendar – This one reminds me of a gingerbread house and it's super cute because the compartments are all over the house!
17. Galvanized Cups – This one is fancy! It has gilded galvanized cups – but it is definitely a splurge and something to use year after year!
18. Wooden Tree – This is a beautiful wooden tree with square compartments. I can see it fitting with lots of types of decor!
19. White Wooden House – THIS IS THE MOST BEAUTIFUL ADVENT I HAVE EVER SEEN haha! No, not foreal, THIS one would fit with ANY decor and it's just such an amazing piece!!!
20. White Wooden Tree – Here is another tree shape, in white and gold. Again, it's beautiful and would coordinate with a lot!
21. Galvanized Buckets – This one is silver and red and the buckets look like a decent size! It's also on SALE!
Best Advent Calendars with Toys
22. Tsum Tsum Playset – I love this because you get toys each day and it creates like a little playset village in the end – so cute!
23. Thomas and FRIENDS Trains – Every day, your little one would get a new little toy train to play with. How fun is that!?
24. Meri Meri Village – I don't know if this is for kids, BUT I WANT IT FOR ME! The 3D advent village that you can create is so adorable and very modern!
25. Disney Animators Collectors – You get Disney character and accessories each day – this is a dream for Disney lovers!
Do you do advent calendars for your kids? What types are your favorites?