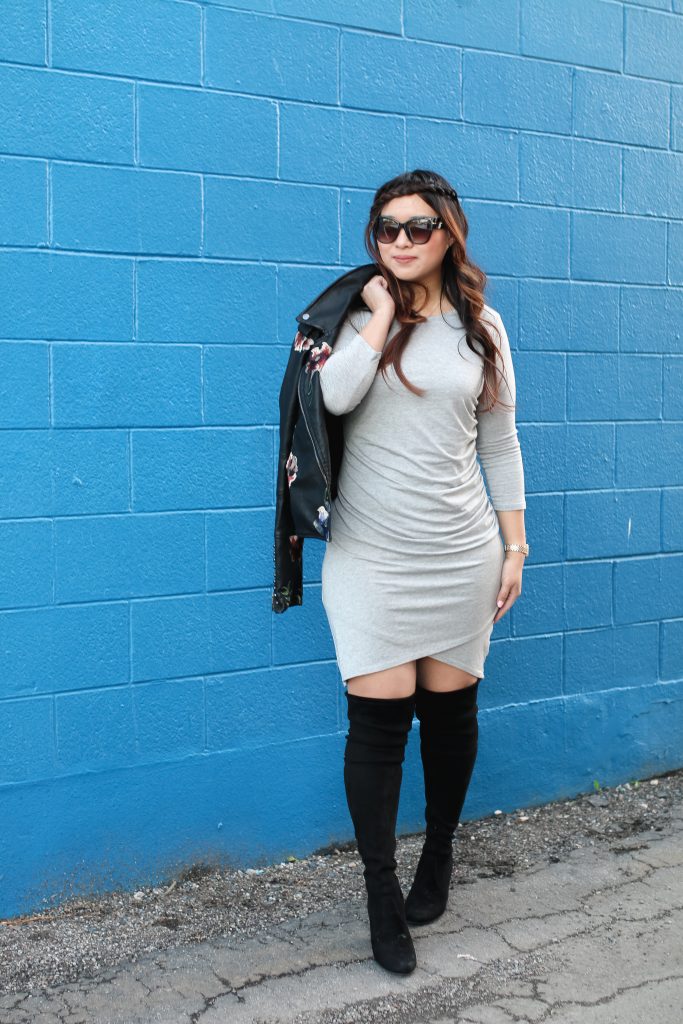 NEW NORDSTROM BRAND: GIBSON x LIVING IN YELLOW
I am so excited to announce that the first launch of the new Nordstrom brand Gibson x Living in Yellow collection is officially live on Nordstrom.com! I am so absolutely proud of and amazed by my friend Erin of Living in Yellow who has consistently kills it in the fashion blogging space! BTW THIS LINE WILL PROBABLY SELL OUT FAST – so make sure to read fast and purchase ASAP!!
And make sure to check out my Instagram STORIES on @sandyalamode to see me talk about each piece!!
I've met Erin before at a blog conference and just like her blog name, she really is a sweet dose of sunshine! The Gibson x Living in Yellow line is made up of everyday, high quality basics that can take you from work to play. The pieces have an inclusive sizing ranging from XXS – XXL (petite and standard) and 1X-3X – I absolutely LOVE that she has catered the line to so many body types and sizes! The first launch on March 8 consists of 10 basic pieces in a variety of colors and patterns, but nothing too frilly or fancy. To me, basics are those building blocks if you are trying to create a capsule wardrobe or if you are just looking for some fresh pieces for Spring/Summer. The best part is that it is all under $50! And there will be an additional 5 piece collection release on March 22 (so start marking those calendars now)!
I got my hands on 5 of the pieces from her collection and I wanted to give you a little review + how to style them here, in case you were wondering!! I know that buying online can sometimes be really difficult to get down the right size, trust me, I'm always buying 2 sizes of the same thing and then having to return one! Just for reference, I am 5'4″, 150 lbs, normally a size Small – Medium (size 6) in tops and a Medium (size 8/29) in bottoms. I would say that the line generally runs true to size (TTS). As in, if you are between sizes, you could probably SIZE DOWN. But then again, it really depends on the piece and how you want it to fit.
GIBSON X LIVING IN YELLOW FAVORITES
1. V-Neck Tee (size Regular Small) – This tee is well… a MUST HAVE!! It is SO soft, a great fit, the v-neck is the perfect cut, and I really like the sleeve length.A basic tee is essential to have in a variety of colors like white, grey, and some bright colors, at least that's what I think!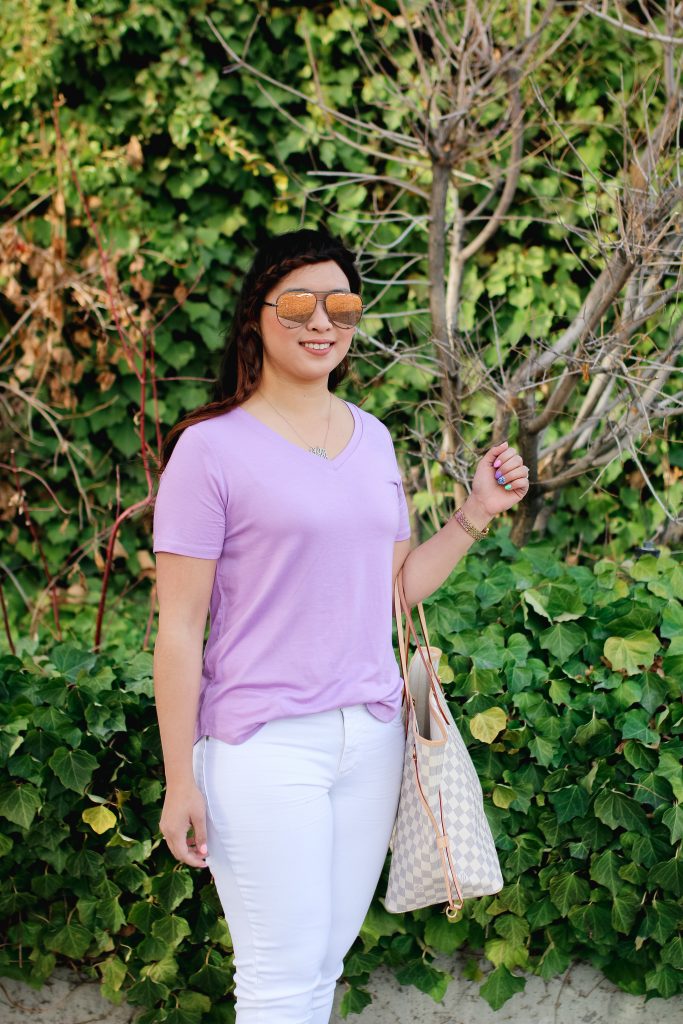 Shop this look:
Top | White Jeans | Glitter Sneakers | Necklace | Sunglasses | Bag (GM size)
2. Ruched Faux Wrap Dress (size Regular Medium) – This might be my favorite item!! This dress is a basic, but has such a fun flare to it at the bottom with that split hem. The ruching is pretty much PERFECT, especially for covering that pesky mom pooch (that I still cannot get rid of). I definitely think this dress is flattering!
This dress is a similar cut to the Leith Ruched Long Sleeve Dress, but I do prefer the Gibson one! Comparing the two, a Medium in the Leith dress is a lot more body hugging and form fitting and the material in it is thinner. You can see me in that dress here. And I do think the Gibson version is a tad longer.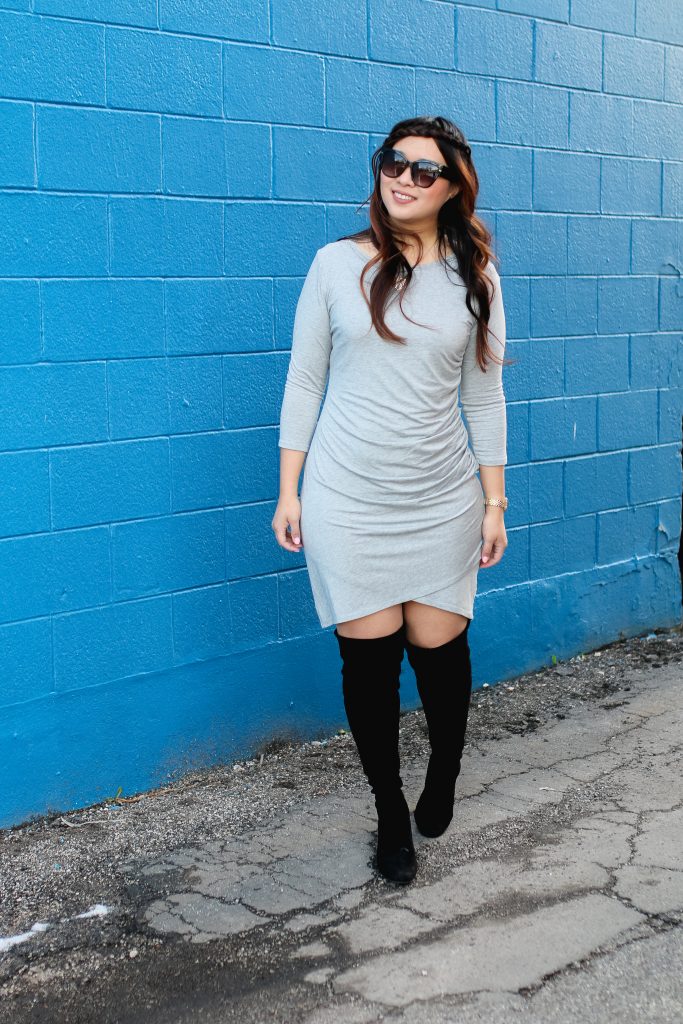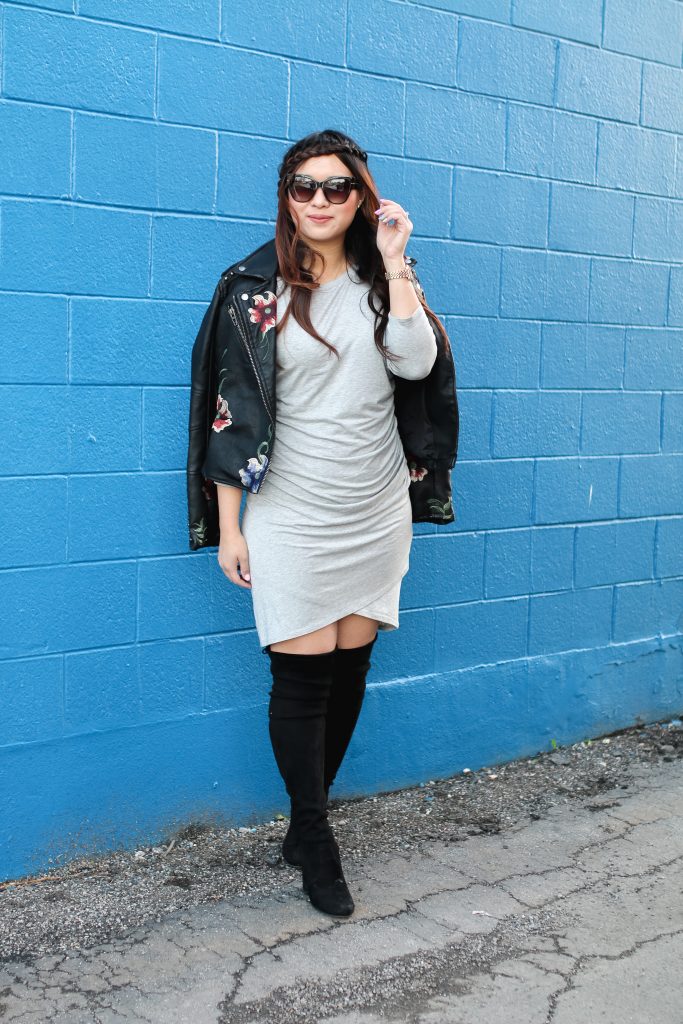 Shop this look:

Dress | Jacket | Boots | Sunglasses
3. Crossover Tunic (size Regular Medium) – What I love about this tunic is it's versatility, it is mostly polyester. As you can see below, I actually styled it two different ways, one as a dressy way for work and then another more casual way. It's the perfect desk to drinks top!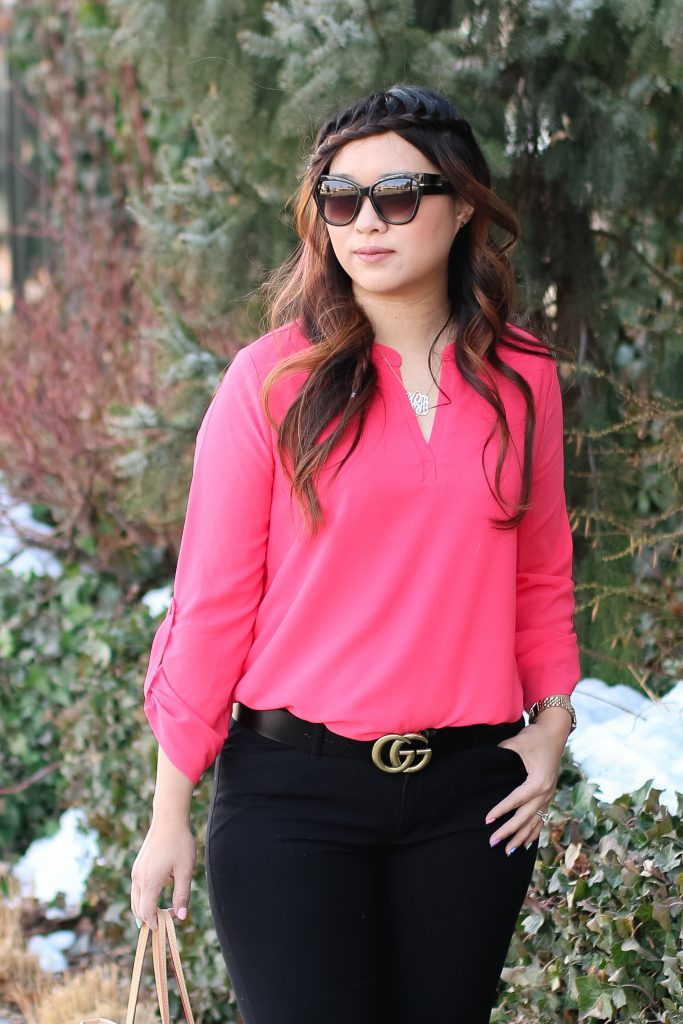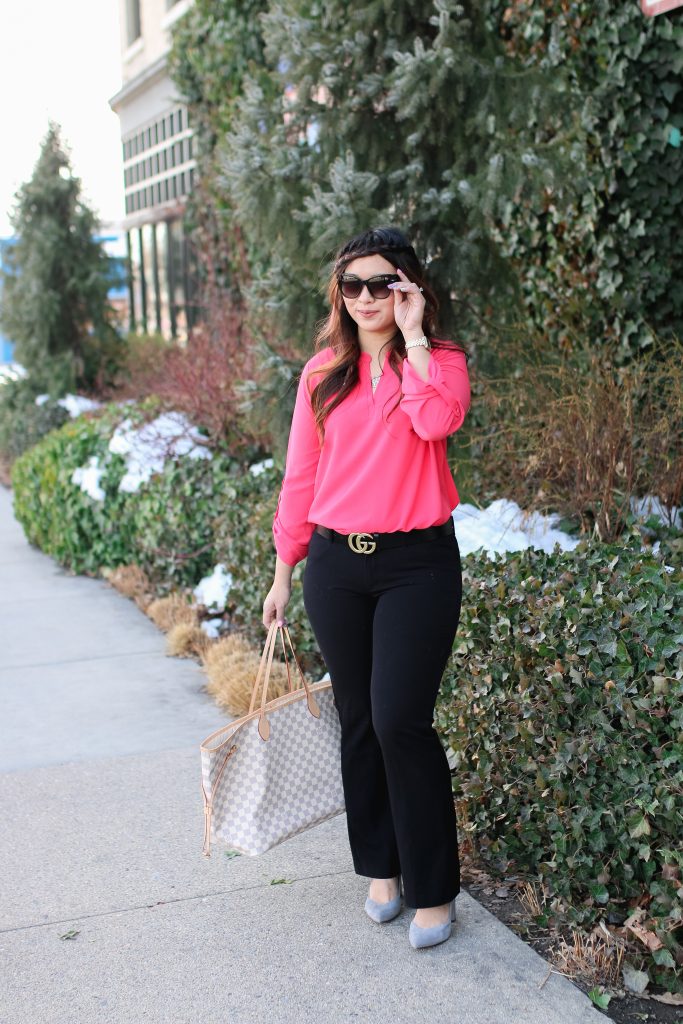 Shop this look:
Tunic | Pants | Shoes | Sunglasses | GG Dupe Belt ($18)| Bag (GM size)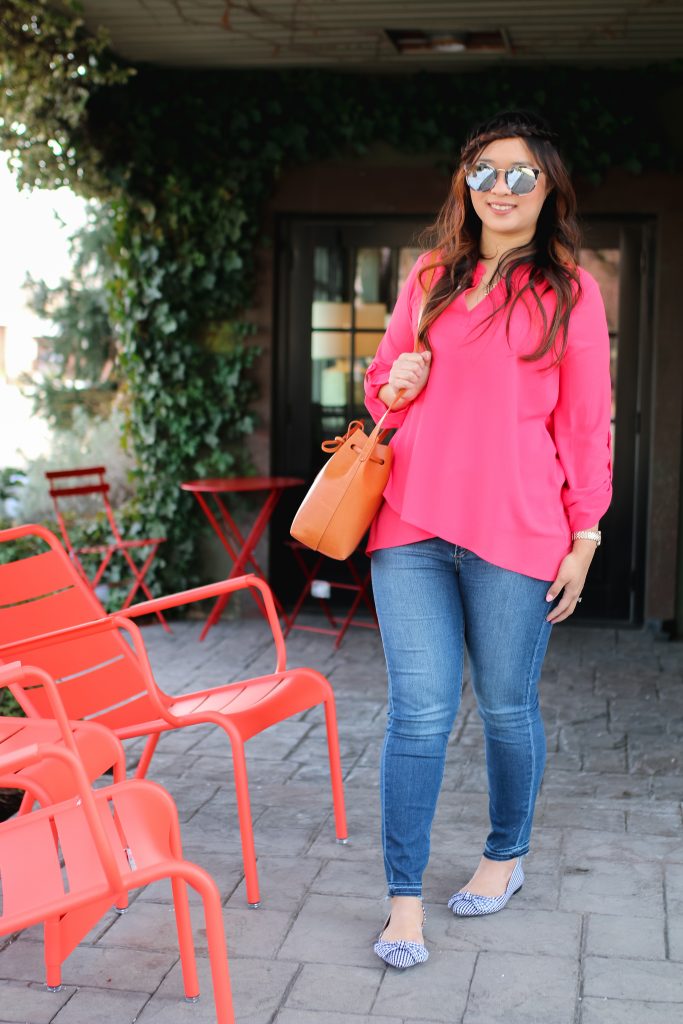 Shop this look:

Tunic | Jeans | Bow Flats | Bag | Sunglasses
4. Reagan V-Neck Drop Neck Top (size Petite Medium) – This tank top has a little dressier feel to it (polyester), which makes it actually great for work with a blazer or dressed down. It has a split down the side and is longer in back! It's a great piece for Spring!
5. Open Cardigan (size Regular Small) – If you know me, I am cardigan obsessed! I just can't get enough grey cardigans in my wardrobe ha! But most of my cardigans are thicker knits that I am so happy to have this thin grey and white striped cardigan as a layering piece for Spring! I love that it has a swingy feel to it and doesn't have buttons! Again, this material is SO soft!!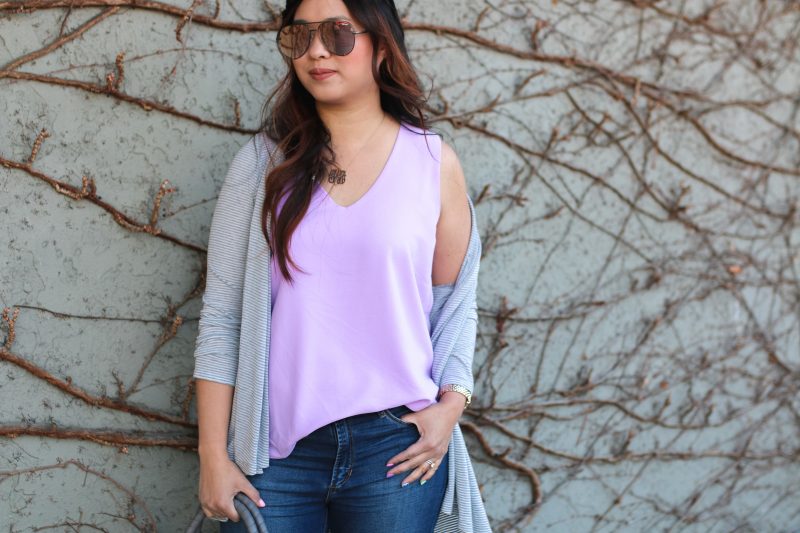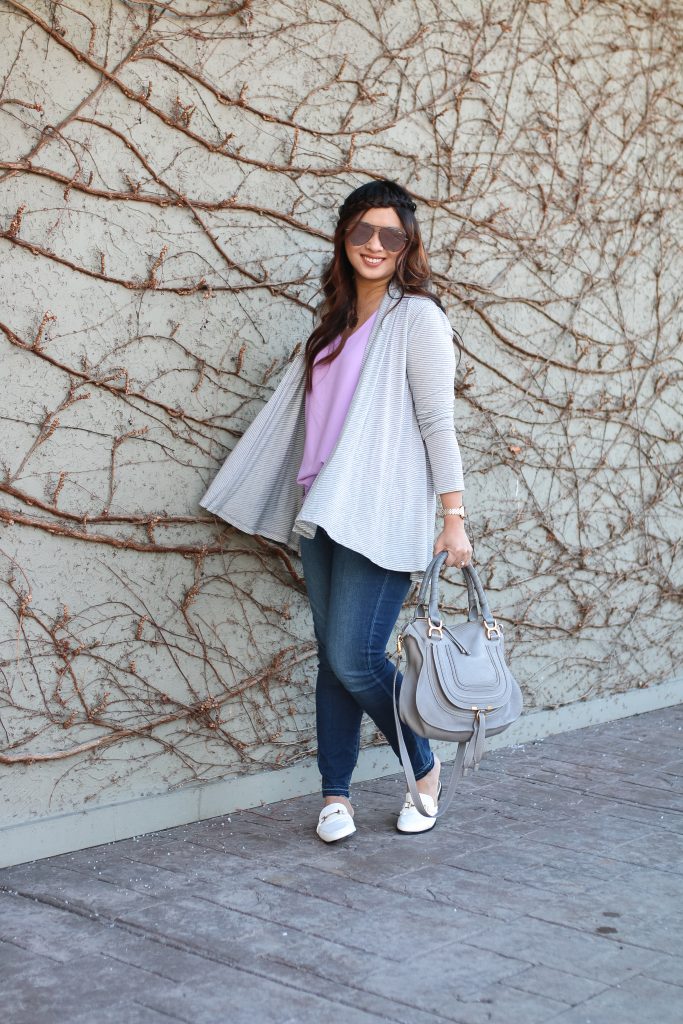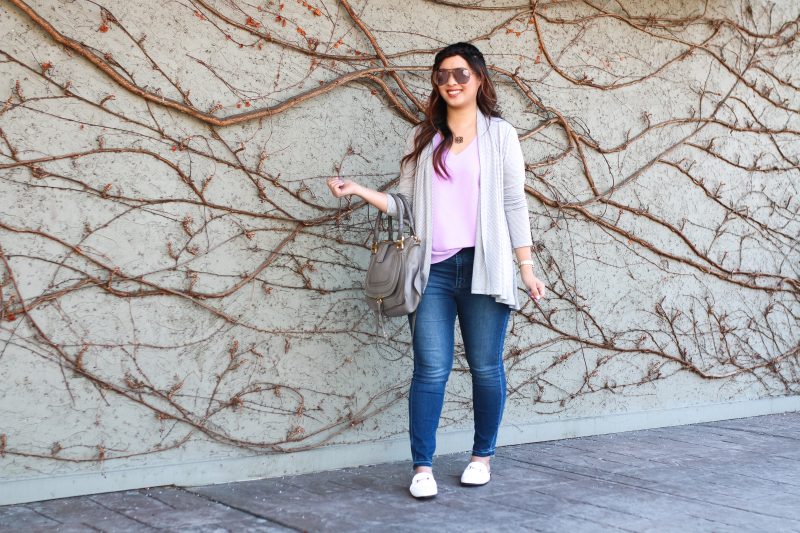 Shop this look:

Tank Top | Cardigan | Jeans | Mule Slippers | Sunglasses | Bag
Full Regular and Petite Collection below!!! Click on images to shop the items! Multiple colors available!!
Full Plus Size Collection below!
Make sure to shop the Gibson x Living in Yellow collection before this new Nordstrom brand sells out!! And I really have a feeling that it will sell out fast – so hurry! Best part is that Nordstrom has free returns so if you are still unsure about sizing, order 2 and try them on at home!