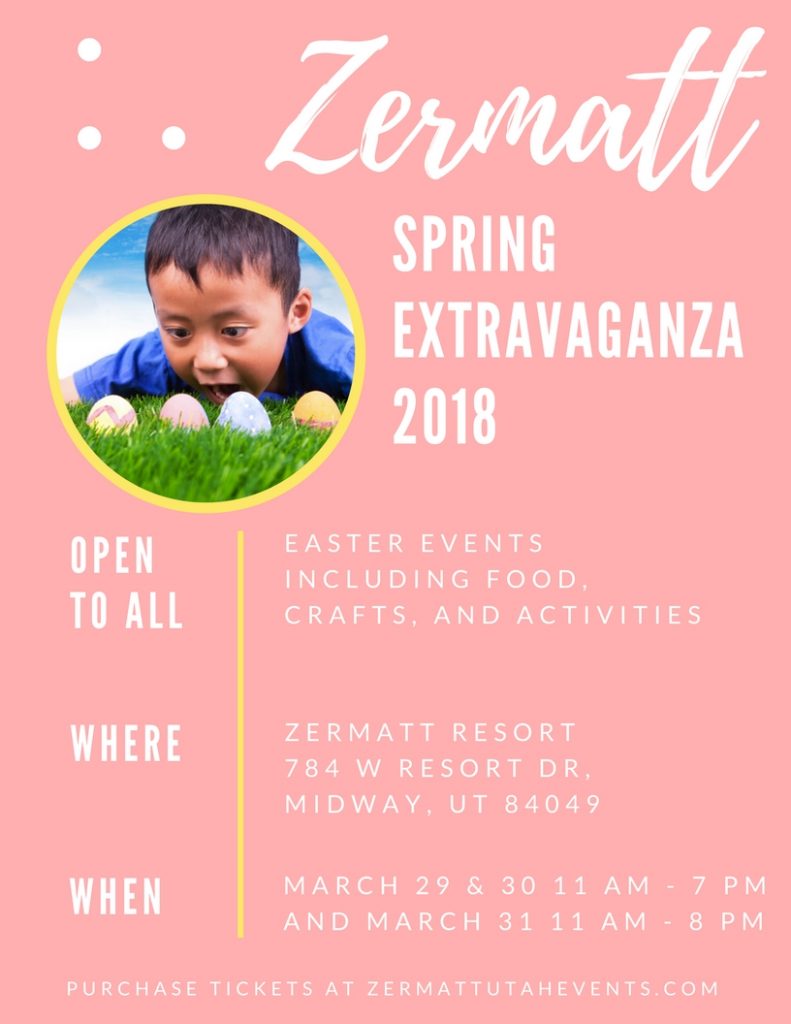 I am super excited to share about an upcoming event in Utah that I will be attending with my family – and we hope to see you there!! The Zermatt Spring Extravaganza is held on March 29-31 in Midway, UT and it will be such a fun time for the whole family! From Easter activities, to a women's night out, and lots and lots of food and shopping, it will surely be a fun filled weekend. I'm just hoping that the weather warms up just a little bit for us! 😉
ZERMATT SPRING EXTRAVAGANZA
Here are is the run down of details!
Who:
for everyone! There will be activities for all ages, including
kids activities
(face painting, bounce houses, seeing the Easter bunny, etc), and women's activities (DIY crafts, spring wood board decorating + plants)
What:
Zermatt
Spring Extravaganza – a marketplace featuring food vendors, shopping vendors, arts and crafts, and a
great resort/staycation opportunity
!
Where:
Midway, UT at
Zermatt
Resort and Spa
When:
March 29-31
, shopping from
11 am – 7 pm
on 29th and 30th, and
11 am – 8 pm
on the 31st. The
Women's activity
will be held from
6-8 pm
on Saturday March 31, and the kids activities will run from
12 pm – 4 pm
on Saturday
as well.
Hope to see you at the Zermatt Spring Extravaganza, let me know if you go!!