I absolutely love taking family pictures during this time of the year. But nothing gives me more anxiety than picking out outfits for everyone for the pictures! "Does this match with this?" "What colors do I want everyone to wear this year?" "Will it be too hot to wear what I'm planning?" and the list goes on and on. It's easy to type "Fall Family Outfits for Pictures" into Pinterest and see a plethora of ideas for some cute outfits for you family photos. But once you start scrolling, it can be overwhelming and you're back at square one. One piece of advice I've learned is that if you find an amazing outfit for you, or your daughter or son, start with that one piece and plan around it. I'm hoping to help alleviate some of the headache with two ideas for some inspiration: bold colors or a neutral theme. Most of the pieces are from our favorite stores such as Old Navy, H&M, Abercrombie, or Target and are super affordable! These ideas work for couple pictures as well!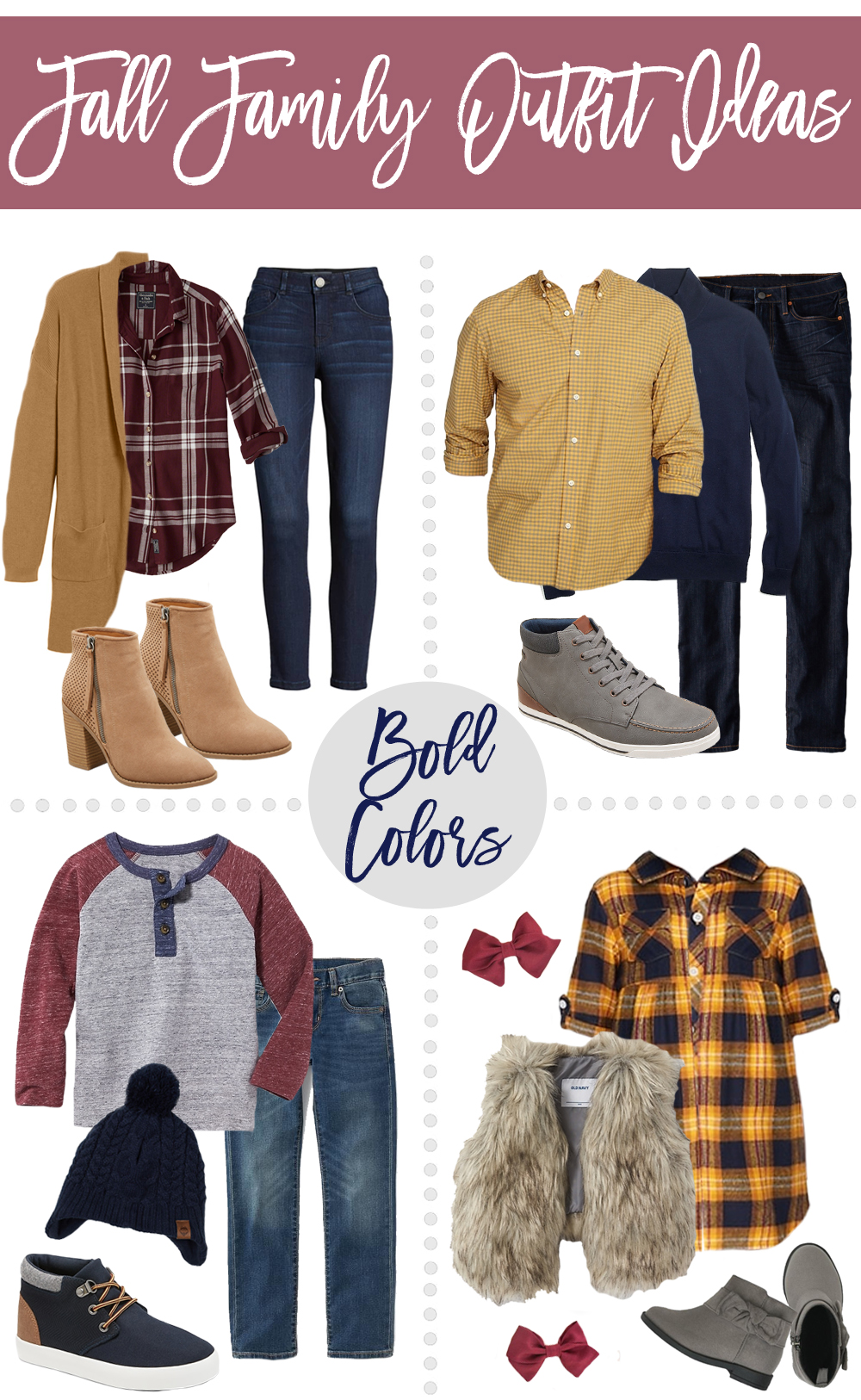 With this outfit, I wanted to incorporate plaid but not the red and green kind since those are usually save for holiday pictures. When it comes to fall colors, I love the colors burgundy and mustard and so I was on the hunt for some burgundy and mustard plaid. I am loving how these colors compliment each other!
– WOMEN –
Top: Abercrombie Burgundy Plaid Top
Cardigan: Old Navy Cardigan (Camel)
Bottoms: Wit and Wisdom Jeans
Shoes: Target Booties (Taupe)


– MEN –
Top: Old Navy Flex Shirt (Grey/Yellow plaid)
Pullover: J. Crew Factory Half Zip sweater (Navy)
Jeans: Old Navy Slim Fit Jeans (Rinse)
Shoes: Goodfellow & Co Mid Top Casual Sneakers (Gray)


– BOY –
Top: Old Navy Henley (In Clove)
Bottoms: Old Navy Skinny Jeans (In Dark Wash)
Hat: H&M Fleece Lined Hat (In Navy)
Shoes: Old Navy Sneakers


– GIRL –
Dress: Old Navy Plaid Flannel Dress (In Yellow)
Vest: Old Navy Faux Fur Vest
Shoes: Crazy 8 Ankle Boots
Bow: Etsy shop (BlakelyandRose)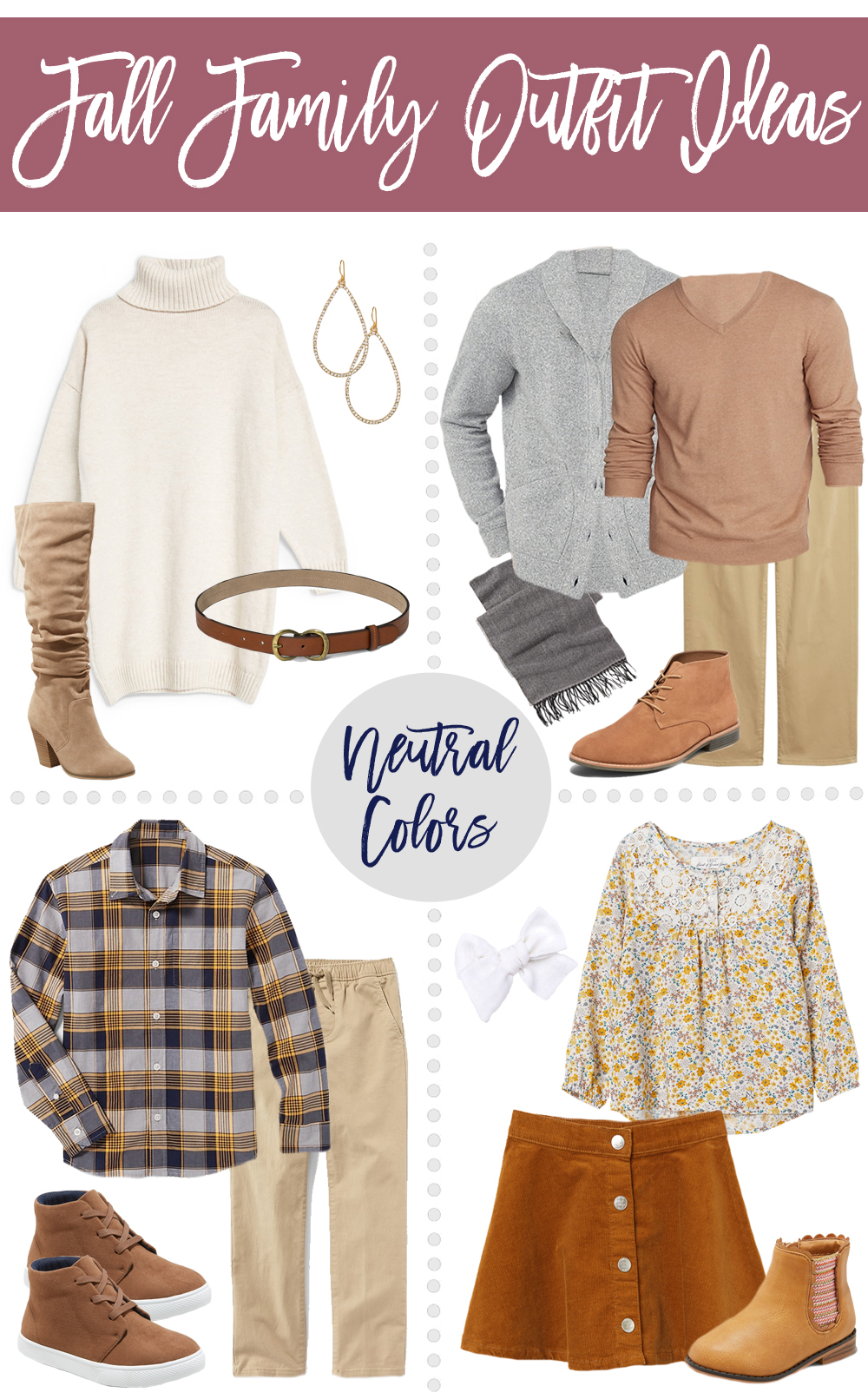 – WOMEN –
Dress: Topshop Turtleneck Sweater Dress (Oatmeal)
Belt: Universal Thread Brown Belt
Earrings: Sugarfix by BaubleBar Crystal Hoop
Boots: Universal Thread Scrunch Boots


– MEN –
Top: Old Navy V-Neck Sweater (Camel)
Cardigan: Old Navy Shawl Collar Cardigan (Gray)
Bottoms: Old Navy Pants (Shore Enough)
Scarf: Old Navy Flannel Scarf (Gray Herringbone)
Shoes: Old Navy Sueded Lace Up Chukkas (Tan)


– BOY –
Top: Old Navy Plaid Shirt (Light Gray Heather)
Pants: Old Navy Relaxed Twill Pants (Shore Enough)
Shoes: Cat and Jack Chukka Boots (Brown)


– GIRL –
Top: H&M Blouse (Natural White/Floral)
Skirt: H&M Corduroy Skirt (Light Brown)
Boots: Cat and Jack Ankle Boots
Bow: Etsy Shop (BlakelyandRose)


The color palette you choose could depend entirely on the location. If you are taking pictures with a mountain backdrop with tons of trees on the leaves changing colors, then you may want to go for more neutrals. But if your landscape or backdrop is an open field, you may want to go for both colors! The one thing to remember is that these pictures should be fun and to capture your family in a moment in time. Do not get fixated on trying to get 'perfect' pictures. I find that the ones that you thought were not so great, turn out to be the best ones. Do you prefer bold colors and neutral outfits for family photos!? Have you taken your Fall family photos yet?