Target strikes again with some great Fall pieces… and to top it off, clothing, shoes, and accessories are 20% off with code SAVE20! I was able to try some of their new releases the other day and I'm so glad I did! Remember that this applies for men and kids also so stock up on their fall basics as well!!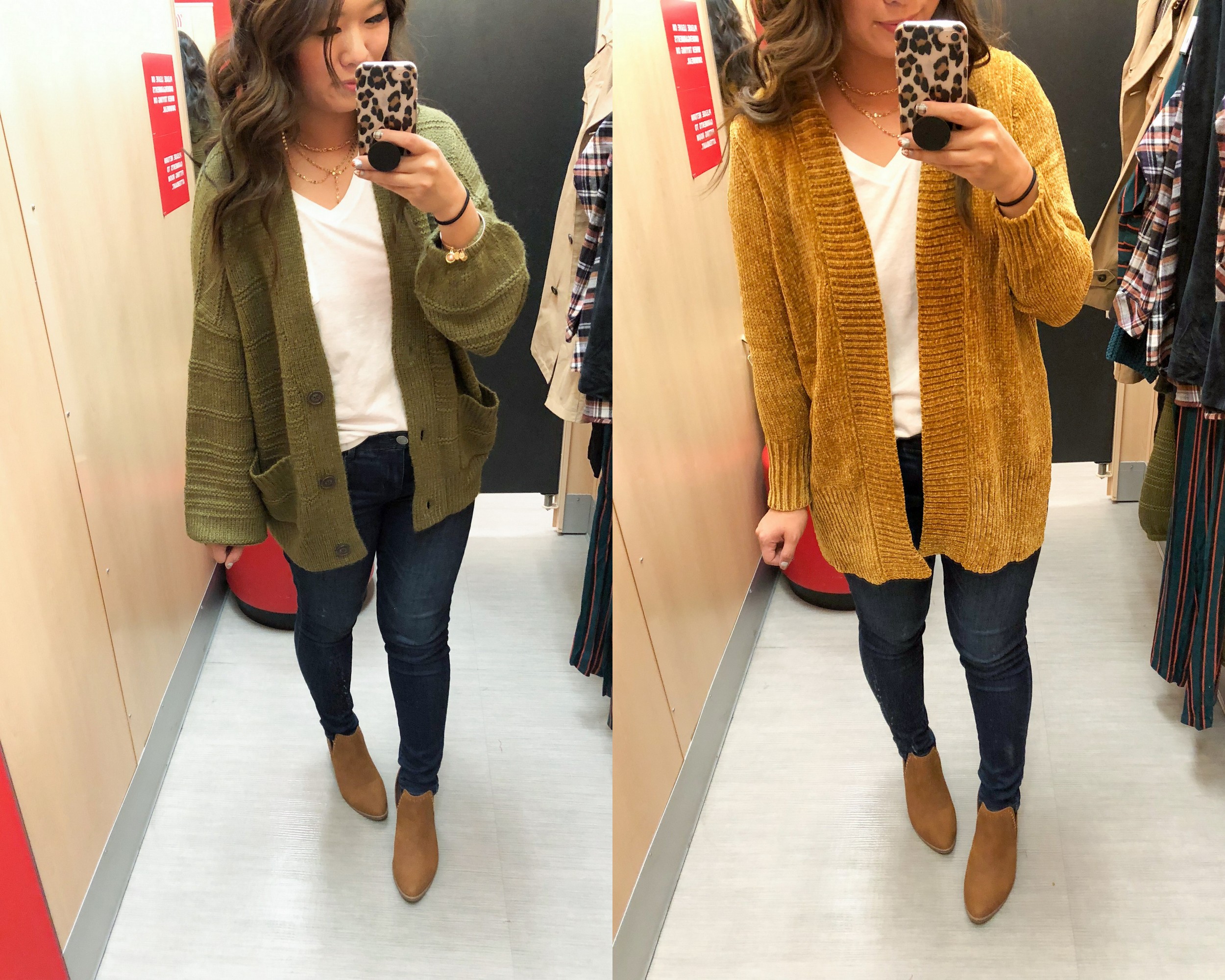 White V-neck Tee (Size Small) // Textured Button Cardigan (Size Small) // Chenille Open Cardigan (Size Small) // Wit and Wisdom Jeans (Sold out in this color but lots more options here) // Brown Ankle Booties (TTS – 7.5)
I'm wearing This cardigan is so cute! I am wearing a size small and it is a bit oversized but I love the look of it. The sleeves are a balloon style which I adore! When I saw this yellow chenille cardigan, my first thought that it's a good dupe for the Loft chenille cardigan (40% off with code FALLFEST) that I love and a lot of you did too! This one is just as soft as the Loft one but comes in different color options. These are one of my favorite jeans but sadly, this one is sold out. There are other options in this same brand that is just as good!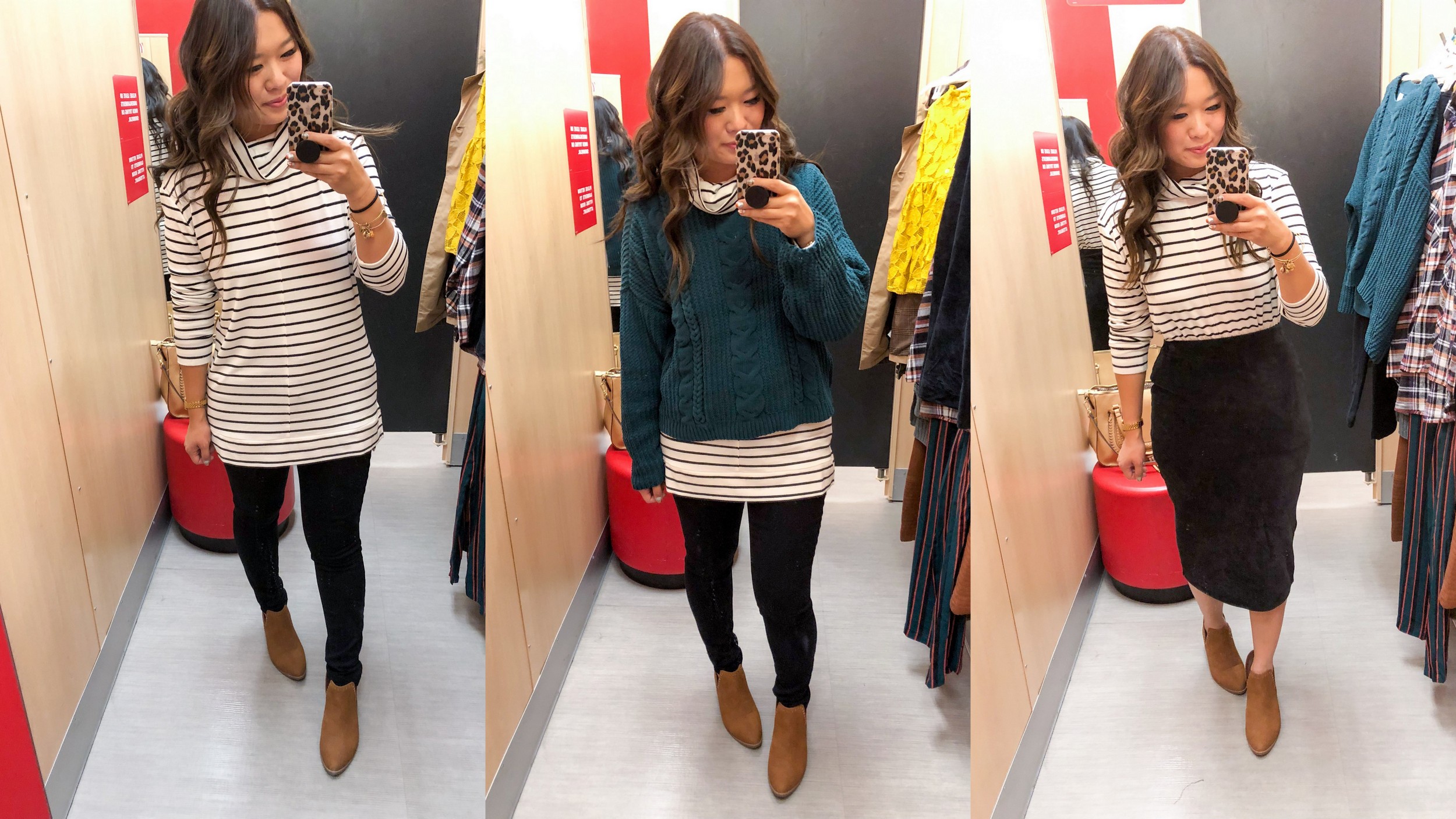 A New Day Striped Cozy Cowl Neck Top (Size Small) – Comes in 2 other color options // Universal Thread Chenille Cable Pullover (Size Medium) // Wild Fable Maxi Skirt (Size Medium)
The striped cowl neck is hands down one of my favorite that I tried on! It's long enough for leggings and can be dressed up or down! I really LOVE it tucked into the skirt for a work appropriate outfit. I was unsure how I felt about the pullover layered over but I love how it looks!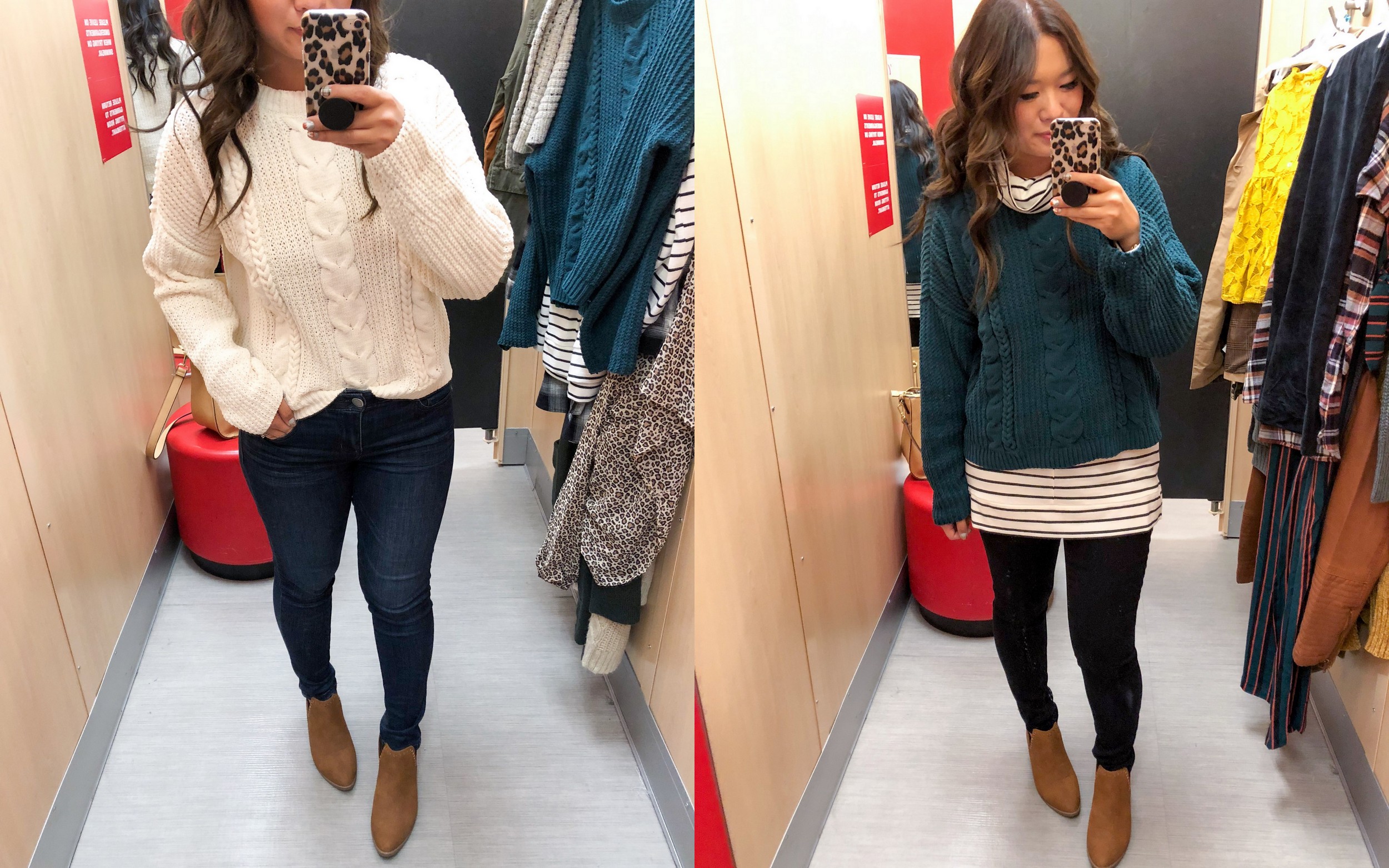 Universal Thread Chenille Cable Pullover (Size Small) // Universal Thread Chenille Cable Pullover (Size Medium)
I am obsessed with pullover and the colors that they're offered in. I tried on both a small and medium. The medium is the perfect oversized fit that I love. With the small, it was a bit shorter so you would have to wear it with high waisted jeans.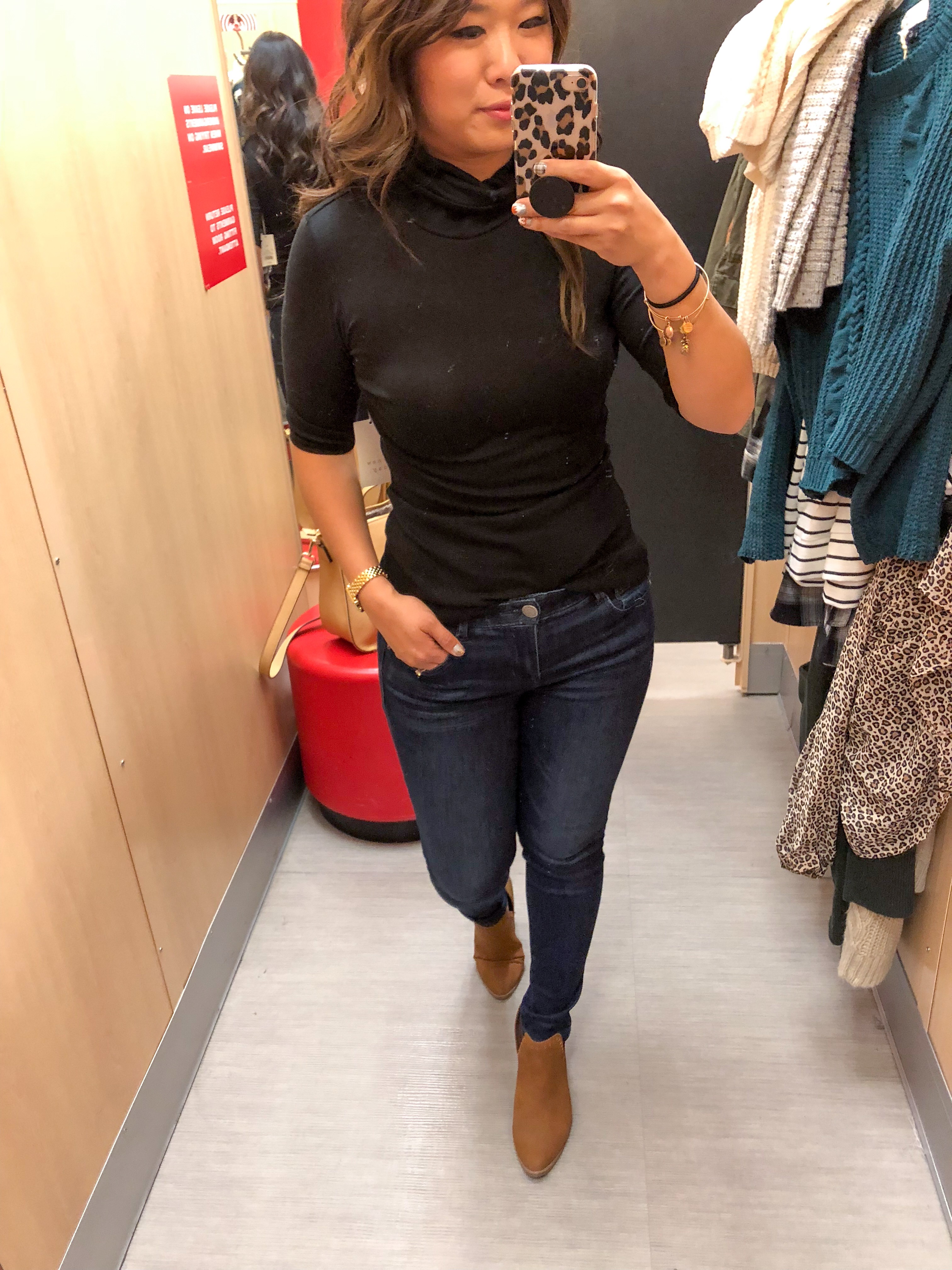 A New Day Elbow Sleeve Turtleneck (Size Medium)
Everyone needs a basic black turtleneck and I love how this one has a 3/4 sleeves so it'll be easier to layer.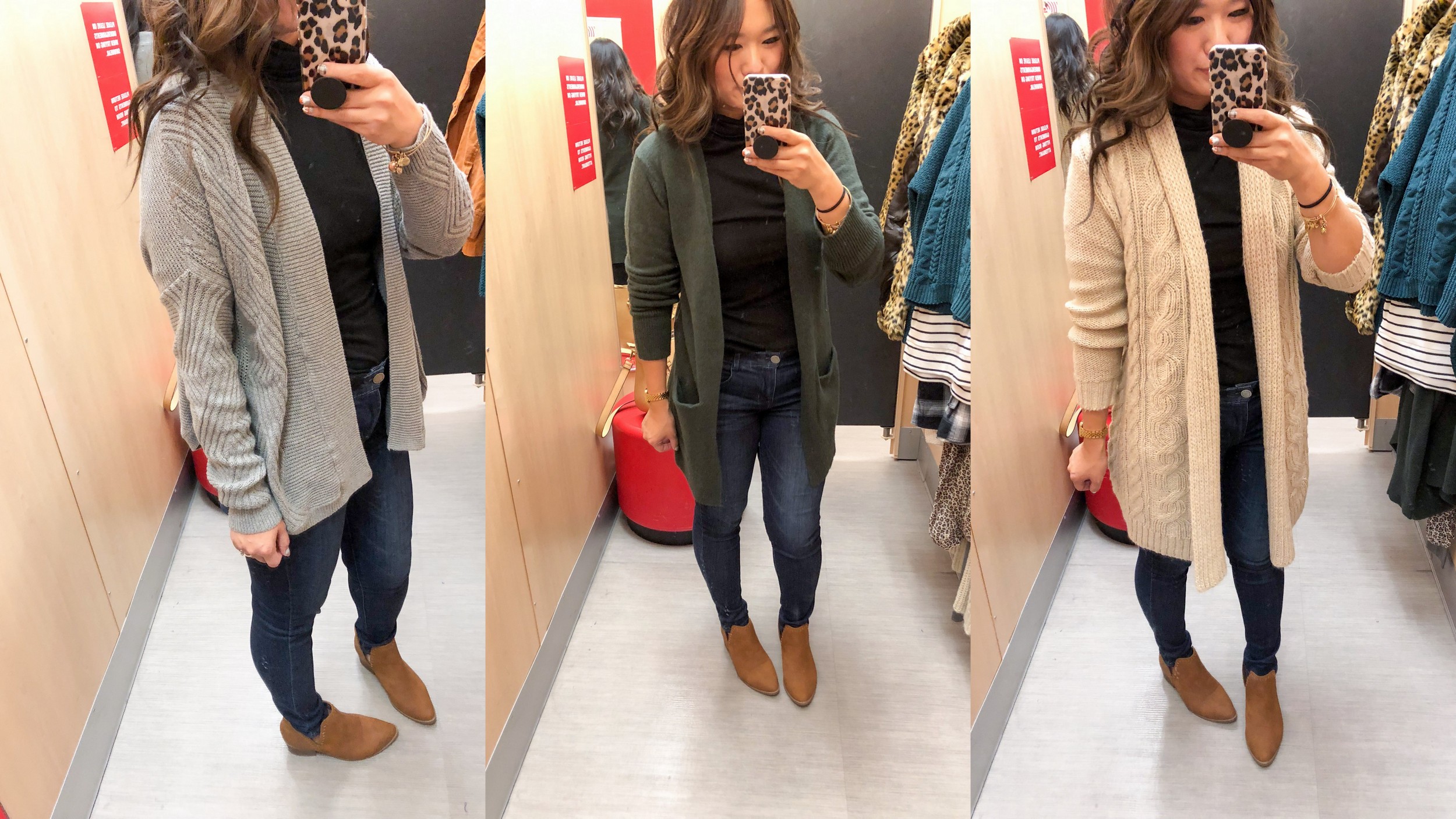 Cable Open Cardigan (Size Small) // Cozy Open Cardigan (Size Small) // Cable Open Cardigan (Size Small)
Target has been doing an amazing job with all their cardigans this season! The details in both the cable open cardigans are a nice touch. The cozy open cardigan reminds me so much of the Old Navy cardigan that I own in 3 colors.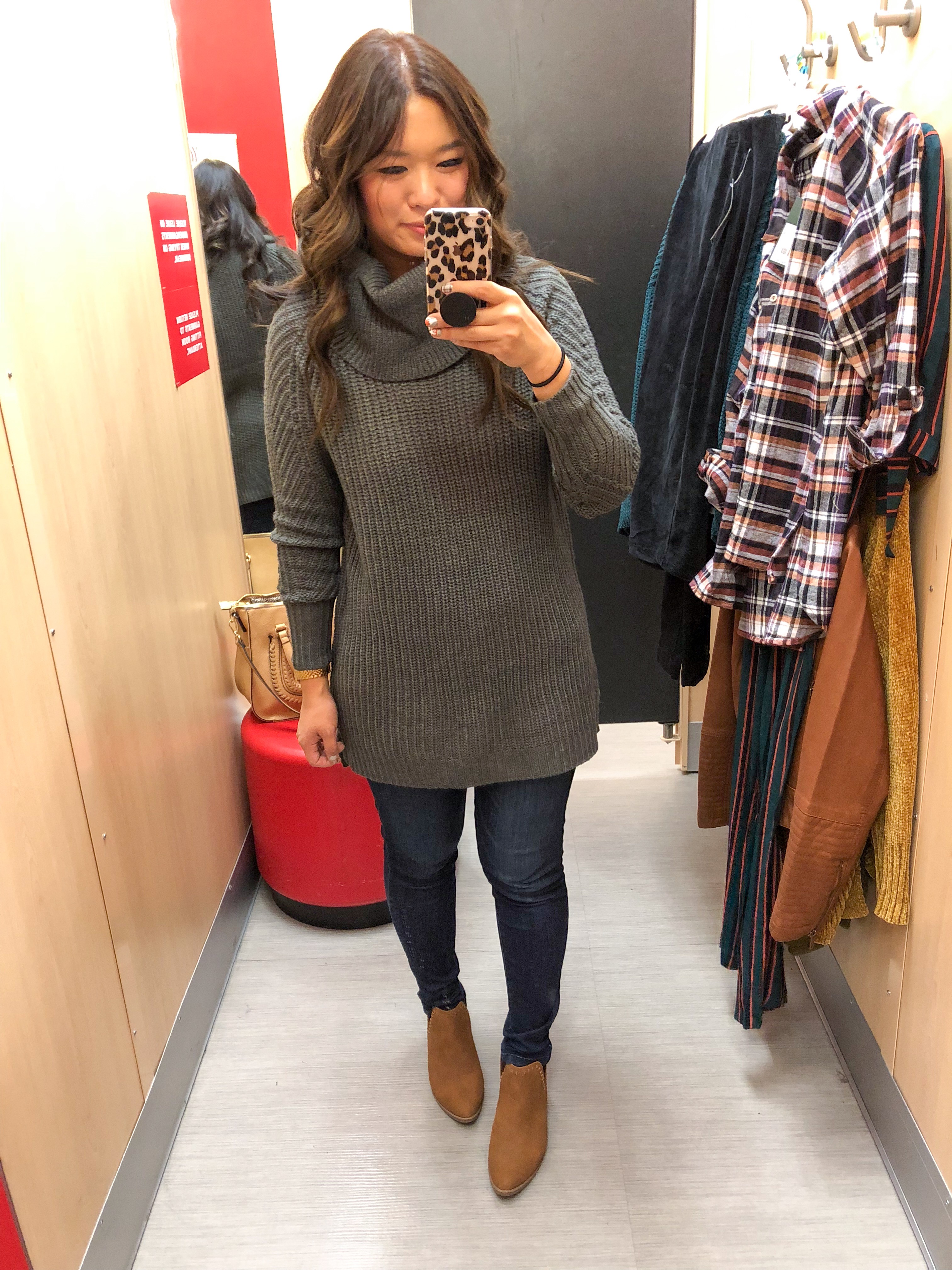 Cozy Neck Pullover (Size Small)
This pullover came home with me! It's so cozy and comes in 7 colors! You know something is good when it's selling out fast!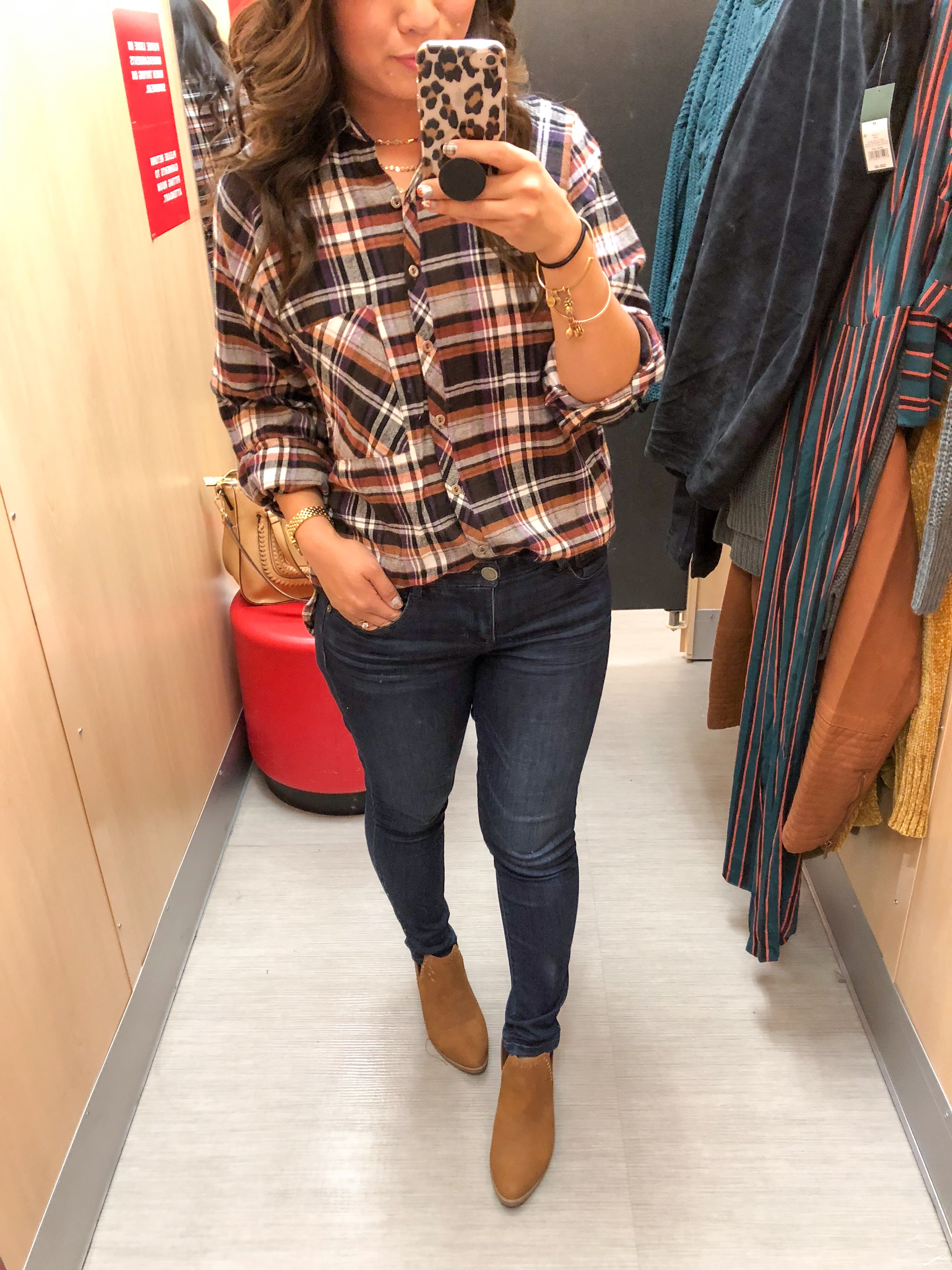 Wild Fable Long Sleeve Button Down (Size Small – oversized fit)
This plaid button down is a great dupe for the Madewell plaid one that you all loved! It was almost sold out on Madewell during their sale but I'm so glad I found this one. The colors are so great for fall!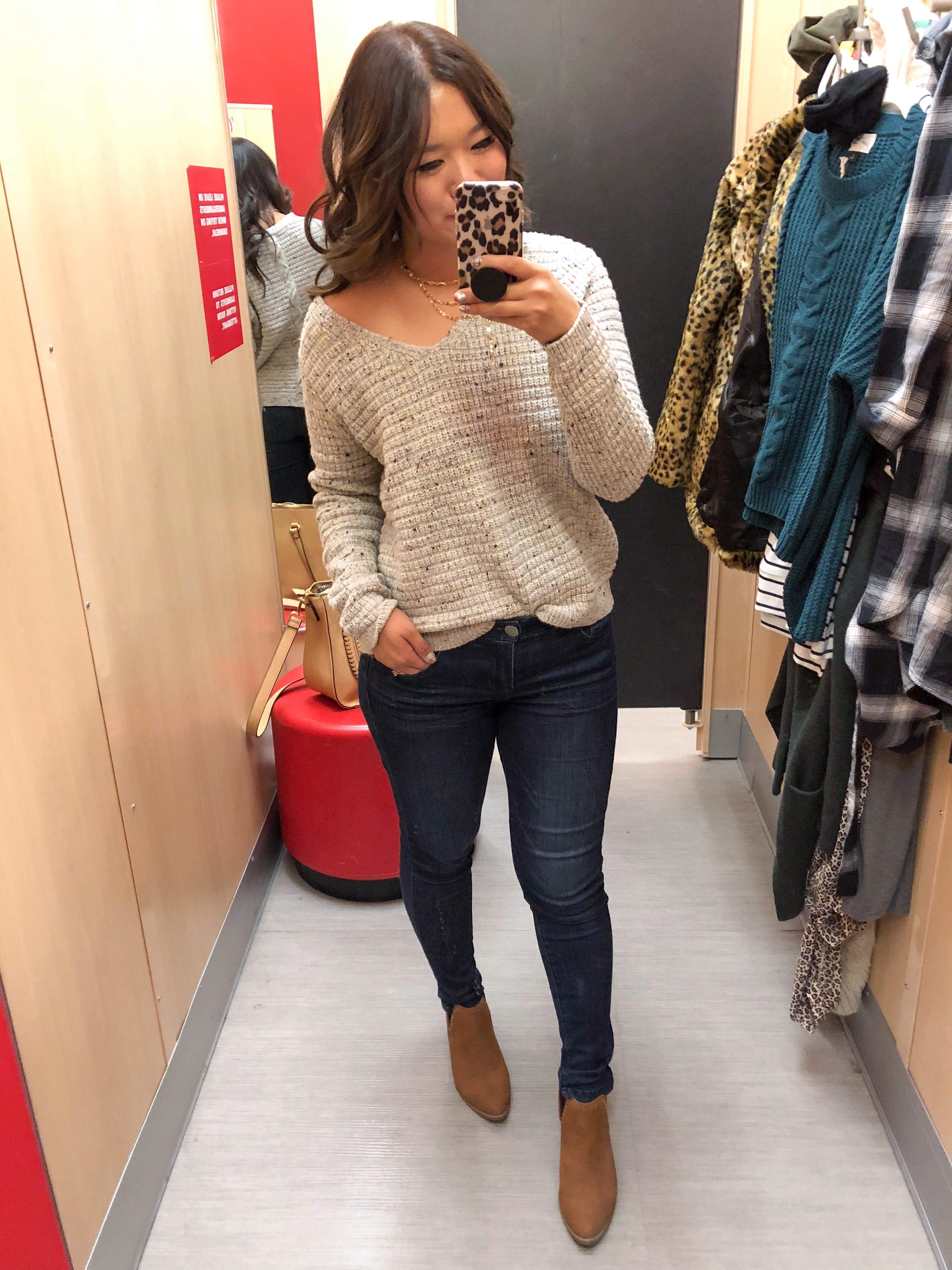 Universal Thread Back Interest Pullover (Size XS)
I love the texture and the specks of colors in this sweater! Also, the back has the cutest stitching detail that goes all the way down the back of the sweater. I also love that you can wear it off the shoulder as well, wear it with the Adella Free People bra!!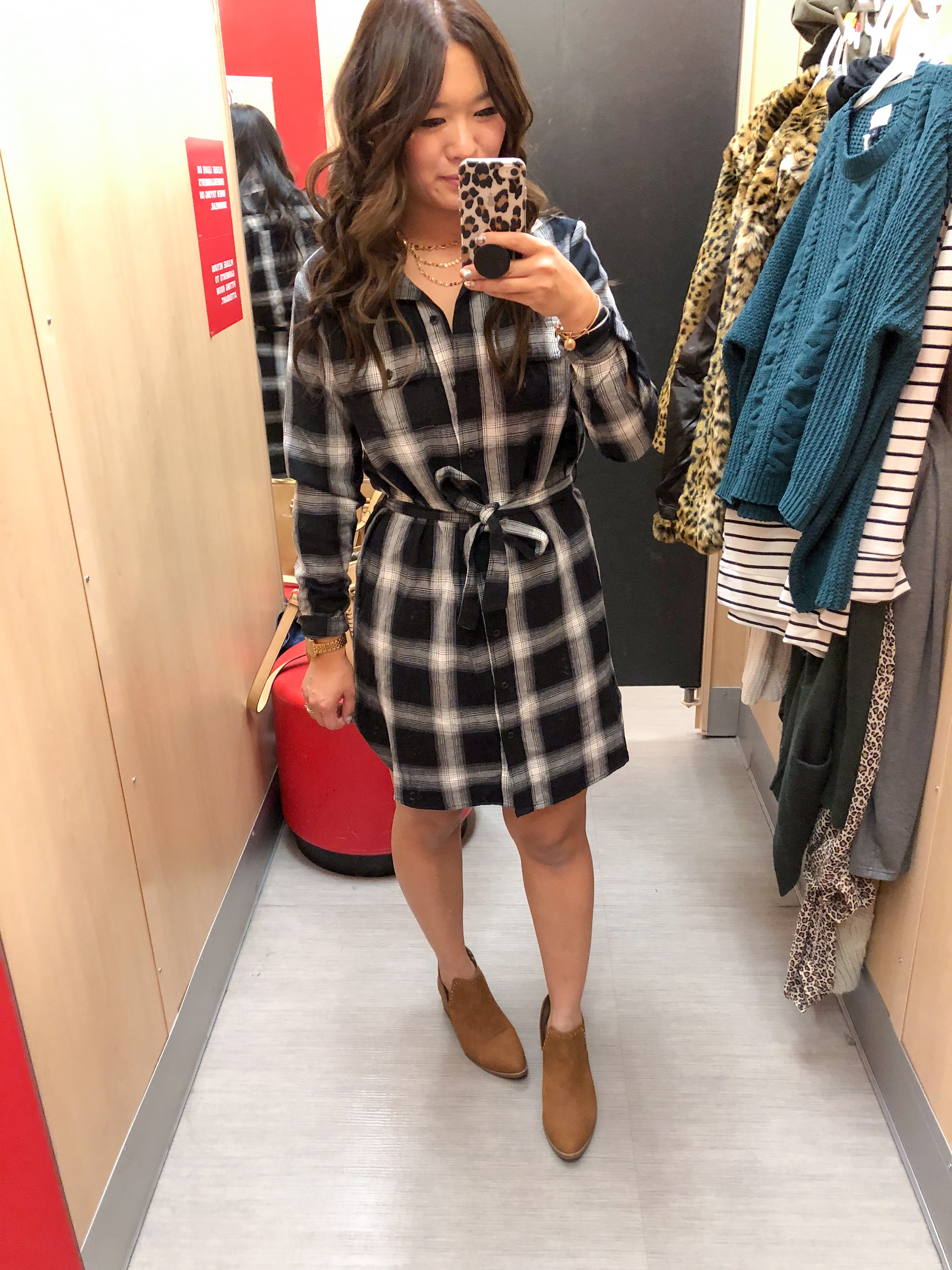 Universal Thread Plaid Shirt Dress (Size Small)
The length on this plaid dress is not too long or not too short. I also love that it has a tie so you can accentuate your curves! It does come in another color option that is just as cute!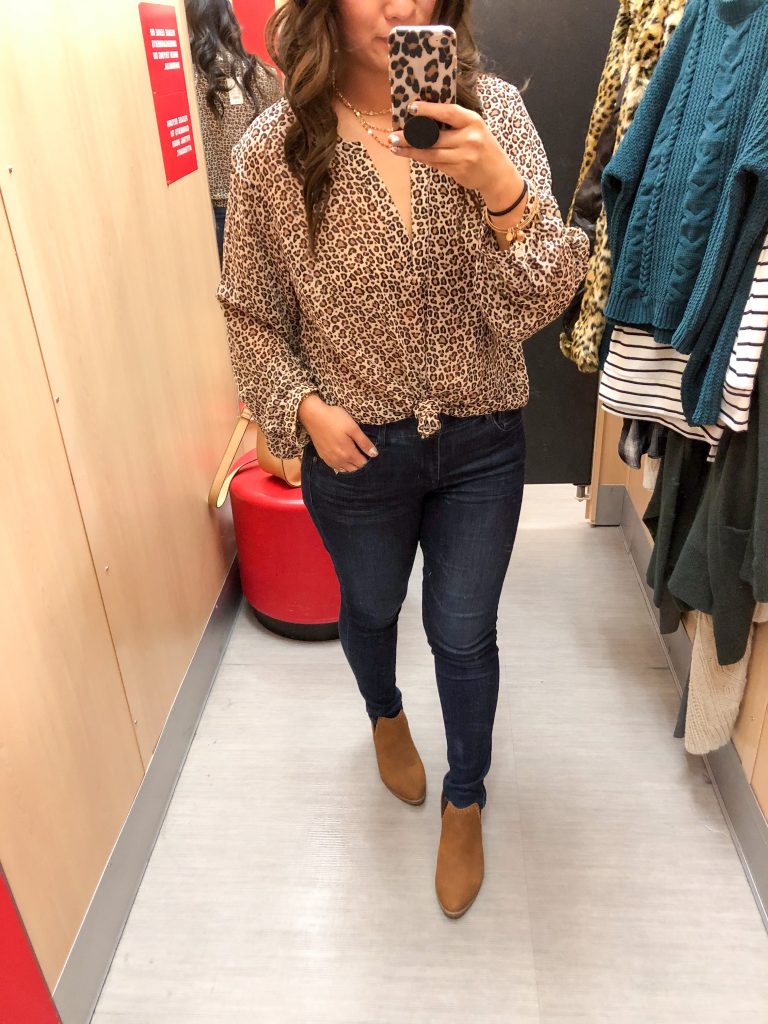 A New Day Leopard Print Long Sleeve Blouse (Tried on XL but would order a Small or Medium)
This top is a good top for work or a date night! Leopard print is trending so much now and my leopard loving heart is SO happy! I knotted it here only because it was so big but would look cute half tucked or tucked in a skirt and boots. Please note that this top is a bit sheer so you will have to wear a cami underneath.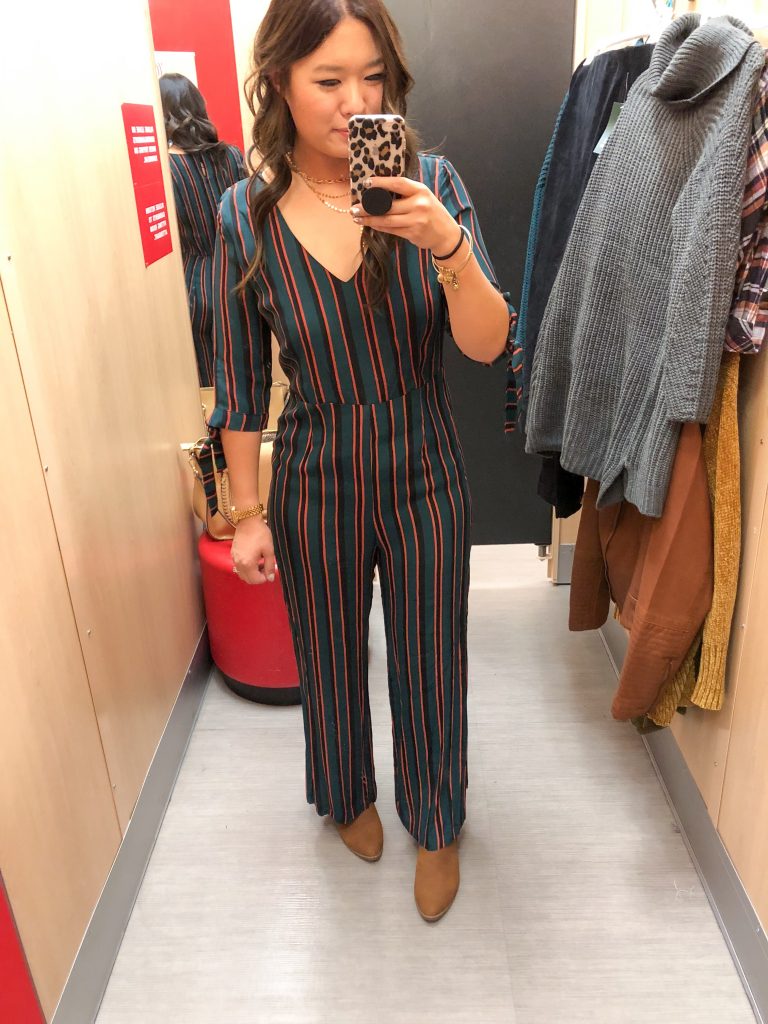 Wild Fable Short Sleeve Striped Jumpsuit (Size Medium but a bit loose in the stomach area but fitted down below)
The colors of this jumpsuit caught my eye! I love the vertical stripes on it too! It did fit a bit loose in the stomach area but if I were to size down, I would definitely need to wear some Spanx! I feel like this may not be the best for curvier girls like me.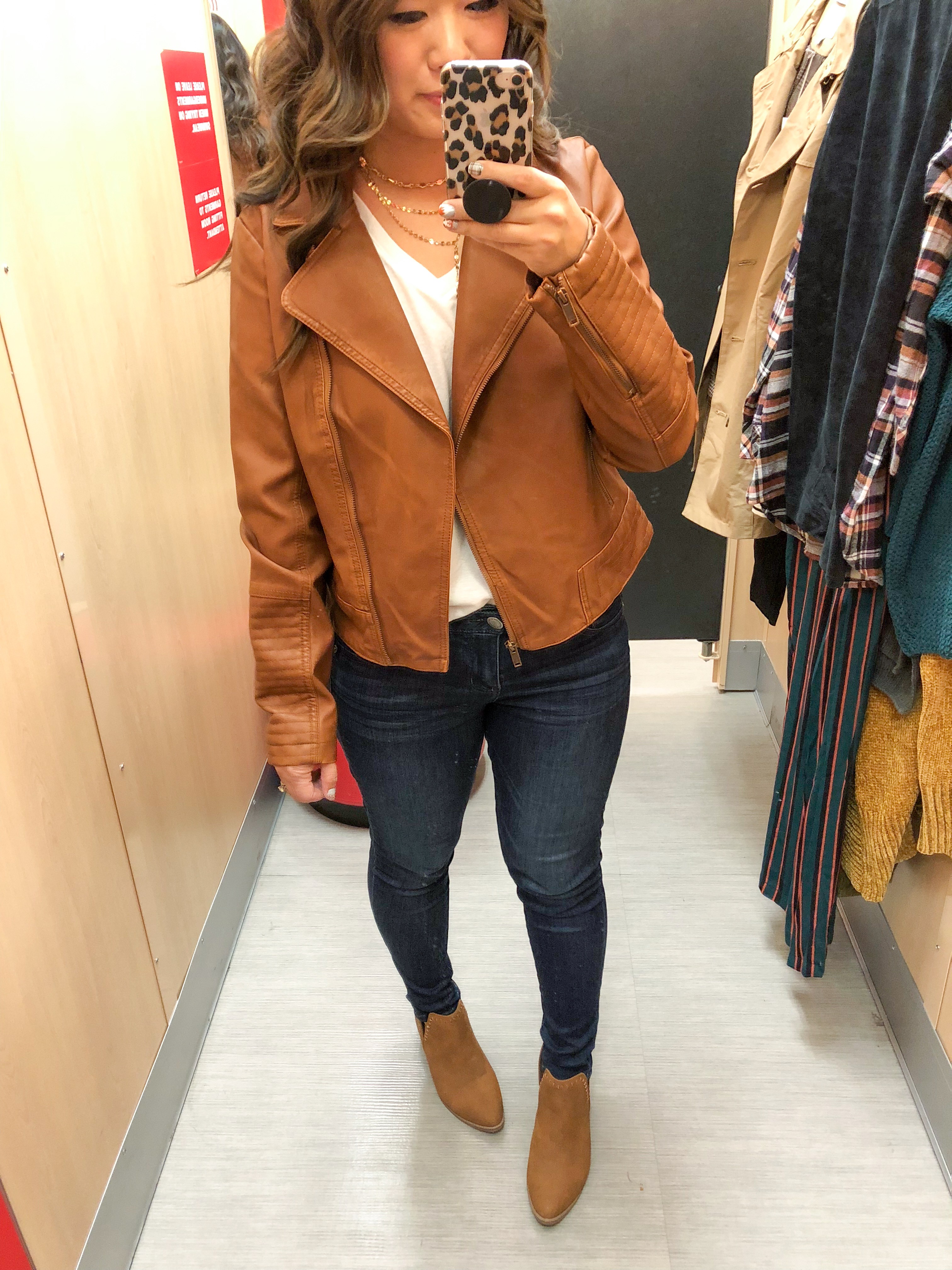 Universal Thread Faux Leather Moto Jacket (Size Small)
The color of this moto jacket is fall perfection! A moto jacket is such an easy jacket to throw on over any outfit and it'll change the look of it! The sleeves are a bit long on this one but I would not size down in it.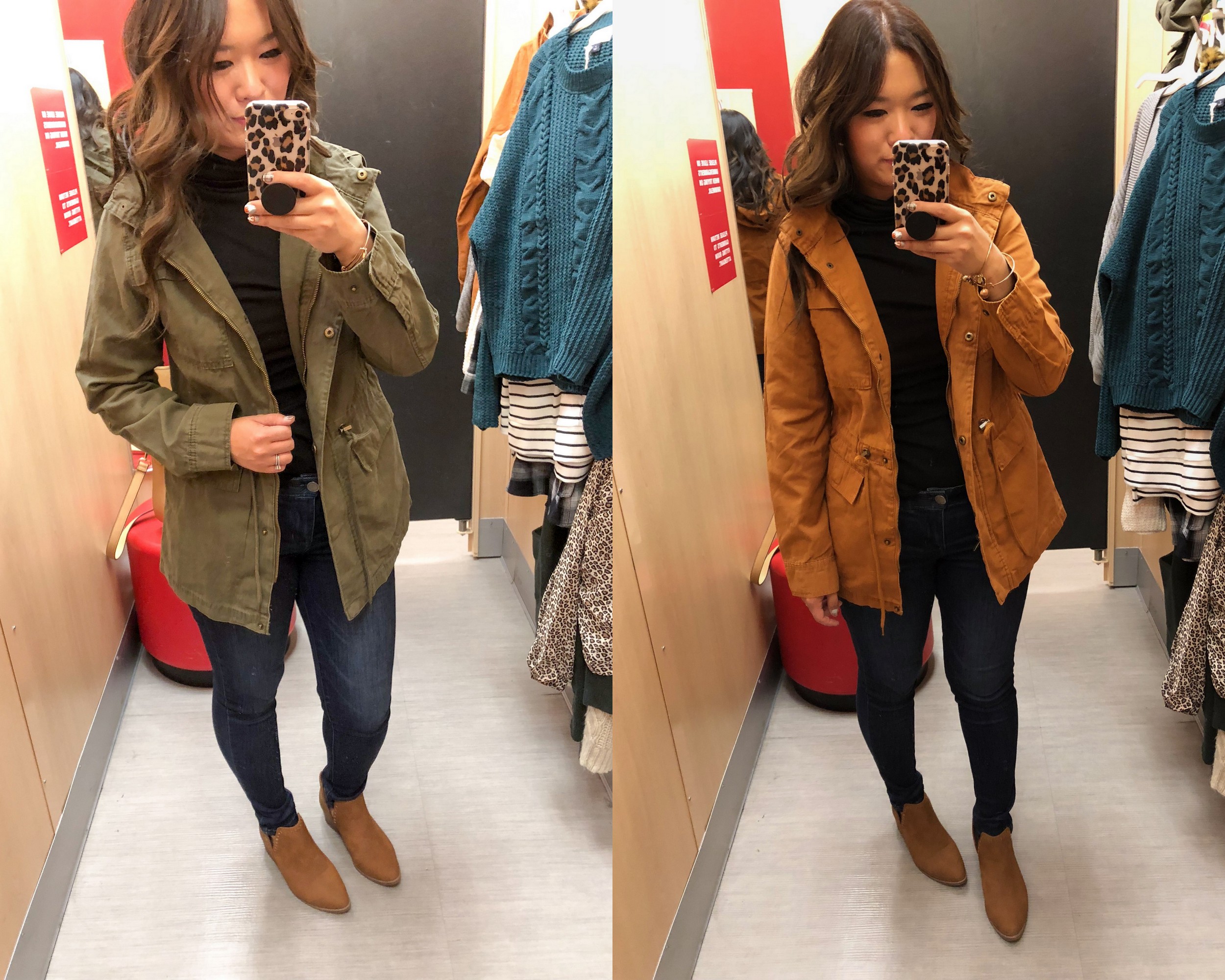 Universal Thread Utility Anorak Jacket (Size Small in the Olive and XS in Copper – I prefer the XS)
This utility jacket is another great throw on jacket. I love that it has the strings to cinch in the waist. It does run a bit big so I sized down to an XS.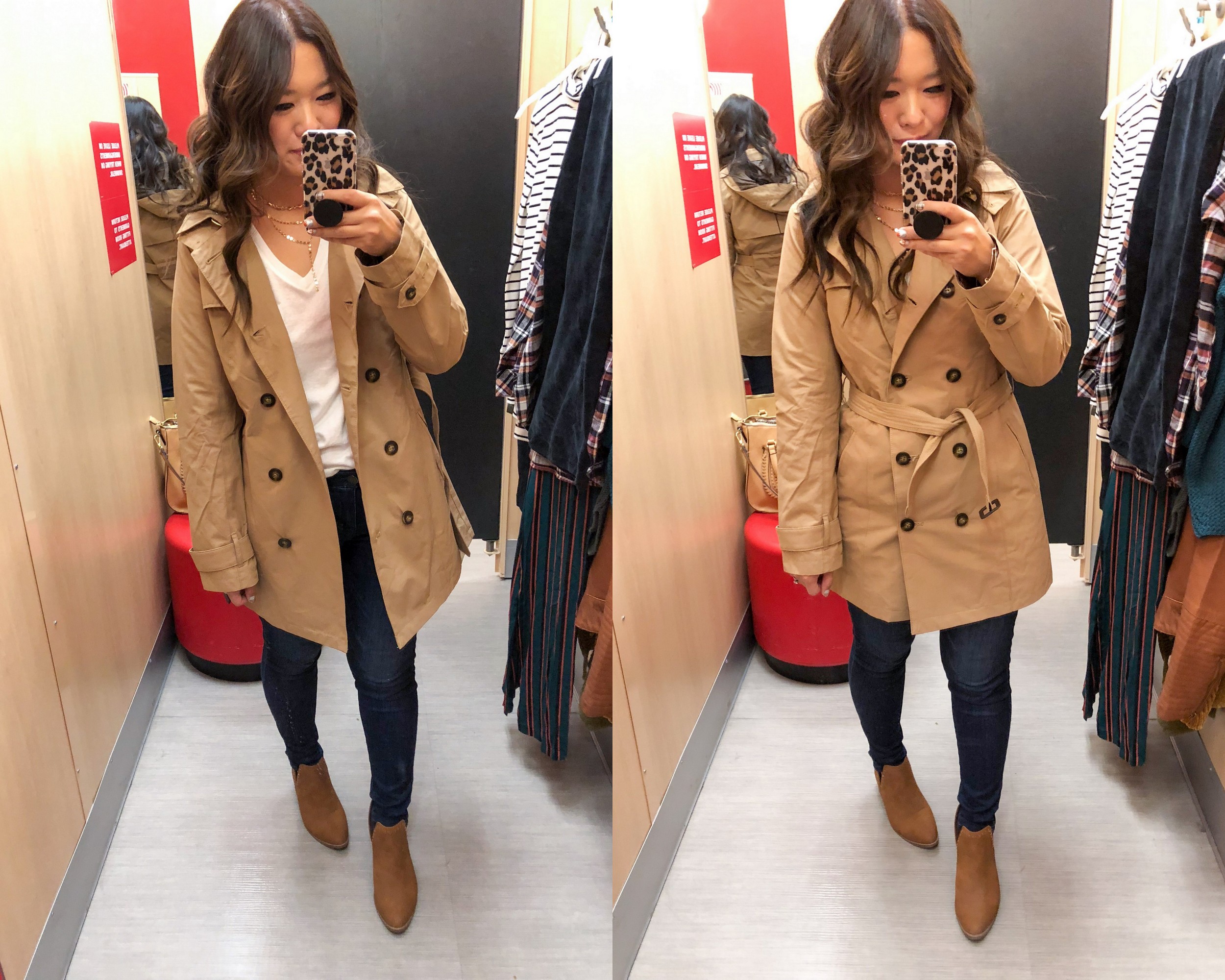 A New Day Double Breasted Trench Coat (Size Small)
If you're looking for a cute and affordable trench coat, this one is a great option. It comes with a belt but looks cute with or without it belted. It also comes in a black color option.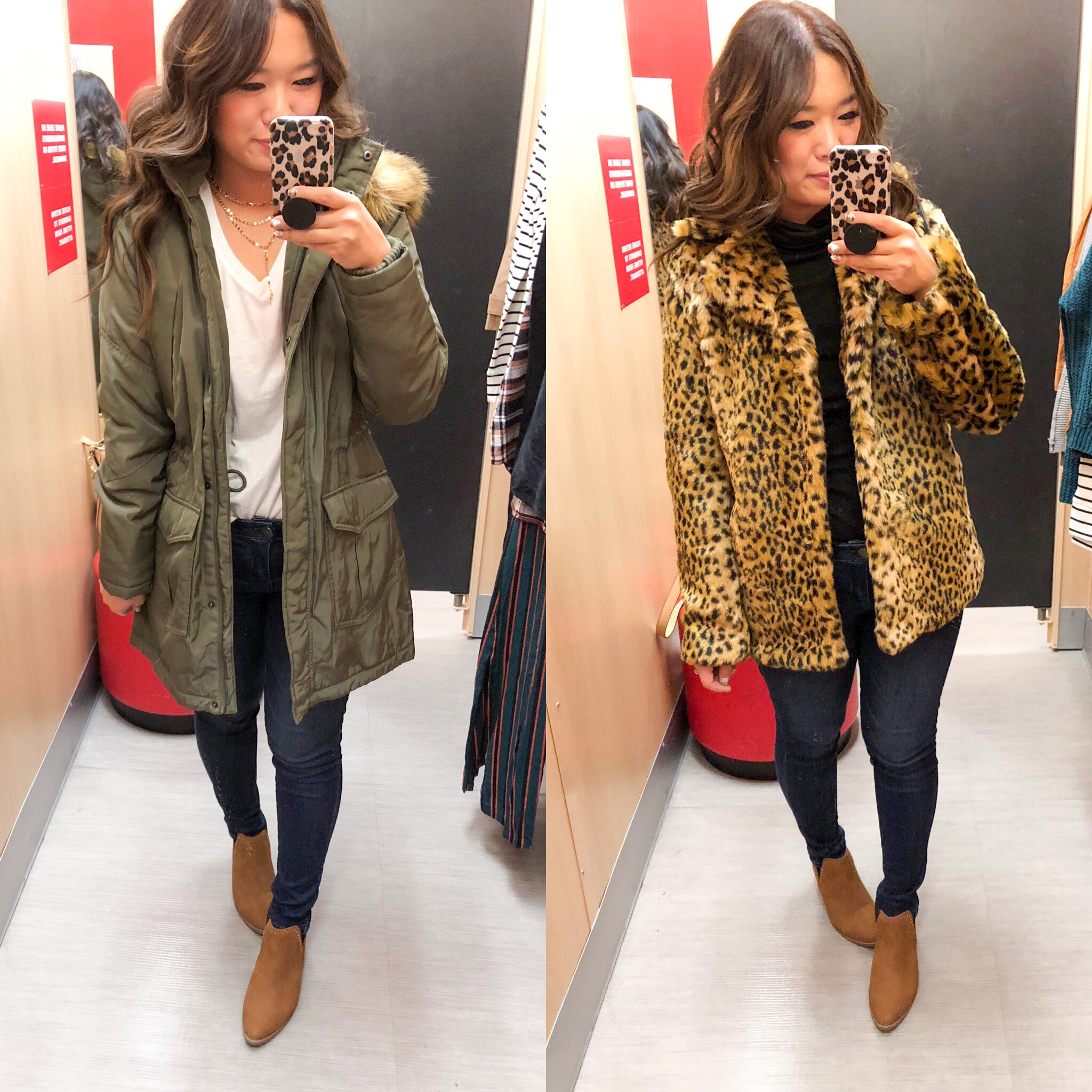 These two are not online yet but I will update with the link once it is loaded onto the site!!
And now for my favorite Target shoes that are part of the sale (well all shoes are)!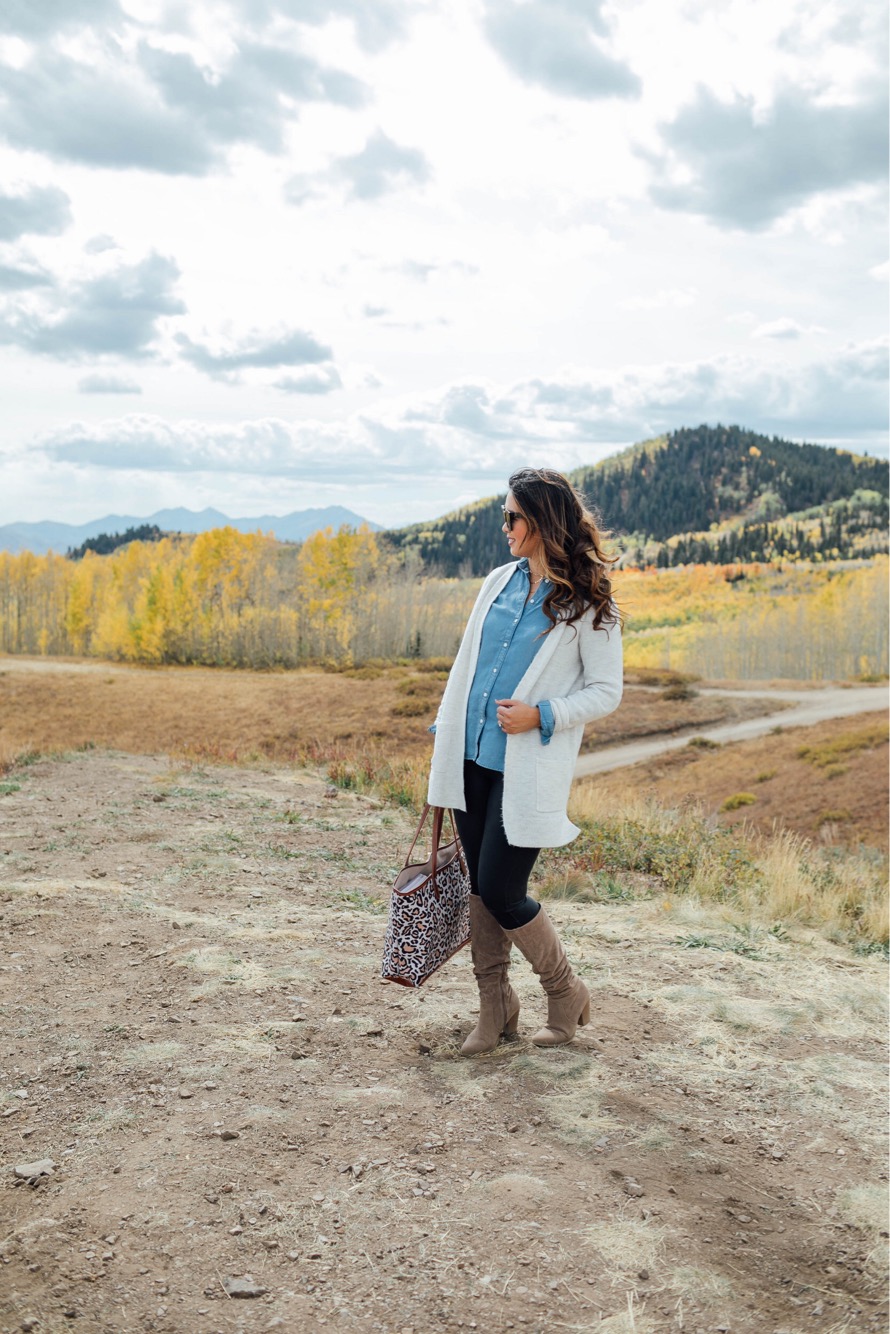 Universal Thread Lanae Scrunch Boots (Sized up half a size to 8)
If you've followed me for the past month or so, you know my love runs deep for these boots. They are such a good boot for a great price.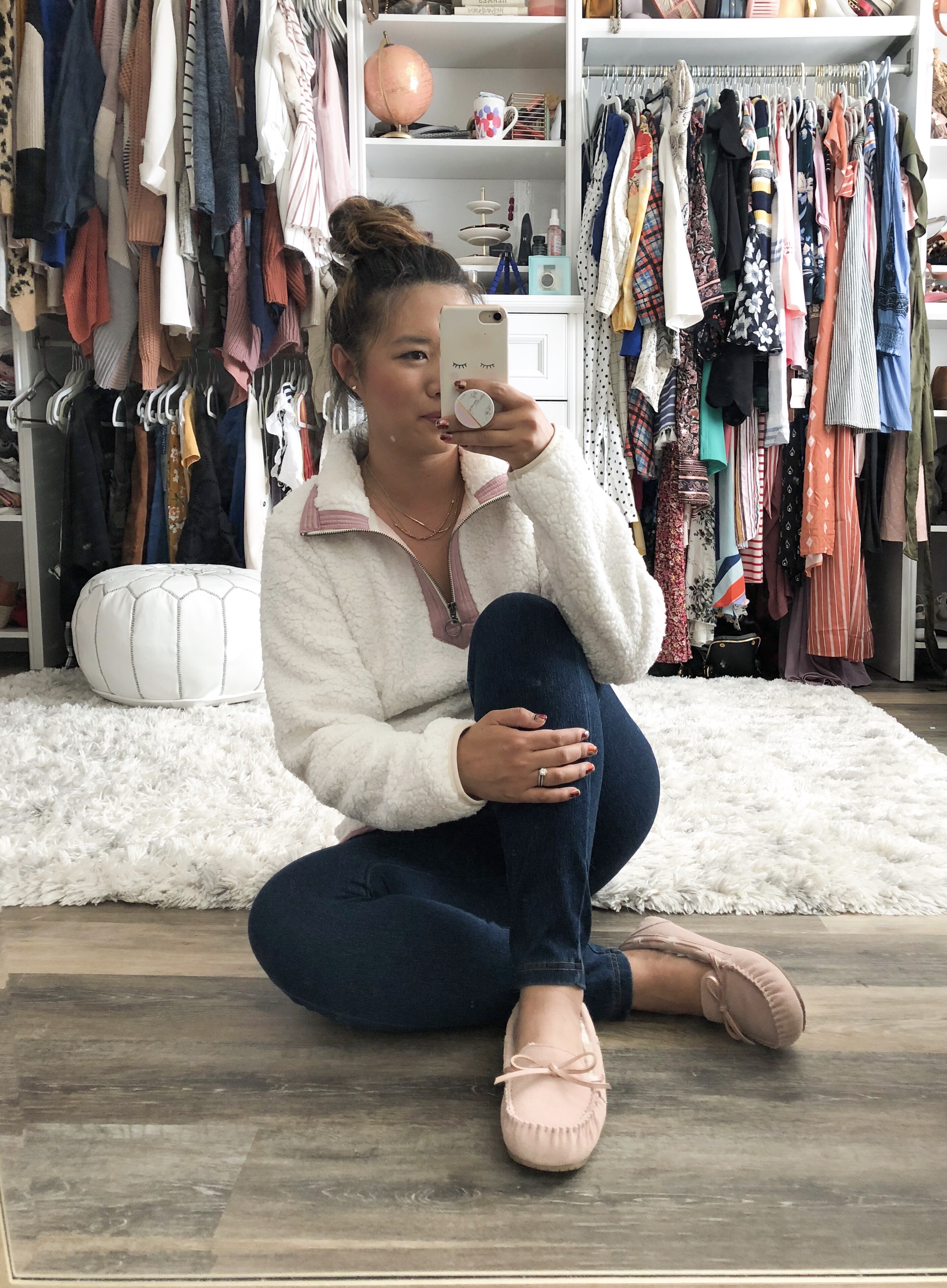 Gilligan & O 'Malley Chia Suede Slippers (Sized down to 7 – Usually 7.5/8)
This is a good time to stock up on these amazing slippers as gifts for the holidays (which is less than 80 days away!!!) I own them in two colors because they're that good. Read my moccasin slipper blog post reviewing a few other slipper options.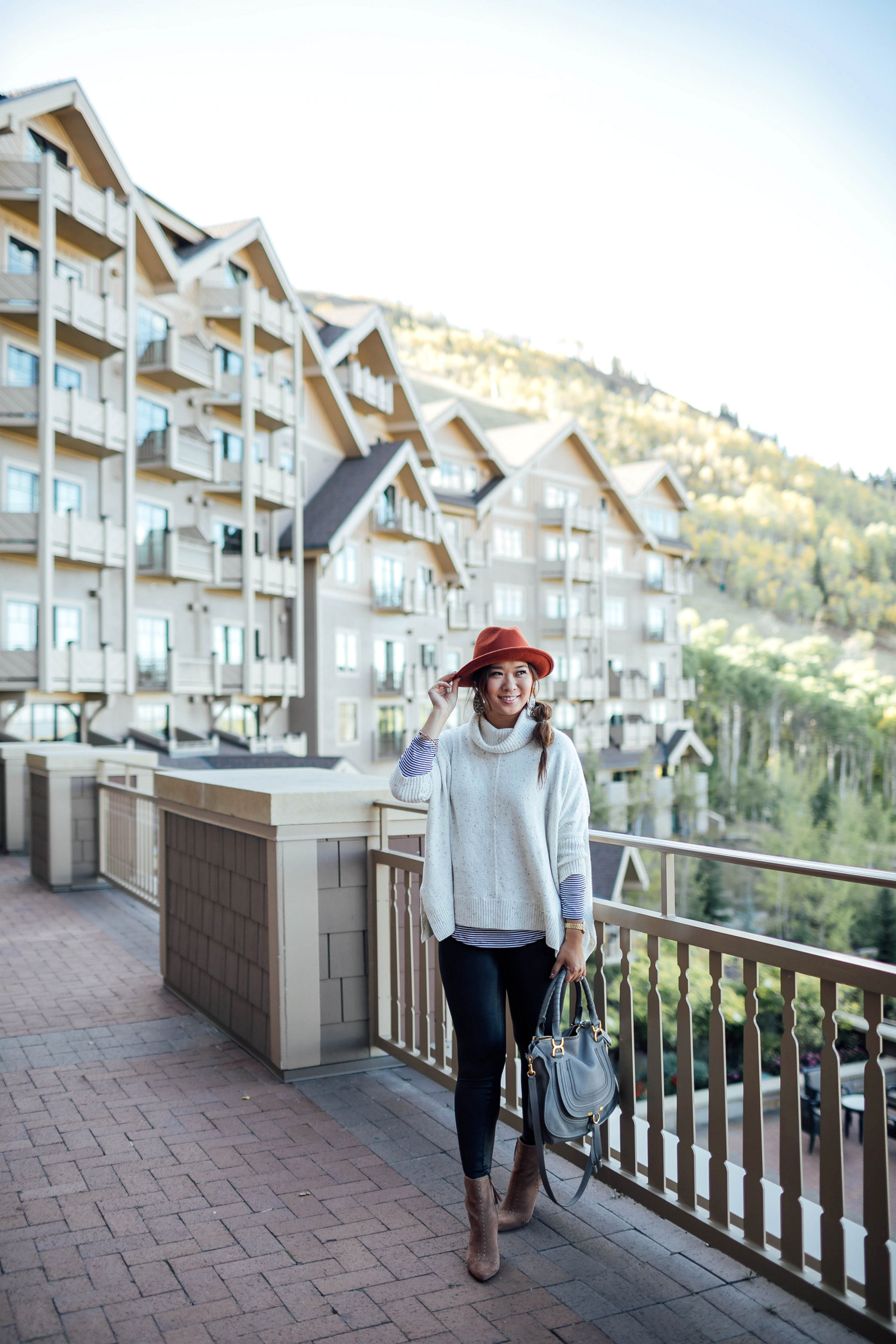 Universal Thread Lona Microsuede Studded Heeled Bootie (Sized up half a size to 8)
These boots in in a few colors, have beautiful studs and are sleek! They are best for going out looks!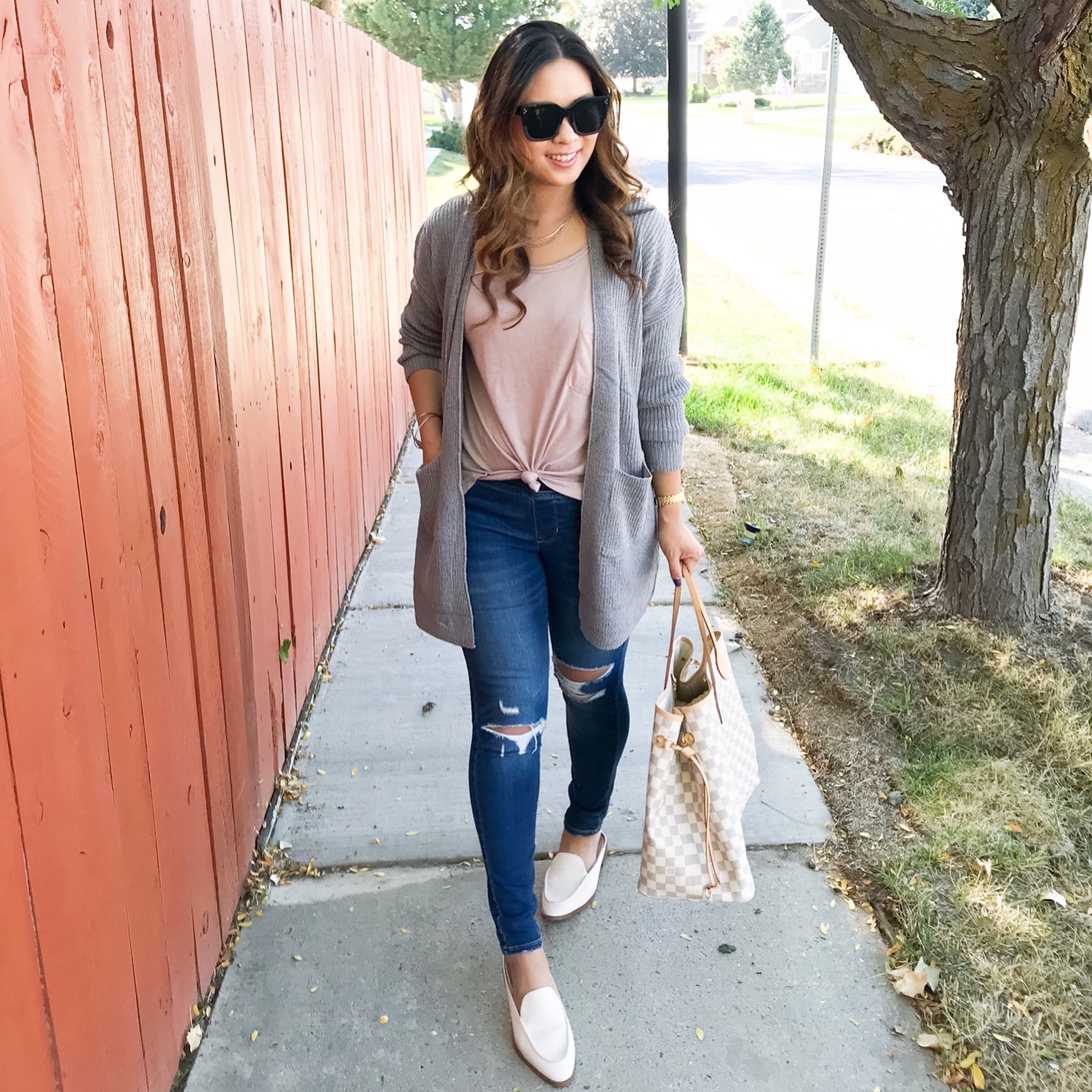 A New Day Micah Pointy Toe Loafers (Sized up half a size to 8)
These loafers are super comfy and I love that I can slip them on to head out to daycare drop off or pickup – since I am usually running late, ha!!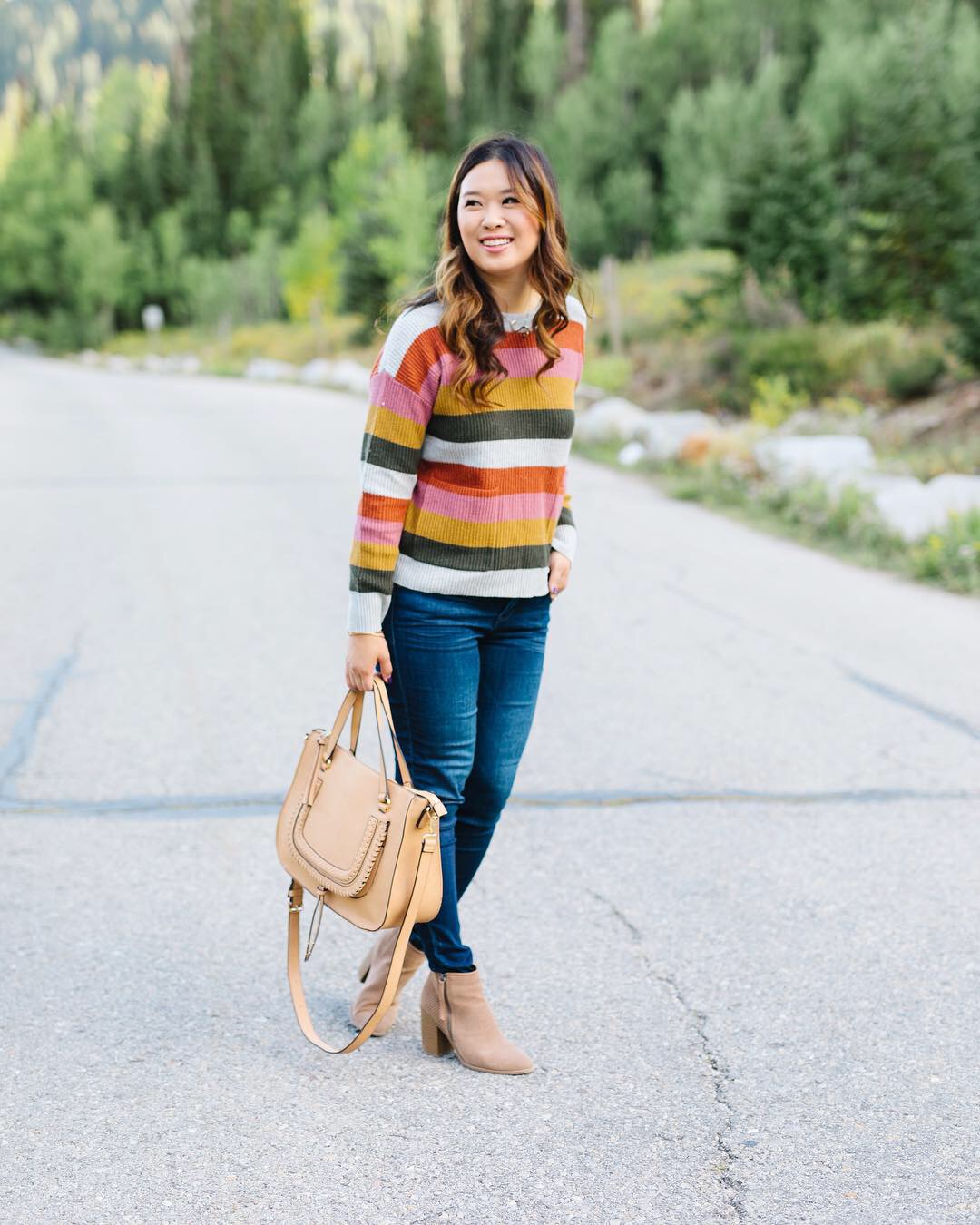 Universal Thread Crissy Laser Cut Booties (TTS – Wearing 7.5)
These little booties are Nordstrom sale dupes and so so comfy! They are a great classic taupe color with some perforation detail on the back!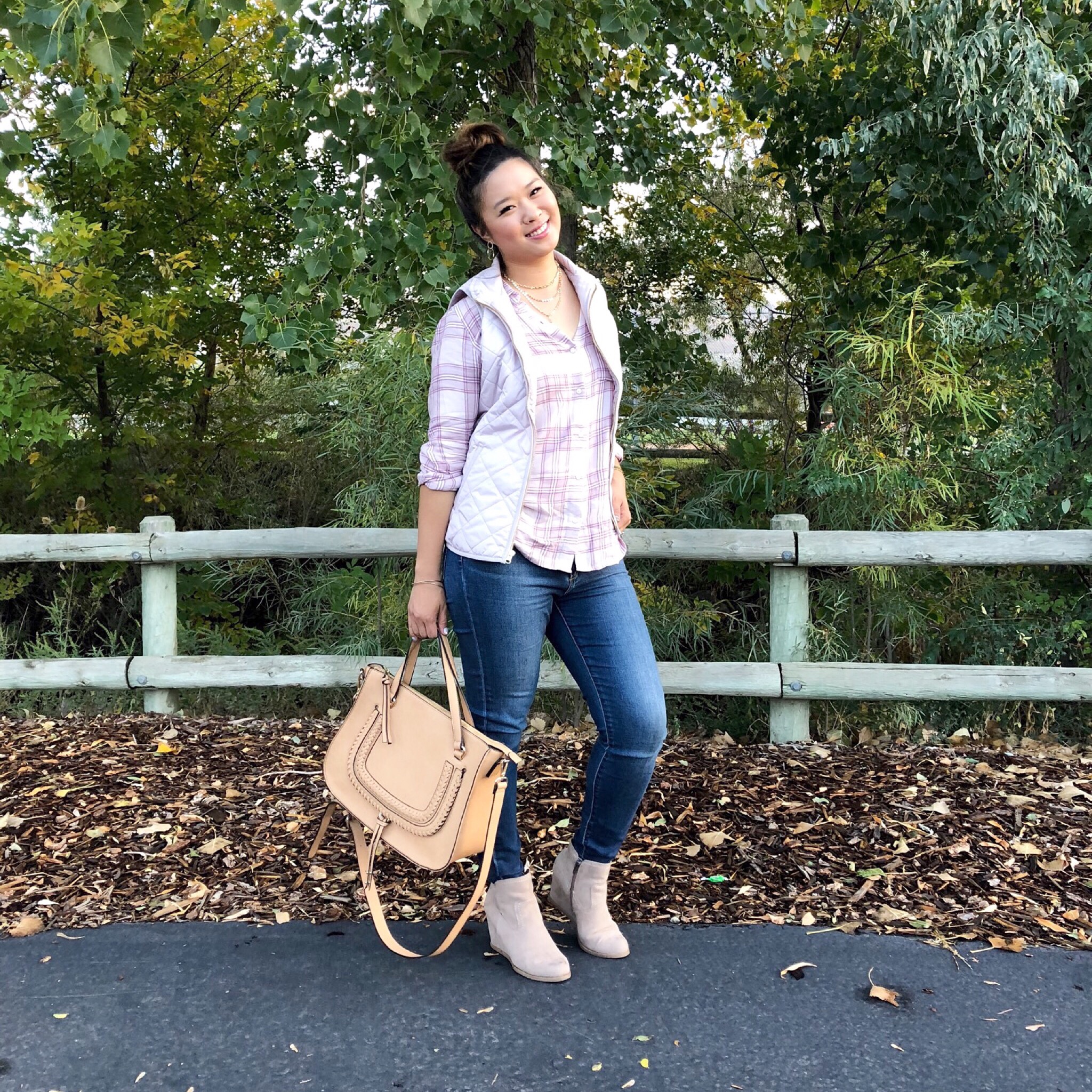 Universal Thread Beatrice Microsuded Wedge Bootie (TTS – Wearing 7.5)
I'm totally digging wedges right now and these bootie ones are super comfy!
Shop all of the clothing items I tried on as well as a few other favorites below. This striped sweater and plaid poncho were also added to my cart!
All of my favorite shoes are featured below! Do not miss out on the over the knee heeled boots and the over the knee flat boots too!! They are good!!
If you missed my try on, head on over to my Instagram stories or to my saved highlights under Target try on (in case my try on session expired)! Let me know below which was your favorite from this try on! Or if you own any of these items, tell me why you love them! If you choose to shop through my links, I make a small commission from your purchase. Thank you SO much for your support!!!