This month was definitely a month full of great sales! Fall is officially here and by the looks of the top 10 selling pieces this past month, you all are stocking up on all the essentials for the season. I can see so many of these pieces on your adventures to the pumpkin patch and fall festivals! So I have to say, that Number 1 and 2 on the list are actually sold out (so I won't include them in the actual list since you can't purchase them). But the LOFT Colorblock Pocket Sweater Vest (size XS/S) came in at 31 and it's no surprise this sweater vest is the number one seller for this past month. It's so soft and the perfect colors for fall. It can be layered over a long sleeve or even dresses! The other thing that I love about this vest is that it has pockets! I mean, we love them on dresses, why not vests?? LOFT Turtleneck Poncho Sweater (size Small) came in at #2. i styled itu p THREE WAYS on Instagram and just loved all the outfit pairings you could make with it!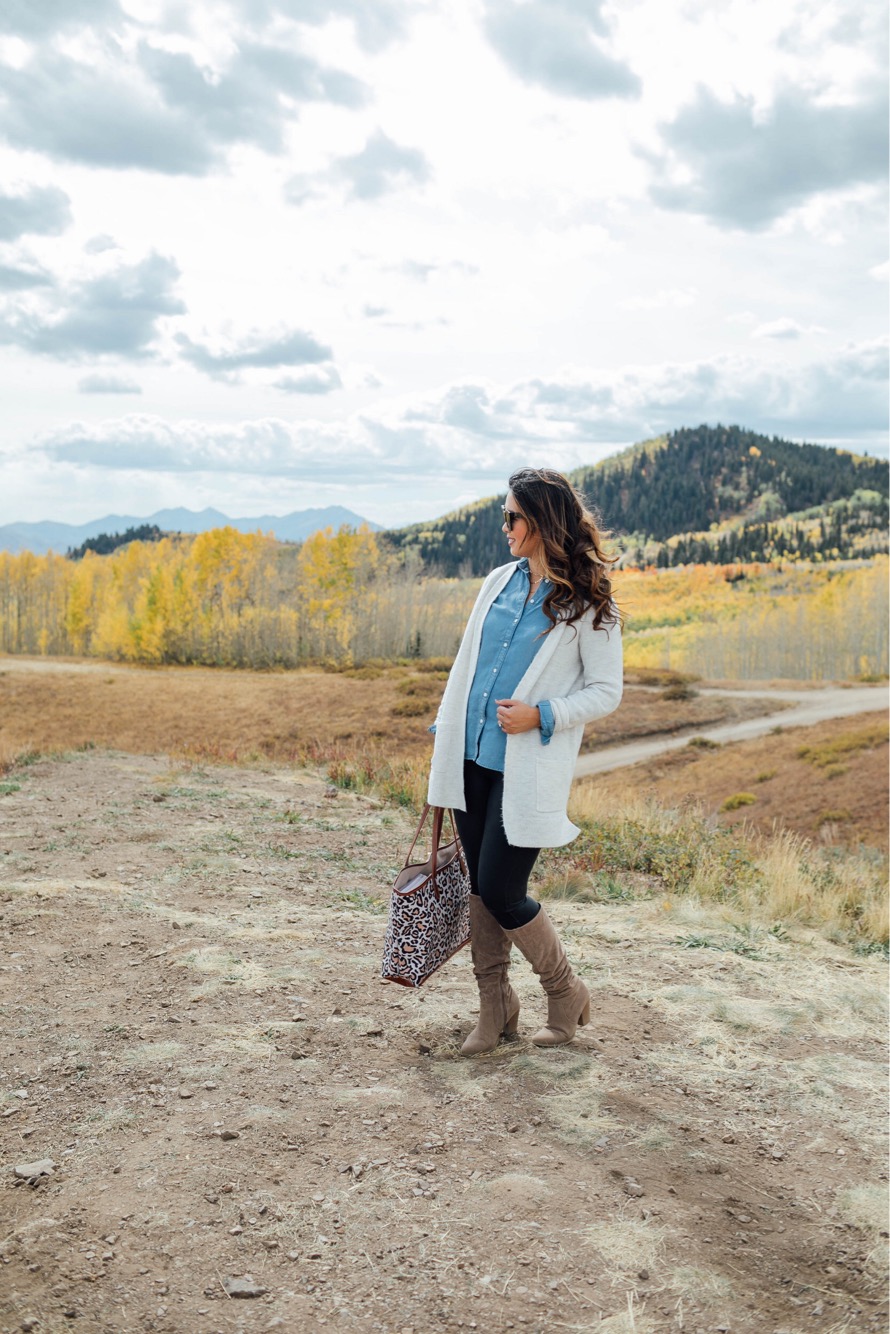 1. LOFT Chambray Blouse (size Small) – Everyone needs a good chambray top in their closet! This one is a pretty shade of blue and made of 100% tencel which drapes nicely. It also has a roll cuff button tab where you can roll up the sleeves for a more casual look. A chambray shirt can be layered over a dress or even simply tied around the waist. It's a definite must have!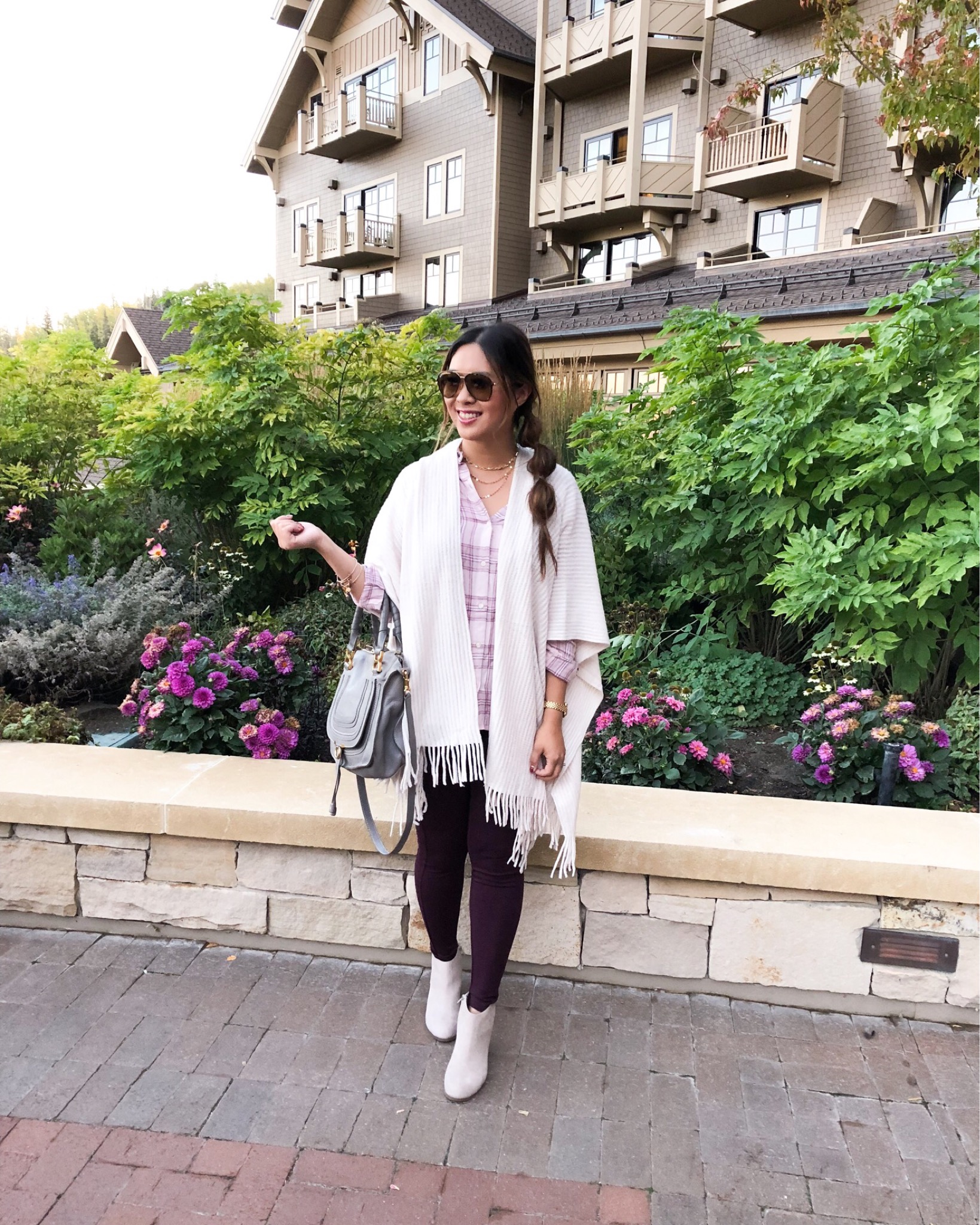 2. LOFT Ribbed Fringe Wrap (One Size) – This wrap is perfect for when you don't want to throw on cardigan that would be too warm. It is nice and lightweight and so cute with the fringe detail. I can picture myself cozying up with this by the fire on a cooler Fall night.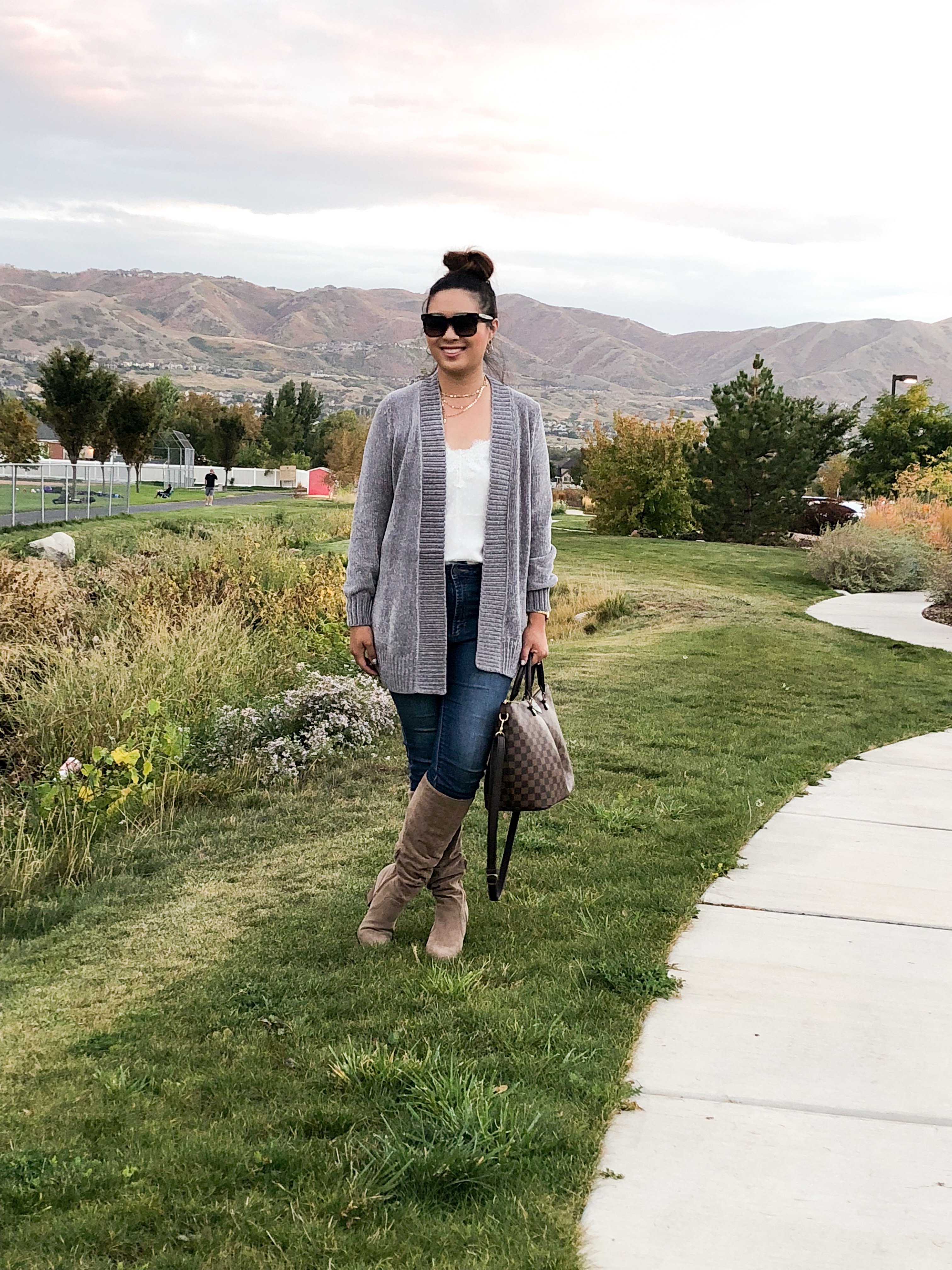 3. LOFT Chenille Blouson Open Cardigan (size Medium) – I can't tell you enough how obsessed I am with this cardigan and you all were too! I currently have all 3 colors and have asked on my Instagram stories which color I should keep! The did size up one since the sleeves were a bit short in my usual size at Loft. One downside to this cardigan is that it does not have pockets but it does not stop me from loving it!
4. Amazon Oversized Round Circle Sunglasses – These sunglasses are one of the best dupes that you all loved not just this month, but previous months as well. You've probably seen me wear it often this past month. If you can't decide on which color to get, there's a two pack for both the black and tortoise color for just $17.99! That's such a great deal!
5. LOFT Striped Off The Shoulder Tee (size XS) – There will always be a need for a good basic tee. This one is is a great striped one with an off the shoulder look. This one is the perfect basic to layer under overalls!
6. Lou & Grey Seamed Poncho Sweater (size XS/S) – I can sense a theme here with another poncho being on the list and that is you guys sure do love a good layering piece! This sweater is oversized and will be so cute paired with leggings and booties for the season.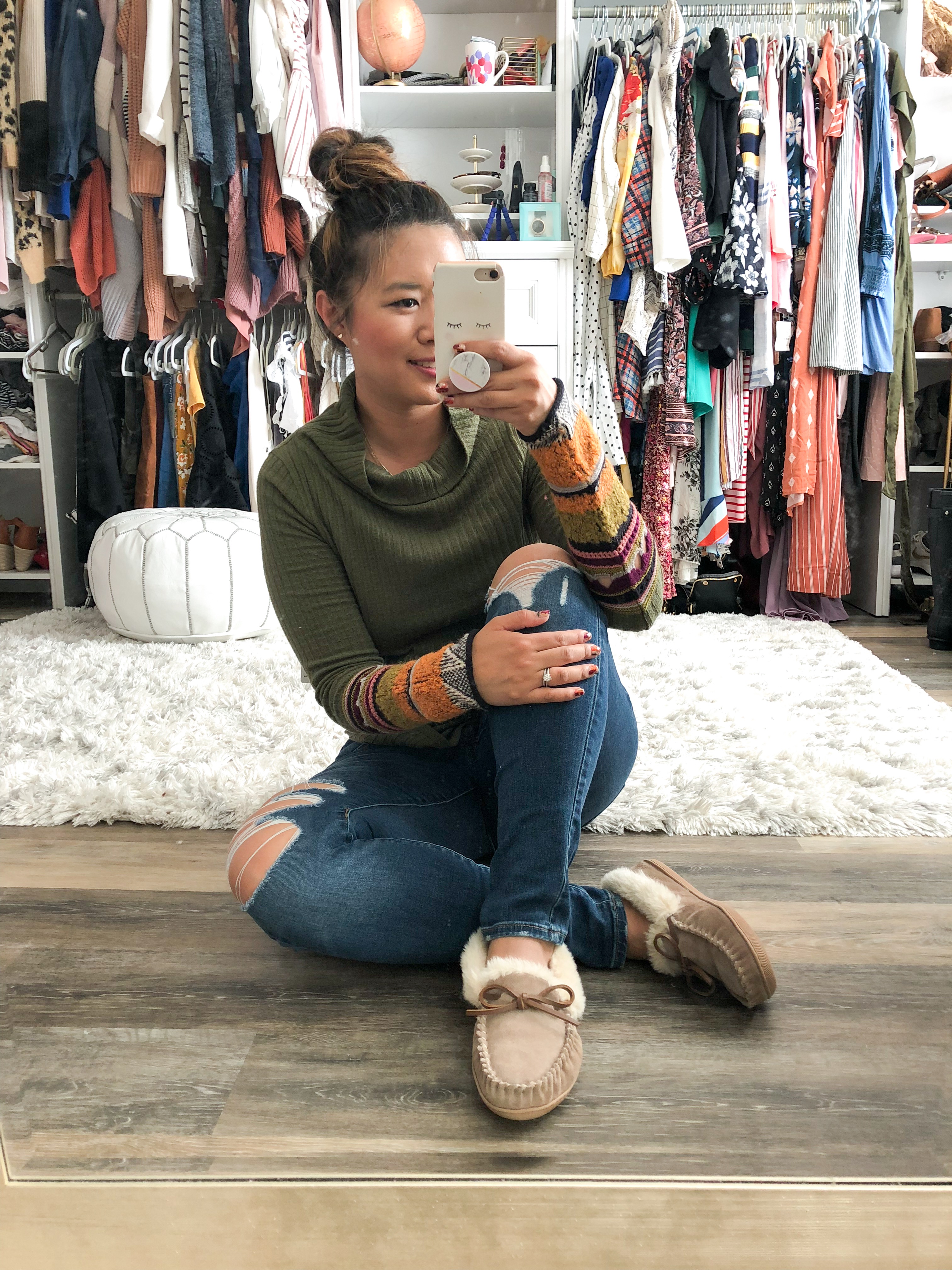 7. J.Crew Factory Suede Shearling Slippers (size 7) – I am not surprised on of the slippers made this list! After my moccasin slippers review blog post, a lot of you were able to snag this pair when it was on sale! I am sure there are a lot of happy and cozy feet out there!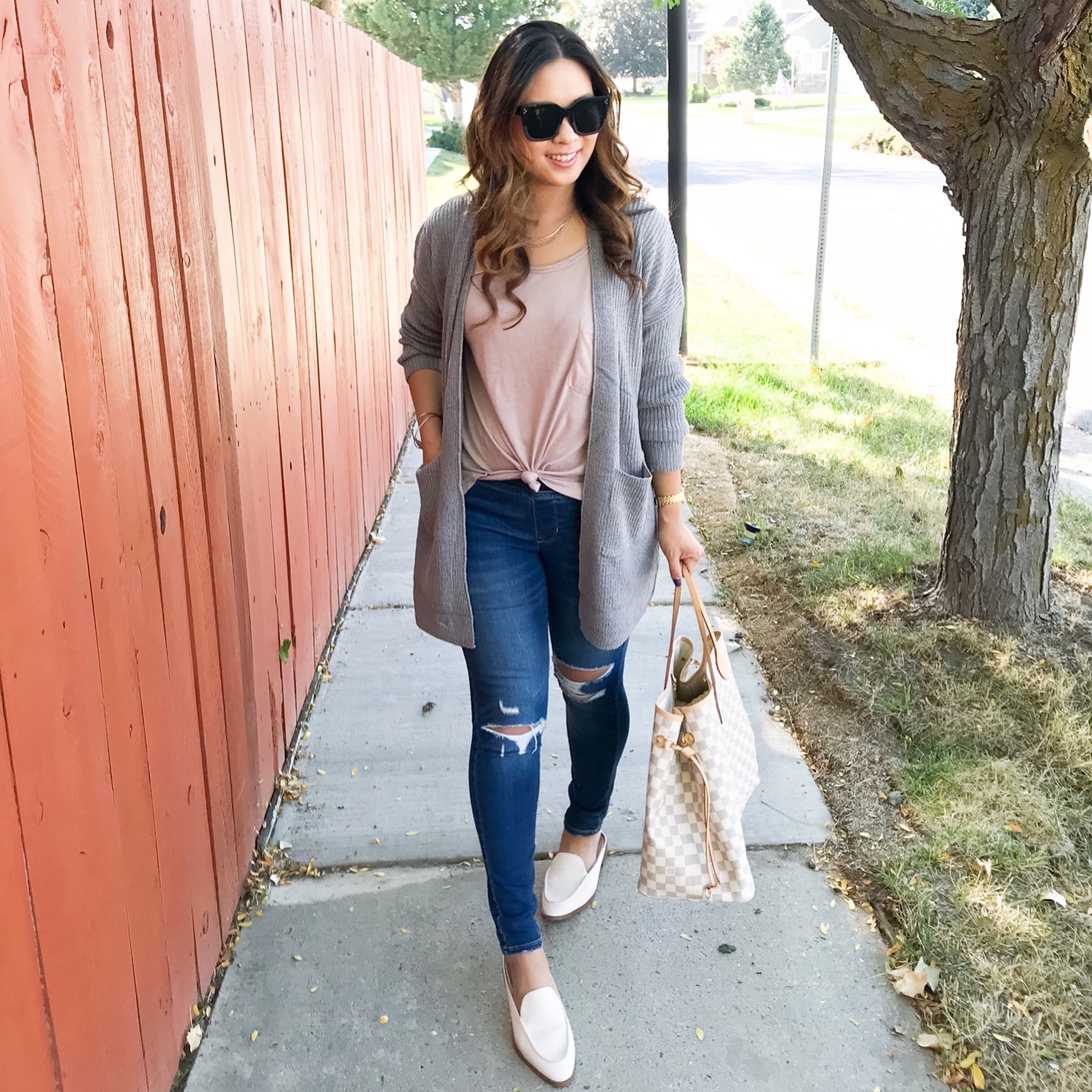 8. Old Navy Destructed Pull-On Destructed Rockstar Jeggings (size 8S) – Hands down one of my favorite pair of jeans. They're flattering on all body types and has the just the right amount of stretch and distressing. If you don't believe me, just read the many reviews on them!
9. Target Lanae Scrunch Boots (size 8) – Hands down, one of the best purchases I made for this season. These boots are a good dupe for the one from the Nordstrom sale for the fraction of the cost. It comes in 3 great colors (I have the taupe and black) and are so comfy. I did size up for a better fit and went with the regular width. I usually have to buy wide for these types of boots but the wide were a little loose and did not stay up as well. They will be my go-to boots for the season.
10. Old Navy Lightweight Quilted Vest (size Regular Small) – I own this in the Icelandic Mineral and recently just ordered the Black! This vest is PERFECT for layering over tees or plaid button downs. It's not super warm, but perfect for warmer Fall weather days!
Were you able to take advantage of any of these sales during the month of September??