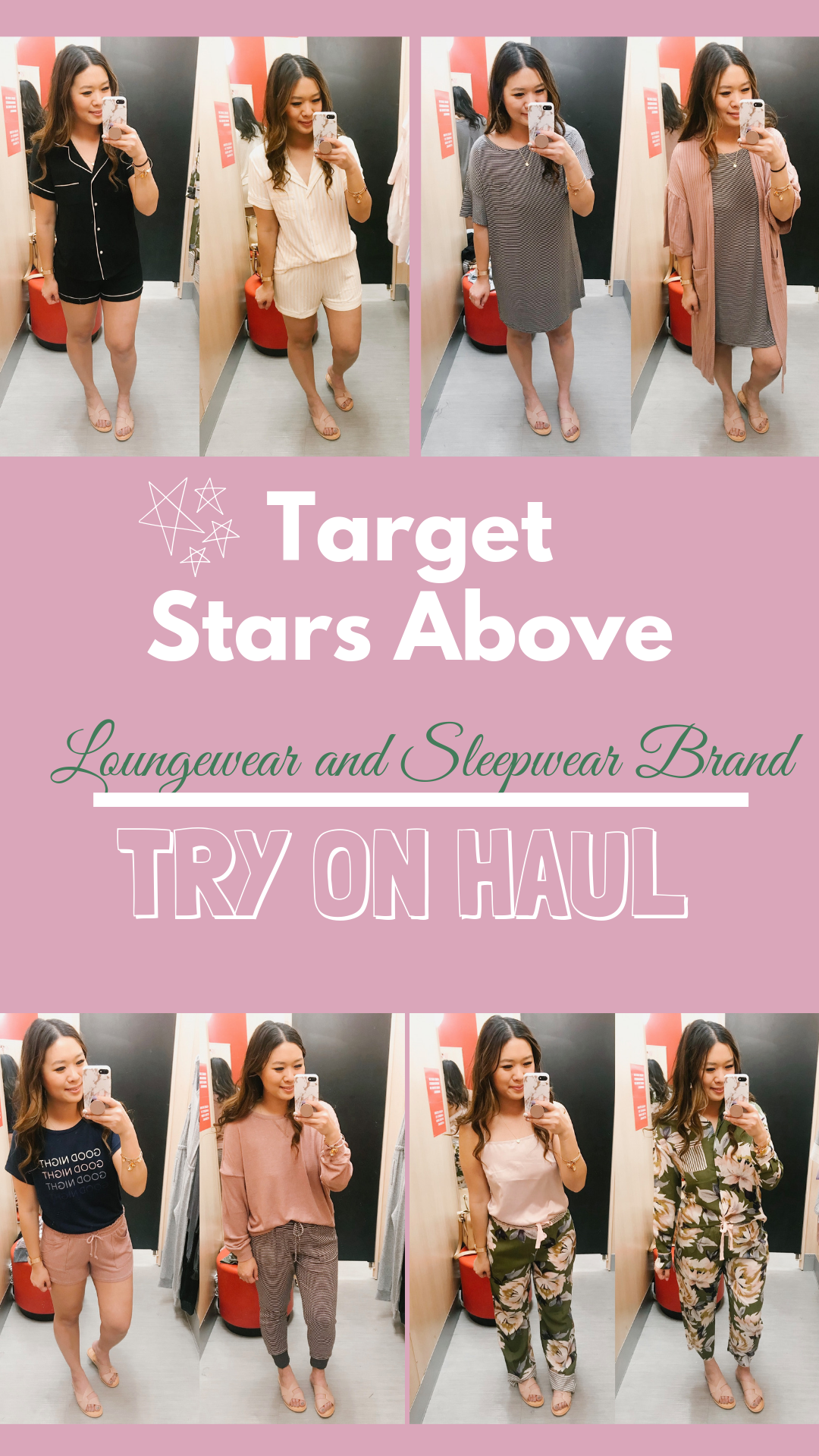 Target does it again!! But this one might be my very favorite launch, ever!!! They just released 3 new lines, Stars Above (loungewear and sleepwear), Auden (bras, underwear and intimates), Colsie (junior's loungwear) and I truly believe they nailed it on the head with these lines! They released them in stores this past week and are now finally available ONLINE to shop!! So I did a late night shopping trip the other day and tried on almost the entire collection of the Stars Above line so I could review it for you – because I mean, as I am a work from home mom, loungewear and sleepwear is what I wear probably 50% of the time. Like sometimes I don't even get really dressed until 3PM HA!! Overall, I would say that the line runs pretty true to size for Target clothing. I am typically between a size Small and Medium and some pieces I liked in different sizes! However, overall, I would say that the line runs TTS.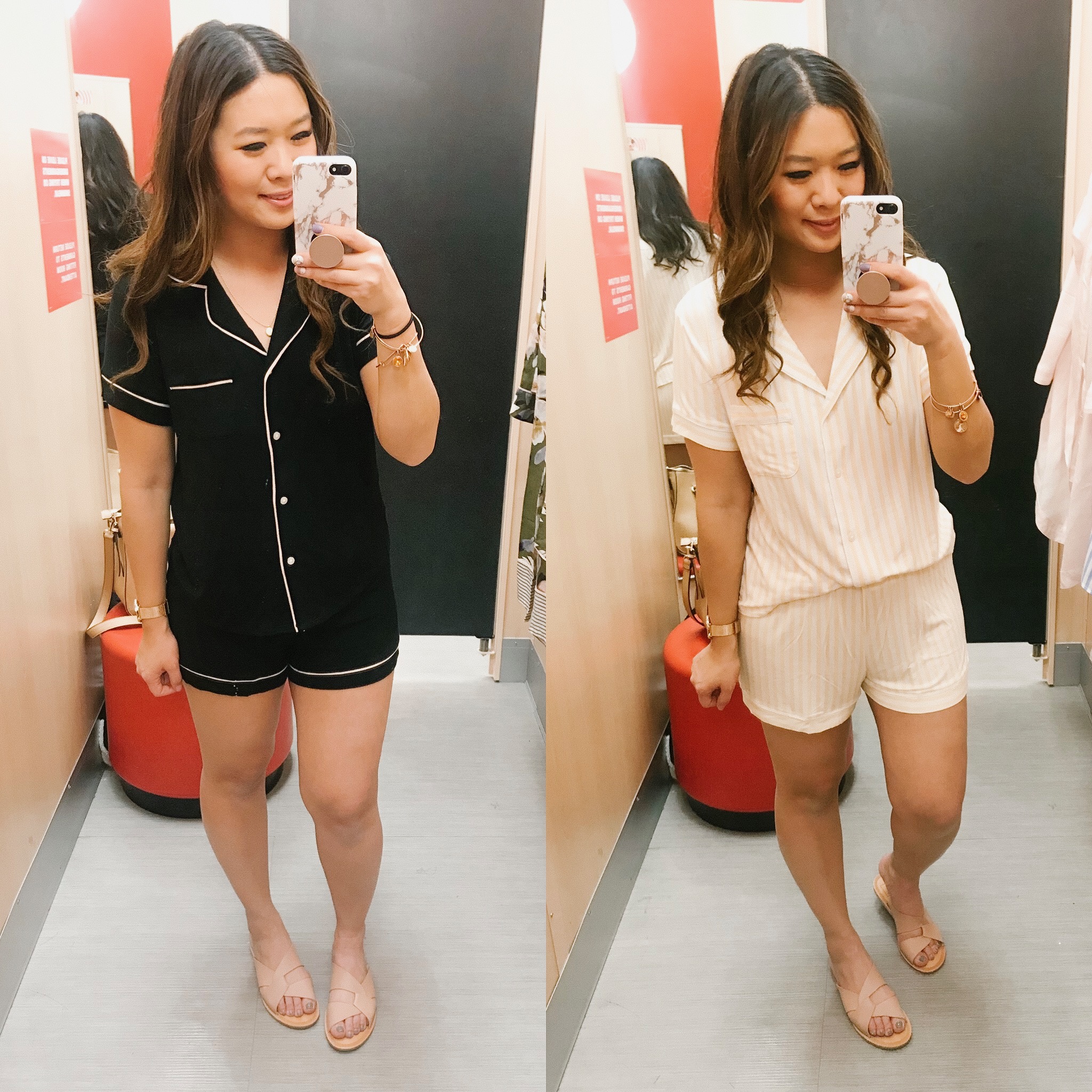 Pajama Set (S) // Striped Pajama Set (M) // Sandals (TTS) // Phone Case // Pop Socket

These PJs are almost identical to the Gilligan & O'Malley ones that have been around for a long time! You guys went CRAZY over the long sleeve version over the holidays and this pair is just as good and perfect for warmer months!!! This is pretty much my TOP pick from the line!!! Grab them for yourself, as gifts, for everyone women in your life!!! For me, size Small was more if a fitted look, Medium a bit more relaxed. I totally think that how you wear your PJs (tighter or looser) is personal preference!! NOTE: It also comes in a crop pant length if you don't like shorts!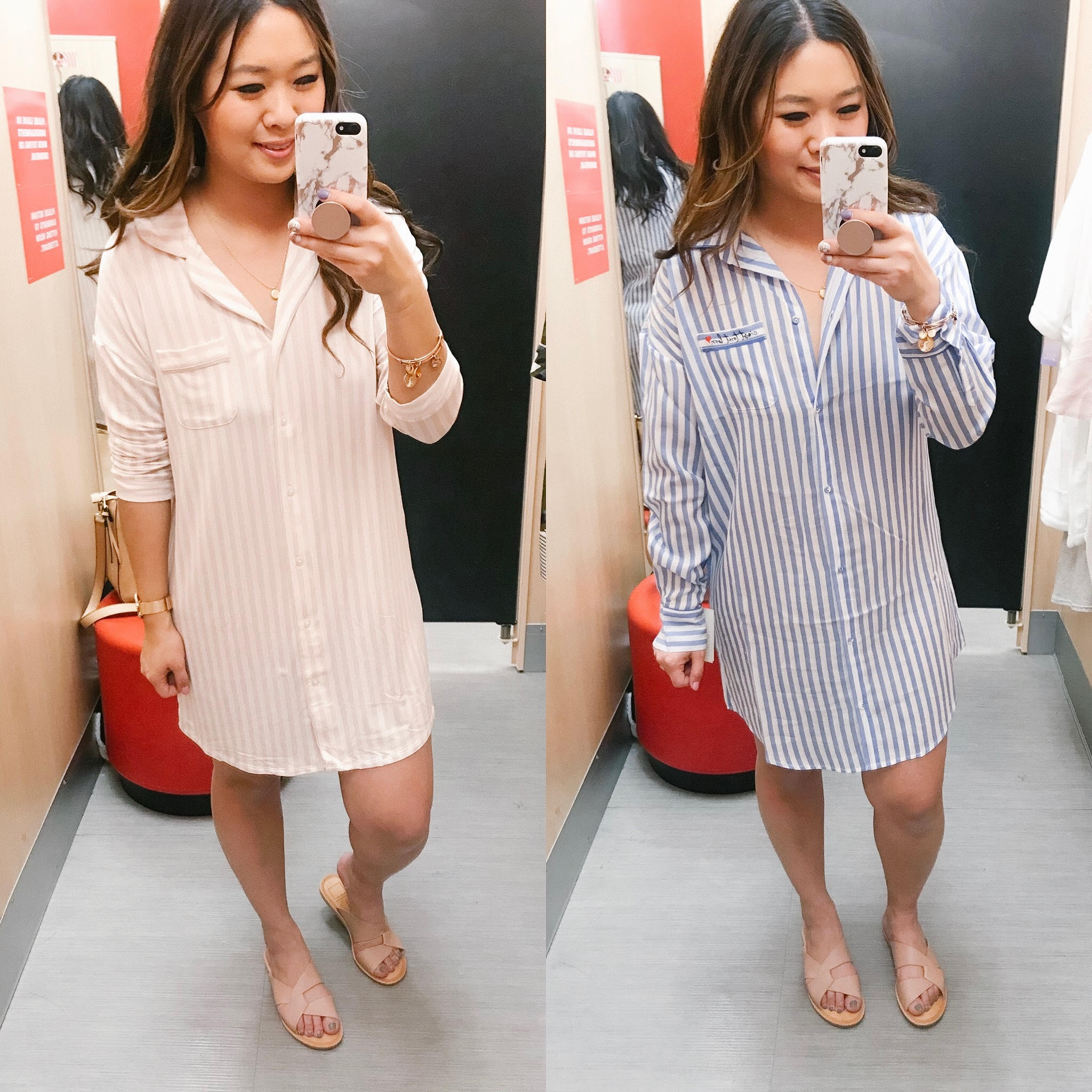 Pink Striped Nightgown (S) // Blue Striped Nightgown (S)

I'm not normally a nightgown wearer, but if I were, I would get these!! The pink one is made of the same super soft fabric and the blue one is just darling!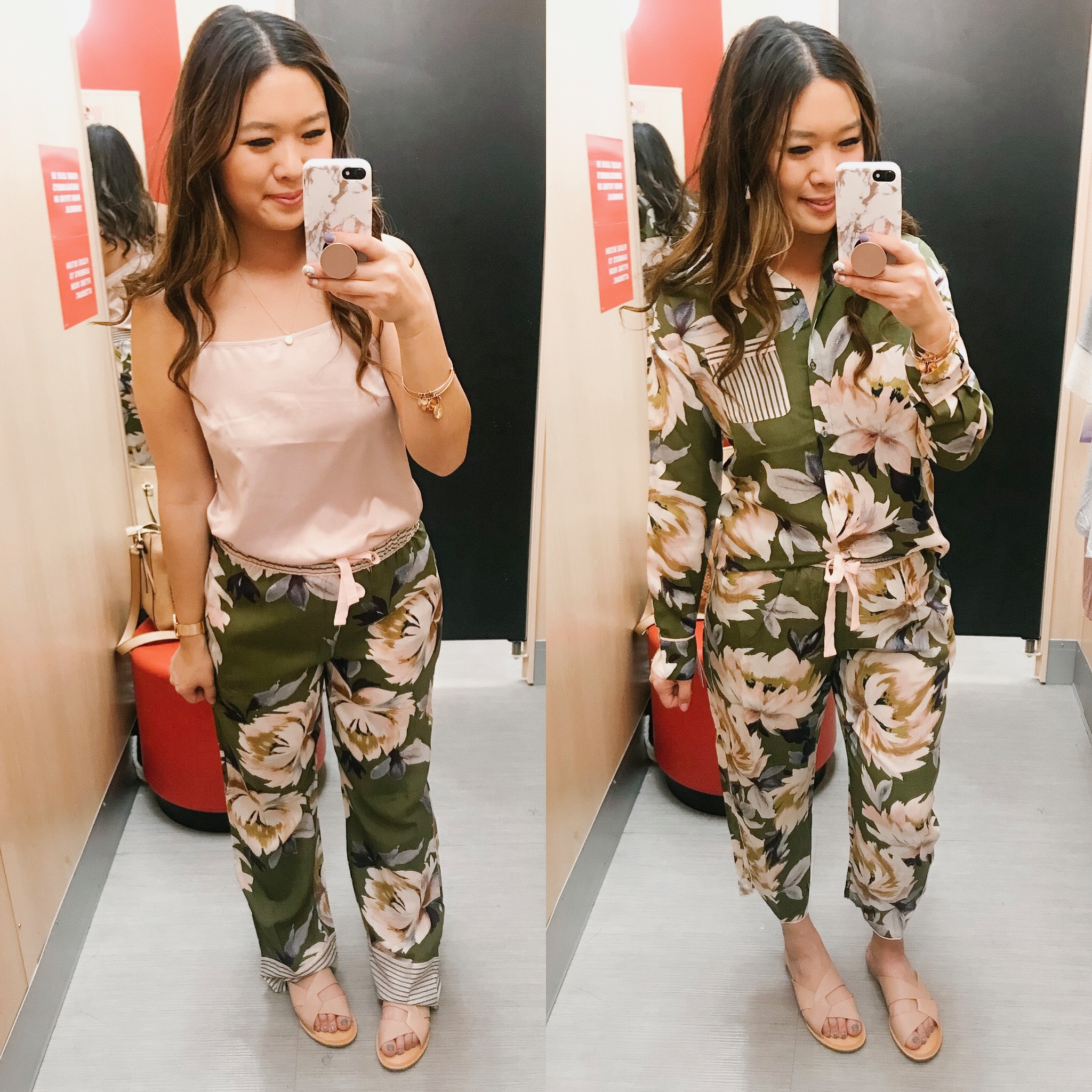 Camisole (S) // Floral Pajama Pants (M) // Floral Button Up Shirt (S) // Cropped Floral Pajama Pants (M)

I'm really digging the colors of this floral print, A LOT! In fact I love all of the pink, green and blues that this line has!!! I am 5'4″ and every single one of the longer pajama pants I felt were too long for me. So for shorter girls, stick w/ the cropped pants so you aren't tripping over yourself!!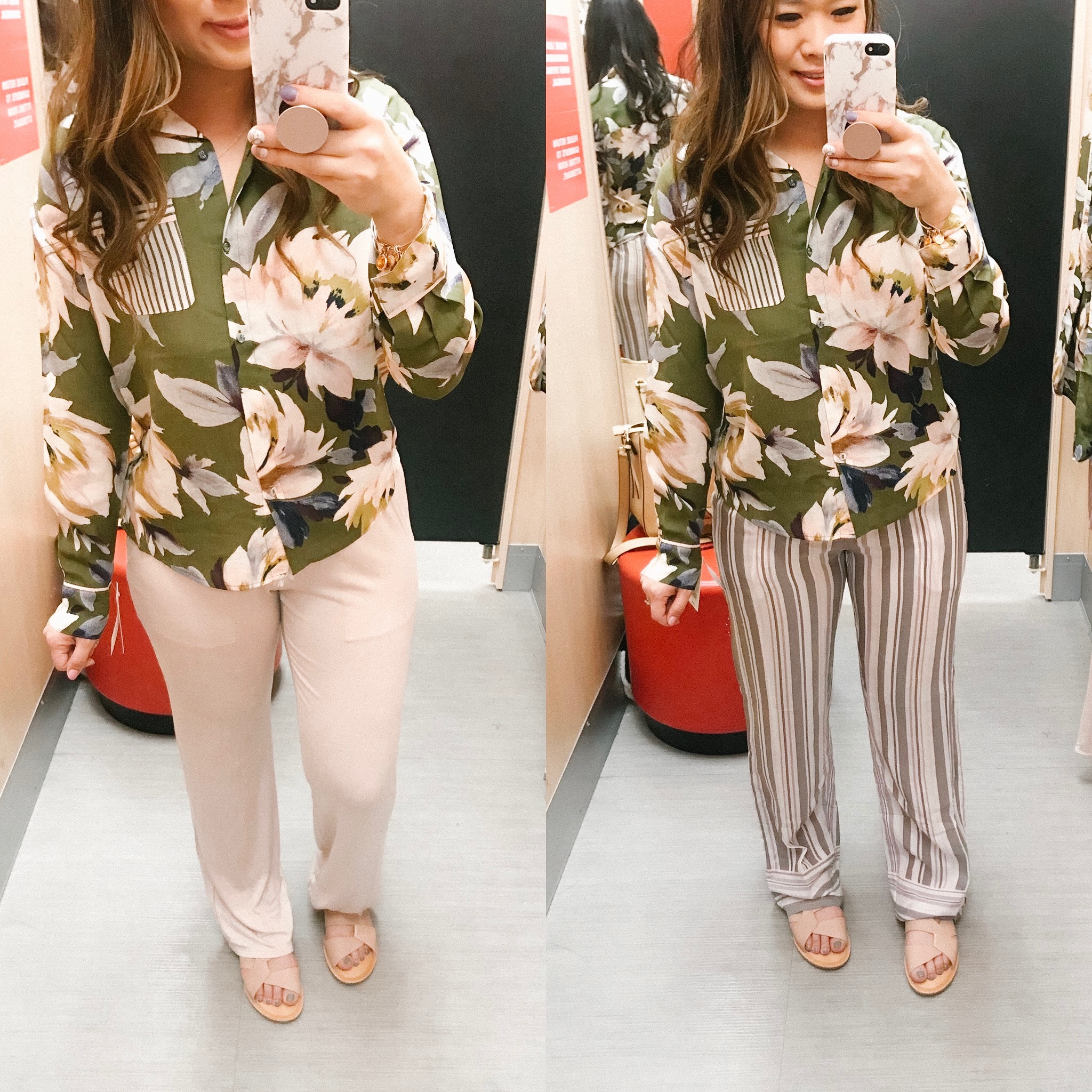 Floral Button Up Shirt (S) // Pink Pajama Pants (S) // Striped Pajama Pants (S)

Same with these – pants too long for me!!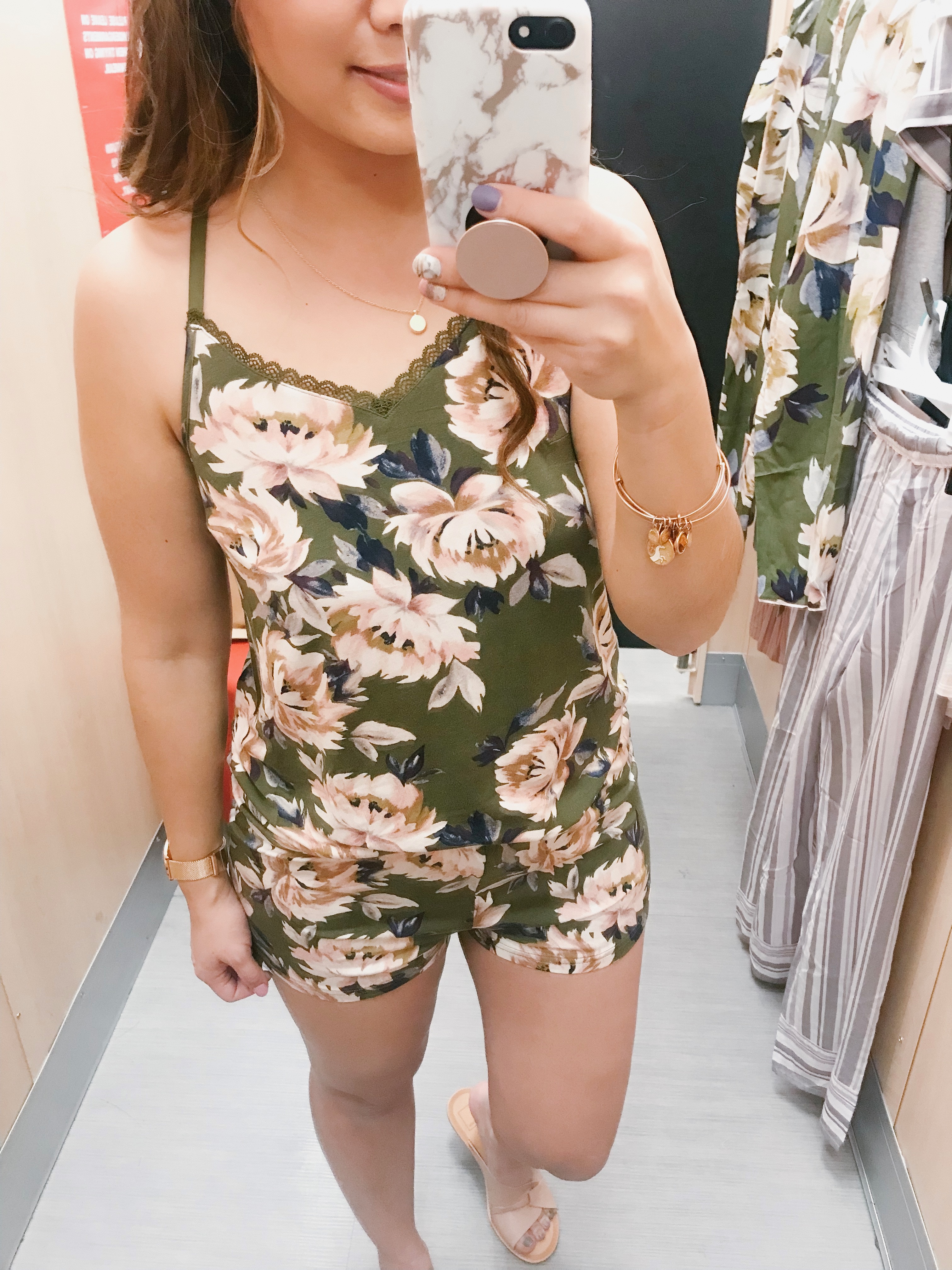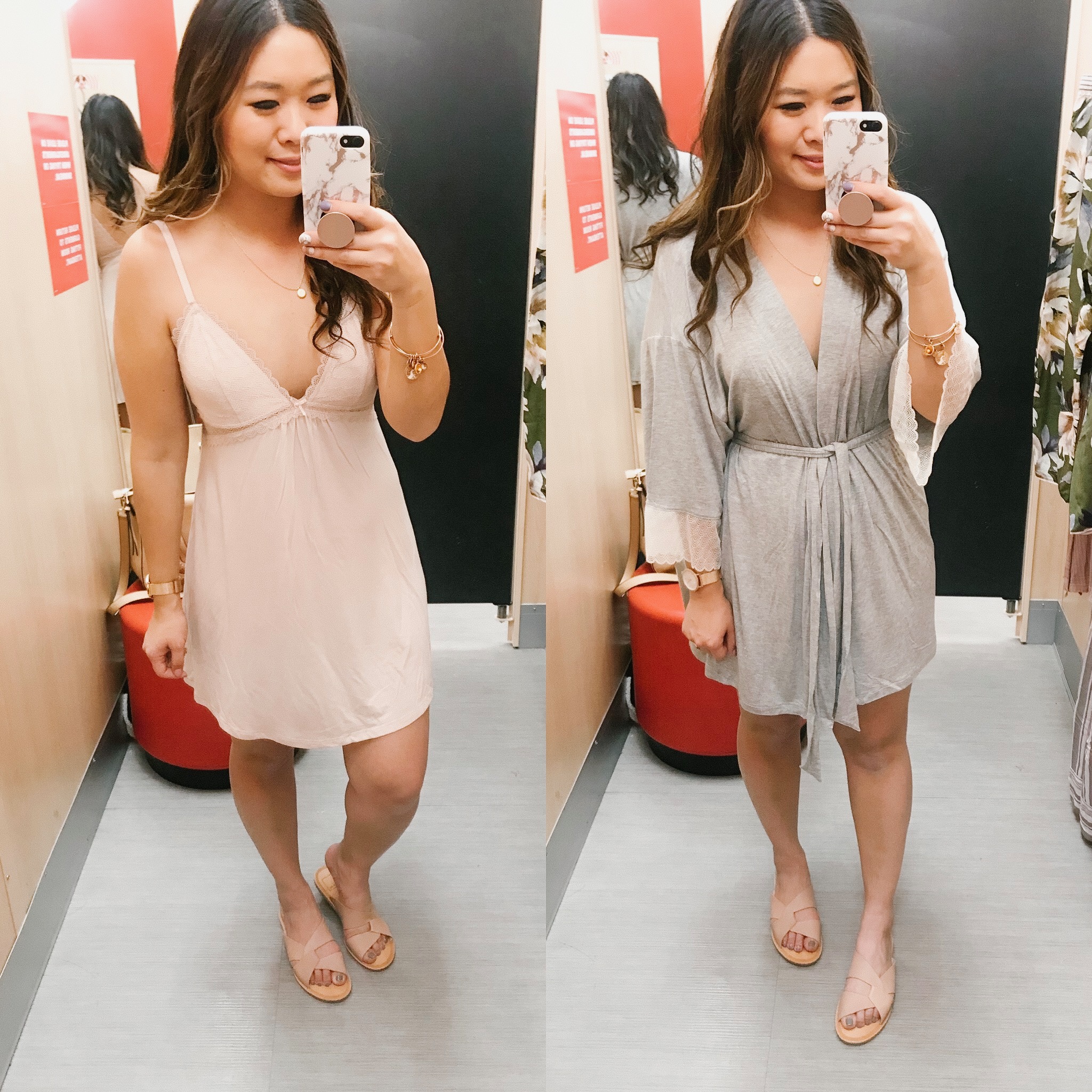 Lace Trim Nightgown (S) // Lace Trim Robe (XS/S)

The lace trim robe is my TOP PICK for a Spring/Summer robe! In fact, I definitely took home the grey! That white lace trim detail is SOO pretty!!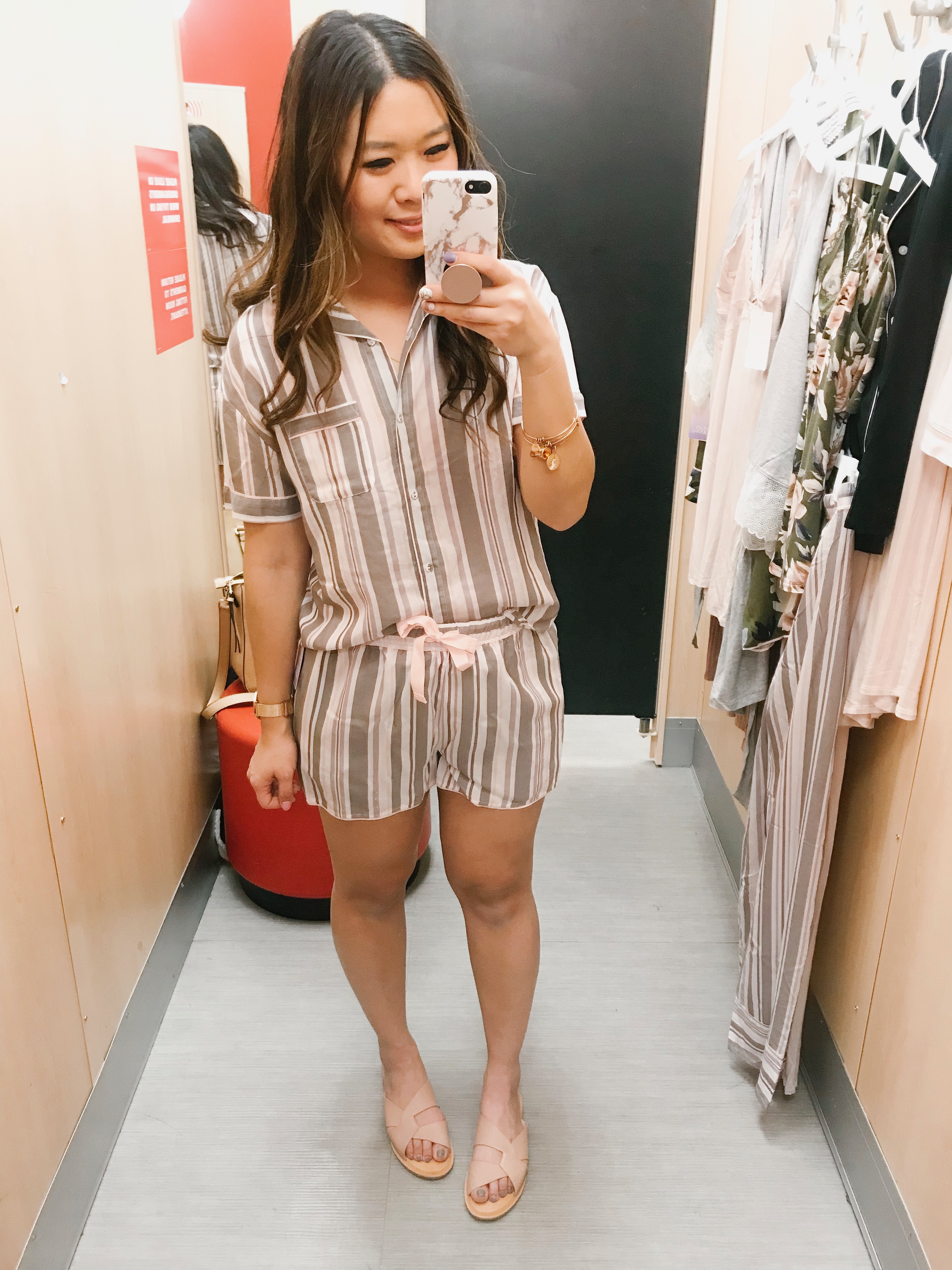 Striped Button Up Shirt (S) // Striped Pajama Shorts (M)

For the "Simply Cool" line, this set is my TOP PICK! I am obsessed with the stripes and colors in this and the fact that you can buy them as SEPARATES is great especially if you are a different size on top and bottom!!!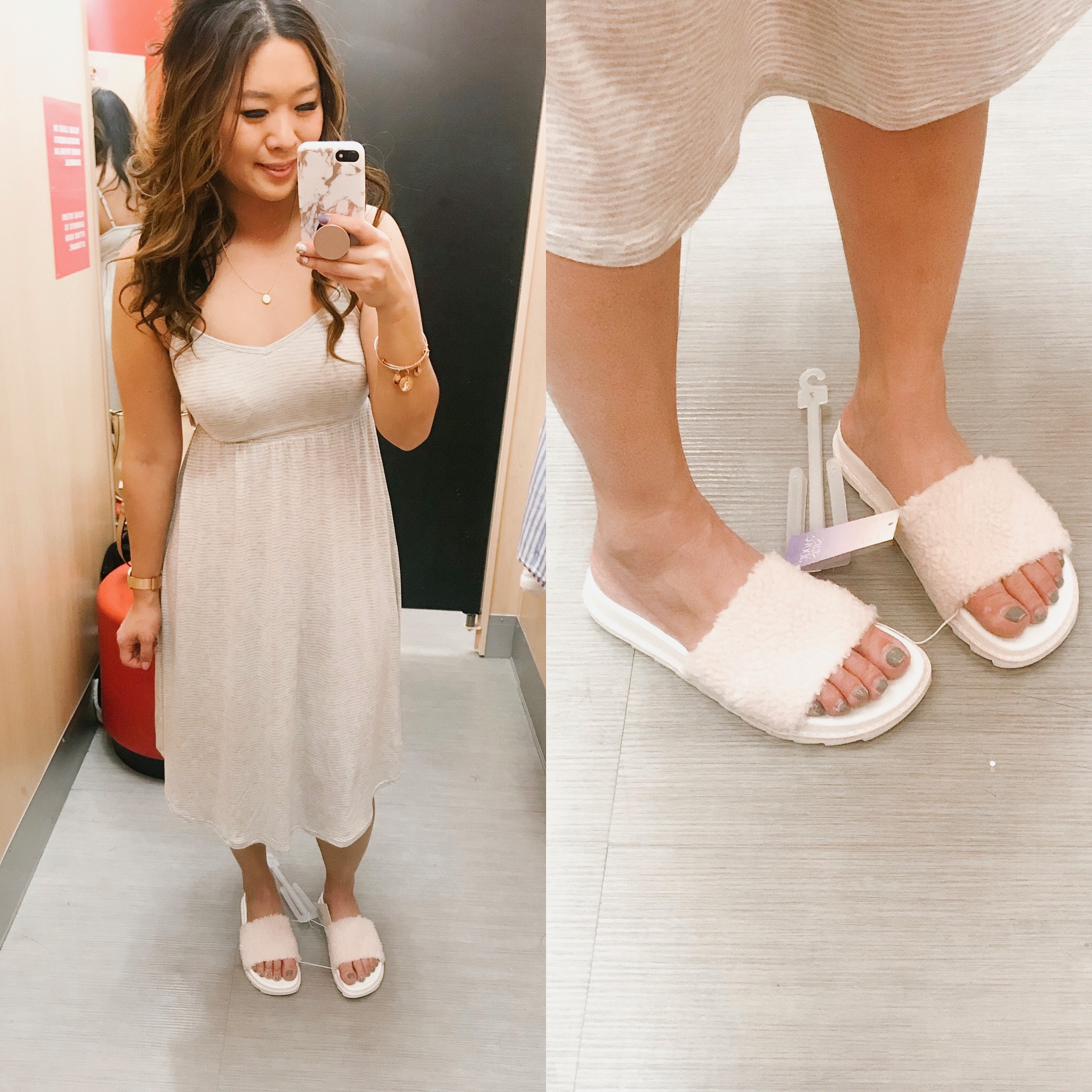 Striped Nightgown (S) // Slippers (Not online yet, size down)

The dress was comfy, but just not really my style. It is a tad long too. But oh my, these slippers are SO comfy and the pink fur is adorable!! Find them in your store!!
Striped Satin Robe (XS/S) // Satin Pajama Shorts (M) // Bralette (S)

I will get to my thoughts on Auden a little bit later, but I am SOO happy they have some affordable cute bralettes!! The line has a few satin sleep sets as well that are of course super soft (but not my personal style).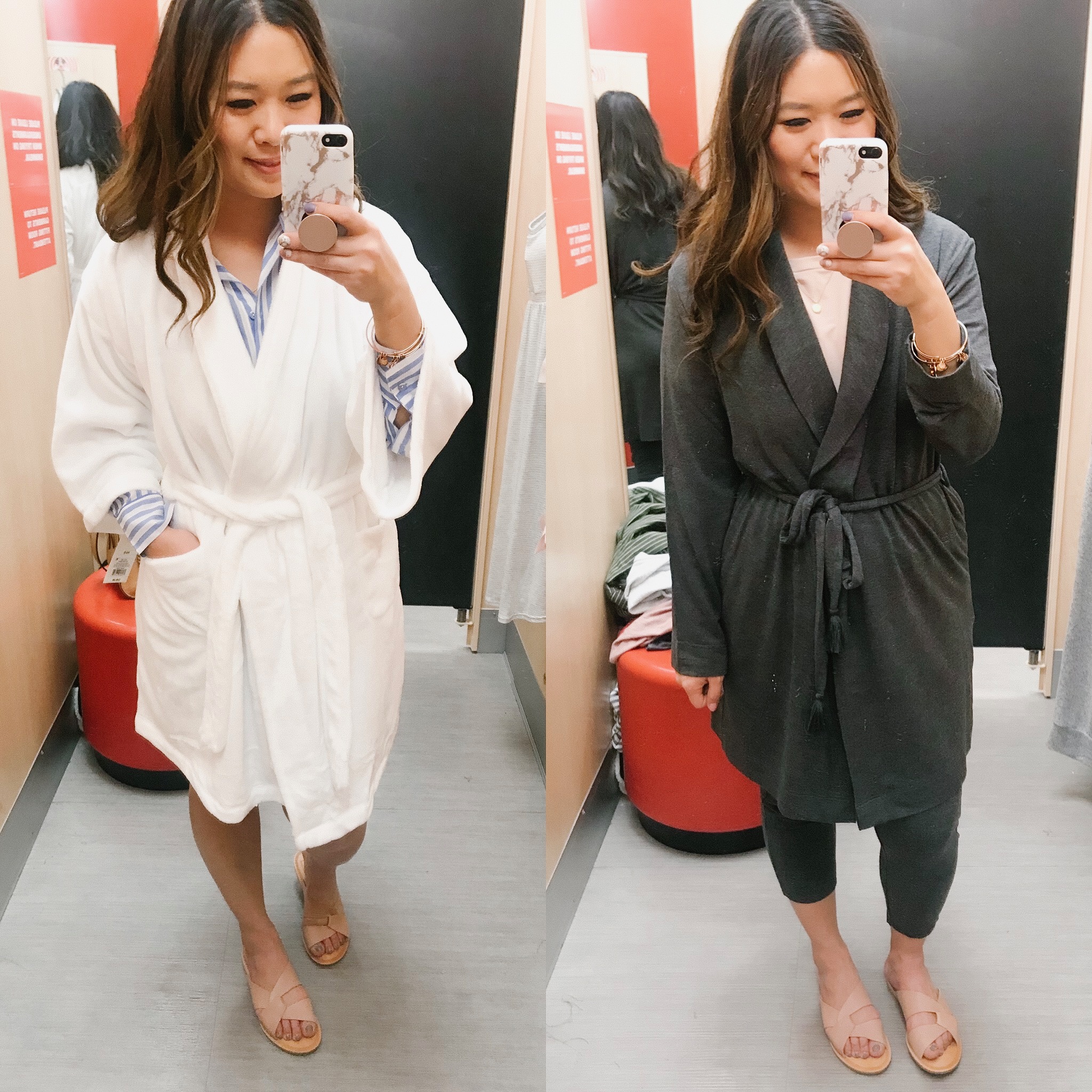 White Robe (XS/S) // Grey Robe (XS/S)

More robe love!! Can't go wrong with either of these!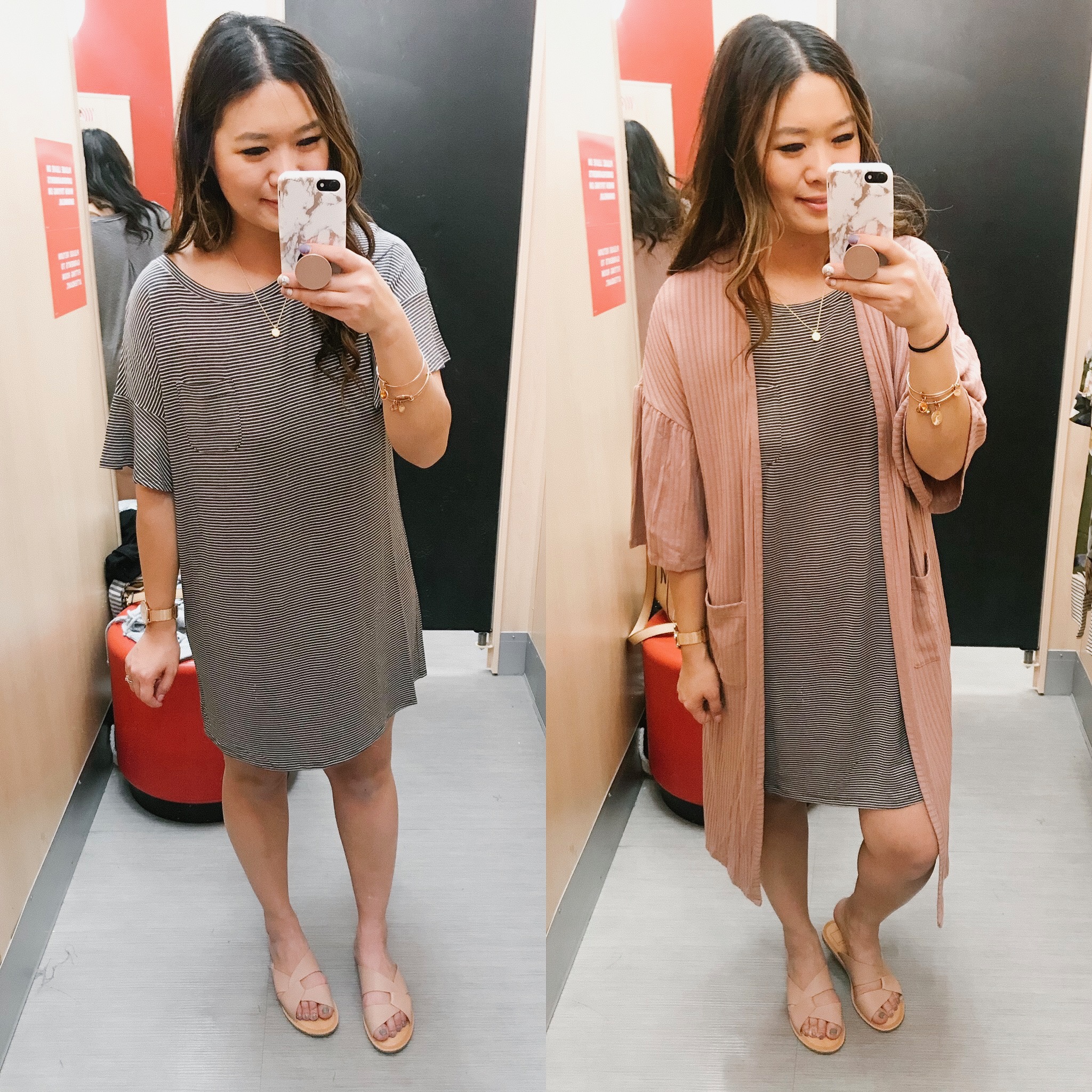 Striped Nightgown (S) // Ribbed Robe (XS/S)

And now we get into what I consider to be Loungewear (although I feel like they could also be Sleepwear too), just whatever you are comfortable with!! I totally think that this nightgown can be worn out as a dress!! It's os darling and comes in solids and stripes!! And the ribbed robe I thought was a longer duster cardigan that you could wear out too, HA!!!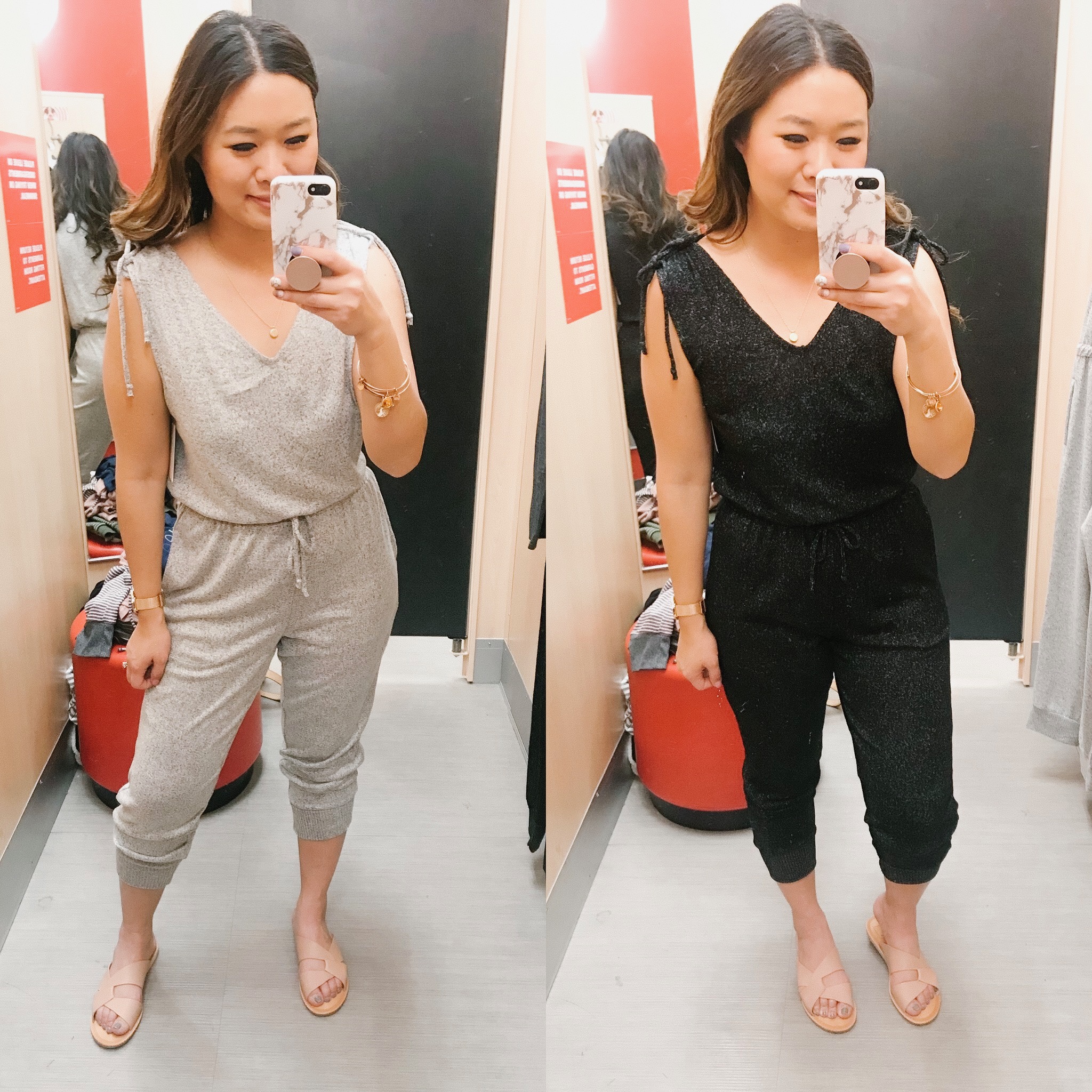 Jumpsuit (S in light grey and XS in dark grey)

GRAB THIS JUMPSUIT NOW!!! It's a dream, and such a good one for a jumpsuit lover like me!!! I would say it runs true to size, but size down if in between. Like I am typically between Small and Medium in jumpsuits and the Small definitely has a little bit of a relaxed fit, that I like!! I even tried on the XS but thought it was a TAD too fitted for me. I am going to LIVE IN THIS!!!!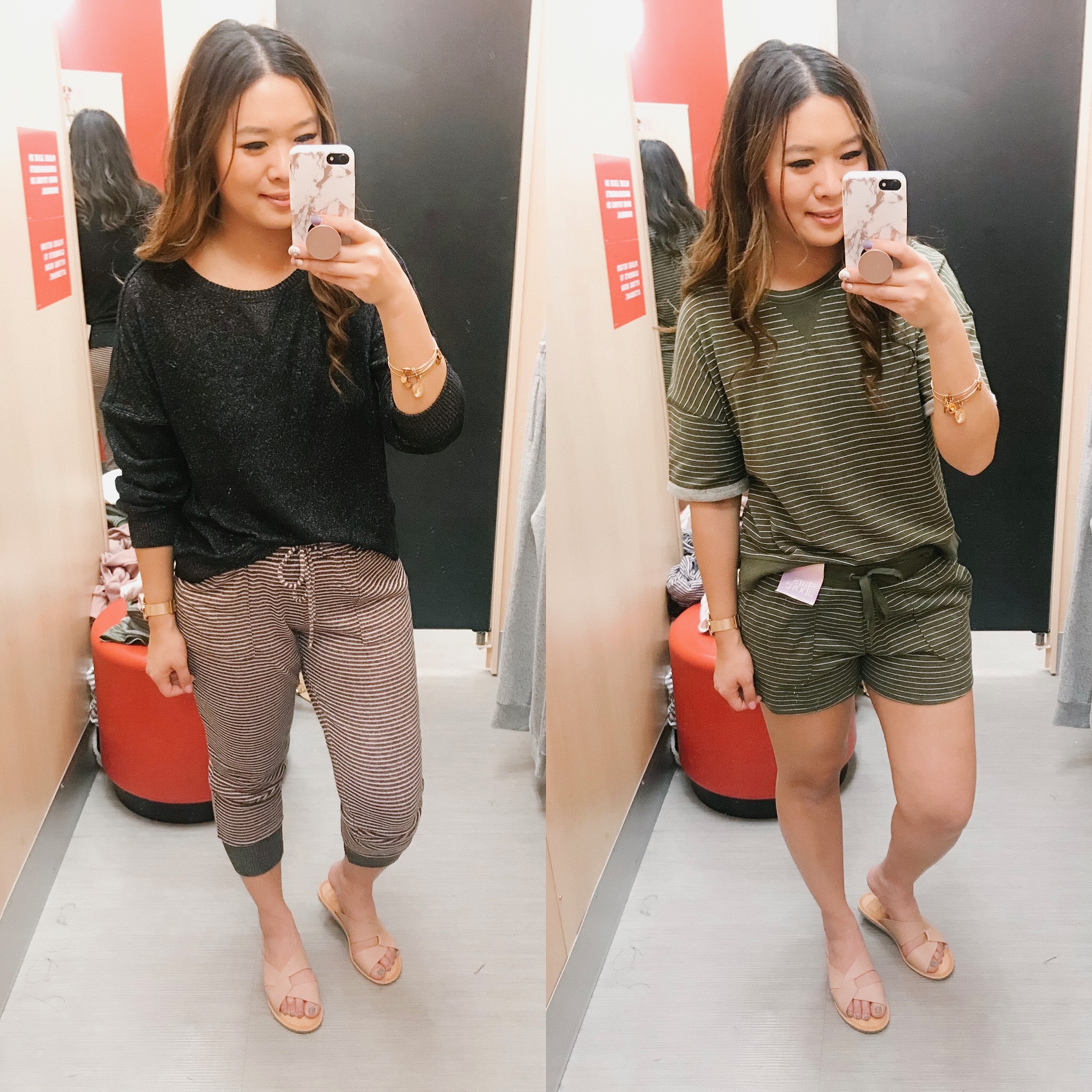 Sweatshirt (S) // Striped Joggers (S) // Short Sleeve Striped Sweatshirt (S) // Striped Lounge Shorts (S)

The left outfit is totally my jam and I love the joggers!! They come in some solids and stripes!! The green set is more of a fleece material and although comfy, is not really my style.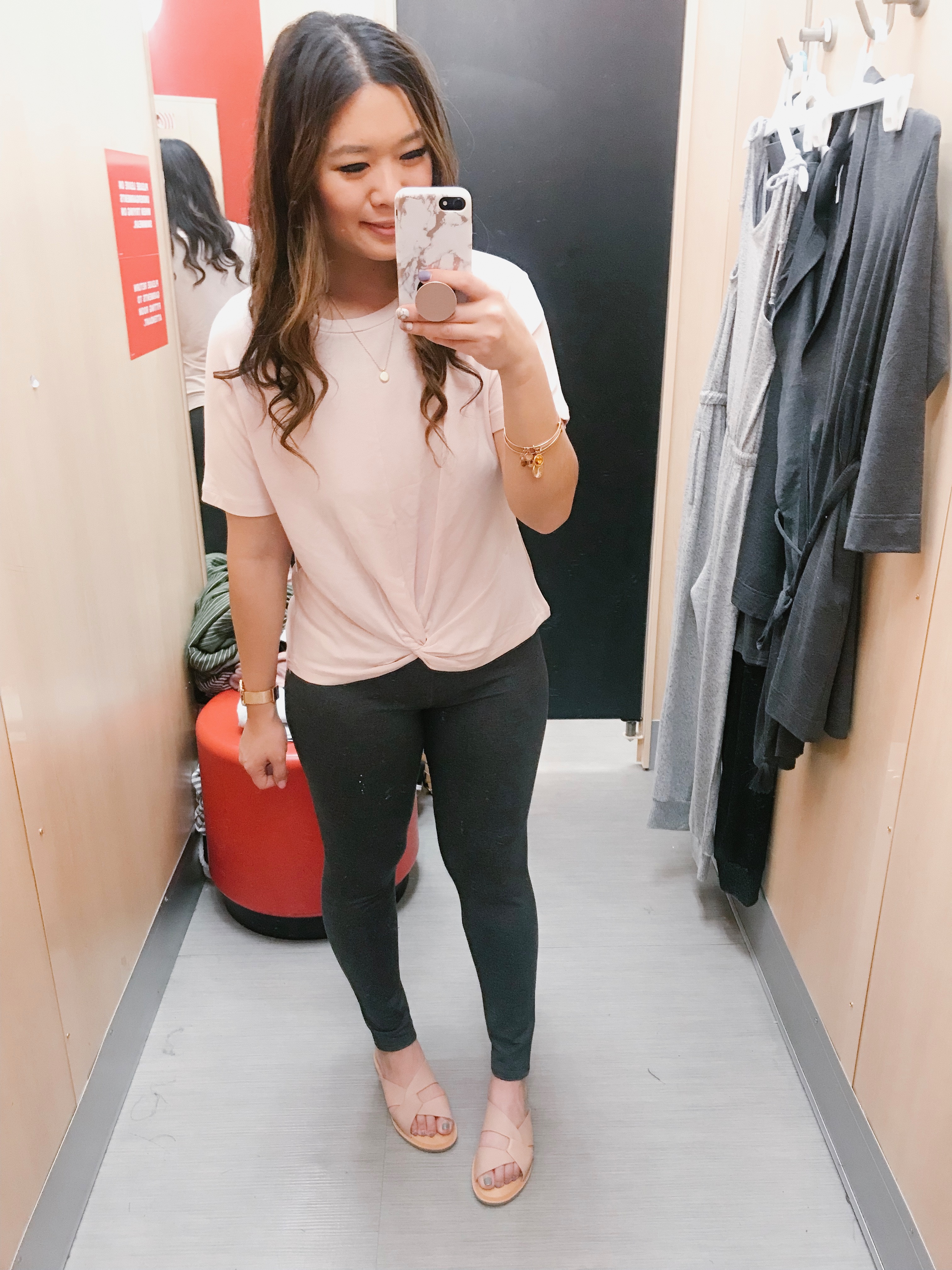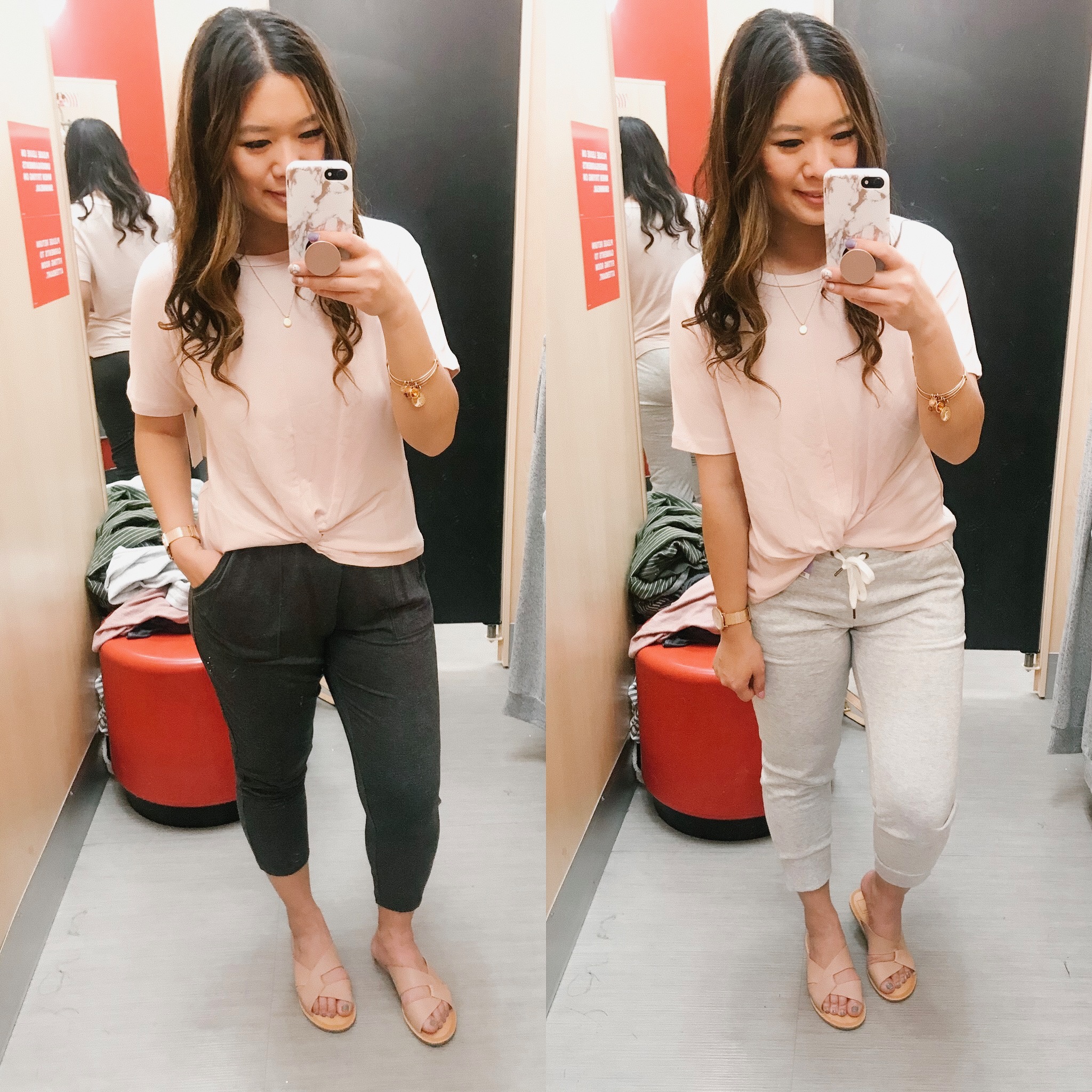 Knotted T-shirt (S) // Leggings (M) // Dark Grey Joggers (S) // Light Grey Joggers (S)
This is considered a sleep shirt, but I swear you could style it with jeans too!! These leggings are comfy (but we all know there are a million good leggings out there) and of course, joggers are life.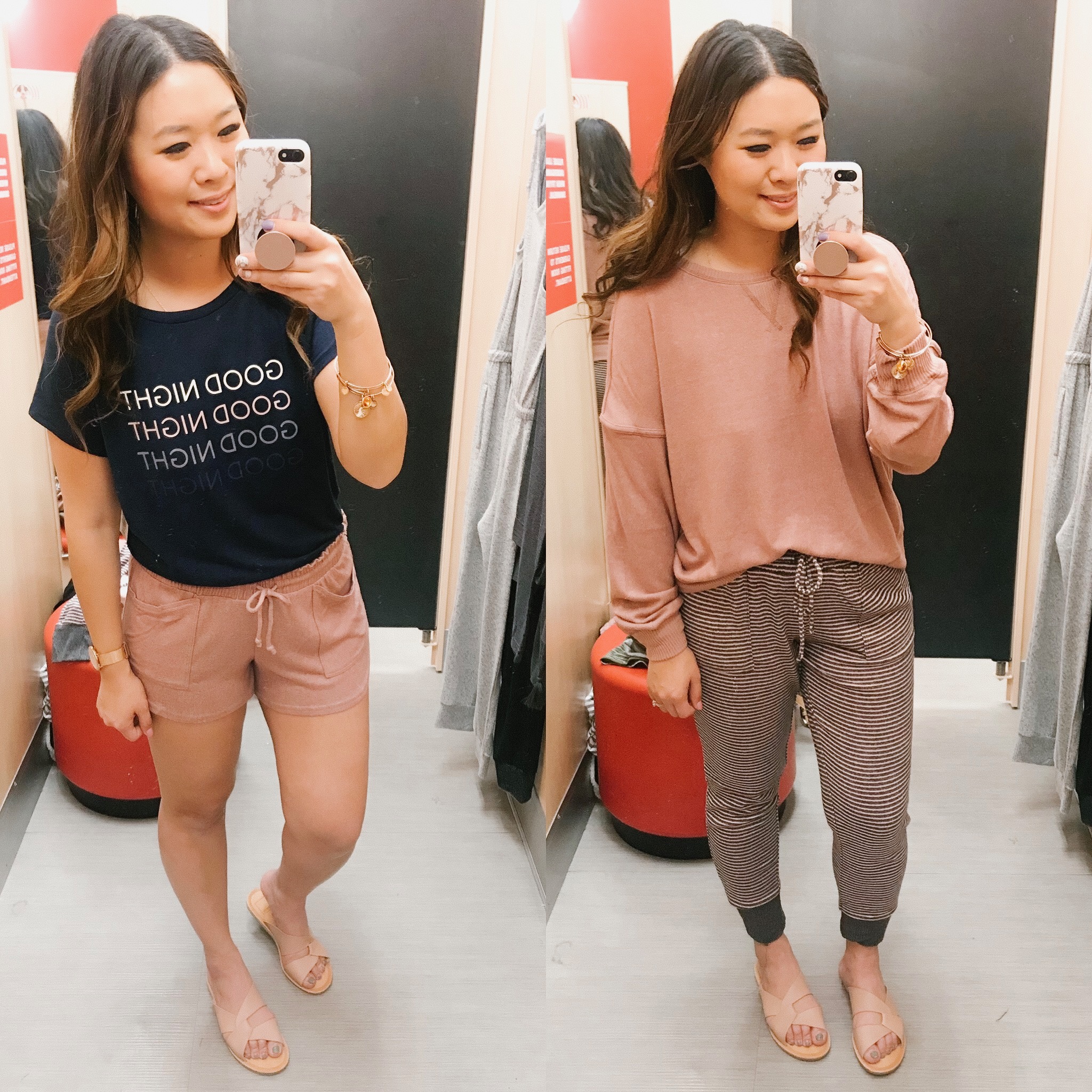 Good Night Shirt (M) // Pink Lounge Shorts (M) // Pink Sweatshirt (M) // Striped Joggers (S)

Both of these sleep/lounge outfits came home with me!! Love them and totally think they can be worn out – in fact I wore the right outfit out all day today!!! 🙂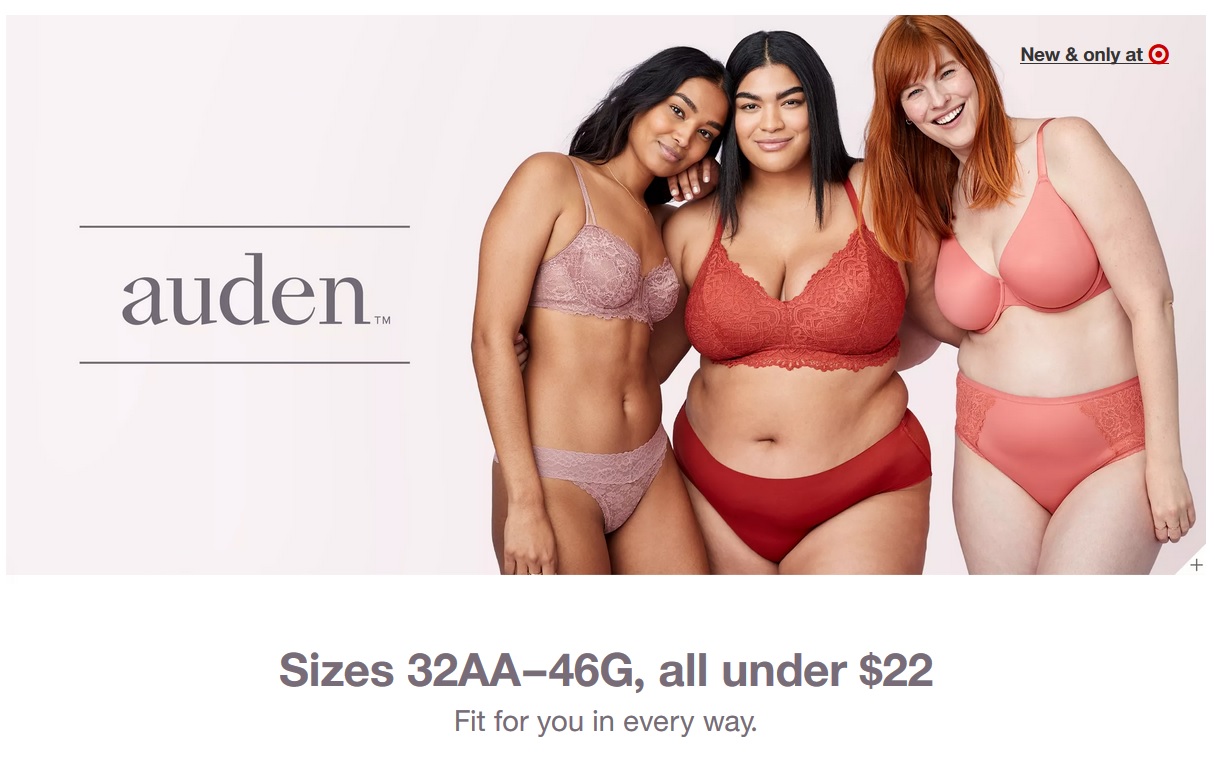 And now the Auden line – you guys, this bra and underwear line rivals very popular competitors with the fit, styles, and even the look of the setup in the stores! But THE BEST AND MOST IMPORTANT thing about the line, in my opinion, is the size inclusivity. I have heard from women who have larger chests that they have struggled with finding affordable, cute bras, and this line goes from 32AA – 46G and there is plus size too.
Here are some of the most popular bras/bralettes, ones that caught my eye:

Also for underwear, I am super boring and just like seamless nude colors so I just literally bought like 5 of these in both colors. They have a promo right now that you can buy 5 pairs of single underwear for $20 (normally would be $25)! This discount is applied at checkout!
And lastly, the Colsie line is a Junior's Loungewear line and it personally is not my style. The only thing that caught my eye was this striped button up top! And there you have it! Congrats Target on this new launch!!
Would love to hear your thoughts!!!