It's that time again for a new Target Style Try On Haul!! This time I am sharing a few new cute things that are great for everyday, a little dressy, Memorial Day, and more! Note: My sizes were not available in a lot of the pieces, but I am noting what size I think would fit best for me for those items that I couldn't get in my size!
Cami (XS – need S) // Pants (M) // Cardigan (XS) // Denim Shorts (8)

I am 100% loving this new olive green + leaf print that just released at Target. The store only had an XS in the cami, but I ordered it in a Small, I'm excited to add it to my cami collection as I don't have anything like it! The pants are nice and flowy and have pockets, but just too long for me (5'4″), would be great if you are taller though! The cardigan is a good one and although I normally get size Small on cardigans, I sized down to an XS and like the fit. It comes in this Coral color and White color and has good reviews!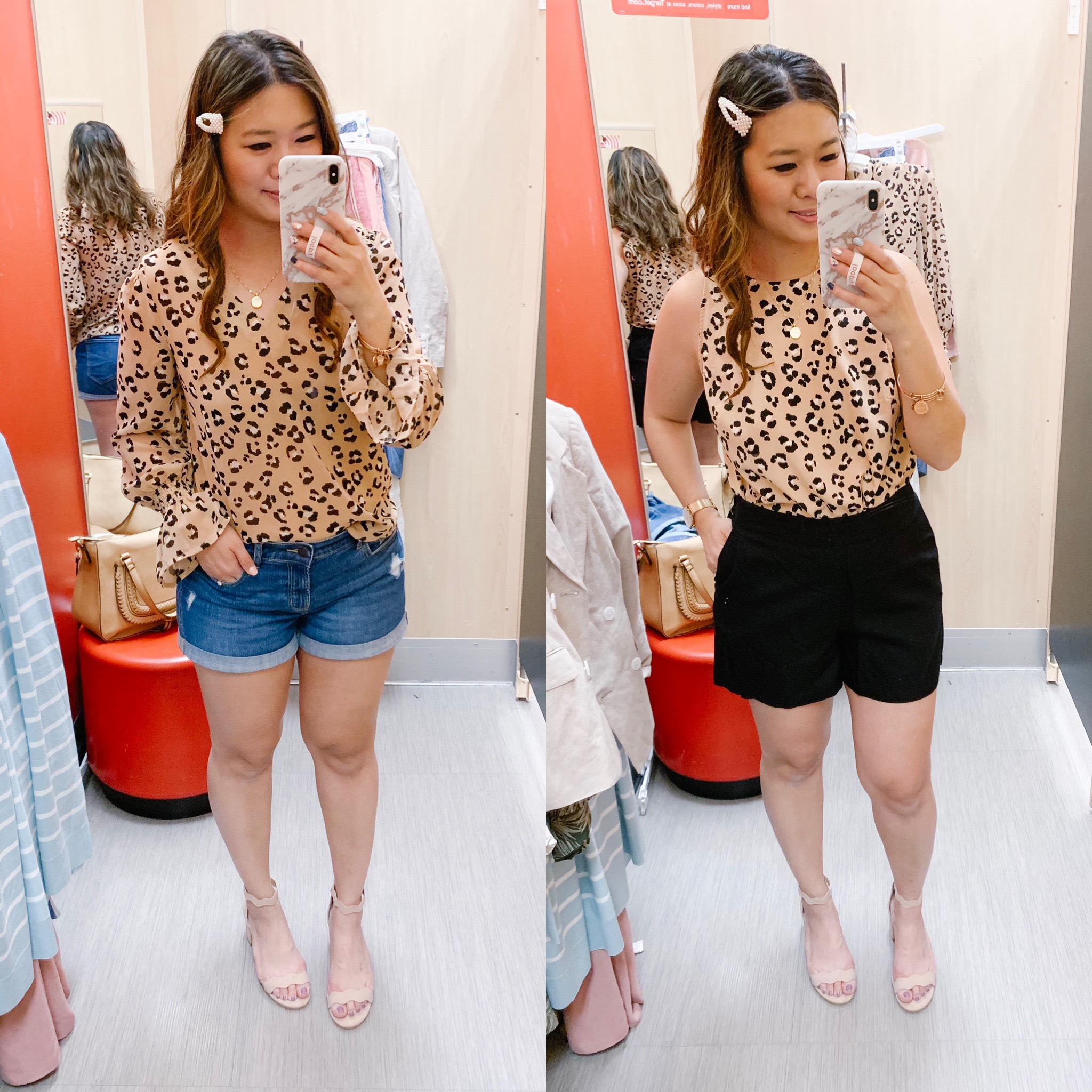 Leopard Top (XS – need S) // Leopard Tank (M – need S) // Denim Shorts (8) // Pull-On Shorts (M)

Other Leopard Print Options

This new leopard print is GOOD, really good!! I love the tones to the colors and the actual print. You guys know I have a thing for all things leopard!! This leopard top is beautiful, I love the sleeve detail! It's a bit on the thin side and it looks sheer on the hanger, but not on me! You could wear a cami under if you are worried, but I think it's fine without one. You could wear the top for work or for going out!! This leopard tank is a bit of a dressier material so I think it would be great under a cardigan or under a blazer for work! This leopard print tee is ALL OVER INSTAGRAM, but it's selling out fast (I would get a Small).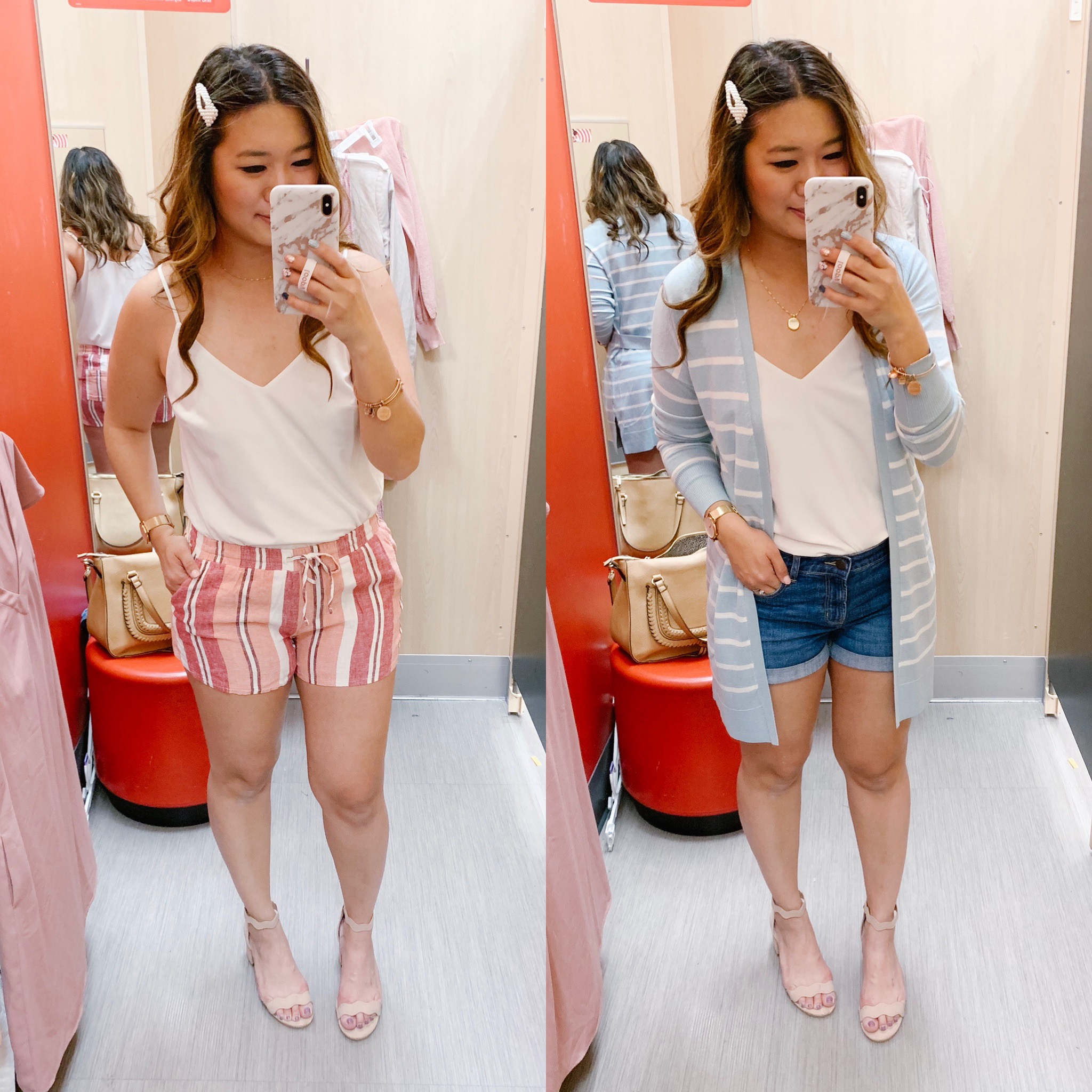 Cami (S) // Shorts (XS, need M -This color is not available online but linked a different color, Plus version is online) // Cardigan (S) // Denim Shorts (8)

If you are just looking for an everyday cami, this one is affordable and comes in a few color options. I love it paired with these shorts, this color is not online yet, but I will let you know when it is. I definitely need a Medium in the shorts and I am just obsessed with the colors!! And hello new beautiful turquoise cardigan!!! The black and white striped one (which is still in stock) is one of my all time fave cardigans and it has SOOO many great reviews!!! The turquoise one is made the same and it's beautiful for Spring/Summer!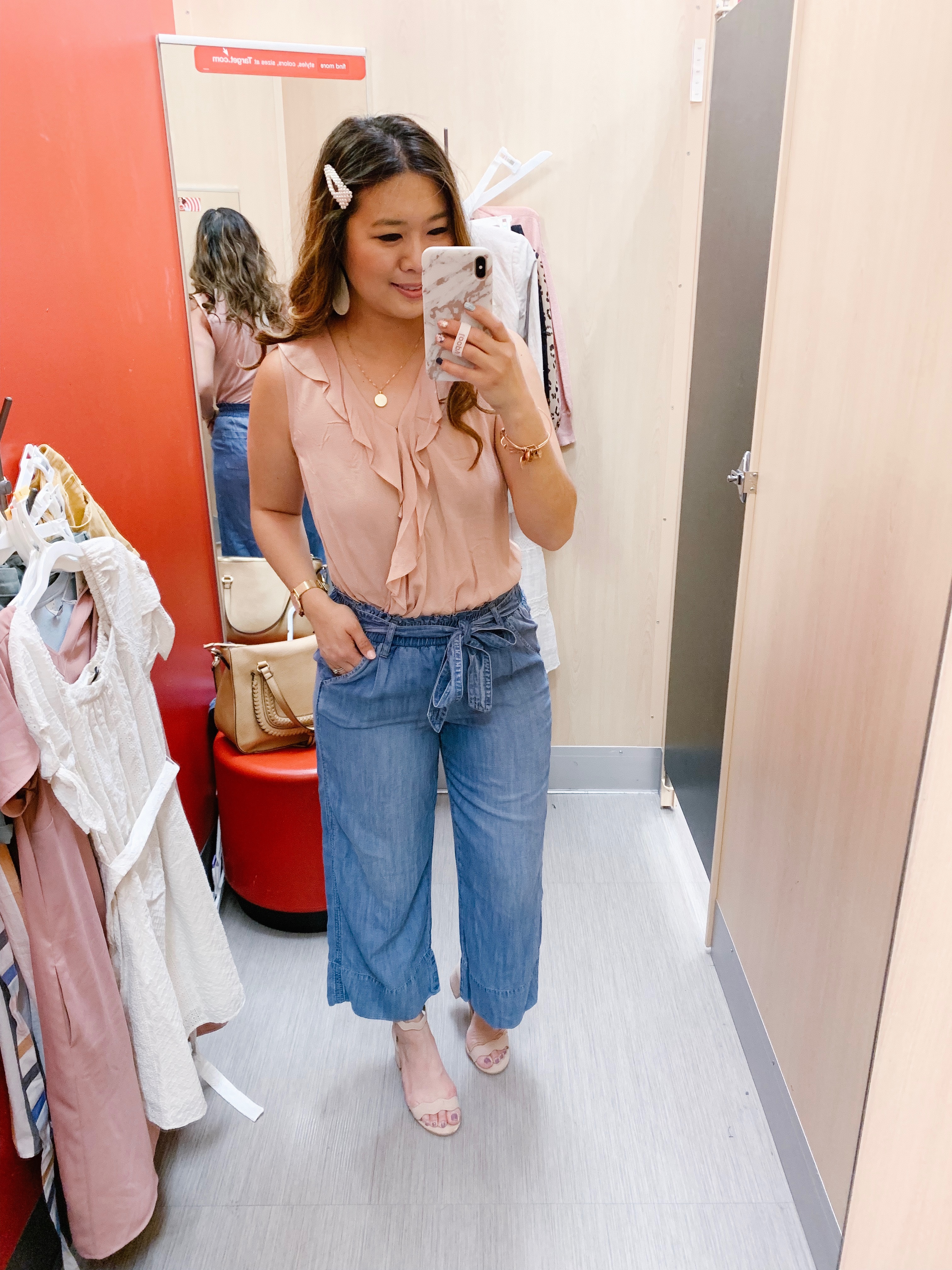 Ruffle Top (M – need S) // Pants (S – need M)

This top was one that I was eyeing on the website before going to the store. I love the ruffles, the color and it has a hook at the top. It is a bit of a thinner material, but think lightweight for Spring/Summer! And these chambray pants are similar to the LOFT pair I tried on before, but I love that these are cropped and the tie in front is fun!! You could tuck in lots of different tops into the pants! The price point is pretty good on these too!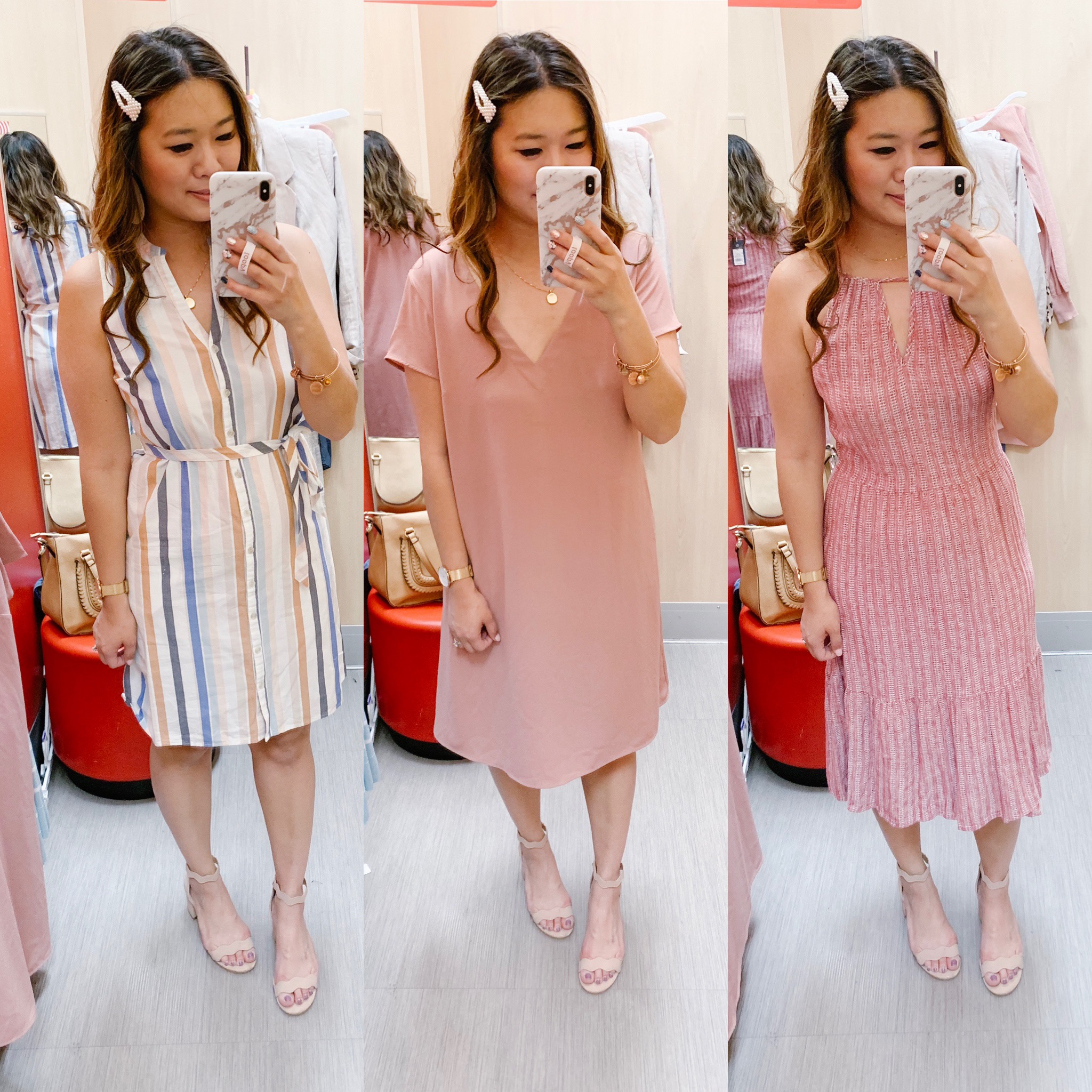 Striped Dress (S – Skirt in the same print) // Pink Shift Dress (M – need S) // Red and White Dress (S)

I absolutely LOVE the stripes on this dress! A size Small works, but if curvier, you may want to size up one! It also comes in a skirt too (reviews say to size up)! I am loving the middle pink shift dress because it's a great staple you could do a lot with! You can wear it for work or date night!! I grabbed a size Medium, but definitely think a Small would be better, and it has pockets, YAY! The red dress would be the perfect dress for Memorial Day!! The only thing is that it is kind of made of an interesting knit material, but overall I love the style and think it would be cute with wedges and a floppy straw hat!
And now on to my what I thought I would really love pieces, but did not work out so well for me personally.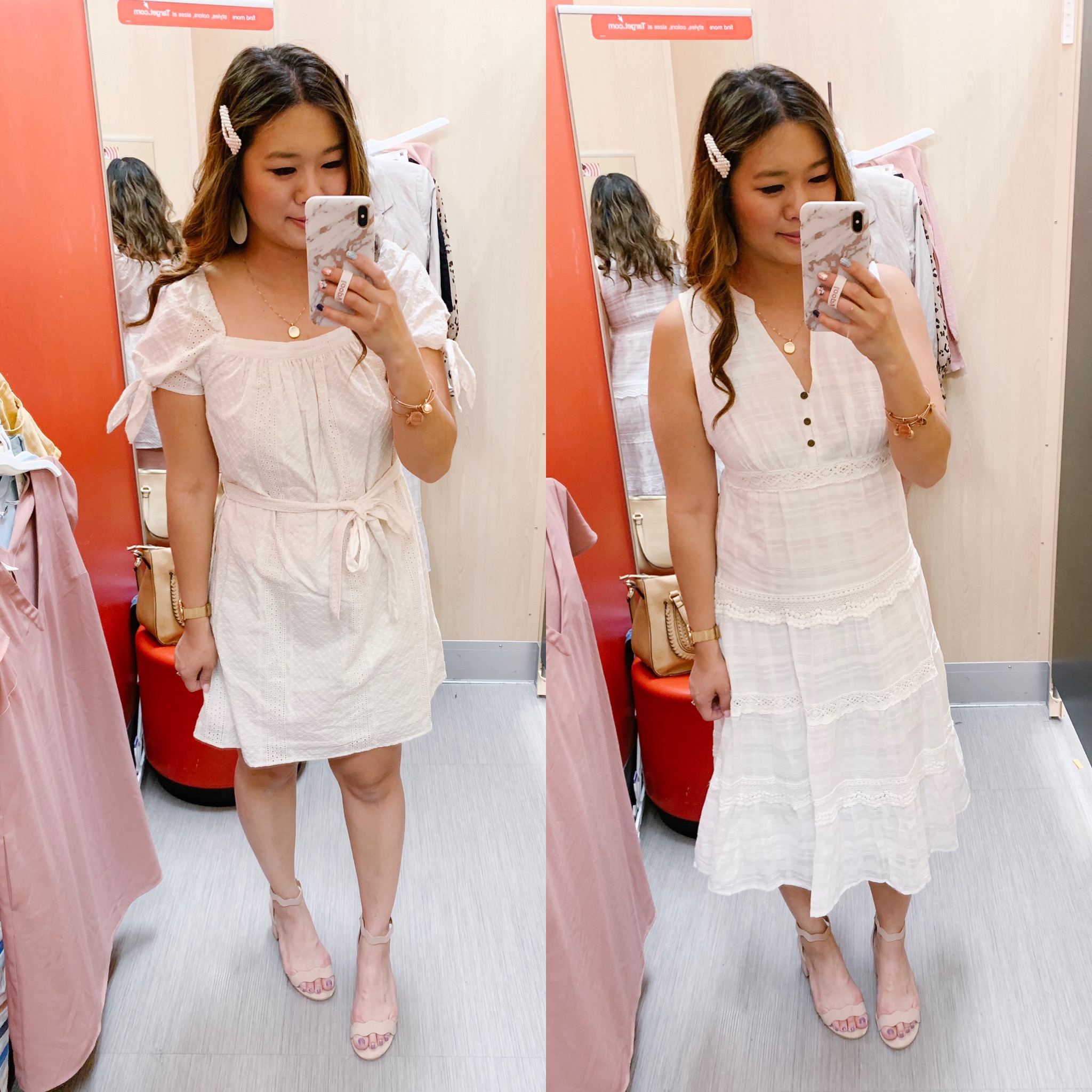 Square Neck Eyelet Dress (S) // Lace Trim Maxi Dress (XS – would get S)

I love the idea of the square neck eyelet dress (and it comes in black too), but there is just something about the material I think would wrinkle easily and I just didn't LOVE this one. The maxi dress on the right is very similar to more expensive dresses! I was super excited about this piece, but there is something about the section around the waist that I don't think it super flattering. Maybe that section is longer/wider than the rest, I can't quite pinpoint it, but I did order this to my house and will probably return it. Also, in some of the reviews, people noted it was sheer.
Try On Accessories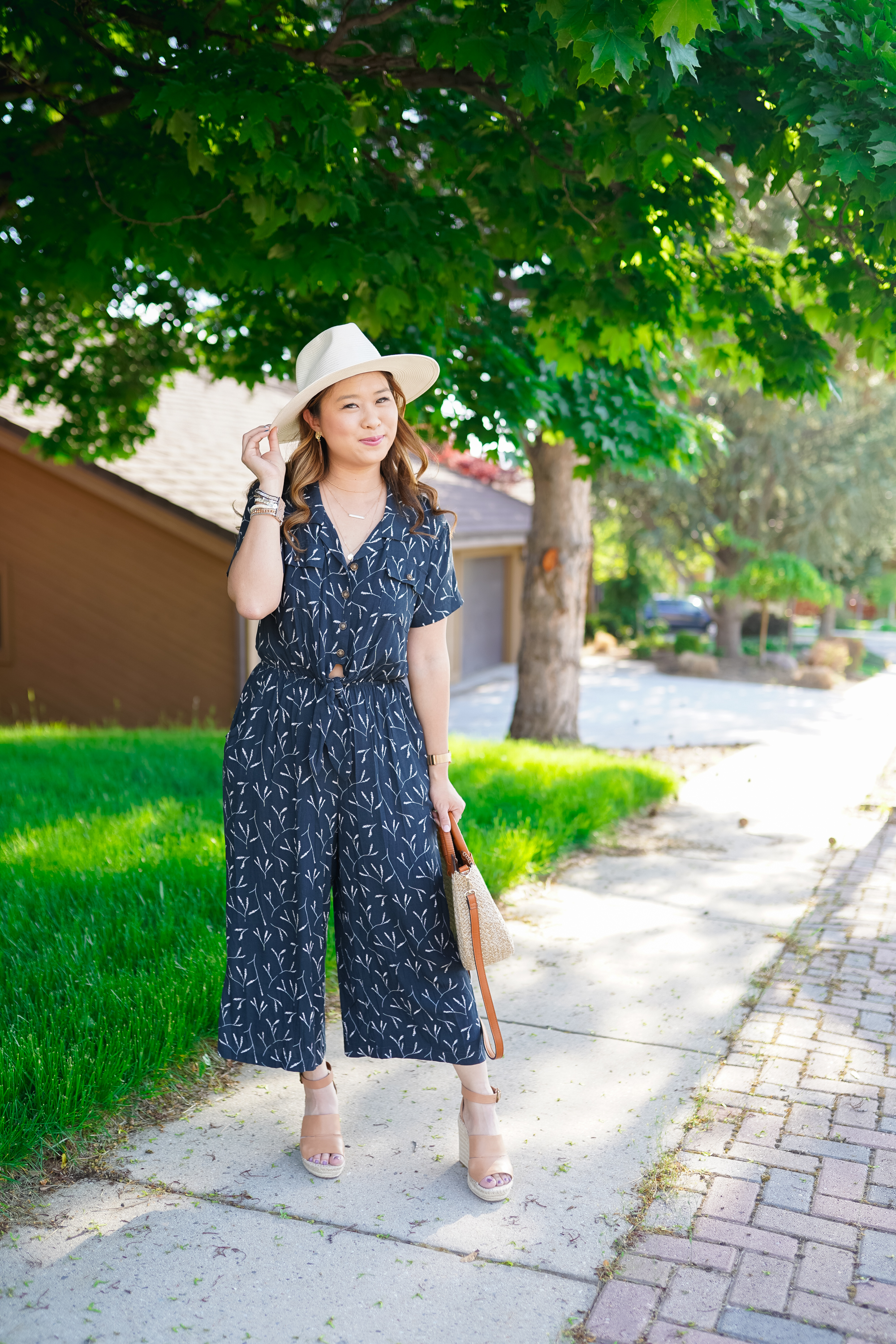 Jumpsuit (S – other print here) // Shoes (TTS) // Bag // Hat (15% off w code ALAMODE15) // Earrings (15% off w code ALAMODE15)// Necklace // Bracelet

I also just wanted to share this jumpsuit from one of my previous Target try on hauls! I absolutely LOVE it and just wanted to share how I styled it. A follower also let me know that it comes in a navy blue / different print as well and I think it's just as lovely! I wear these in size Small, LOVE the wide leg, pockets, and just how high end the jumpsuit feels, really!!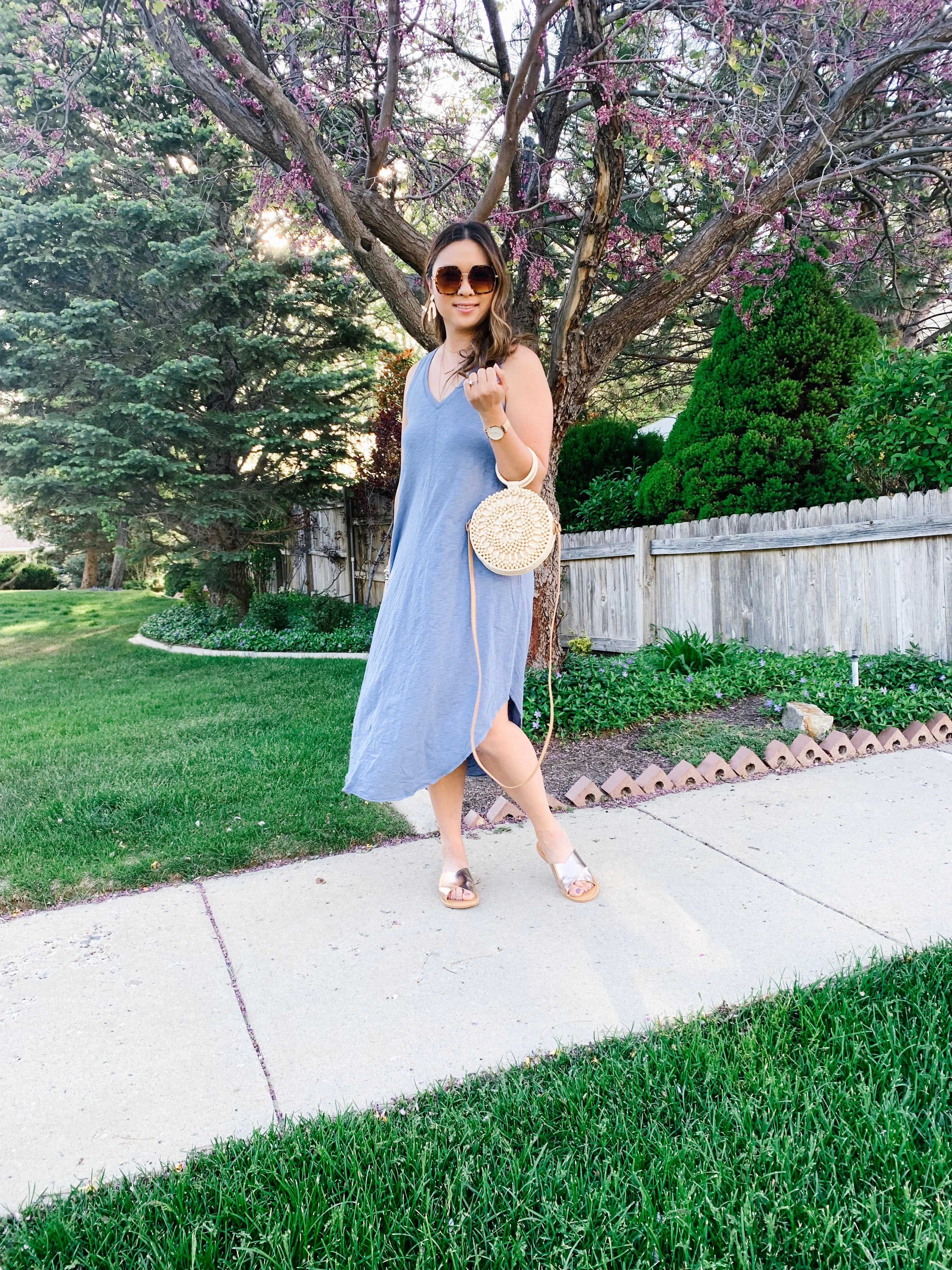 Dress (S) // Bag // Sunglasses // Sandals (Size up half if in between) // Earrings (15% off w code ALAMODE15)// Necklace

I shared this bag a few weeks ago and since then it's been a Target top seller! It's that round bag straw trend, but with a neat beaded detail. I love that it can be a crossbody, is great to pack in a suitcase for an upcoming Summer vacation because it's lightweight and relatively small, and it's just adorable!
Here are some other items I have ordered / are eyeing: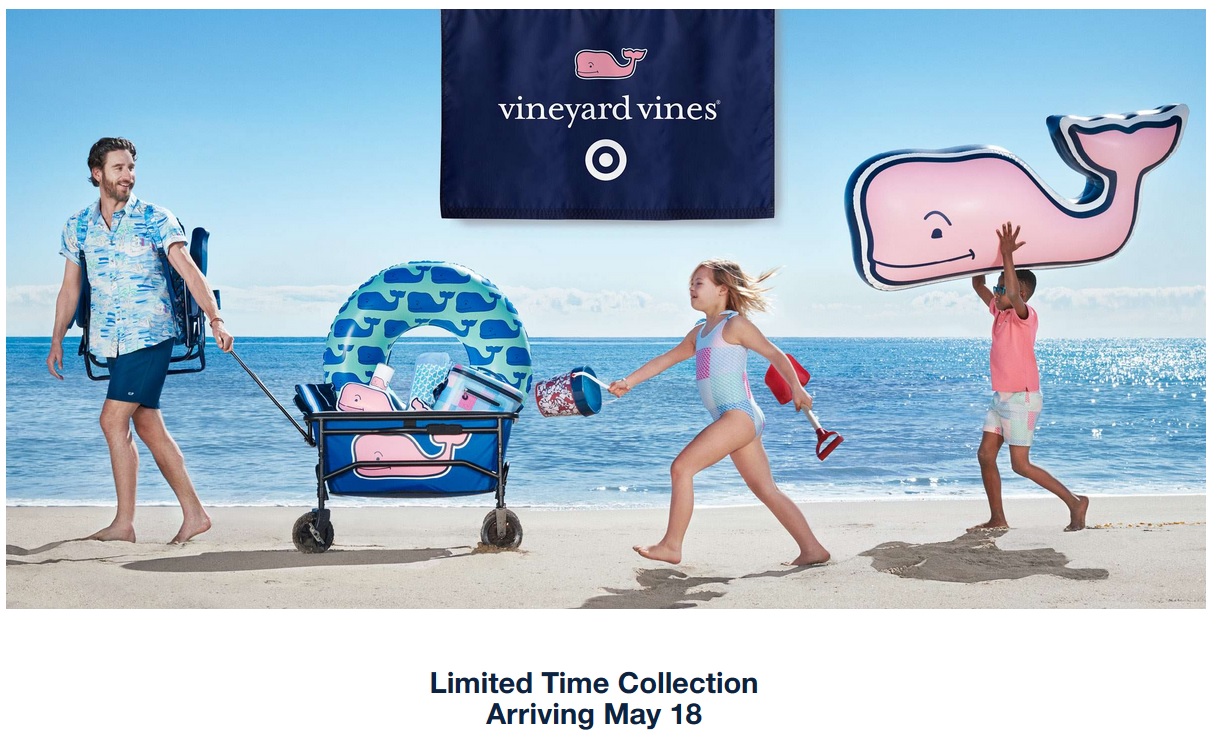 Also friends, the new Target x Vineyard Vines collection is launch on May 18 in select stores and online! If you aren't familiar with Vineyard Vines, to me, it reminds me of a preppy line that you'd wear for a beach or Summer vacation. They have some beautiful prints and colors, things for the entire family and accessories for the beach, tabletop, pets, outdoor games and home decor as well.
Shop my Women's picks:

Shop my Men's picks:

Shop my Girl's picks:

Shop my Boy's picks:

Shop my Baby picks:

Hope you guys loved this in depth post and find it helpful! Let me know in the comments if you grab anything! 🙂