It's about time, right?! Another Amazon haul, HERE WE GO!!! It was totally my goal this year to do an Amazon haul every month on the blog and apparently my April was just too busy that I skipped over it!! As always though, I share a LOT over on my Instagram stories (@sandyalamode) daily though, so make sure you are following along there!! For this haul, I am going to be sharing some fun things for Spring and Summer that I found. Dresses, tops, and accessories are the main focus and of course it's all SUPER affordable!!!
Amazon Fashion Haul – May 2019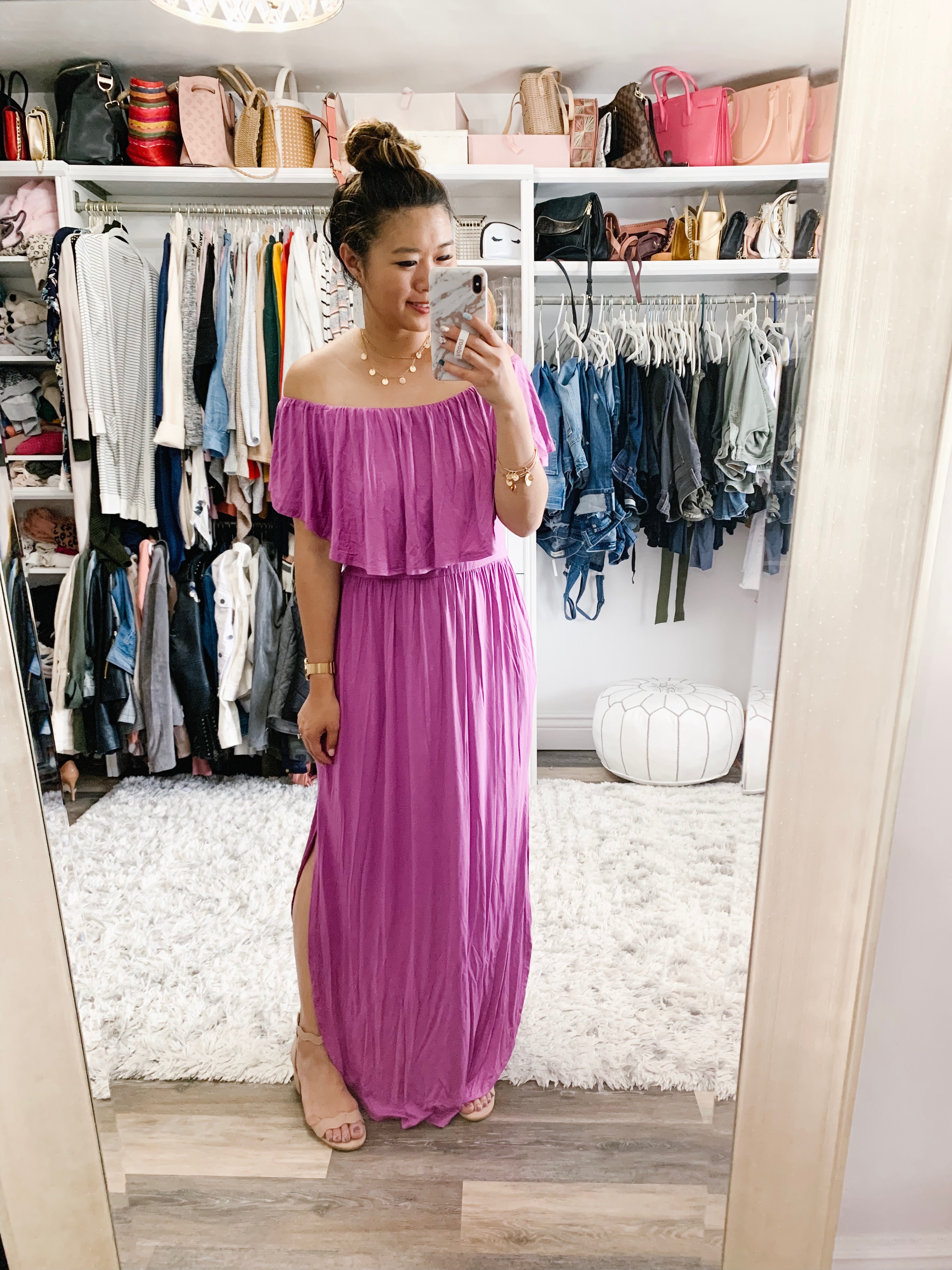 Amazon Maxi Dress (Small – Radiant Orchid) // Shoes // Necklace
This dress is hands down my favorite thing from this month's haul. If you get one thing, GET THIS DRESS!! The fabric is so soft and amazing, the style is beautiful, IT HAS POCKETS, and comes in 10 different colors and I actually love a lot of the colors!! Mine is Radiant Orchid, but I also LOVE the Pink, Purple Gray, Army Green and Black! I am wearing a size Small which is a great fit for me and is not clingy around my bottoms area. The sizing chart says it's a 4-6 and I am a 6-8 on bottom and the Small still works. By the size that matches your top size, I would say! This dress is perfect for the beach, brunch with your girlfriends, everyday!! It's not dressy enough for a wedding because of the material, unless it was a beach wedding maybe! I am 5'4″ and with 3 inch heels it touches the ground, so just an FYI that if you are shorter, you would probably need to get it hemmed, but honestly, it's worth it for this under $30 dress. Also, if you have a bump, it would make a great maternity dress too! Legit, I want to get more colors, but I know I shouldn't… but it's just THAT good!! 🙂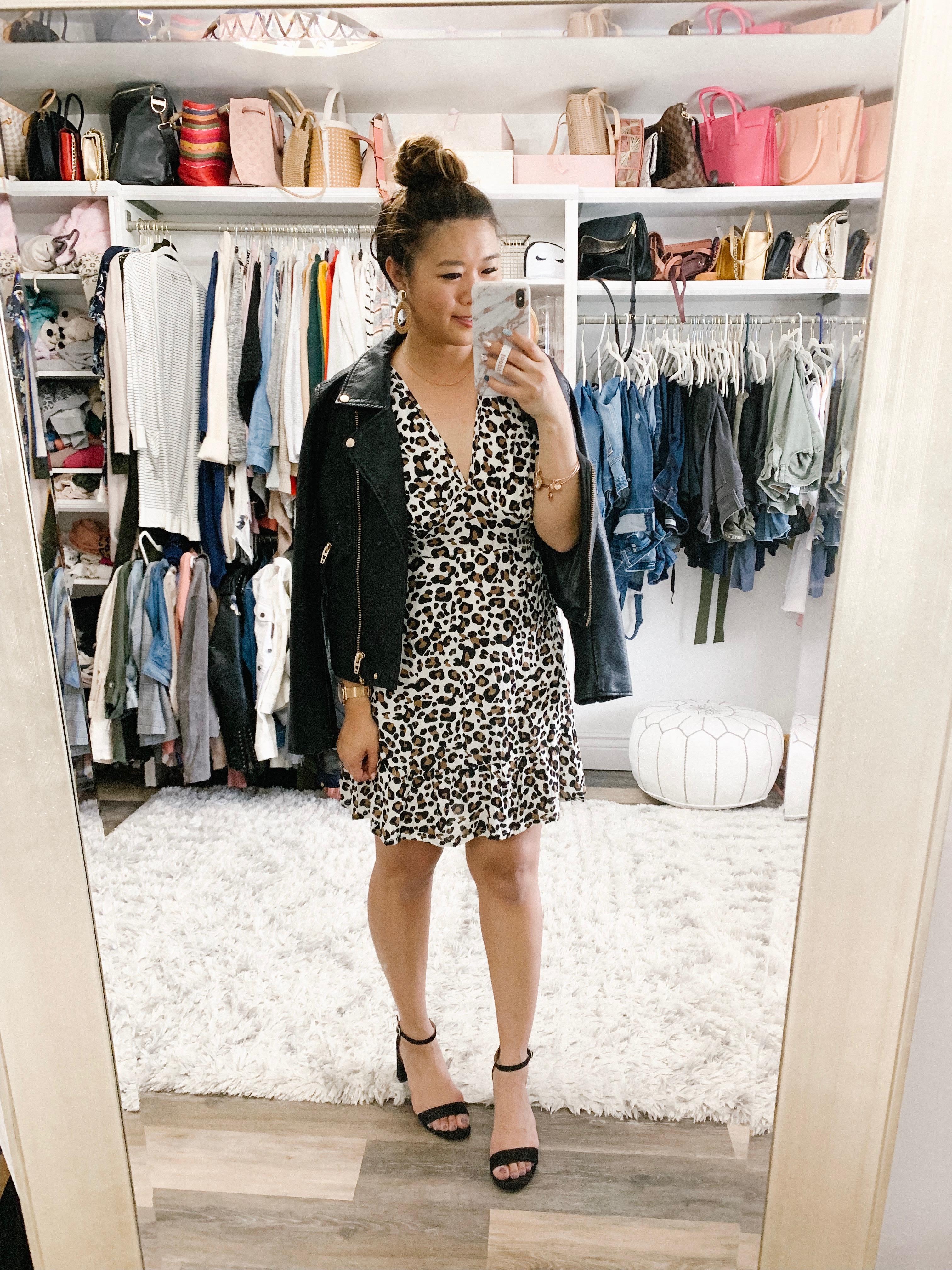 Amazon Leopard Dress (Medium) // Jacket // Shoes //Earrings
This next little dress caught my eye well, because leopard! It is a mini dress that I could see worn to a tropical vacation with sandals and a straw bag, but also could be great for a Summer date night!! I am wearing a Medium and it fits best especially for my curvier hips. It comes in a few colors and it's under $20, YES!!! It's definitely a mini dress though, but it covers my booty which is good!!! These rattan earrings are so gorgeous and honestly can go with any Summer outfit. They can be worn dressed up or down and are super lightweight. They come in a few different styles!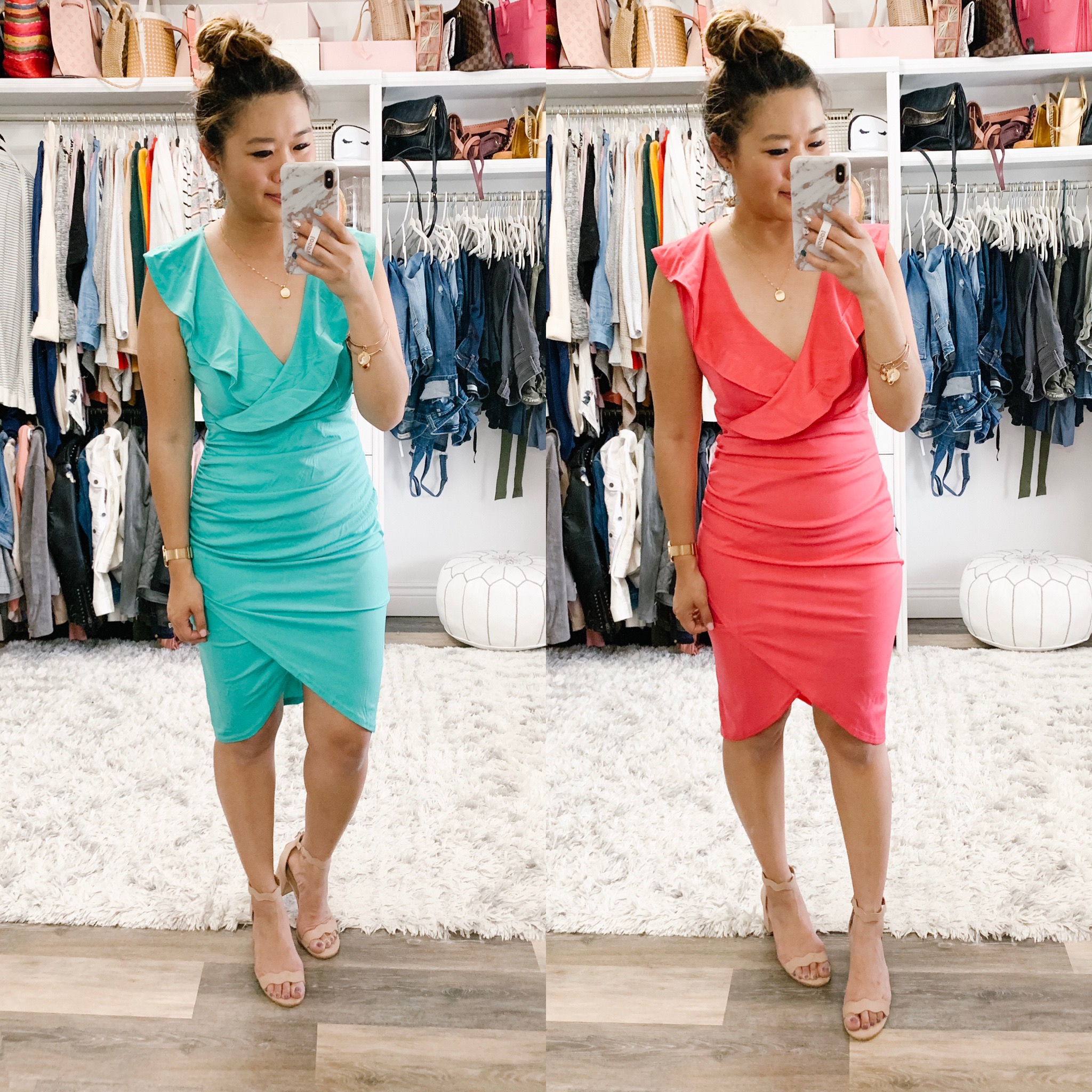 Amazon Bodycon Ruffle Dress (Medium – Left Mint Green, Right Rose) // Shoes // Necklace // Earrings
So apparently this dress caught my eye, twice, because I didn't even realize I bought it in 2 colors. It was on 2 different days which I guess kind of makes it better, maybe. 😉 The thing I love about this dress is that it can be worn for a cocktail party, date night, or any evening party. It comes in 7 different colors (and the white one would be cute for brides for bachelorette party or something!). It is a bodycon dress which is tricky for my pear shaped figure, but the kind of ruching detail and cross hem at bottom make it similar to our favorite Nordstrom dress which is super flattering as well!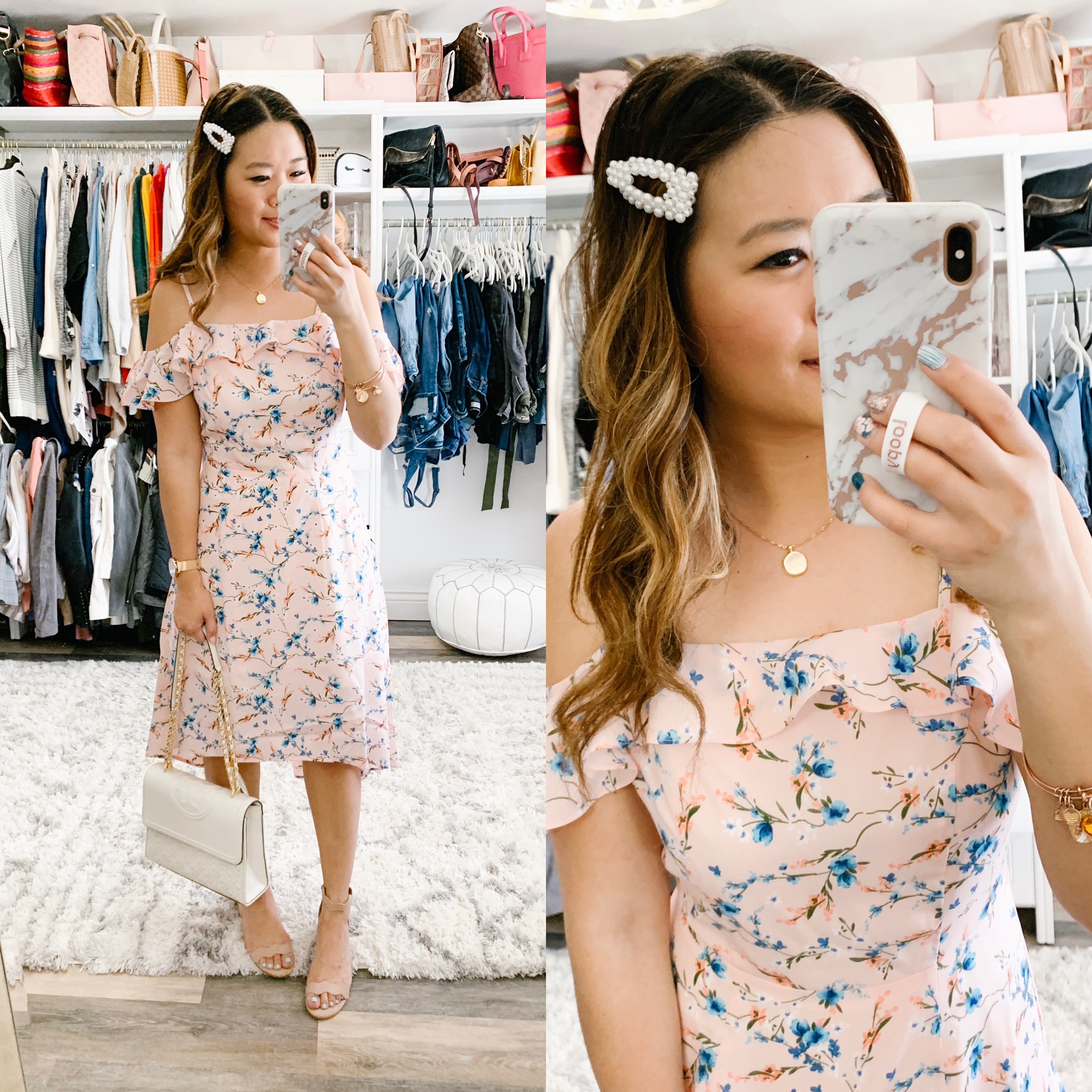 Amazon Floral Dress (Small) // Amazon Hair Clips // Bag // Shoes // Necklace
For those that missed the Target dress, this one is kind of similar!! I love the colors, the print and the style!!! It's use flattering and comes in a pretty white too!! Would be perfect for a Summer outdoor wedding!! The Allegra K brand has SO many cute dresses, make sure to check them out! Also, snag a variety pack of these popular beaded pearl hair clips on Amazon for super affordable!!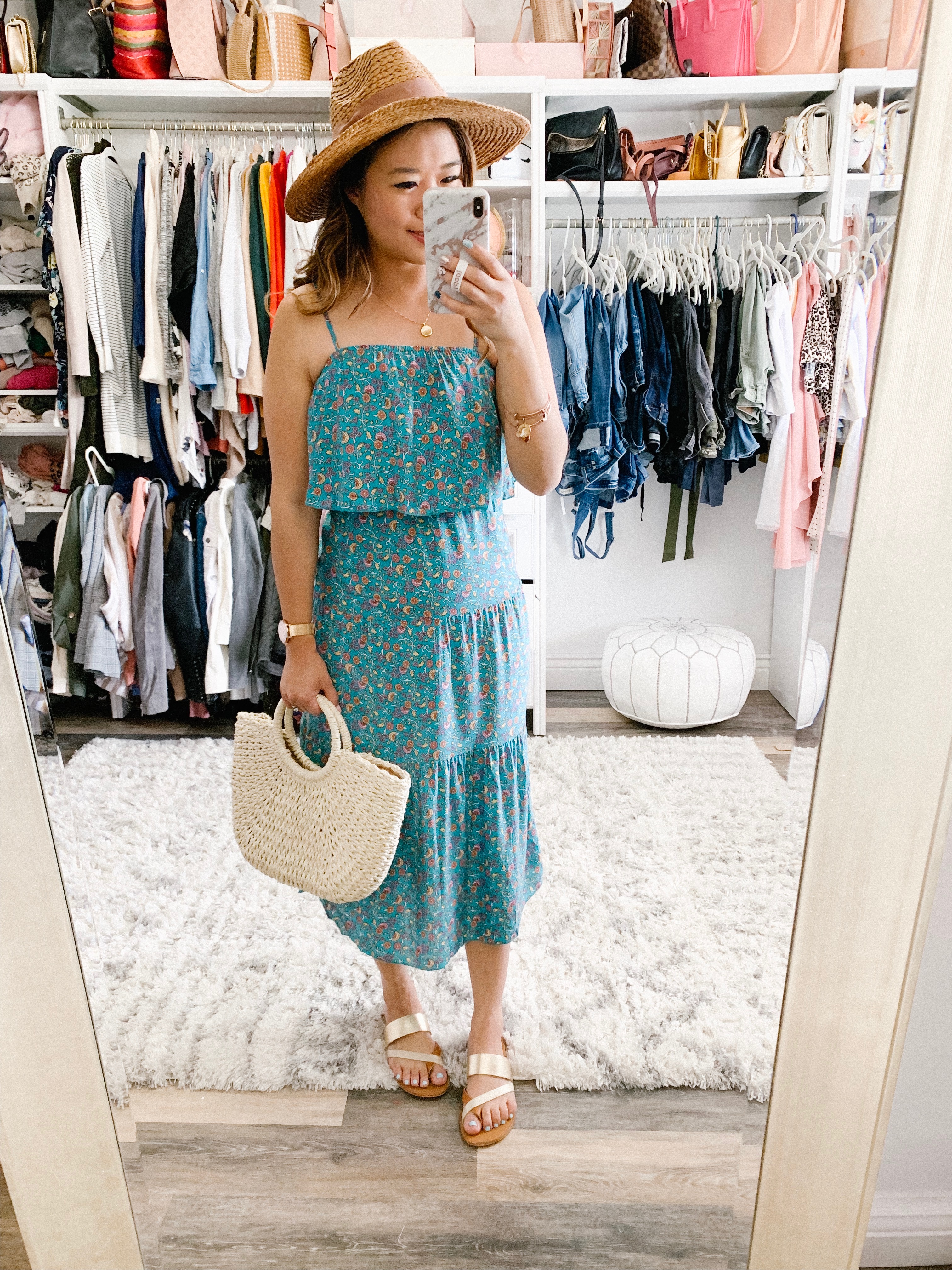 Amazon Sundress (Small, need Medium, def size up) // Bag // Hat // Sandals
I love the idea and colors of this cute dress, but I got a size too Small and it's a bit snug around my hips! If I sized up in this to a Medium, I think it would be perfect!!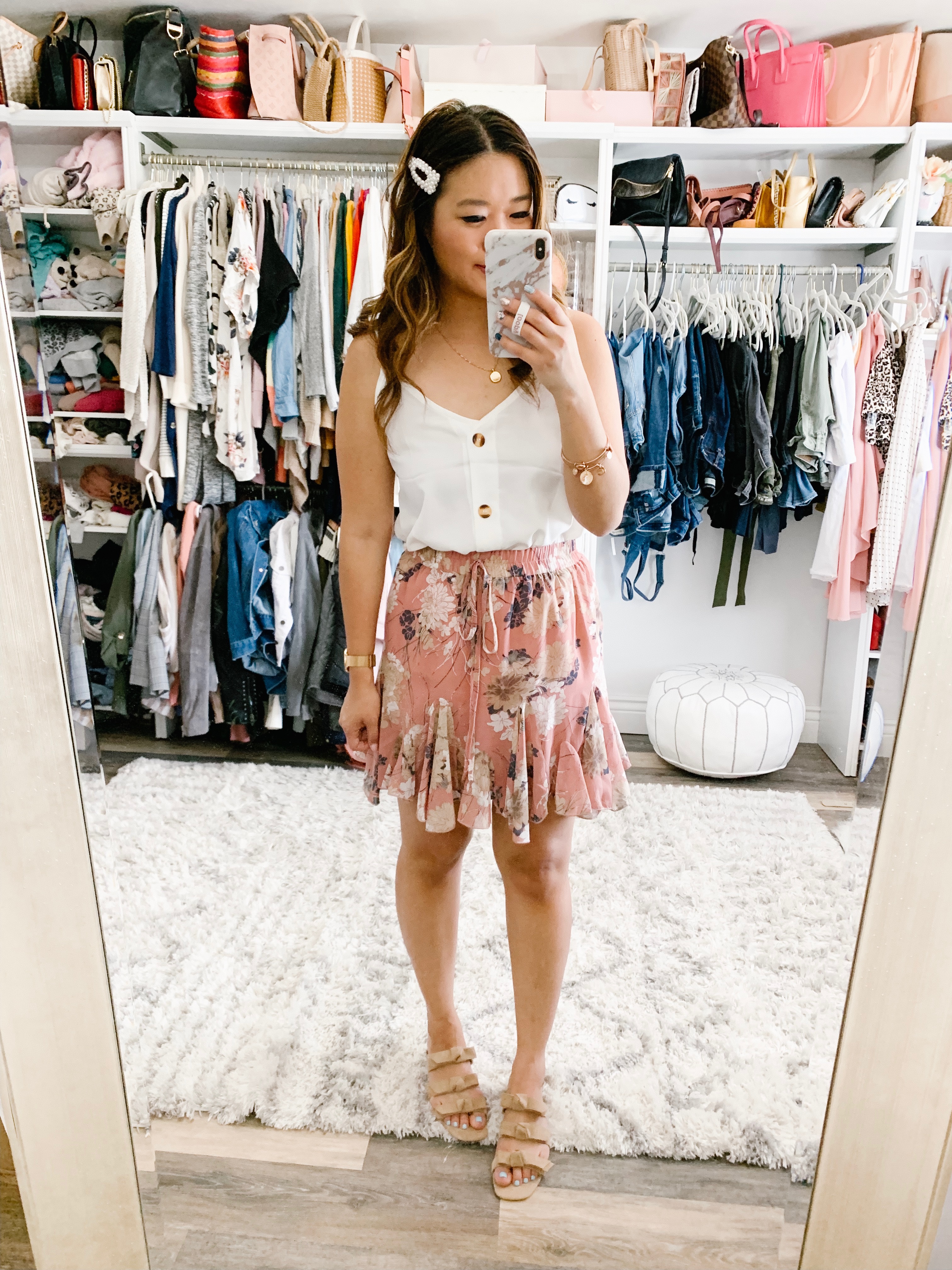 Amazon Top (Small) // Amazon Skirt (8) // Amazon Hair Clips // Shoes
How cute and flirty is this outfit!? This button down tank is SUPER popular and comes in a TON of colors!! It's a great wear on it's own or under cardigans type of cami! I love the tortoise buttons! And this skirt?! It's adorable! And it comes in a LOT of pretty colors, you can't go wrong!! I think this outfit is super cute for going out with your girlfriends or for date night!!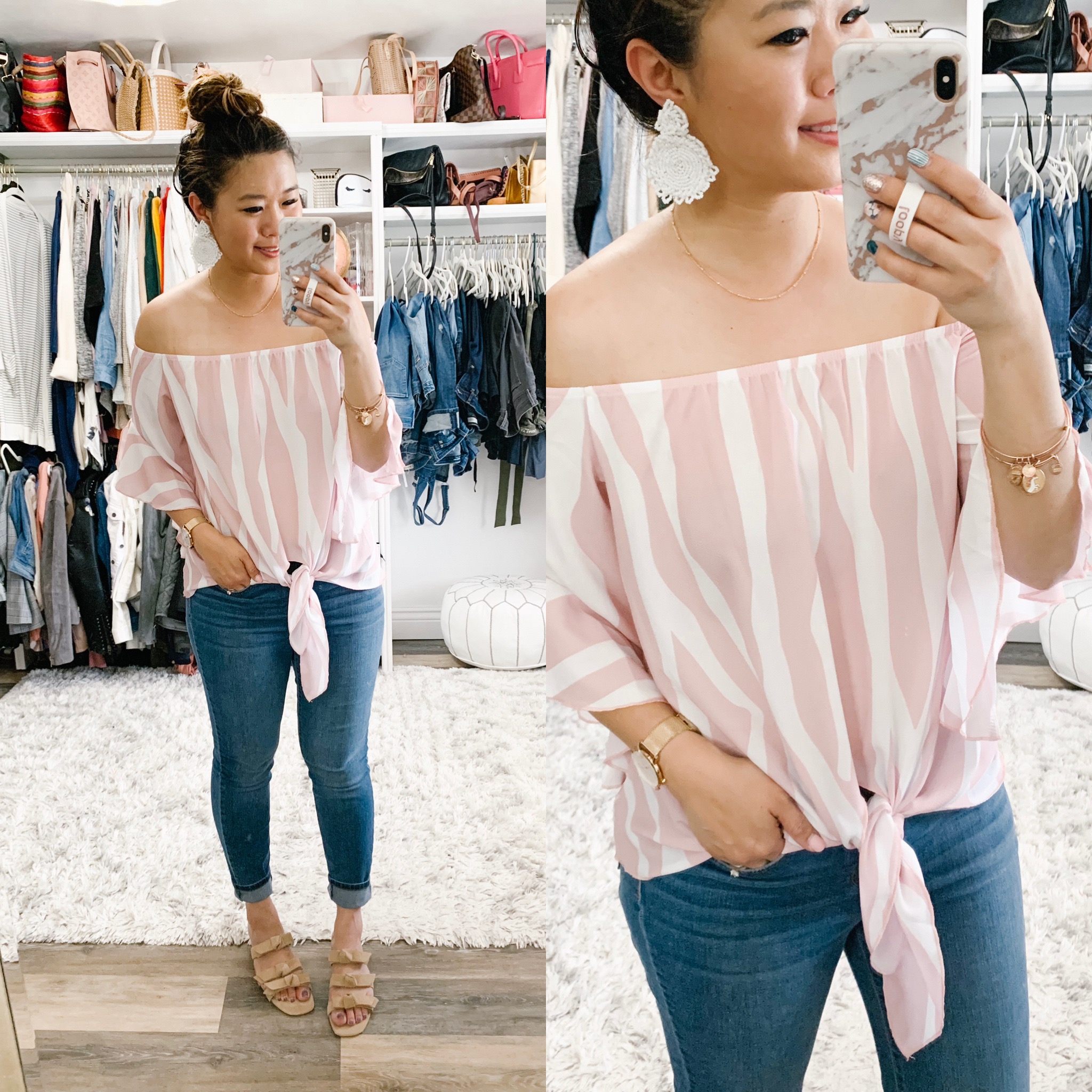 Amaon Off The Shoulder Top (Small – A-Stripe Pink) // Jeans (Similar ones here) // Shoes // Amazon Earrings (White)
I have a thing for off the shoulder lately and this top is pretty amazing! It comes in about 25 different colors from solids to stripes to florals to flag print and is under $20!! It's got over 1200+ reviews with a pretty good rating, it helps when you know a lot of others love it too!! I love that it comes with the tie in front to give it a bit more style, it's super lightweight for hot days and the light color is not see through which is a bonus!! I also love Floral Purple, Floral Blue, Floral Apricot, and the solid colors too! You could wear this top with blue or white jeans or any pairs of shorts!!
These beaded earrings are a cheaper dupe for another popular earring brand and I think their quality is good. They come in a ton of colors and a few different styles and are under $15!! They are a little heavier than some of my other earrings, but not too bad!!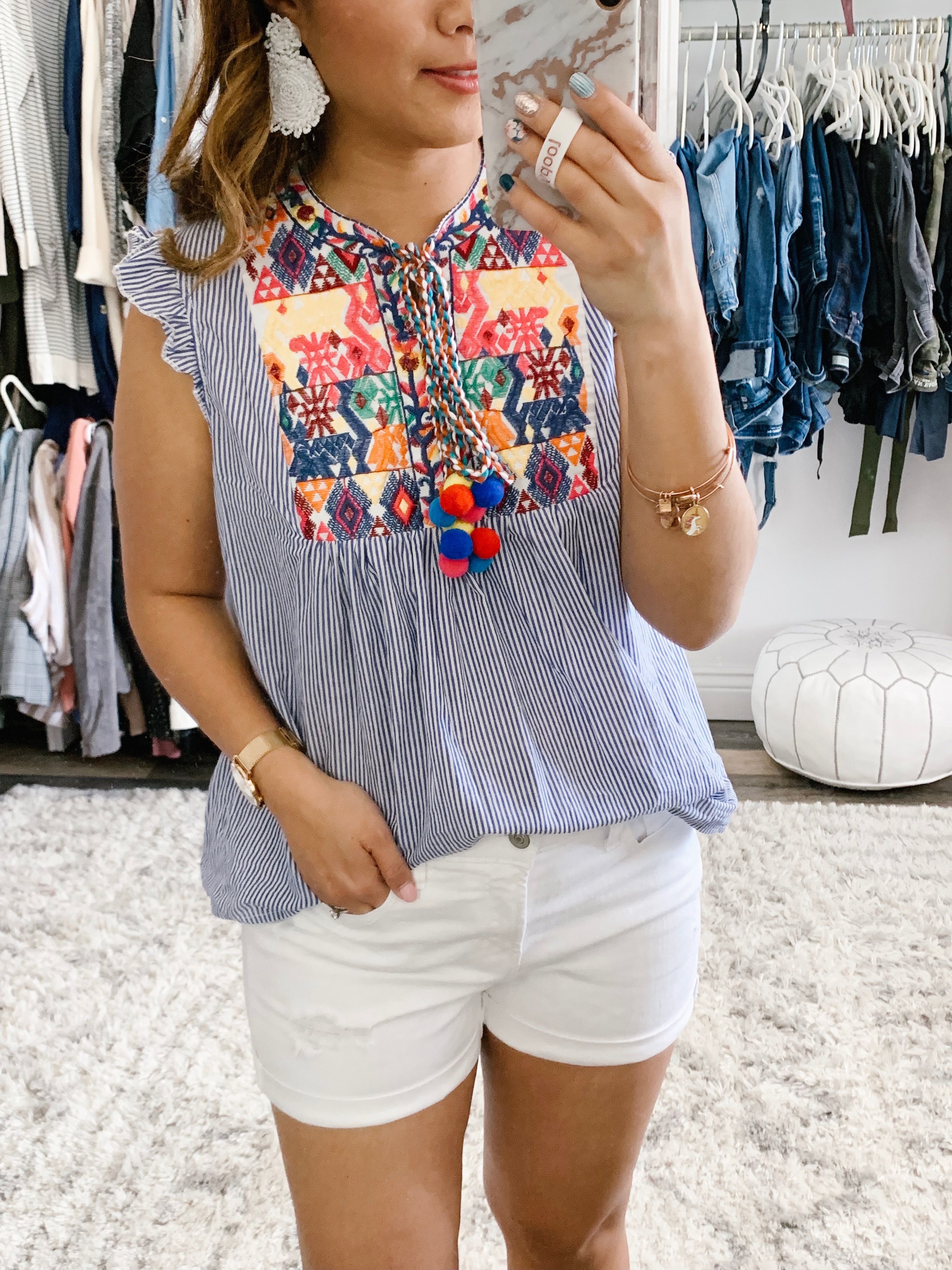 Amazon Boho Top (Medium) // Amazon Earrings // Shorts
I love this top for a vacation, it's just got that boho eclectic vibe and I am digging it. Plus, the poms add a nice touch! It comes in a ton of colors! The bottom part flares out a bit so you could wear it untucked with jeans or shorts or you can tuck in the front like I did!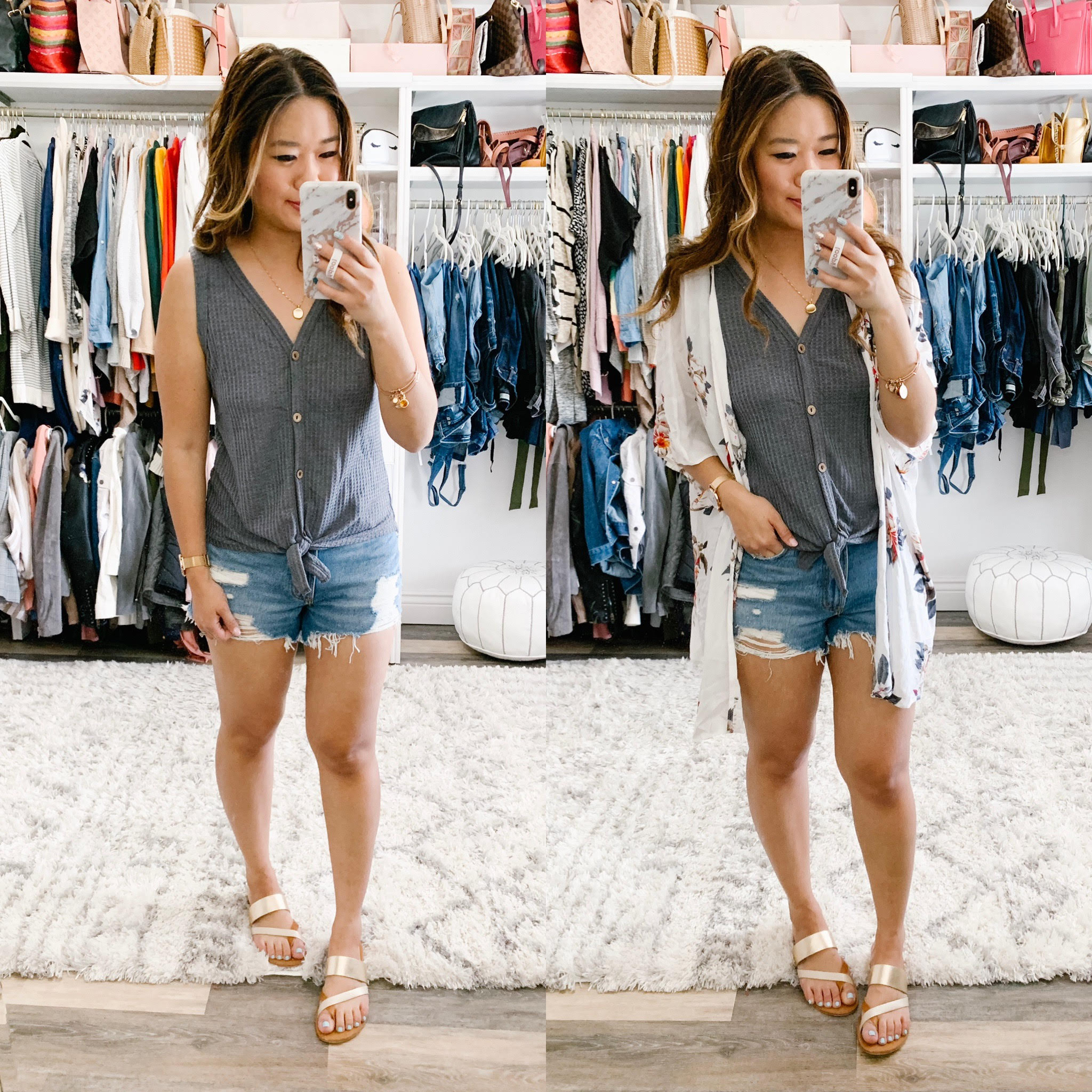 Amazon Button Down Tank (Small, size up for looser) // Shorts // Kimono // Sandals
This button down tank is another popular Amazon find. I am wearing a Small but perhaps a size up would give it that more casual look. This is the Summer version of the long sleeve one that is super popular in Fall. Comes in a ton of colors and super affordable!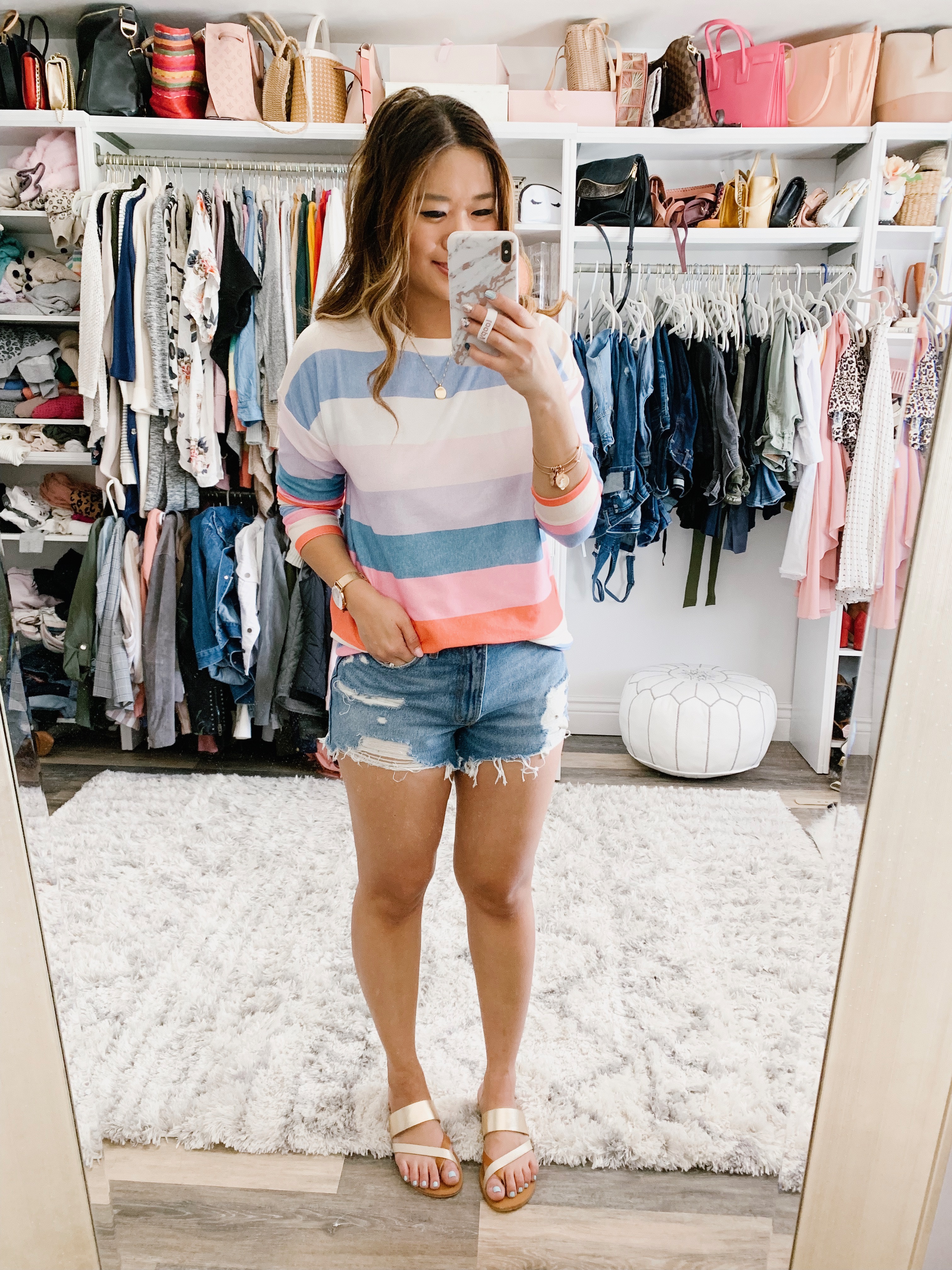 Amazon Sweater (Medium, size up for looser fit) // Shorts // Sandals
I am loving the colors in this rainbow like sweater! It is lightweight and soft and the other listings are of camo print which is cute too! I am wearing a Medium, but maybe even sizing up to a Large would be good to give it that extra oversized look. I also love tucking it into my shorts or jeans and rolling up the sleeves a tad!!
Tee // Joggers (Medium – Grey Spacedye) // Sneakers
You all know how much I love my pink Old Navy joggers, and well joggers in general, that I had to try these out. Dare I say that these are actually a bit softer than the Old Navy pair!? It has an elasticized waist band, pockets, and while it's a full length jogger, I love pulling mine up to be cropped! The material is thin, but not too clingy. I definitely would say that for me, I would wear these around the house, on the airplane and running errands!! If between sizes, size up.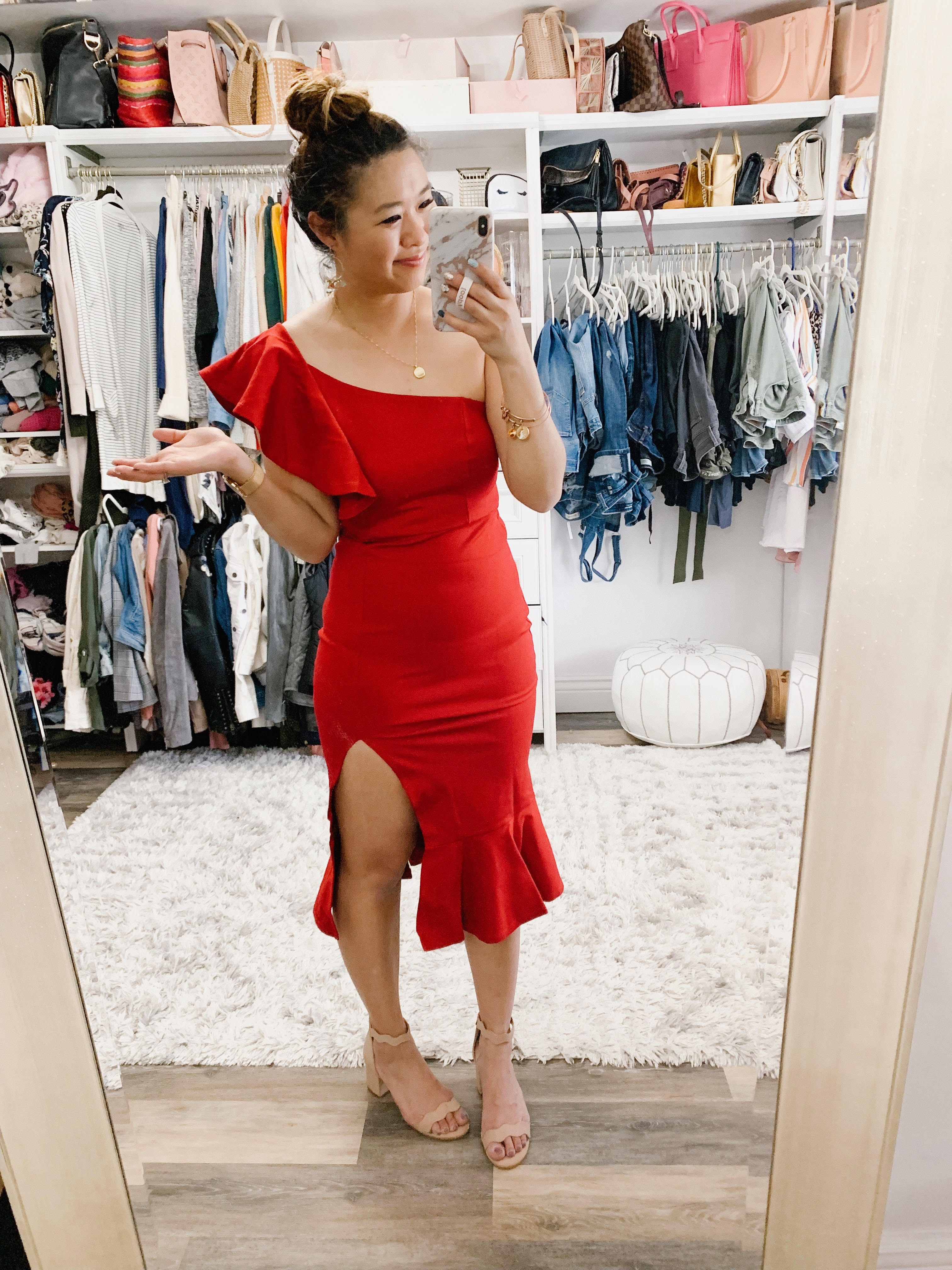 Dress (Medium – A-red) // Shoes // Necklace
I know you guys LOVE seeing the MISSES just as much as the hits, well I feel like some of you like seeing the misses even more. Ha!! This dress has all of the makings of a great dress, I love the style, the fabric is a nice thicker material, but it does not work for my pear shaped mom body. I love the top part, but even with Spanx, my pooch is showing, and my hips make the slit pull too wide. I will say, that I think it would look gorgeous if you have a straighter body type, and it does have great reviews and some of the pictures of people wearing it look stunning, just not for me.
Top Amazon Purchases from March – April 2019
1. This maxi dress only comes in 3 colors, but they are beautiful colors and the style of this dress is just universally flattering. For all body types, it's an amazing dress!! I have mine in a Medium, but could honestly probably do a Small as well.
2. It's no surprise that a jumpsuit made it to the list!! I am obsessed with jumpsuits and this short sleeve one is a great for the warmer months! Perfect for travel, and to go to the bathroom, just pull it down! 😉 I wear Medium.
3. These designer dupe sunnies are perfectly oversized and pretty much all over Instagram right now! At just $12.99, you might as well get multiple to stock all over your house and car. I have them in black and leopard!
4. I've been on a lot of trips these past few months, and hands down this portable travel toiletry bag is one of my favorite organizational things to travel with! It hangs on any bars or hooks and I put my shampoo, conditioner, face wash, razor, toothbrush, toothpaste, retainer case, and small lotions in it! There are a ton of different colors and it's probably the best $12.99 ever spent!!
5. This summer beach hat that is super packable and won't lose it's shape, is the perfect outfit topper, literally. 😉 Also, it has UPF50+ which is a nice added bonus as most fashion hats do not have that. It does come in a variety of colors but I have the Khaki one. It is only $15.99 and you can basically get it for free, tomorrow!
Don't forget to check out my March Amazon Fashion Haul that has a lot of special occasion and every day dresses!!