Eeeks! I am so excited to finally share these Fall Capsule Wardrobes for Girls and Boys! It's been something I've been working on for awhile now because I love kids fashion and styling, but especially FALL fashion!! A capsule wardrobe is meant to act as a guide to see if you have pieces of different types in your wardrobe that you can mix and match nicely, so that you don't have to buy a lot of clothes! I'm going to be honest here in saying I buy a lot of clothes for my kids, partly because "fashion" is my job here, but also WHY DOES EVERYTHING LOOK SO CUTE ON LITTLE PEOPLE?! I digress. But if we are getting real here, my kids only wear half their wardrobe, they stick to the pieces that are comfortable (although Vivian does love being stylish and doing some crazy pattern mixing). So this is really for those mamas who don't want to buy too much for their kids, yet want to be able to put together cute coordinated outfits for them. Both the girl and boy capsule wardrobes contain only 20 pieces you can seriously create a months worth of different outfits with just these pieces!! The whole point of this though is to see if maybe there is a hole in your child's wardrobe, are you having trouble putting outfits together for your kids because they are lacking a classic pair of denim leggings, that could really go with every top and dress!? Or maybe you are struggling with the different types of shoes your child may need for school, church, weekend activities… I truly believe that these pieces (and these pieces I picked here are only for inspiration) can make up a great wardrobe and you can totally use pieces your child already owns!! Plus, everything I picked out is relatively affordable too!!
I think another plus about a capsule wardrobe is that it should really be a no-brainer each morning when your child is getting dressed. So many of the tops go with the jackets, pants and shoes. But my best tip is to think about a color palette and kind of stick to pieces around that! That way anything you pick out will basically coordinate with each other! With the rise of everyone Marie Kondo-ing, capsule wardrobes are perfect if you are trying to get rid of clutter and want a more minimalistic closet for your kids (and yourself too)! For me, right now is the time where I am clearing out the smaller sizes and making sure I have the appropriate Fall/Winter pieces for my kids!! And if anything, these pieces can make up a base Fall wardrobe, and then you can add in fun pieces that can still be mixed and matched with some of these pieces in here.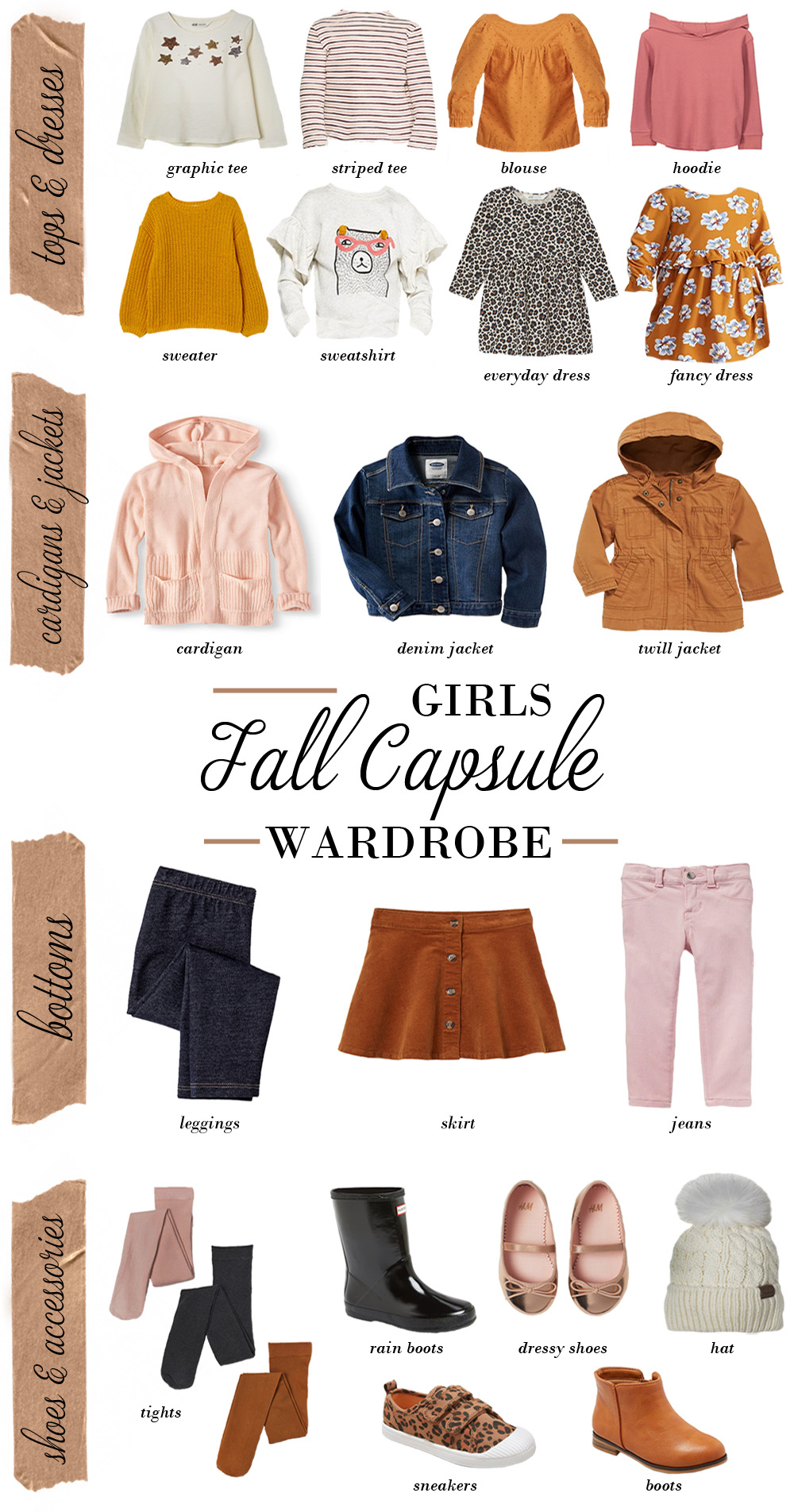 Tops & Dresses
Graphic Tee // A long sleeve tee with a fun little print on it is a must!
Striped Tee // I love stripes for all year round!
Blouse // A blouse in a Fall color can be dressed up or down!
Hoodie // We all love to be comfy cozy, even little girls!
Sweater // Find a classic sweater in a beautiful Fall color!
Sweatshirt // Umm how cute is this bear one!? It's darling and adorable!
Everyday Dress // I think Vivian may have 3 leopard dresses, leopard anything is a Fall staple!
Fancy Dress // I wouldn't say this dress is super fancy, but it's fancier and can be totally dressed up or down!
Cardigans & Jackets
Cardigan // This is one of Vivian's favorite oversized cardigans! Comes in 3 colors!
Denim Jacket // These are a must in any women or girl's wardrobe! Such a versatile layering piece!
Twill Jacket // Love the color and style of this jacket!
Bottoms
Leggings // Denim leggings go with SOO much. Vivian lives in LEGGINGS daily.
Skirt // A skirt is soooo darling with skirts and tights!!
Jeans // A classic pair of jeans are great to add to any wardrobe!
Shoes & Accessories
Tights // Perfect for under skirts!! I love all of these colors!
Rain Boots // For those rainy colder days, these are soo cute and with tights too!
Dressy Shoes // A classic pair of metallic shoes if they want to get "fancy".
Sneakers // Vivian LOVES wearing sneakers for school, they make her "fast" for running outside haha!
Boots // Tan booties are my personal fave for really making an outfit scream Fall!
Hat // Don't forget to keep their noggins warm when it gets cooler at night!
Top Options
Dress Options
Cardigans & Jackets Options
Bottoms Options
Shoes & Accessories Options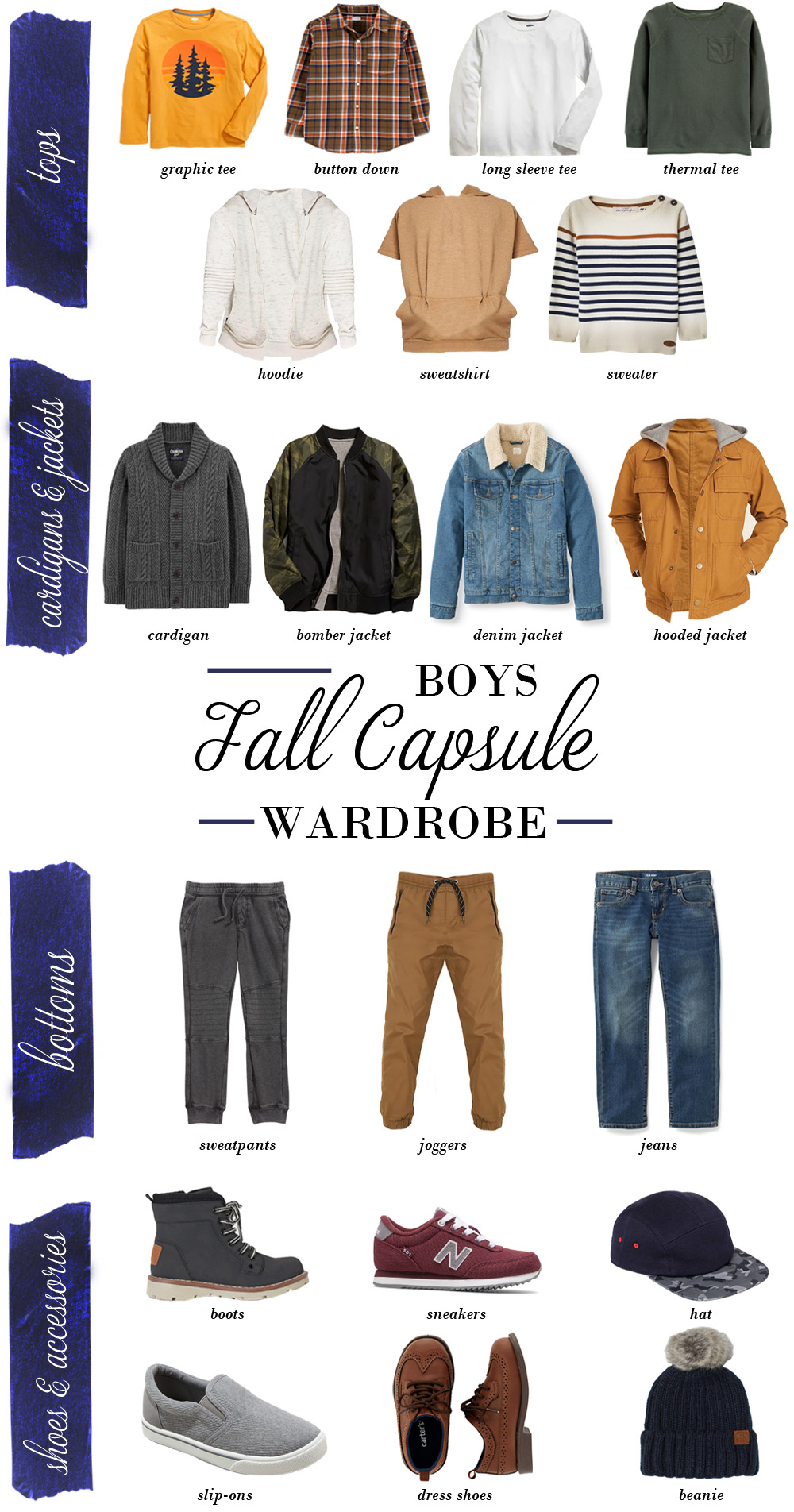 Tops
Graphic Tee // I think my son owns WAY too many of these, but they work well on their own or layered under button downs or cardigans!
Button Down // A plaid button down is a must for school pictures or family photos! Can layer unbuttoned over a tee.
Long Sleeve Tee // A closet staple.
Thermal Tee // Similar to a long sleeve, but maybe a little cozier.
Hoodie // My son brings a zip-up hoodie to school every day!
Sweatshirt // Great to throw on for cooler evenings.
Sweater // Layer the button down under this or wear it on it's own!
Cardigans & Jackets
Cardigan // Works well with any long sleeve top or button down.
Bomber Jacket // A great little jacket that will elevate a boy's style game.
Denim Jacket // They go with so many outfits!!
Hooded Jacket // Great Fall color for a jacket!
Bottoms
Sweatpants // These are my son's favorite pants! Super soft and comfy and great for play!
Joggers // These khaki like joggers honestly can be dressed up too!!
Jeans // A staple of course!!
Shoes & Accessories
Boots // These are stylish, yet will keep their feet warm!
Sneakers // A classic pair of sneakers for running around at recess!
Slip Ons // These are Austin's favorite! They're easy to get on and off and is a great neutral color.
Dress Shoes // Always have to have a pair of dress shoes on hand for special occasions.
Hat // I love boys in baseball caps!
Beanie // And for when it gets cold!!
Top Options
Cardigan & Jacket Options
Bottom Options
Shoes & Accessories Options
I truly hope that this was helpful for you (and your kids)! Feel free to pin these collages for future reference or share this post with other parents! 🙂