So while yesterday was all about KID"S Capsule Wardrobes, a lot of you had wanted a Women's one for Fall, so here it is!!! Again, this one was a labor of love and I spent countless hours editing down the pieces for this one! I went with 20 outfits, that can totally be mixed and matched 20+ ways!!! From casual to everyday to dressy, this capsule has got you covered!!! I went with pink, browns, rust, green denim and leopard for the color theme and I just love how it turned out!! It was hard because I really wanted to add a dress, blazer and vest, and if I had done 30 pieces, I would have, but tried to keep it more simple this time!!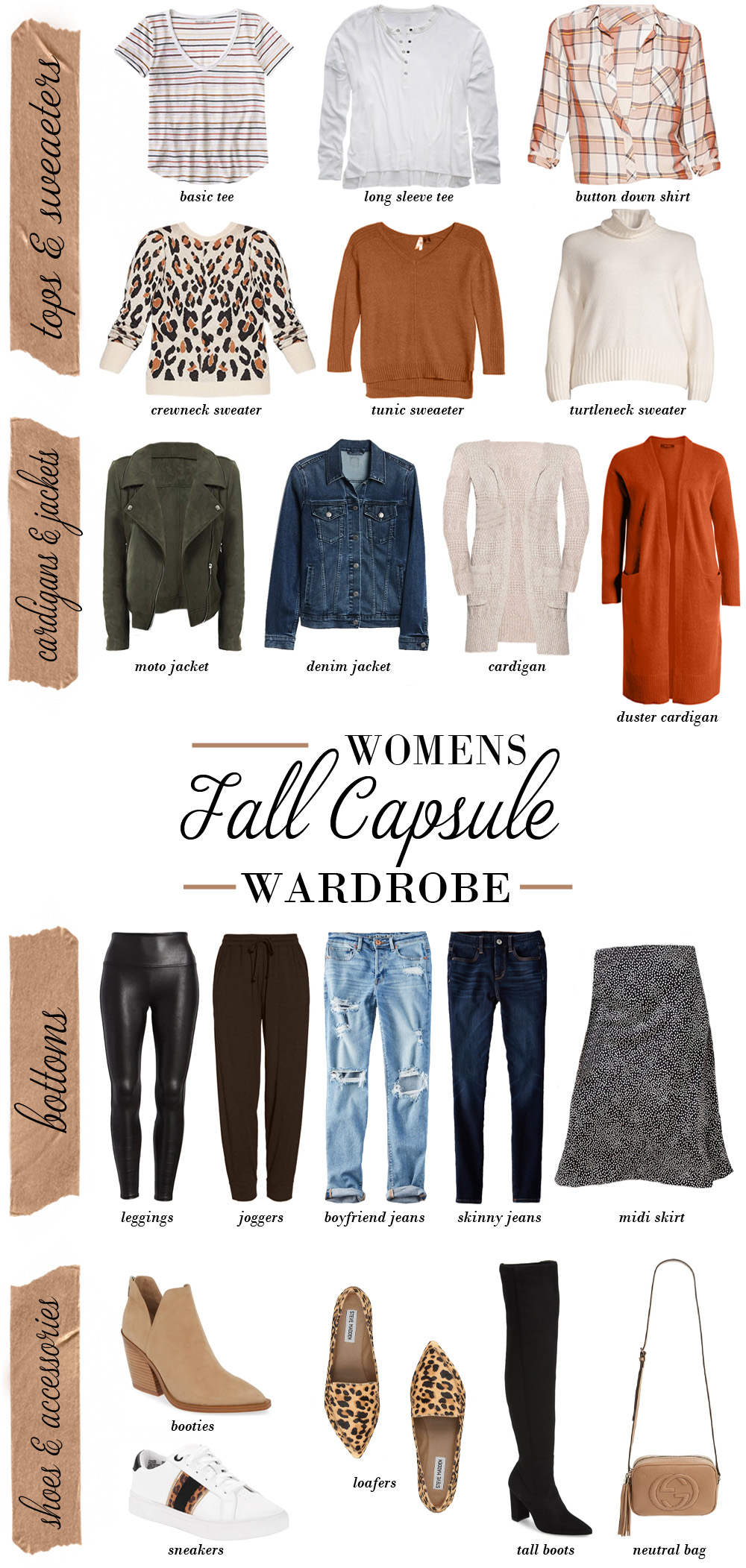 Tops & Sweaters
Basic Tee // It doesn't need to be striped (but I am a sucker for stripes) but any tee that you can layer.
Long Sleeve Tee // Again, this is great for layering. I am loving the henleys right now!
Button Down Shirt // A plaid button down is the epitome of Fall fashion.
Crewneck Sweater // Leopard is my "print" for Fall and I know it's a lot of yours too!
Tunic Sweater // This sweater is a little more lightweight and can be worn by itself or layered under cardigans or jackets. Also great with leggings!
Turtleneck Sweater // LOVE this for keeping warm for chilly weather and it's SO pretty with a skirt!
Cardigans & Jackets
Moto Jacket // Whether leather or suede, I say this is a must!
Denim Jacket // You know my love for denim jackets, year round!! Such a great layering piece!
Cardigan // I probably own WAY to many cardigans but I love them over camis, tanks and tees!
Duster Cardigan // This year I am especially loving longer duster cardigans, so flattering!
Bottoms
Leggings // Whether leather or soft, a good pair (or multiple) is a must!!
Joggers // Joggers and sweatpants are like my everyday mom life!!
Boyfriend Jeans // LOVE boyfriend (or girlfriend or tomgirl) jeans! They are not tight, which is great!
Skinny Jeans // A classic dark pair or a black pair is a STAPLE for my wardrobe for sure!!
Midi Skirt // I debated on adding a dress to my capsule, but opted for this pretty skirt instead. BUT a dress would totally work too just for something dressy!!
Shoes & Accessories
Booties // I probably own WAY too many booties, but a neutral pair is a MUST!!
Sneakers // Perfect for MOM life!
Loafers // And elevated flat, so chic!!
Tall Boots // I LOVE over the knee boots and they really dress up a look!
Neutral Bag // This will go with every single outfit in the capsule!!
Top Options
Sweater Options
Cardigan Options
Jacket Options
Legging and Jogger Options
Jean Options
Shoe Options
Accessory Options
And below are some styled outfits from the pieces in the Fall Capsule Wardrobe! Isn't it fun to see it come to life!? Hope this helps you to visualize out all the pieces worn together!!!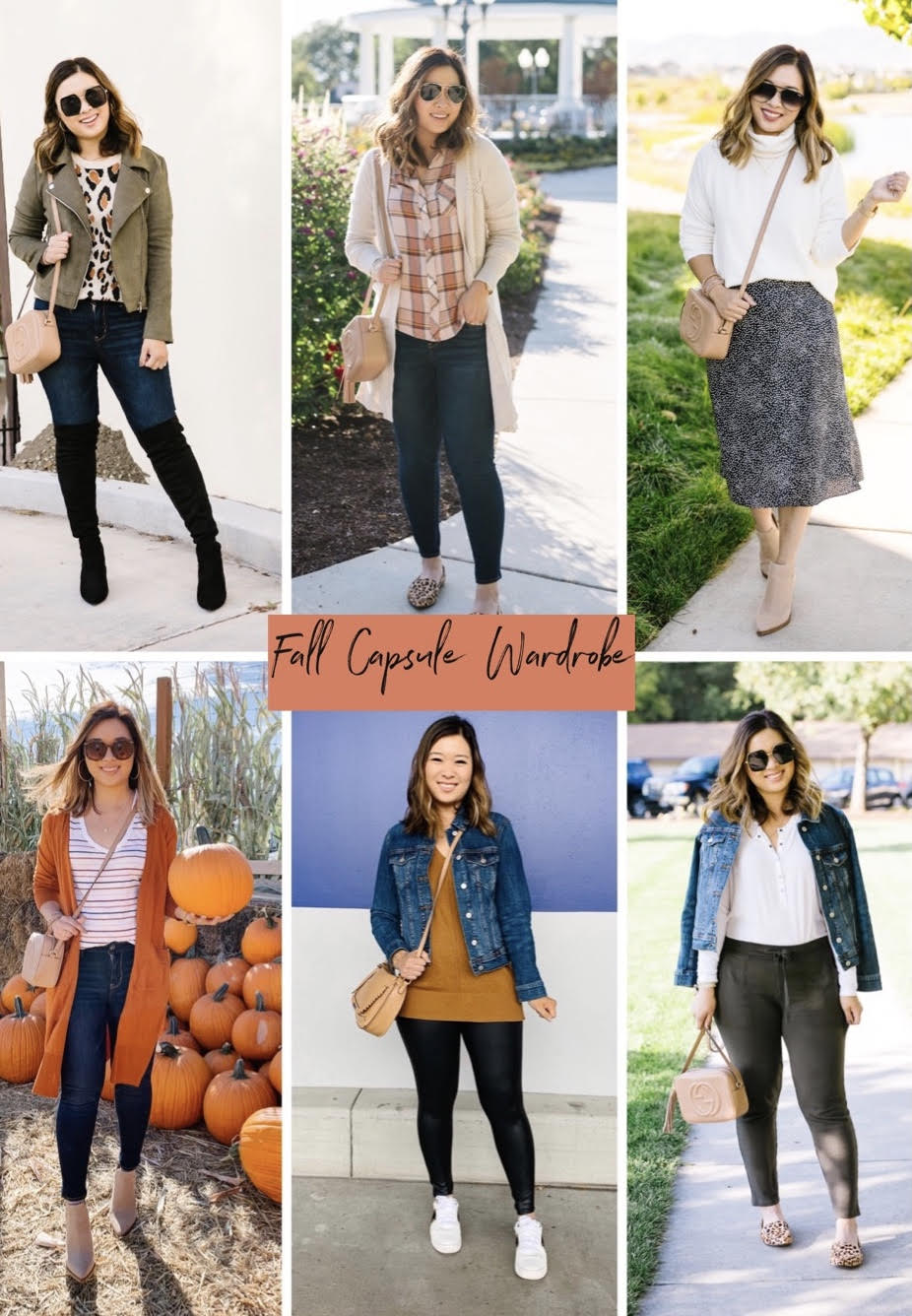 What do you think of capsule wardrobes? Do you like to do them or use them as inspiration to see what holes you might have in your closet?