The day is finally here!! I am SO excited to introduce you to the "SANDY" dress!!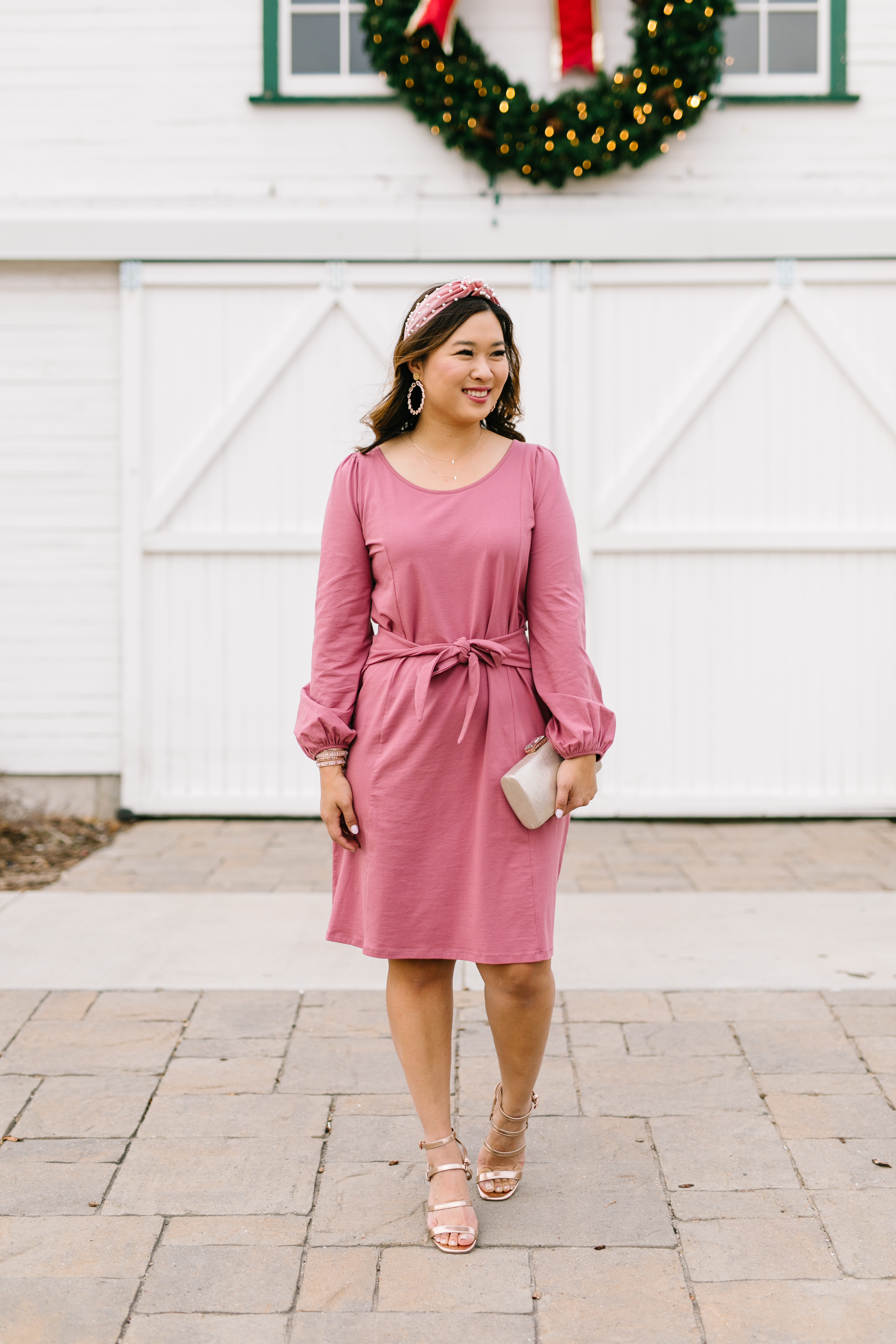 First off, if you haven't heard of the brand Elegantees before, they are an ethical fashion brand for women, men and kids where they employ overcomers of human trafficking in Nepal. The fabrics they use are organic cotton and they have a lot of great basics.
Back in the Summer time (July 17, 2019), the owner Katie emailed me to see if I would be interested in designing a dress for their holiday launch! I was floored and ecstatic as I've never really done something like this before, so of course I said YES!! I've owned a couple of pieces from them (Vivian and I had a Mommy and me dress) so I knew that I was already a fan of their materials. So thus we began the brainstorming process! I had to think ahead to November / December while it was still blazing hot outside and I probably brainstormed for a more than a week before getting back to them with some ideas. Did I want a midi dress? Long sleeve? Puff sleeve? A-line? Column dress? The possibilities were endless and sometimes that makes it harder on myself because I can be quite indecisive, HA!!! Anyways, after much deliberation we landed on a midi length tie waist dress with a balloon sleeve. Katie even sent me a hand sketch of what the dress would look like! Simultaneously, they sent me fabric samples (I could choose between light, medium to more heavy weight cottons) of different colors they had available and we landed on a dusty rose color!
A couple month later (October 10 to be exact) and the first sample was in my hand!!! At this point, I loved the dress, but I had second thoughts about a few things because as mentioned above, I am VERY indecisive sometimes!! We chatted and made some tweaks and it was sent back to the artisans in Nepal to make another sample for me! I wanted to add a side slit to the midi length and pockets!! Unfortunately, with the front tie and silhouette of the dress, we were a little worried about how the pocket would sit on the hip area and if it wouldn't be as flattering. So as much as I LOVE pockets in dresses, we decided to play it more safe.
And then on November 1 (my birthday) the 2nd version of the dress arrived!!! It was so beautiful, but I kept thinking about a tweak to the sleeve and neckline and decided to switch it to an at / above the knee dress after all. I was just feeling like the dress was a little too conservative for my taste, yet I didn't want a mini dress either. At first the dress was a true A-line, but we took it in so it is more like a shift/column style but has a small A-line, this would make it so that it would be flattering if you are pear shaped or have curves like me! Shapewear (hopefully) not needed with this dress! And the tie waist part might be my favorite. The ties are sewn to the side of the dress (not removable) because I liked the way the tie looks that way. You can tie it in a single knot and have the strands hanging down, you can tie it up in a bow in the middle OR on the side, OR you can even tie in the bow in the back. I designed this dress with a mom-on-the-go, teacher, working in an office, wants go out and have fun woman in mind. As always, I wanted something that could be styled and worn multiple ways, with sneakers, heels, and boots! What is great about the dress is that it can totally also be worn into Spring!!
The dress comes in a dusty rose pink AND a black colorway, because you know how much I love black and everyone needs a LBD, right!? There is a limited run in all sizes and colors, just FYI!! I am 5/4″ and typically a size 6 on top, and a 6-8 on bottom and I wear it in a size Medium. Pretty much if I were to get any dress on the site, I would get it in a Medium, that's pretty much my TTS there!
Also, I have a 20% off coupon code for you to use!!! Use code "sandyalamode" at checkout and you will get 20% off the "SANDY" dress (or anything on the Elegantees website)!!
And in true "Sandy" fashion, I wanted to show you a few ways that you could style this dress!!
1. Every day / Brunch with girlfriends

Dress (M) // Boots // Jacket // Scarf // Hair Clip
I absolutely LOVE this dusty rose color and it works well with neutrals like camel, taupe, grey and ivory!! For me, the dress is a great length that it works well with tall boots which is what I wanted!!
2. Running errands / Mom-on-the-go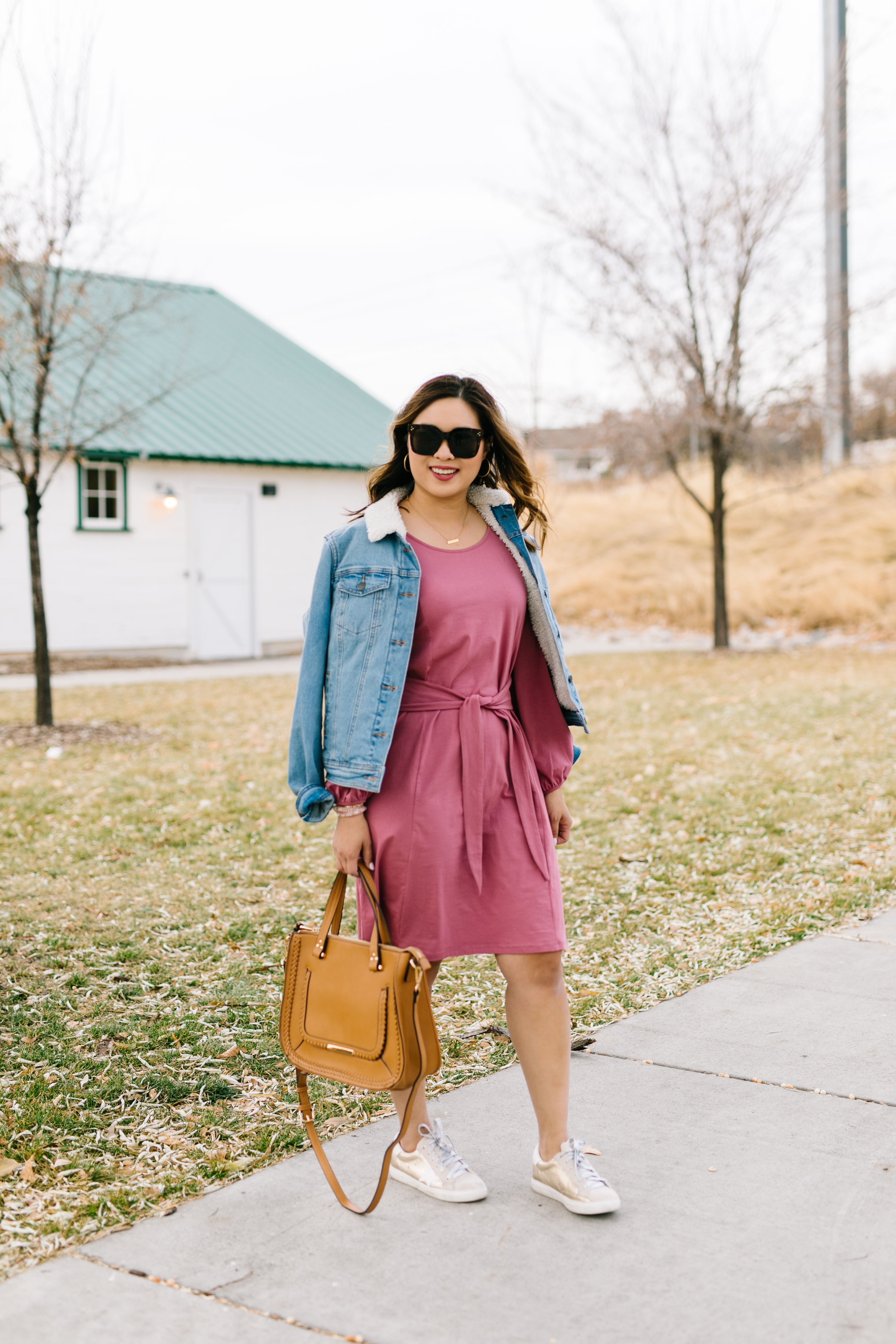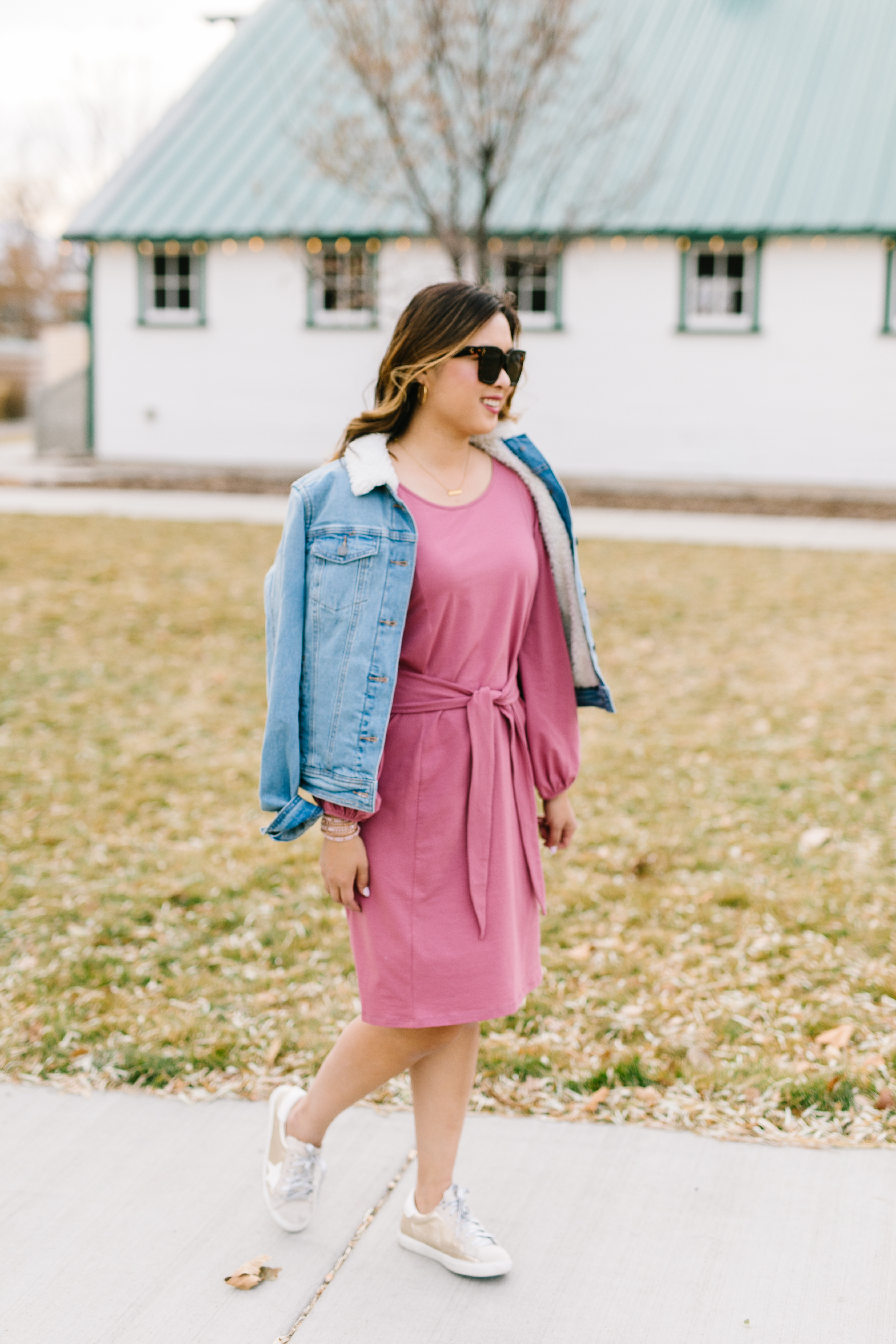 Dress (M) // Sneakers // Jacket // Bag
I am a sneaker and denim jacket girl through and through and I feel like this would be the perfect stylish, yet comfortable mom outfit to take my kids on a Target run or to their music lessons!
3. Holiday party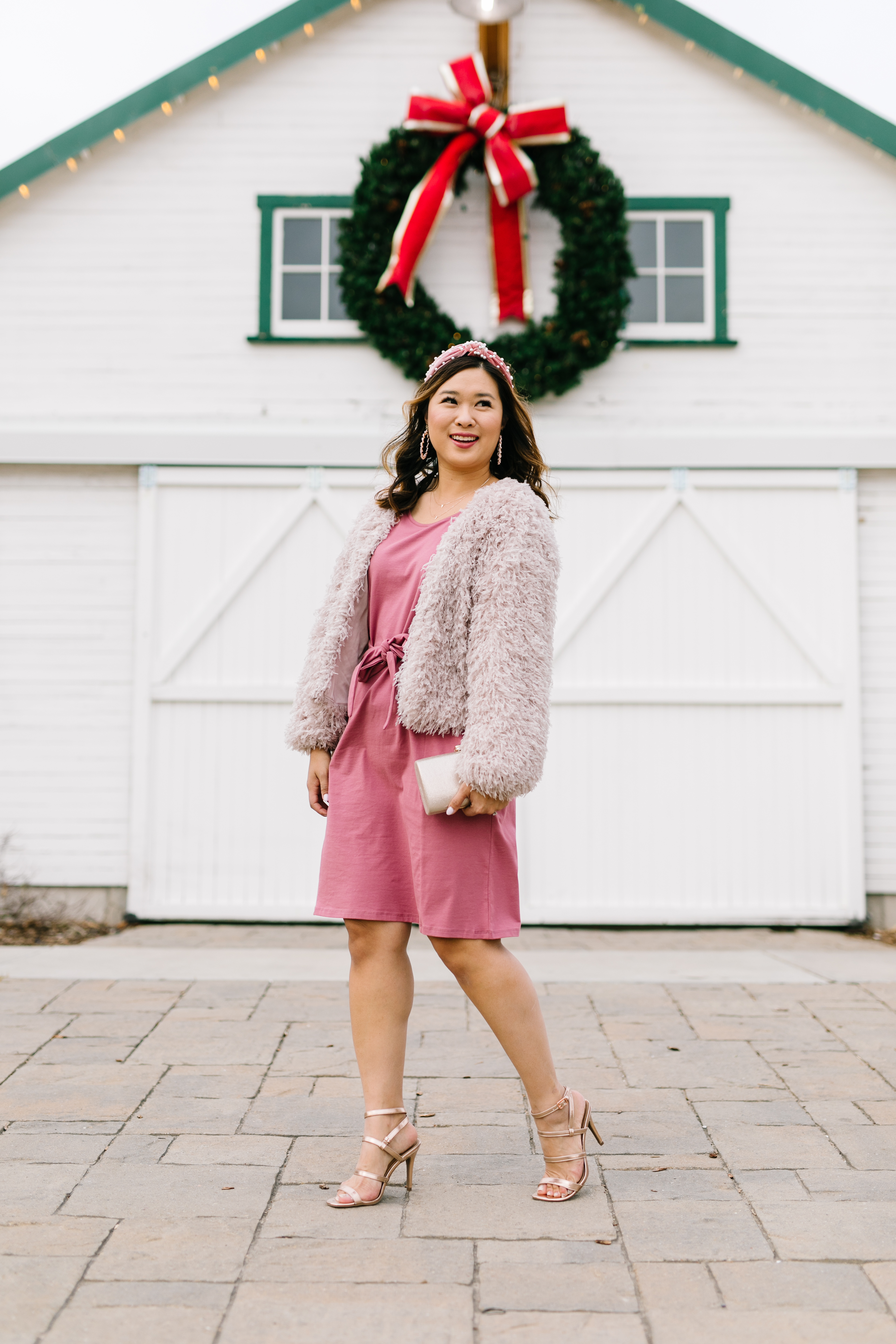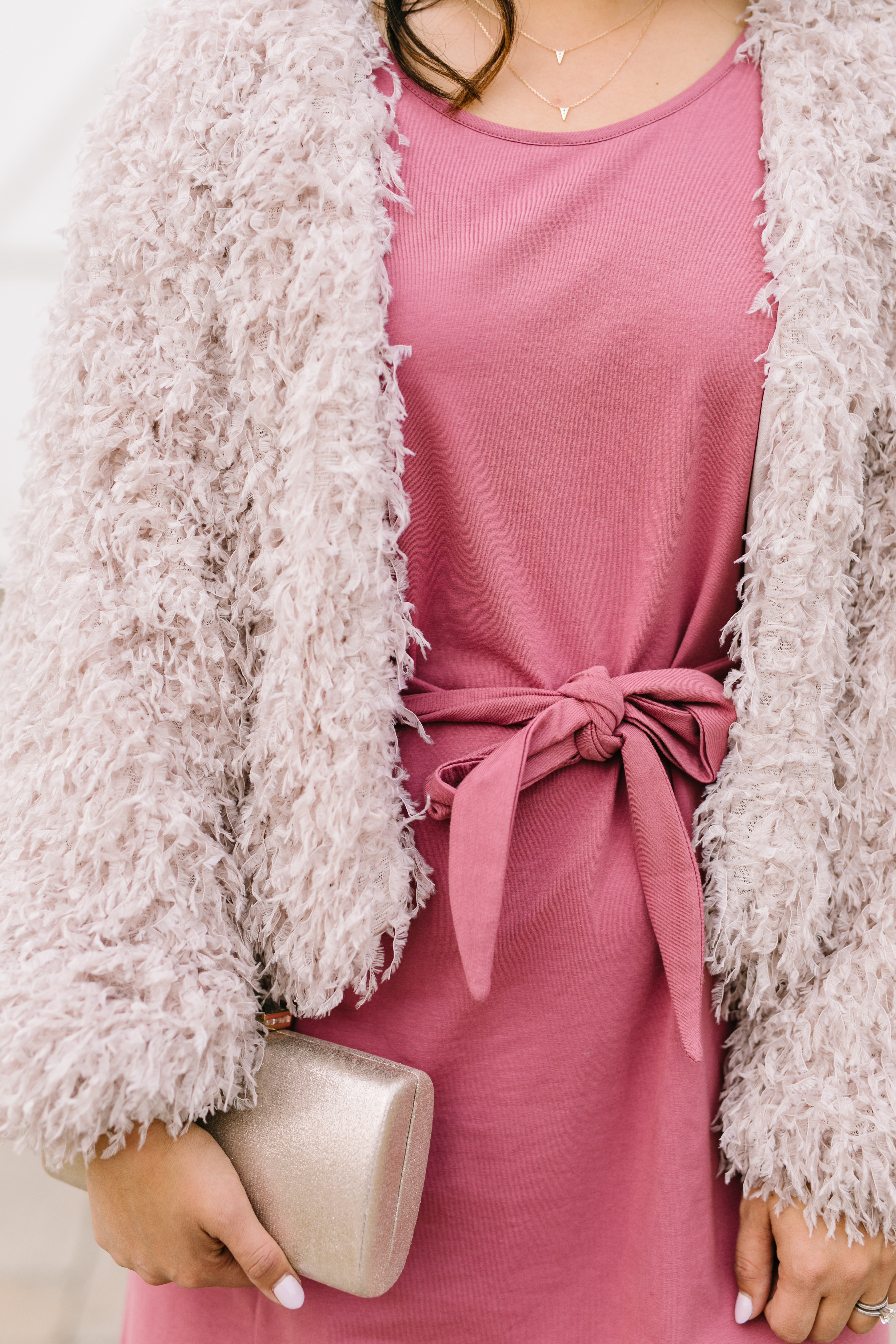 Dress (M) // Heels // Jacket // Bag // Headband // Earrings
I had so much fun adding a little glam to this dress with a monochromatic everything pink look!! Perfect for a holiday party or a girls night out!!
4. Date Night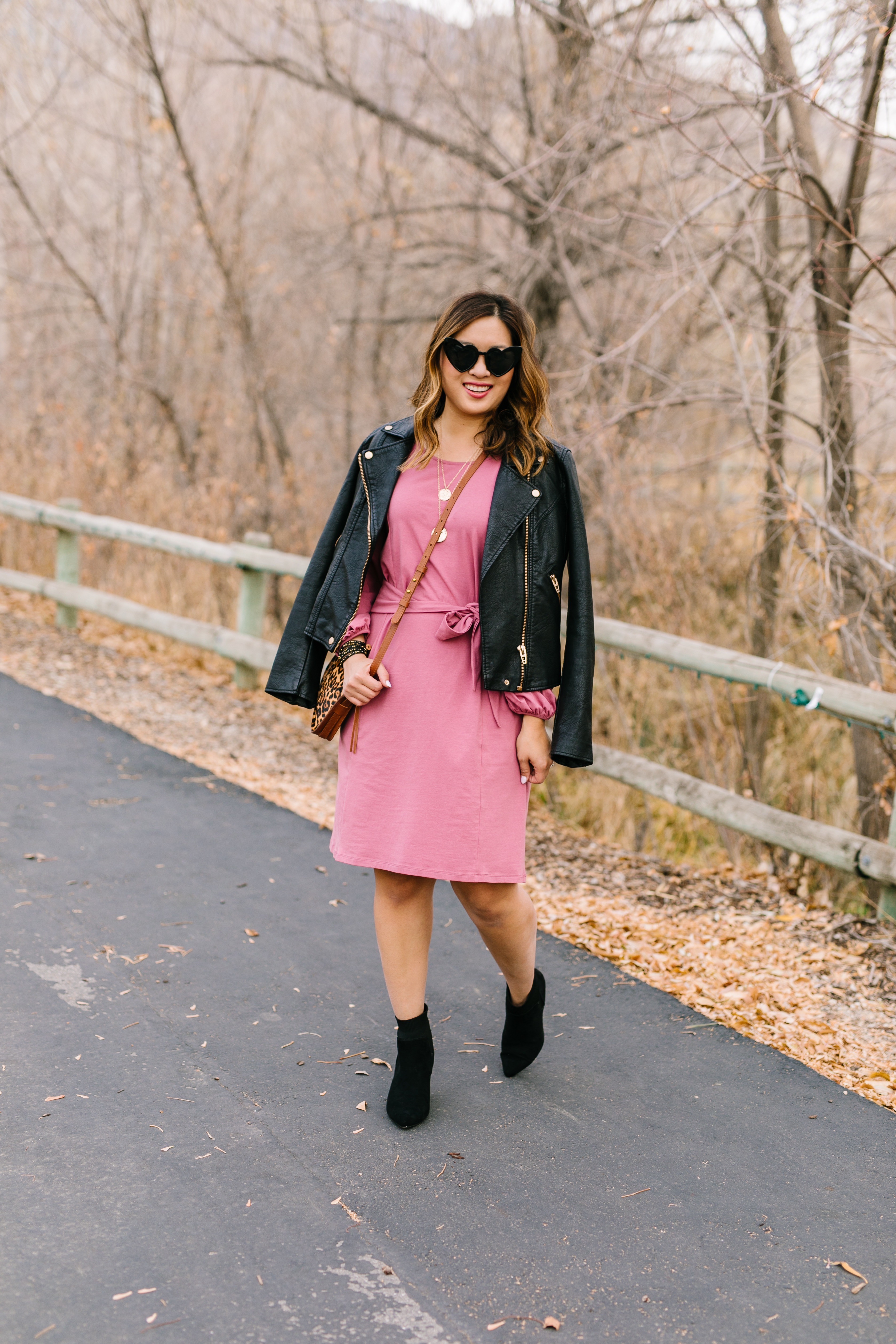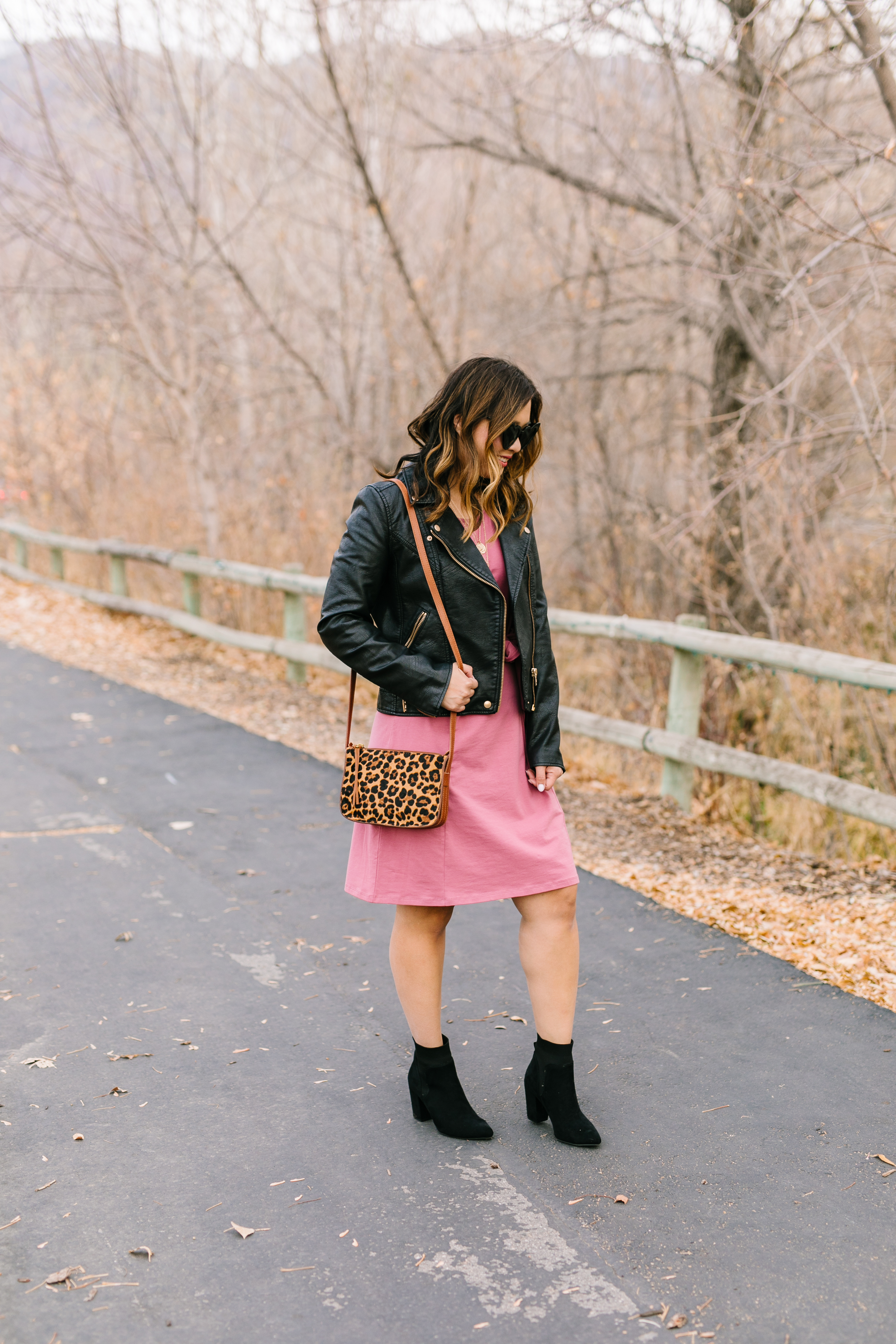 Dress (M) // Boots // Jacket // Bag // Sunglasses
Marv and I don't go out on enough date nights, but if we did, this look with a moto jacket and booties would be perfect!! And you knew I had to add a pop of leopard to one of the outfits right!?
5. Teacher Outfit / Office Look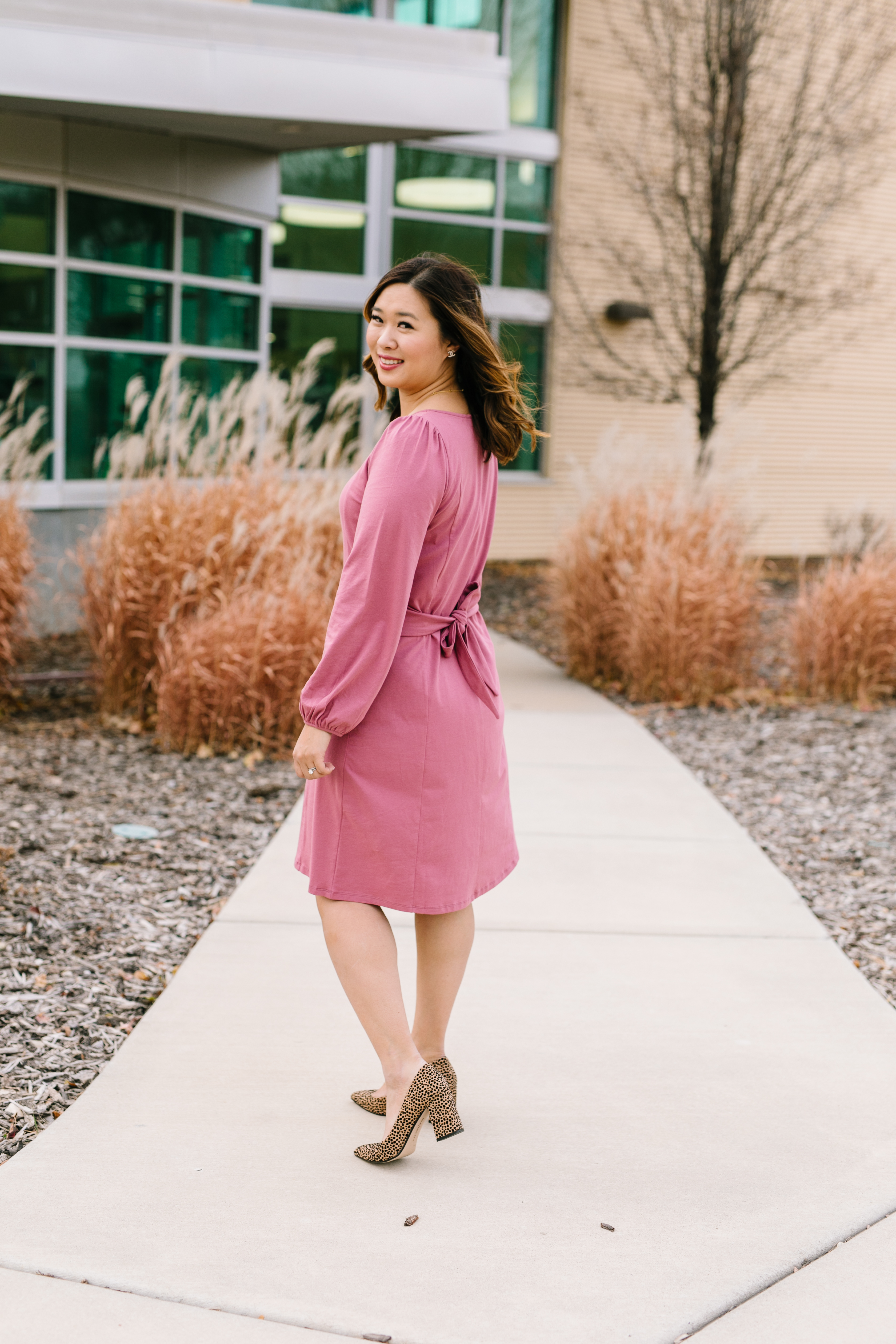 Dress (M) // Pumps (size up half if in between)
This dress can totally be worn for the office place with a chic pair of pumps! I also wanted to show that you could tie the tie in the back and the front would look more like a shift dress. Personally, I probably wouldn't wear it this way as much because I like the tie in the front as an added detail and since it helps to conceal any problem areas. 😉
I hope you love the "SANDY" dress as much as I do!! And dont forget to use code "sandyalamode" at checkout for 20% off!!