I have been a big fan of Tarte for a few years now and I am excited to finally recap some of my favorite products all in one place!!! Some I've been using for years, and some are newer to me, but overall, I feel like Tarte just nails it in the beauty department and they have something for everyone!! Tarte can be found at ULTA Beauty – and guess what?! I got us a coupon code – SANDY15 – that will take 15% off any Tarte products on ULTA Beauty's website! I love shopping at ULTA Beauty because of their Ultamate Rewards program, variety of products they carry, and free shipping over $35!

This is the product that originally got me into using Tarte products. I have been a huge fan of this concealer, especially for underneath my eye area for YEARS now! I typically wear shade 16N – Fair Light Neutral – it is lighter than my skintone, but you always do want to pick a few shades lighter so that it conceal, cover up any dark circles and it totally highlights it too! I feel like this stuff is always very hydrating for me too.

So full disclosure, I get eyelash extensions so I don't really need mascara on my top lashes. However, I do like to keep a tube in my makeup bag to use on my under eye lashes occasionally and I had heard AMAZING things about the Maneater Mascara! The brush is super unique and unlike other brushes I have seen. It has over 500+ bristles and is designed to get into every corner! I definitely feel like it adds volume and length (I tried it out on one eye of my top lashes just to see and it really works well)! They also have a Shape Tape Concealer and Maneater Mascara bundle set you can get too!
Every time they come out with a new lip trio… I snag it. These things are like a lip balm and lip gloss in one, SUPER moisturizing and smell amazing!! Especially with the winter months coming, I know that I will be constantly needing to reapply these!!!
If there is one beauty product that I like to try out a lot of… it's lipstick, lip gloss, lip balm, etc.! This is a newer one to me and I love it!! It applies so SOFT and like a dream, has a matte finish and is longer lasting!! It almost feels like you are applying a balm lipstick and it smells amazing!!
This blush leaves a flawless finish and comes in a ton of pretty colors. It is a long -wearing, super soft powder and you can get it in Matte or Shimmer colors. I love the colors Exposed and Seduce!!
I love this moisturizer as a base after my sunscreen. It has a light tint, so minimal coverage, but is super hydrating!! This is great for those of you who don't have a lot of time to do your makeup or on days where you just want some light makeup on! You can pick between a variety of shades as well. Shade: 25N Light Medium Neutral.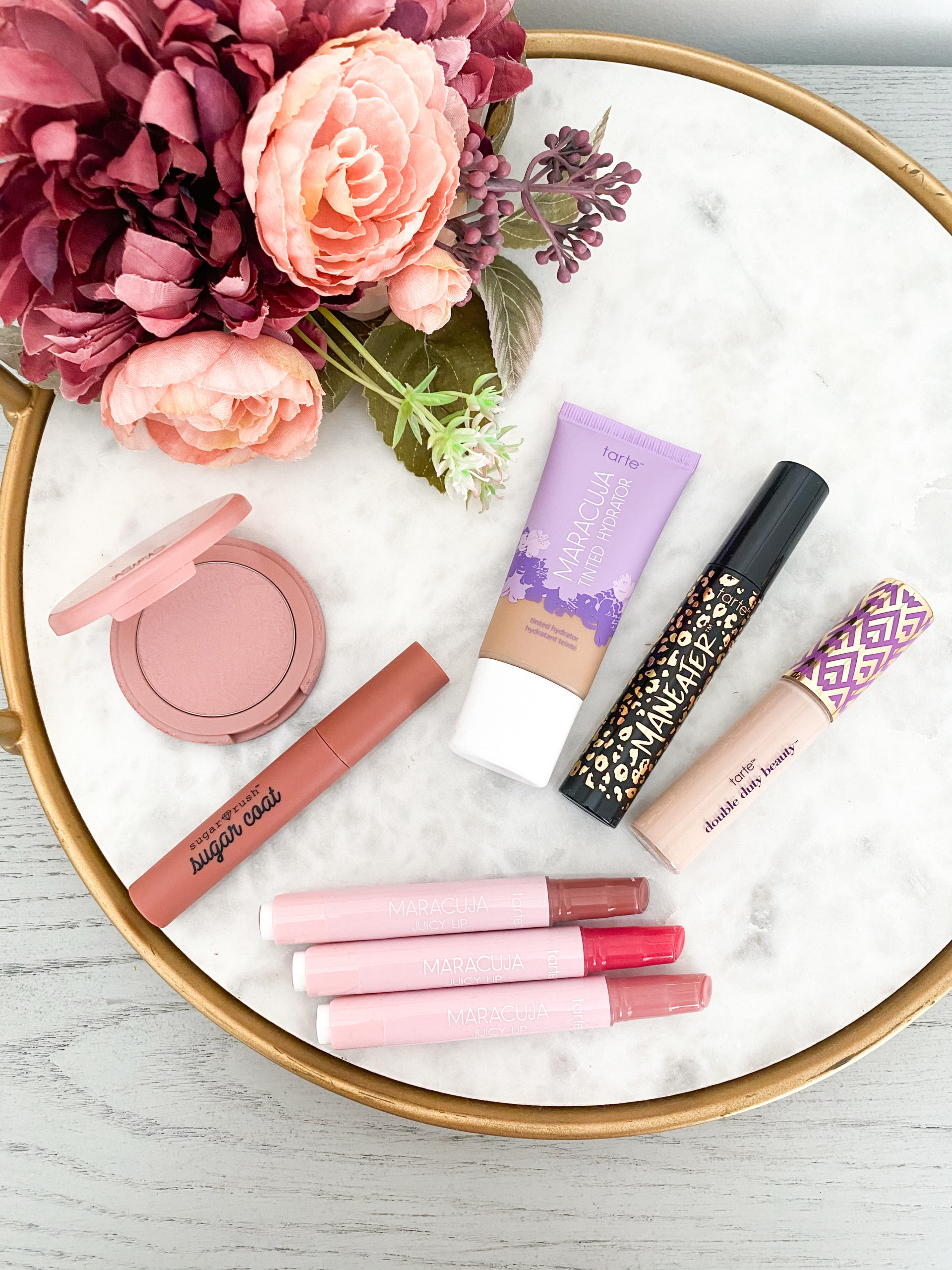 Shop items mentioned in this post and other popular products:
If you are wanting to stock up on any Tarte products right now, you can use the code – SANDY15 – to take 15% off any Tarte products on ULTA Beauty's website! This code is valid through 11/2/20.
What are your favorite Tarte products??
Thank you to ULTA Beauty for sponsoring this post, all opinions expressed are 100% my own!